If you are considering filing for bankruptcy, it is important to find a lawyer who is experienced in this area. Ottawa has several excellent lawyers who can help guide you through the process and provide expert advice on all of your options. Bankruptcy may seem like a drastic step, but if done correctly it can offer relief from debt and allow you to start over with fresh financial resources. When choosing a bankruptcy lawyer in Ottawa, be sure to consider not only their experience but also their approach: some lawyers specialize in one type of bankruptcy while others have more general knowledge that allows them to work with many different types of clients. If you are serious about filing for bankruptcy, we recommend consulting with at least two different attorneys before making any decisions!
We selected these top-notch Ottawa bankruptcy experts based on their years of experience handling bankruptcies, their reputation within the community (and online), and their willingness/ability to provide free consultations.
If you're in need of some other financial assistance, feel free to contact our lists of the best financial advisors,  the best personal tax lawyers, the best small business accountants, or the best fee only financial planners in Ottawa.
What is the average cost of hiring a bankruptcy lawyer in Ottawa, Ontario?
It is difficult to provide an average cost for a bankruptcy lawyer in Ottawa, Ontario, as fees can vary widely depending on the complexity of your case and the attorney you choose. Bankruptcy lawyers typically charge an hourly rate or a flat fee, and some may offer a free initial consultation to discuss your case. In general, however, hiring an Ottawa bankruptcy lawyer can cost anywhere from $150 to $300 per hour.
It is advisable to shop around and compare fees before hiring a bankruptcy lawyer. You may also be able to find legal aid resources or pro bono services that can help you with your bankruptcy case at a more affordable price.
Plus, since costs can increase during court appearances and other related procedures, it's always best to speak with several bankruptcy lawyers before making an appointment so that you can get an accurate estimate of your total expenses.
The Best Bankruptcy Lawyers in Ottawa

Mann Lawyers LLP is an ideal solution for clients who are looking for help with their insolvency and bankruptcy cases. With extensive practical experience, the team at Mann Lawyers LLP aim to provide accurate advice and forceful representation in a welcoming environment. 
They understand that you have concerns regarding your case, which is why they take time to make sure clients feel comfortable from the moment you first contact them. By providing support throughout your entire process, Mann Lawyers LLP aims to ensure that everything goes as smoothly as possible – so that you can get back on track quickly and resume living your life without worry.
If you need help with any aspect of the law – from filing for bankruptcy or obtaining financial counseling before filing – contact them today for a consultation. They will work with you to find a solution that works best for your unique circumstances!
" Ottawa Granite Pro Inc. was recommended to us by our Cabinet Makers... we were welcomed into the warehouse to see in person all options available and made our selection... when it came to installation, we were pleasantly surprised that it took place almost 10 days earlier than originally planned. You will not be disappointed! Nick was our main contact, he was very pleasant and professional. LOOKS GREAT!! "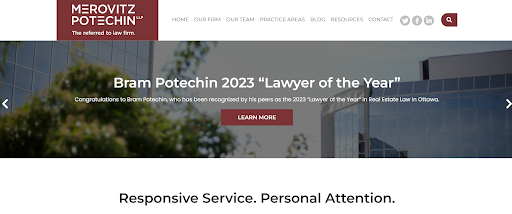 Merovitz Potechin LLP is a renowned law firm that has been serving the business and personal needs of the Ottawa area since 1976. Their lawyers will work directly with you throughout your legal matter, ensuring that every step of your case is taken care of properly. 
The law firm is one of the few law firms in Ottawa that is well-equipped to handle insolvency and collection issues affecting debtors, creditors, and trustees. These lawyers understand the importance of prompt, efficient action when businesses or individuals are facing financial difficulties. This means that their team can quickly identify any problems and take appropriate steps to resolve them. 
In addition, they have a strong track record of successfully recovering debts owed by clients who are facing financial challenges. They will work diligently to ensure that your rights are protected during this difficult time.
If you're looking for professional support during an important legal process, look no further than Merovitz Potechin LLP – they've got you covered!
" I've been a customer of Planet Granite for years. It's very hard these days to find a business that's as honest, delivers a great product and is competitively priced as Planet Granite. The owner and her team are absolutely amazing to deal with. On my last project, I was very tight on time and although I went to planet granite last minute, they accommodated me and delivered my quartz counter way before schedule. Thank you! "
3) Doyle Salewski Inc - Ottawa Consumer Proposal Administrator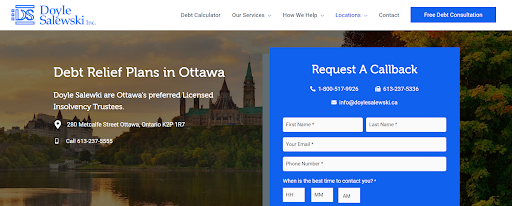 Brian Doyle and Paul Salewski have worked together for more than 35 years. Both are chartered accountants, chartered insolvency and restructuring practitioners, Licensed Insolvency Trustees and certified fraud examiners. Together, they have more than 60 years of experience helping individuals and businesses to cope with their financial distress. 
In 1996, they founded Doyle Salewski Inc., a licensed insolvency trustee specializing in providing financial consulting services to help people facing difficult challenges with their finances. The founding partners of the company are all members of CAIRP – Canada's leading association representing professionals working in the insolvency field – which makes them leaders in solving financial problems for Canadians. 
With over three decades' worth of combined experience helping clients overcome difficulties financially, Doyle Salewski Inc. is an expert on solutions to your most pressing money issues.
" Exceptional service! From the moment We walked in until installation, the service we received from TGI was amazing. Jennifer was knowledgeable about all the products offered and could almost read my mind when I explained what I was looking for! Would definitely recommend this business to anyone and everyone looking for countertops for their home renovation. "
4) FARBER Debt Solutions - Consumer Proposal & Licensed Insolvency Trustee

FARBER Debt Solutions is a reputable company that specializes in helping Canadians handle their debts as soon as possible. With over 40 years of experience, the team at FARBER understands the importance of putting people first and ensuring that they have access to healthy financial relationships. The specialists will work with you to identify your specific needs and provide customized solutions for managing your debts. 
Dealing with your debts, this law firm provides a variety of services, such as debt consolidation, credit counseling, and more. If you're looking for help getting out of debt fast, then look no further than FARBER Debt Solutions!
" I would Recommend 100% without a doubt I've been dealing with platinum for over 20 Houses and they came and did my mother's place as well. Their customer service is impeccable their installers are really good. Always had a good experience with Moe, Carol and the installers. If you're looking for a place to get quartz it's definitely the place. Thanks Again to Moe and his team! "
FAQs About Bankruptcy Lawyers
Filing for bankruptcy is a difficult decision to make, but if you're struggling with debt, it may be the best option for you. A good bankruptcy lawyer in Ottawa can help you navigate the process and ensure that everything is done correctly. They can also offer advice on how to rebuild your credit after filing and help you get back on your feet financially as soon as possible.
If you need legal services in other practice areas, we also have list of the best personal injury lawyers in Ottawa.