The best personal injury lawyers in Ottawa will be there for your when you need them the most.
When you have been injured in an accident, the last thing you want to worry about is finding a good lawyer. But if you want to get the most out of your personal injury claim, it is important to find a lawyer who is experienced and has a proven track record of success.
Here we put together a list of the best personal injury lawyers in Ottawa based on our research, reviews, and ratings.
Whether you were injured in a car accident, slip and fall, or any other type of accident, these lawyers will fight you to get the compensation you deserve.
For more legal services in Ottawa, check out our list of the best divorce lawyers or the best DUI lawyers in the city.
What's the Average Cost for a Personal Injury Lawyer in Ottawa?
The standard contingency fee is 33%, but this may vary depending on the complexity of the case and whether it goes to trial. Trial cases often incur different costs, so the fee structure is designed to minimize the financial risk to the client.
Some other factors that can affect the cost of a personal injury lawyer include:
The type of accident

The severity of the injuries

If there is property damage

The insurance company involved

If the case goes to trial

To get a better understanding of what you can expect to pay, we recommend that you contact a few different personal injury lawyers in Ottawa for a free consultation.
The Best Personal Injury Lawyers in Ottawa
Now that you know what to expect in terms of cost, let's take a look at the best personal injury lawyers in Ottawa.
1) Howard Yegendorf & Associates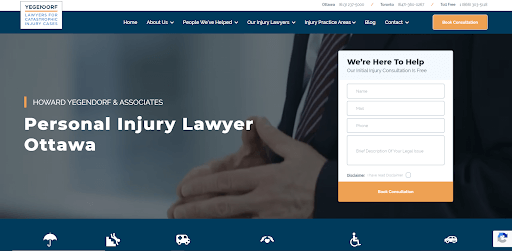 Howard Yegendorf and Associates was formed in 1999 after the partners of a successful Ottawa business law firm recognized that there were many people who needed help when they faced legal issues due to accidents or any other injuries. 
The law firm of Howard Yegendorf & Associates is a well-respected team, who provide capable and knowledgeable legal services to those suffering from complex personal injury cases involving brain injuries, spinal injuries and wrongful death.
Website: yegendorflawfirm.ca
Phone: +16132375000
Address: 100 Queen St #700, Ottawa, ON K1P 1J9, Canada
"Yegendorf law firm helped me resolve my insurance dispute after a car crash. I'm in a much better place both physically, mentally, and most importantly financially! All thanks to Howard's team, I'm really grateful for their help."
2) Badre Law Professional Corporation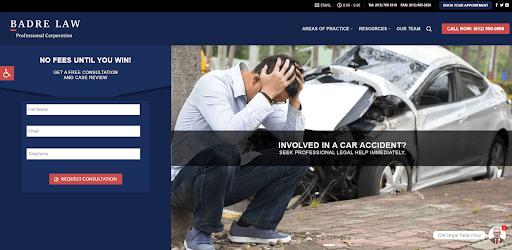 Daniel Badre is committed to providing excellent customer service. He puts his clients first by making sure they contact him in a timely manner and updating them regularly on the status of their claim so that he can ensure only qualified lawyers are working with him for each individual case.  
He can help you with all injury law aspects like swimming pull and snowmobile accidents, car accidents, slip and fall, long-term disability, nursing home negligence, wrongful death and motorcycle accidents as well.
Website: badrelaw.com
Phone: +16136954443
Address: 1296 Carling Ave #101, Ottawa, ON K1Z 7K8, Canada
"Daniel Badre and his team were supportive and helpful. They went above and beyond to help me access care that I needed after an accident when they could have very easily stuck to the legal side of things. Daniel and his team helped me through the different steps and were always available if I had questions. They made what could have been a very stressful process into a much easier experience for me."
3) MG Law Personal Injury Lawyers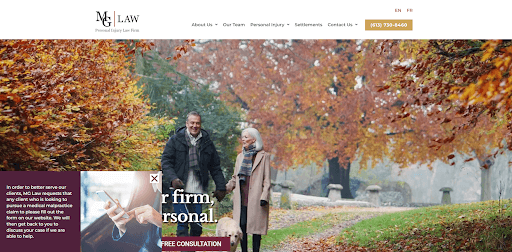 MG Law's Ottawa lawyers are committed to helping accident victims and their families following serious personal injuries. Understanding that catastrophic accidents can result in difficult life changing consequences, they stand side-by aid clients so they aren't alone while facing these hardships. 
They offer services in English, French, Greek, Mandarin, Russian, or all Arabic dialects, so you can be completely comfortable during these challenging times. 
With over 10 years of industry experience, MG Law supports those impacted by catastrophic injury, including traumatic brain injury, spinal cord injuries and more.
Website: mginjurylawyers.com
Phone: +16137308460
Address: 2733 Lancaster Rd, Ottawa, ON K1B 4V8, Canada
"I had the greatest experience with MG law. They understood my situation and gave me the support I needed during a difficult time. MG law is a firm that has the highest level of professionalism. They do not give up on you. They made sure I can communicate in Russian since I don't speak English well. I don't know what would have happened to me if I did not find out about Miryam and the wonderful team at the firm. I will only recommend MG law to anyone who is in need of help."
4) Barapp Personal Injury Lawyer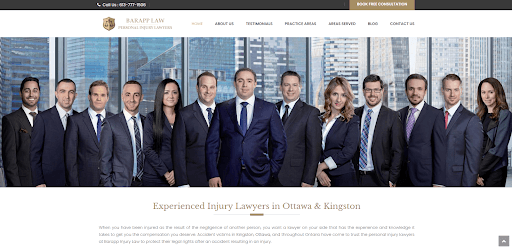 If you have been injured in an accident, it is important that your legal team stands behind you. At Barapp Injury Law they take personal pride and reputation seriously – which means providing dedicated representation for clients across Ontario.
They've handled cases involving vehicle collisions; workplace injuries (such as slips & falls); commercial properties such land flips/reits, and more. 
Over their years of practice, they have brought about hundreds of successful claims and recovered millions of dollars in compensation for their clients.
Website: bpilaw.ca
Phone: +16137771510
Address: 563 Gladstone Ave Suite 25B, Ottawa, ON K1R 5P2, Canada
"My family and I are pleased with the professionalism and expertise that Alex and his team have provided to us. Alex and his assistant were always available to answer any of our concerns. We would highly recommend their services to anyone looking for professional personal injury lawyer's help in Ottawa."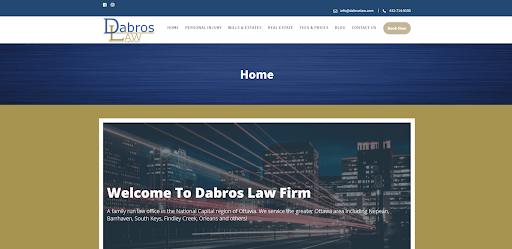 Dabos Law is a family-run law office in Ottawa, that offers lots of services including personal injury field. Their lawyers are friendly and welcoming. Their knowledge in personal injury law will put your mind at ease right away!
A car accident can change your life in a second, and you may feel like you will never get back on your feet. They understand the process of navigating through these situations can be frustrating and challenging,  that's why they'll always try their best to get you the best compensation possible.
Website: dabroslaw.com
Phone: +16137149100
Address: 150 Elgin St Floor 10, Ottawa, ON K2P 1L4, Canada
"Shane was instrumental in obtaining a settlement in my personal injury case. He is extremely well-versed in personal injury claims and can ease the stress and anxiety of dealing with insurance companies directly. Throughout my case, I was incredibly grateful for Shane's compassion and understanding towards my injuries and the damages that I incurred as a result. Thanks so much for everything!"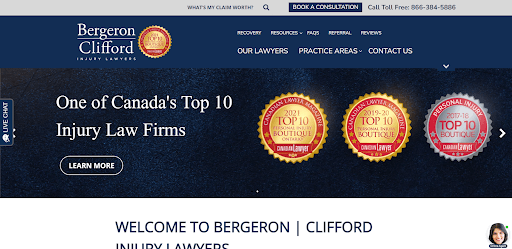 Personal Injury lawyers at Bergeron Clifford have a proven track record of success. They're experienced trial attorneys, with decades worth experience in personal injury law. They always prepare their cases for court so you can be sure your best options are available to make something happen!
Their practice areas include brain injuries, slip, trip and falls, spinal cord injuries, medical malpractice, motor vehicle accidents and insurance denial. 
They offer initial free consultation and their team will review your information in detail, educate you about the law and your rights, and give you our honest opinion about what they can do for you.
Website: bergeronclifford.com
Phone: +16132414777
Address: 185 Somerset St W #305, Ottawa, ON K2P 0J2, Canada
"I had a few interviews for personal injury lawyers after my accident. I was in a lot of pain and the last thing I wanted to do was start a legal matter. Kanon Clifford and Bergeron Clifford's team were compassionate, hard working and intelligent. I could tell in the first 30 seconds these the lawyers I wanted. I went with them and have no regrets!"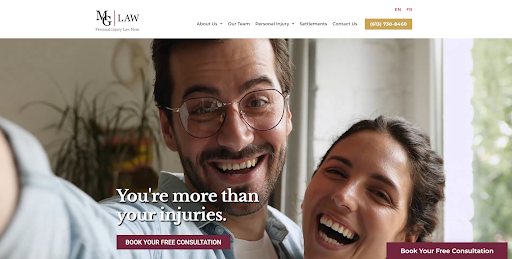 If you find yourself in need of an accident lawyer in Ottawa, look no further than MG Law. Since 2009, their team of dedicated lawyers has been helping accident victims and their families get the compensation they deserve.
They understand that dealing with a serious personal injury can be incredibly stressful and challenging, which is why they're committed to providing you with the best possible legal representation. Their team of multilingual lawyers can provide service in English, French, Greek, Mandarin, Russian, Spanish, Ukrainian, or all Arabic dialects, so you can be confident that they'll be able to communicate effectively with you throughout the legal process.
Best of all, they'll take care of all the details related to your claim and injury litigation so you can focus on what's most important – your recovery. Contact them today to learn more about how they can help you.
Address: 2733 Lancaster Rd Suite 100, Ottawa, ON K1B 0A9
Phone: +16137308460
Website: mginjurylawyers.com
"Over the past year, my experience with Miryam and her team has been stress-free and has made my journey following my car accident much easier to navigate. I was always impressed with the quick responses to communications with anyone in the office. I would not hesitate to recommend using MG Law as my experience there has been nothing but positive. "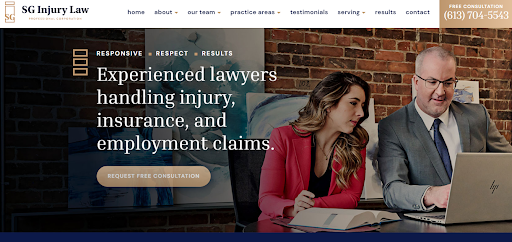 SG Injury Law is a personal injury law firm based in Ottawa, Ontario. The firm's areas of practice include car accident claims (including no-fault accident benefits), slip and fall claims as well as other cases where an accident victim was injured as a result of someone else's negligence. Their experienced personal injury lawyers will help you to get the compensation you deserve. They offer free initial consultation so that they can assess your situation and determine if legal action is necessary. 
Also their employment law group provides legal assistance to clients in matters such as wrongful dismissal, employment contracts and severance pay and termination package review. This includes providing advice on how to best protect your rights should a dispute arise between you and your employer or when negotiating a new contract. Their team has years of experience handling these types of cases head-on so that you can rest assured knowing that everything is being done to support your interests during this difficult time.
Website: sginjurylaw.ca
Phone: +16135182416
Address: 725 Churchill Ave N Suite 100, Ottawa, ON K1Z 5G7, Canada
"Being denied my long term disability benefits was stressful and upsetting. I was referred to Sean through a lawyer friend. Sean was empathetic, responded quickly to my concerns, and referred me to the right expert to help win my case. I'm grateful that his team was there to help me fighting for my rights."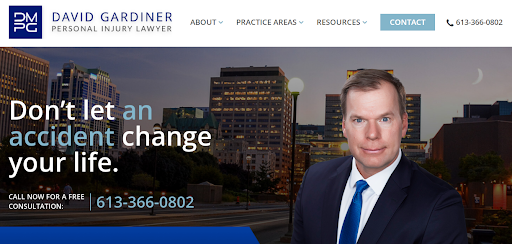 David Gardiner is a highly experienced personal injury lawyer who has represented victims of motor vehicle accidents, boating accidents, atv accidents, slip and falls, long term disability claims, defective products as well as other personal injury matters for over 20 years. His services involve representation of the victim throughout all stages of their case – from initial consultation through to court proceedings. 
Mr. Gardiner understands the importance of providing exceptional customer service and strives to provide his clients with prompt responses to any inquiries or questions they may have. In addition to representing individuals in Ottawa and the area, he also provides legal assistance across Ontario. If you've been injured in an accident and need professional help getting your life back on track contact David Gardine today!
Website: dginjurylaw.ca
Phone: +16133660802
Address: 1447 Woodroffe Ave, Nepean, ON K2G 1W1, Canada
"I had a slip & fall case, and David was very helpful and professional. He kept me updated on the situation, at all times, so that I could understand what was going on. He was very honest and fair. He settled my case in a timely fashion and got me a good settlement. I would recommend David Gardiner to anyone who needs the same kind of help."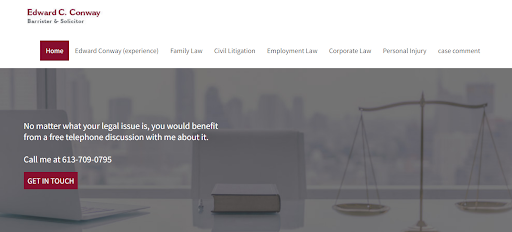 Edward Conway has been handling personal injury cases for over 30 years and has a successful track record. Most of the cases that his firm takes on involve serious medical malpractice, construction negligence, brain injury as well as more everyday cases involving broken arms and police negligence. However, unlike other lawyers who charge an upfront fee in order to represent you in court, Edward Conway will only receive a commission if there is a monetary settlement reached during your case. This means that you do not have to worry about paying any legal fees upfront. 
In addition, most personal injury lawsuits are handled on contingency which means that the client does not have to pay anything unless there is a financial settlement achieved. This gives injured plaintiffs the ability to pursue their rights without worrying about financially crippling themselves or going into debt. If you're interested in discussing your case with one of Edward Conway's specialists then please don't hesitate to get in touch!
Website: edwardconway.ca
Phone: +16137090795
Address: 145 Cartier St, Ottawa, ON K2P 1K7, Canada
"Edward has a wealth of experience and it shows. His assertive approach to litigation matters provides a tremendous service to clients. Within minutes of initiating a conversation with Edward you will be in awe of his knowledge and his ability to identify strong legal arguments. I would trust Edward with the most complex legal matters."
FAQs About Personal Injury Lawyers
If you've been injured in an accident, it's important to seek legal assistance from a qualified personal injury lawyer. The list above highlights some of the best lawyers in Ottawa, so be sure to contact them for a free consultation. 
Each of these lawyers has years of experience dealing with personal injury cases, so they'll be able to help you get the compensation that you deserve.