The best carpenters in Ottawa can take on any project you throw at them!
If you're looking for a contractor who can handle any construction project from start to finish, look no further than the carpenters in Ottawa. These skilled professionals are experts at everything from framing and roofing to cabinets and kitchen remodelling. They will take care of all the heavy lifting so that you can focus on your other projects, and they offer competitive rates that won't break the bank! If you need help finding a trustworthy carpenter in Ottawa, be sure to check out our list below.
We selected these carpentry companies based on their years of experience, the many different services they provide, budget-friendly prices, and the quality of their carpentry services.
A busy home can get a lot of damage! Keep everything up and running by calling the best door repair services and the best boiler repairs in Ottawa!
How Much Does It Cost to Hire a Carpentry Contractor in Ottawa?
The average cost to hire a carpentry contractor in Ottawa is $65 – 250 per hour. 
The price you pay will depend on the size and scope of your project, as well as the contractor's experience.
For smaller projects, such as installing trim or repairing damage, you can expect to pay on the lower end of the spectrum. For larger projects, such as a complete kitchen remodel, you can expect to pay on the higher end.
It is always a good idea to get multiple quotes from different contractors before making a decision, so that you can be sure you are getting the best price for your project.
The Best Carpenters in Ottawa
Now that you know how much it costs to hire a carpenter in Ottawa, it's time to find the perfect one for your project! To help you get started, we've compiled a list of our top four picks.
1) Carpenter Near Me Ottawa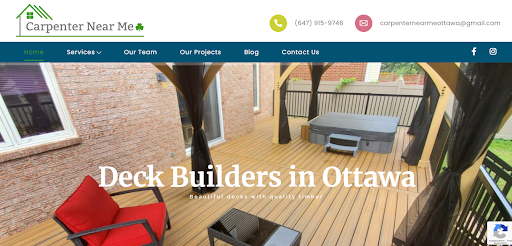 Carpenter Near Me was made from the idea of always having a carpenter near you that you can trust and rely on, who delivers a quality job for you on time, every time. Having also worked in the construction industry for many years they understand what it takes to deliver a quality project that leaves the client with a smile on their face and a finished project they are truly satisfied with. Nothing is more important to them than knowing that they have met their clients' needs and expectations every time. 
They provide a variety of deck configurations custom-built for your home. They always use the best materials and equipment to provide expert decking in Ottawa. They will make sure your new deck seamlessly matches and enhances your home's character. 
They also specialize in washroom design and build. They can assist you with a full bathroom remodel, from initial consultation and advice to installation and maintenance.Carpenter Near Me takes pride in providing quality service at an affordable price so your projects can be completed without breaking the bank!
"I needed someone for a smaller project and Noel was an excellent choice. He knows his craft. He took the time to listen and share ideas. The final product showed an extra attention to detail I really appreciated. I would definitely recommend him and call him again for our next project!"
2) Ottawa Custom Carpentry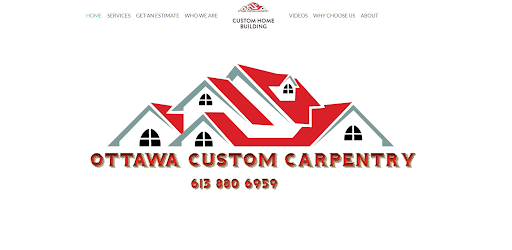 If you're looking for a company that can handle all of your custom home carpentry needs, look no further than Ottawa Custom Carpentry. They have a team of experienced professionals who are ready to take on any project, big or small.
 Whether you need drywall installation and finishing or custom building, they can do it all. Plus, they offer a free estimate service so you can get an idea of what your project will cost before you commit. So if you're in the market for a high-quality, professional carpentry service, Ottawa Custom Carpentry is the perfect choice.
"I contacted Ottawa Custom Carpentry to do the trim for our office renovation. Despite the very tight deadline, they agreed to help me out. Chris worked evenings and a Saturday to get the trim installed so that we could move in on time. The trim looks great and we're so happy they were able to help us out!"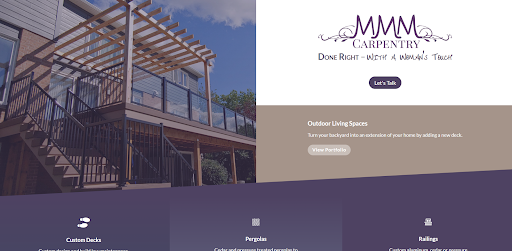 MMM Carpentry is a one-of-a-kind business that specializes in carpentry services. From custom decks to pergolas and handrails, MMM Carpentry can help make your perfect home come to life!  
By working with MMM Carpentry, you can be assured that you are working with a local business that is invested in the community.  Plus, they are able to cater to your specific needs and create a custom product that is perfect for your home. 
If you are looking for exceptional carpentry services, look no further than MMM Carpentry!
"We had Melissa build us a small deck and stairs to replace an aging deck that was failing and no longer safe. From the moment we contacted her, Melissa was very professional, she answered all of our questions and she did a great job working with us to design our deck. The end product was amazing. The deck and stairs are incredibly solid and well built, and the finishing touches really make it stand out. We're extremely happy with the quality of Melissa's work and the way she approached our job."
4) House Of Fine Carpentry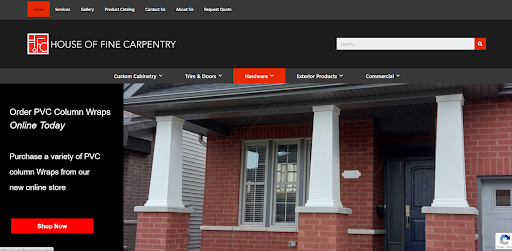 House Of Fine Carpentry is a unique carpentry service that offers a wide range of design options and workload customizations to suit any client. They pride themselves on providing an outstanding customer experience, and they offer complete autonomy for all stages of every project's design, manufacturing, completion, and installation. 
Their services include custom cabinetry, trim & doors, hardware, exterior products, and various commercial needs. They are a premier carpentry service that is dedicated to providing the highest quality of services possible. 
Their attention to detail and commitment to excellence are what sets them apart from other carpentry services. If you are looking for a carpentry service that will provide you with the highest level of satisfaction, House Of Fine Carpentry is the right choice for you.
"We were very pleased with the procedure from estimate to final completion of our two front porch columns shown in the photo. We noted particularly the fine workmanship and attention to detail of the installer. The estimate was well below our expectation. Without hesitation we would recommend House of Fine Carpentry for similar projects."
5) 613 Carpentry & Contracting Inc.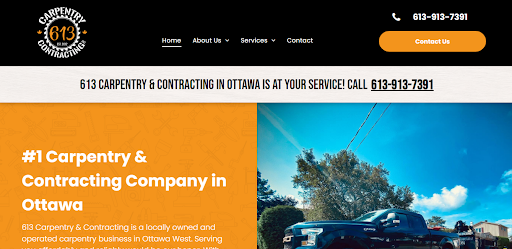 613 Carpentry & Contracting Inc. is a reliable and professional carpenter and contractor in West Ottawa that delivers the most value possible to their clients. With more than a decade of experience, hard-working staff, and dedication to delivering top-notch services, they have been providing the Ottawa residents exceptional carpentry services. 
Their team of professionals is capable of handling requests for multiple deck and fence materials, including treated wood, cedar, fiberglass, roasted wood, concrete and composite wood. Treated wood is the most commonly used decking material for its low price tag and high durability. Clients who are interested in organic and natural products can opt for roasted wood with no artificial chemical agents. Regardless of which option you choose – treated or untreated timber – one thing is certain; your new decks and fence will provide years of enjoyment thanks to their unbeatable value proposition!
"I had 613 carpentry install a fence and install a bathroom in our basement. Both jobs were done perfectly. It is very clear that Avery loves what he does and cares about the job he and his employees are doing. Thank again and hope to have more work for you in the future!"
There are many carpenters in Ottawa, but not all of them are built equally. It's important to choose a carpenter who is experienced and knowledgeable about construction techniques. These Ottawa carpenters are the best in the city. So whenever you need a handy carpenter, don't hesitate to call the best carpenters in Ottawa!