When is the Best Time to Buy Furniture in Ottawa?
Ottawa is filled with furniture stores that can be very expensive. If you're on a budget, it might be difficult to find quality pieces. However, spring and fall are the best times to buy items in Ottawa because you'll get good deals on pre-season furniture. New seasons usually mean new collections which mean old styles will go on sale.
This is also a great time to buy items because many furniture stores in Ottawa will offer promotions for early birds. If you're able to visit the showrooms before their big sales start, you'll be able to get pieces at fantastic discounts.
The Best Furniture Stores in Ottawa
Now that you know the best time to buy furniture in Ottawa, it's time to explore some of the city's best furniture stores!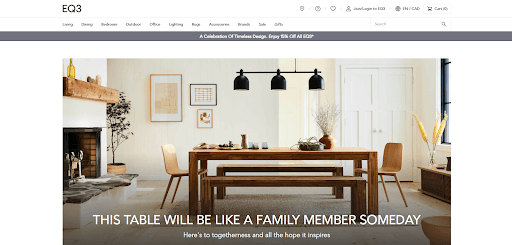 They design and produce furniture right here in their Canada factory, which means that as soon as you see a style of sofa —it might just be coming off the production line. They also offer an immersive experience for those who prefer not to virtualize their lives: come visit them at any time during business hours so they can show off every feature from head-to-toe all while helping match what's best suited specifically for your living room or bedroom.
They use only premium quality materials and are collaborating with other designers, manufacturers, or brands to create the best furniture on the market. Leather or fabric, you decide. Choose from a curated selection of materials in colorations that will match your every desire and is tailored for an individual look!
"What a fantastic shopping experience - beautiful, high-quality furniture and exceptional customer service. The appointment based system for shopping is an amazing idea, especially during a pandemic. As a customer, having appointments helped me feel safe and allowed me to spend more time focused on the products than on being surrounded by too many other customers. Plus, having a personalized shopping experience with an expert salesperson is so helpful!"
2) Dufresne Furniture & Appliances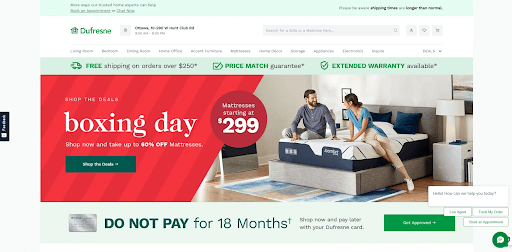 At Dufresne Furniture & Appliances they focus on creating great experiences for customers by providing them with thoughtful product selections. They will make sure that what's being sold meets both functional needs as well as emotional wants.
Their mission is customer best engagement which means focusing not just during store visits but online too!
They have furniture for every room in your house. Premium quality beds and dressers for bedrooms, perfect sofas and recliners for living rooms and also amazing accent furniture like ottomans, benches and coffee tables!
"We recently visited and had a pleasant experience from start to finish. The showroom is attractive, the staff is friendly and no one could beat the price they offered us on our sofa. I did not feel pressured to buy at all. We look forward to the delivery!"
3) West of Main Furniture Store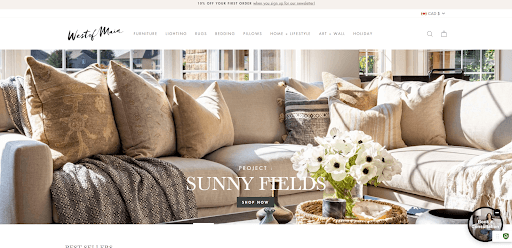 The West of Main furniture store has a signature style and it is an oasis for the senses – layered, organic and timeless. You'll find beautiful pieces as well as amazing staff who will help you to delight your home with unique and unforgettable pieces.
They provide furniture for the living room, dining room, bedroom, kitchen and home office too! Their colors are very soft and light that will help you create a really cozy home environment. They have great and unique Bali Stools which are made from natural teak roots and will add a touch of organic texture.
"I had a fantastic experience with WOM! Alicia helped me with the finishing touches for our dining room including selecting art, decor, even lighting suggestions! I ended up buying nearly everything she suggested for the room because it came together so nicely with her guidance. She went above and beyond and helped me understand her design approach and gave me tips on how to arrange everything once it's delivered. I will definitely shop here again as I decorate other rooms in my house!"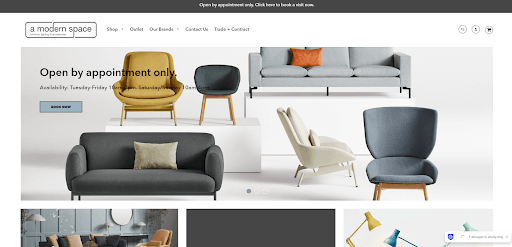 A Modern Space is a place if you're looking for the most unique and luxurious furniture. They sell only quality products from brands like Blu Dot, Normann Copenhagen, Emeco, Kartell,Cherner and others. Their furniture is minimalistic and stylish, especially with the simple black and white or pastel colors.
With the variety of options for your dining room, workspace, living or bedroom you will find something perfect. They also sell really fashionable and special lightning pieces like filter table lamps or contour floor lamps.
"We went in knowing they had a few pieces we were interested in. The owner was very friendly, helpful, and knowledgeable. The selection was well curated to suit a range of styles and price-points. Found exactly what we were looking for plus a few other gems. Will definitely return to see what they bring in next!"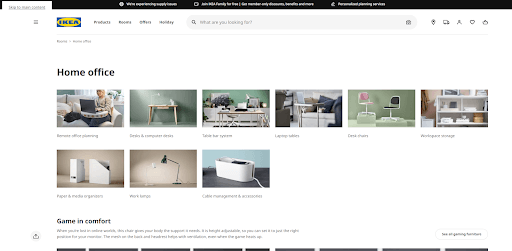 If you are looking for affordable and high functional furniture options IKEA got you. It's a world trusted brand which has been on the market for years and knows what is best for the customer. You can even buy home essentials like lightning under $10 to make your place cozy and more pleasant to live in.
Especially if you are recently moved it's the best place to buy furniture for your new apartment. With the amazing variety of options you can choose the material, color, size and style you like best.
"IKEA is a good place to buy simple inexpensive furniture and home decor. There is a ballroom for kids to play in. The store displays are very inspiring and it is hard not to buý something when you are there. The price points are very affordable and especially popular with those on a tight budget like students when they leave the family home for the first time. The staff are friendly and helpful too."
6) Dala Décor Furniture & Design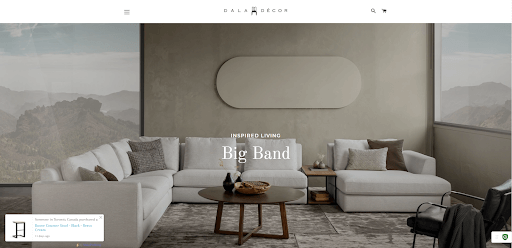 At Dala Décor Furniture Store & Custom Design House they offer beautiful furniture from their suppliers both domestic and abroad. Their goal is to help clients find the perfect item for their own home or workplace. They have a wide variety of options, so no matter what your needs are they can make them happen!
They have the best design consultation service to help you create your unique home concept and provide a complete room package with all furniture layouts. At the store you can choose the pieces of different styles for example: mid-century, modern classic or something with asian influence.
"Dala Decor has a beautiful showroom with a very helpful staff. I would highly recommend visiting their Woodward Drive location if you are searching for excellent quality furniture. I am a repeat customer and have been very pleased with the entire process. 10/10 would recommend."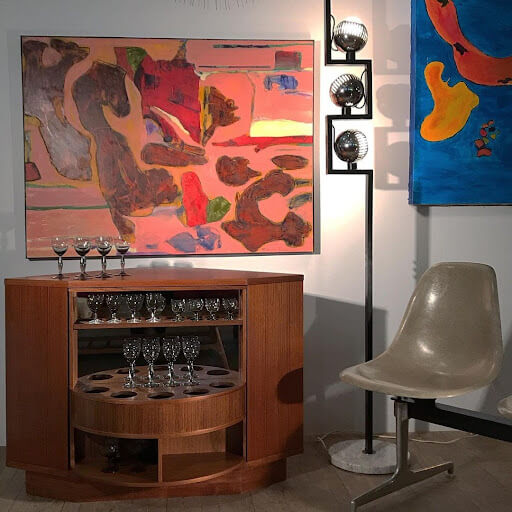 With deep roots in the furniture industry, their company specializes in buying and selling vintage pieces. Their inventory includes antiques from different periods as well as modern items that are designed by talented artists!
The owners are super friendly and will help you find the perfect furniture for your living room or bedroom. With a stunning collection of mid-century furnishings, one of a kind pieces and art you can find anything that you want.
"Friendly and super helpful owners. Good range of prices for quality items, such as furniture, rugs, art, jewelry, glassware. You can walk in and right away feel at home browsing!"
8) Polanco Home Furniture & Interior Decor Solutions

Discover Polanco Home Furniture & Interior Decor Solutions: A family-owned gem since 1999, located at 177 Richmond Road in the heart of Westboro Village, Ottawa. With a focus on Canadian-made furniture, they take pride in crafting ideal living spaces for their clients. 
Their showroom offers a wide array of home products – sofas, chairs, tables, beds, lighting, and more. They prioritize building lasting client relationships and invite you to experience their expertise firsthand. Drop by or contact them to elevate your home decor today!
"Amazing service from start to finish. Mandy was so patient with me and chose the most beautiful Marcantonio couch, taking the time to come to my home and find the best couch suited for the space. I can't say enough about Polanco, highly recommend!"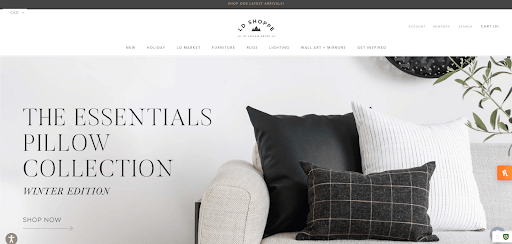 This store is a dream to walk through! Offers an array of home decor and furniture so there's something for everyone. Pricing also ranges (you can get a $17 pot but find higher end options as well). You'll be able to enjoy items that are high quality, thoughtful curation in their inventory.
They sell really beautiful and minimalistic style furniture as well as modern and farm-style stuff. The owners aepre such inspiring entrepreneurs and truly passionate about what they do and have provided Ottawa with the trendiest furniture.
"I have nothing to say but positive words about the products and staff at the LD Shoppe. Whenever I need design advice, their staff are always there to help me and answer my questions. They always go above and beyond in helping you find the perfect item(s) for your home. Their products are affordable, modern and beautiful. They have a variety of home accessories, plants, art, photographs and furniture. We've been happy with the quality of all of the products that we've purchased from their store. Their online inventory is just as great as their in-store selection. It's my favorite home decor and furniture store to shop at! Check it out - you won't regret it!"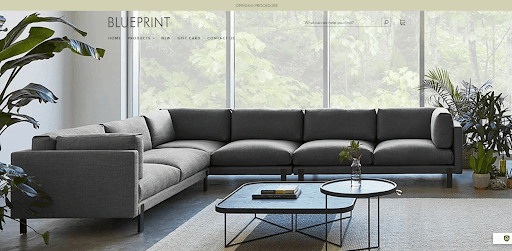 Blueprint Home offers fresh, elegant and modern style for your home. A boutique effect specializing in personal care, they can change the way you live at any location with their guidance on making it stylishly perfect through one-of-a-kind designs that will rival anything featured within high design magazines!
With the amazing variety of furniture like dining chairs and tables, buffets and sideboards, beds and even media units you will be able to transform your home into the most beautiful place.
"Beautiful furniture. I ordered a custom sofa and the staff was very knowledgeable about the different fabrics and their pros and cons. Because my order was custom, it took a little longer to be delivered but they were very accommodating. Would 100% recommend it, the quality is amazing."
FAQs About Buying Furniture
Buying furniture can be a big investment, but it doesn't have to feel overwhelming. With the stores mentioned above, you can find furniture and home goods at different prices, making it easier to stay within your budget. Enjoy decorating your space!