The best home builders in Ottawa are here to help turn your dream home into reality! 
When it comes to building a new home, there's no shortage of builders to choose from in Ottawa. With so many options, it can be tough to know where to start. However, by doing your research and evaluating your needs, you can narrow down the field and find the builder that's right for you. 
Here are six of the best builders in Ottawa, each with its own unique strengths. We compiled this list by looking at reviews, awards, and other factors to find the city's top home builders. 
Whether you're looking for a luxurious custom home or a more budget-friendly option, one of these builders is sure to have what you're looking for. So don't wait any longer, start your search today!
Once you've finished building your dream home you'll need to fill it with furniture. Check out our list of the best places to buy furniture in Ottawa. And if you need help moving into your new home, be sure to check out our list of the top moving companies in Ottawa!
What's the Average Cost of Building a House in Ottawa?
The average cost of a new home in Ottawa is $255 to $395 per sq. ft. For example, a 1,500 sq. ft. home would cost between $382,500 and $591,250 to build.  
Of course, this is just an average, and your actual costs will depend on a number of factors. If you're looking to build a luxury custom home, for example, you can expect to pay much more than the average. 
Some other costs to consider include land costs (if you're not buying an existing home), site preparation, and permits. 
If you're looking for more affordable options, you might want to consider building your home in more rural areas outside of the city. 
No matter what your budget is, there's a home builder in Ottawa that can help you make your dream home a reality. So start your search today!
The Best Home Builders in Ottawa
Now that you know what to look for and what the average cost of a new home in Ottawa is, you're ready to start your search for the perfect builder. Here are six of the best builders in Ottawa:
1) OakWood Designers & Builders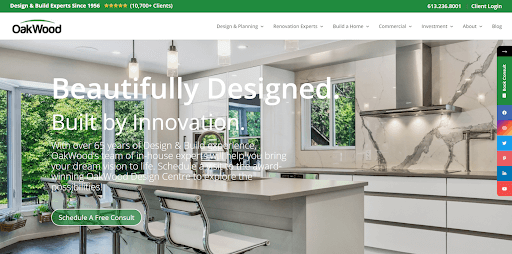 The company started as a small carpentry and renovation business over 65 years ago. On the strength of client referrals, OakWood is one of Ottawa's largest Design & Build companies with an established reputation for quality that cannot be matched by any other in its industry.
They have assembled an elite team focused on delivering excellence for all their customers, from homebuilders looking at creating their dream house or renovating old properties into something better than ever before. 
Oakwood offers a wide range of services from architectural design to property investments. Whether you need help designing your home or office space, they have the expertise needed for any project. With affordable prices and high-quality workmanship, you can afford to realize your dream. 
Their team works quickly while always maintaining integrity so give them a call if this sounds like something up your alley.
"These guys are the best design & build company in the city, hands down. I hired OakWood to complete some renovation work on my home and have been impressed at every step of the way. I chose OakWood as I've been in this industry for over 20 years and everyone I've worked with and spoken to has nothing but good things to say about the quality of their work and the way things are run. I highly recommend them for any construction work."
2) Holland Homes & Renovations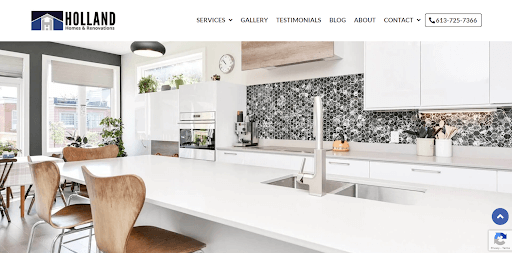 Holland Homes and Renovations is a company that has been providing professional services in the industry for over ten years. With university-educated professionals, you can be sure your needs will always receive top priority. 
They offer affordable solutions without sacrificing quality by using their experienced team of builders who are committed to excellence at all times; no job goes unattended when working with them as they strive each day towards meeting those goals like nothing else matters but success. 
They have some exceptional trade partners who can help bring your vision into reality: Project Manager/General Contractor, Master Electrician, On-Site Construction Manager,  HVAC technician, Professional Decorator, and Certified Plumbing Technicians. 
From start to finish, they'll be there every step of the way: from designing custom rooms tailored just right for what matters most in this home or business space; to managing construction through installation so no detail goes unnoticed.
"We can sincerely and without hesitation fully endorse Holland Homes & Renovations to anyone considering a home renovation project in the Ottawa area. The Holland team is a highly-skilled, organized and professional operation at all project stages, from the initial design discussions through to the finishing touches. Company President Robert Breau and Project Manager Scott Wammes are a pleasure to work with and always available for consultation. The on-site crew are friendly, courteous, proficient and hard-working. Our project presented a number of challenges due to the age of the original structure, but all were overcome successfully by the Holland team to provide our family with a beautiful new space that has truly been a sanity saver during the ongoing pandemic."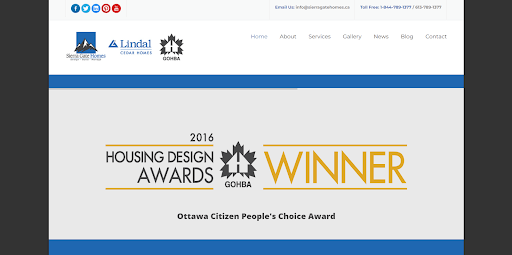 Sierra Gate Homes is a family-owned business committed to providing you with the best customer service. They are experts in custom home design, additions and renovations; they use only high-quality materials for every project that passes through their doors – green construction practices too.  You are the star of your own show, the process starts and ends with you.
 In a first meeting, they listen carefully to all ideas about what kind of home would suit you best. Angus and Andrea from Sierra Gate are true professionals, they plan and organize every detail from permits to plumbing installation. 
They know 100% that if there is ever an issue with their work done, they will stand by their services because of how much pride they take on every project passed off as theirs- which makes you feel really confident about working with them for the future projects too. 
Plus,  they are just great people all around; friendly without being overbearing at any point during your interactions.
"We are so grateful that we found Angus just at the right time! Working with him was such a pleasure. Always communicates clearly, promptly, and courtiously (if only all contractors were like that - Angus is a rare breed!). The reno he and his team completed on our house was done beautifully, in a timely manner, and within a very reasonable budget. I not only recommend him to anyone looking for an experienced, top quality contractor, but I've already recommended him to family and friends!"
4) Northwood Homes and Cottages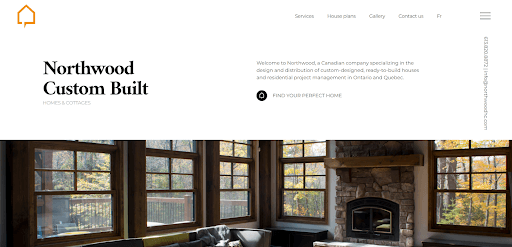 Northwood is a Canadian company that specializes in the design and distribution of custom-designed, ready-to-build houses. They offer their residential project management services exclusively within Ontario/Quebec borders for now. They don't just build houses, they create homes. 
A team of highly skilled craftsmen will work with you to design the perfect building for your needs and budget- no matter what they are. Whether it is an ascetic and simple or luxurious apartment, their professionals can help make your dream come true.
Mario from Northwood is a professional with extensive experience in the industry. His portfolio and clearness of communication will impress you. He walks through every step patiently while answering all questions asked by you- no wonder he has such great reviews from previous clients. 
"I have been involved with the owner-operators of Northwood Homes and Cottages now in several projects over the last decade or so. No finer, nicer, principled and professional people you'll ever meet. A joy to work with and be around. Looking forward, Annie and Mario, to our next project together."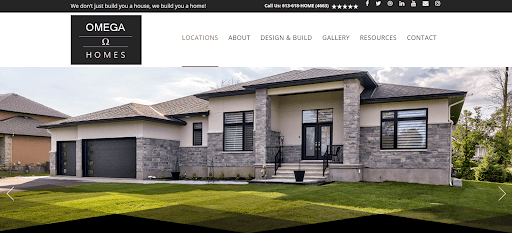 When you invest in a house, it's not just about getting the best option for your money. It's also important to find someone who will care enough that they go out of their way and take time with every detail-even if this means extra hard work. 
At Omega Homes they offer custom home designs so no matter what style or size preference suits your needs, they can make sure there is space everywhere inside and outside where people are most comfortable living life fully each day; all because you deserve an awesome place to call "Home." 
They're specialists in modern and stylish homes. From start to finish, they take care of everything for you – from the design process all that's left up to your imagination. A careful balance between creativity with the organization makes this such a stress-free experience as well; leaving behind an amazing house matching you.
They have an extensive list of services that they can provide, including lot selection; construction financing solutions as well as interior decorating expertise for all those who want their house or apartment to look perfect from top-to-bottom.
"As home stagers, we have the opportunity to work with dozens of builders each year. Omega Homes stands out as one of the finest builders we've ever had the opportunity to work with. The quality of the finishes, and obvious craftsmanship throughout, are a testament to the dedication and care that goes into making an Omega home. We were very impressed - and do enthusiastically recommend - Omega Homes to any of our clients looking to have a new home built."
6) Casa Verde Construction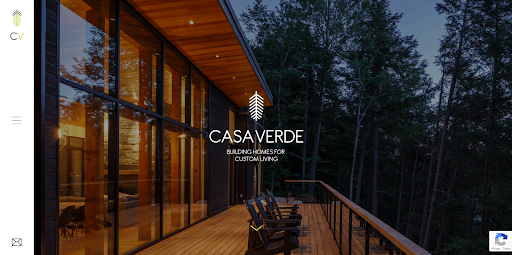 Casa Verde is a team of diverse and experienced professionals with backgrounds in carpentry, engineering, timber framing and more. With over 15 years of experience, they pride themselves on delivering quality craftsmanship that will result in sophisticated homes with uncompromising value. 
They take great care when designing each project by paying attention to every detail from the start no matter how big or small your job may seem. 
Paul McElligott, the president of Casa Verde, has developed a keen eye for global architecture and design details from extensive international travel. Working closely alongside Ottawa's top architects allows him to see everything they do firsthand, which helps guide what would work best.
Casa Verde has excellent relationships with key subcontractors and top suppliers, in order to ensure a diverse range of high-quality materials. They start each project by understanding the client's vision for their home design needs; whether it is modern or traditional elegance – they can fulfill all these desires.
"Casa Verde was by far the best choice for our home renovation. We could not have been happier with the process, timing and exceptional quality of work. From the very beginning, Paul and his incredibly talented team provided us with the necessary guidance to make appropriate decisions along the way, offering flexibility while respecting our rather tight timeline and scope of work. Paul was always available for walkthroughs and discussion, ultimately transforming our traditional home into a beautiful modern space, perfect for our growing family. The attention to detail, prompt responses, educated advice and recommendations provided immense comfort and made the overall experience extremely enjoyable. We would highly recommend Casa Verde to anyone who wants to work with an extremely experienced builder who really will exceed your expectations delivering the home you always dreamed of."
FAQs About Building a House in Ottawa
Building a new home in Ottawa can be a great way to get the home of your dreams. Just be sure to do your research and work with a reputable builder. The 6 builders listed above are a great place to start your search. With a little bit of planning, you can build the perfect home for you and your family.