The best vintage furniture stores in Ottawa have an incredible assortment of vintage furniture just waiting to be rediscovered by you!
Vintage furniture is a great way to make a room as unique as you are! Older pieces all have their own history and a distinctive flair that you can't get just anywhere.
Ottawa is home to many vintage furniture stores that can help you curate any room with tasteful, unique, and vintage furniture pieces. Whatever you're looking for be it a snazzy sofa or mid-century chairs and dining sets, these stores have it. The furniture from these stores is bound to be showstopping conversation starters!
We selected these vintage furniture shops based on the great deals they offer, knowledgeable staff, and their great selection of vintage furniture! 
If you're decorating a room, we understand that you want it to look just gorgeous. Visit the best furniture stores and the best rug stores in Ottawa to pick up some stunning additions!
What are the Most Popular Vintage Furniture Styles?
There are a few significant periods in design history where specific furniture styles were popular. 
You've probably seen these pieces in movies or décor magazines and you can find them all at these great stores!
Some of the most popular vintage furniture styles include:
Art Deco: This style is very luxurious, with bold geometric shapes and often incorporating mirrored or glass surfaces.

Mid-Century Modern: This style is known for its simple, clean lines. The furniture is often made of natural materials like wood and leather.

Victorian: This style is very grandiose, with intricate details and lavish fabrics.

These are just a few of the most popular styles, but there are many more to choose from! The great thing about vintage furniture is that it can add so much personality to a room. It's a way to make your home truly reflect your own style.
The Best Vintage Furniture Stores in Ottawa
Now that you know a little more about vintage furniture, here are the best places in Ottawa to find it!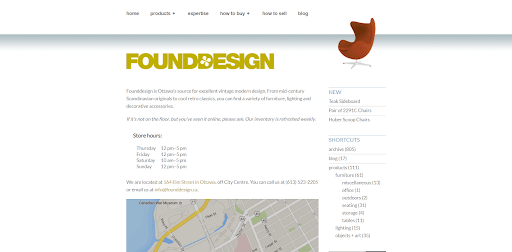 If you're on the hunt for some unique pieces that are sure to impress, Ottawa's Founddesign is the place for you. They carry everything from mid-century Scandinavian originals to retro classics – and their knowledgeable staff can help you find the perfect piece to add a touch of luxury to your home. 
Plus, with 30 years of collecting experience under their belt, you can rest assured that whatever you purchase is of the highest quality. So why settle for mass-produced furniture when you can invest in a timeless piece that will last a lifetime?
"This is the best place in Ontario to buy vintage mid century modern furniture and decor. Staff are very friendly and knowledgeable. Owner Malcolm Cairns had also curated an important collection of original period artworks by the best artists of their day. You would pay admission elsewhere to see these."
"My experience with Found Design has always been very good. I have purchased at least twelve items, from a very large dining room table to a candlestick. These are on the ceilings, floors and walls. The owner is very helpful and fine tunes the pieces if required. He is also provides an excellent service hanging art work and wall units. Nothing moves. I recommend a visit to Found Design."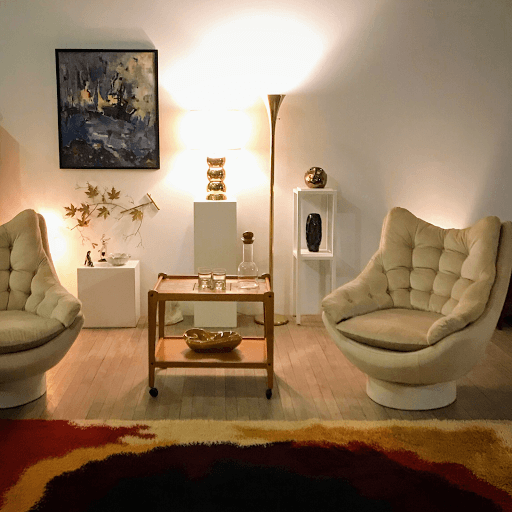 Verve Moderns is a haven for those who appreciate superior quality and timeless design. The vintage furniture store offers an extensive selection of mid-century modern furniture, lighting, decorative objects, fine art, and jewelry from the 1950s to the 1970s. 
Each piece is hand-selected for its unique style and impeccable craftsmanship. The knowledgeable staff is committed to helping customers find the perfect piece to complement their home or office. 
Whether you are looking for a statement piece or a hidden gem, Verve Moderns is sure to have something that catches your eye. So next time you are in the market for vintage furniture, be sure to pay a visit to Verve Moderns. You won't be disappointed.
"Friendly and super helpful owners. Good range of prices for quality items, such as furniture, rugs, art, jewelry, glassware. You can walk in and right away feel at home browsing!"
"Friendly and a great selection of furniture and objects. Like visiting a design gallery!"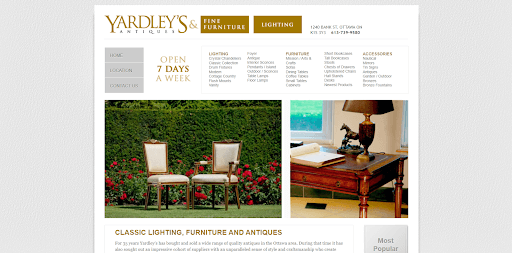 Yardley's Antiques is a retro furniture store in Ottawa that has been in business for over 35 years. They offer a wide range of high-quality vintage furniture, sourced from a select group of vendors who specialize in style and longevity. With an extensive inventory and friendly staff, Yardley's is the perfect place to find that one-of-a-kind piece for your home. 
They are open 7 days a week, so you can take your time browsing their collection at your leisure. Whether you're looking for a statement piece or something more, Yardley's is sure to have what you're searching for. 
So next time you're in the market for antique furniture, be sure to pay a visit to Yardley's Antiques. You won't be disappointed.
"Can't express my excitement with this little treasure find from Yardley's. Great service from the owner and his staff. We have been going in for years and always found nice little things like candle sticks, statues, pictureframes and paperweights but this pedal car absolutely made my day."
"I bring everyone I know here. I always leave feeling inspired to do something creative just because of the sheer whimsy this place has. The more you explore, the more you're rewarded. If I could, I'd ask if I could pay them a flat rate for the day and just sit out back and do some writing. You'll understand why when you see this place ;)"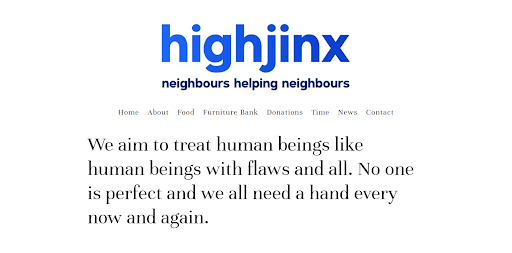 Highjinx offers a unique shopping experience for those looking for vintage furniture and other rare items. Not only does the store provide a community resource library, but it also donates profits to local programs that assist those in hardship.
 In addition, Highjinx offers a wide variety of burglarious and rare items that are sure to interest customers. By purchasing from Highjinx, customers not only help themselves by obtaining rare and interesting items, but they also help others in the community. 
This is a win-win situation for everyone involved!
"An amazing shop in Ottawa! They are a social enterprise that support people in need in this community. If you are in Ottawa and ever get a chance to support them, it is well worth the effort."
"Great shop with a great purpose! Supporting them means supporting a social enterprise that helps the less fortunate in Ottawa. Plus, you can buy cool stuff. :)"
FAQs About Vintage Furniture
Ottawa is home to a number of extraordinary vintage furniture shops. If your home is a reflection of you, it makes sense to decorate your rooms with items as special as you. These stores and their staff want to help you create a beautiful room with eccentric and lovely furniture.
If you're looking to buy stunning, one-of-a-kind pieces, you have to visit these Ottawa vintage furniture stores!