Ottawa's best Italian bakeries offer a taste of Italy with their selection of bread, pastries, tarts, and biscotti. Enjoy an authentic espresso alongside these sweet treats. Our list is curated based on professional bakers, diverse menu, high-quality ingredients, and excellent customer service. These bakeries also provide custom cakes for special occasions. 
If you're in the market for the most mouthwatering Italian cuisine Ottawa has to offer, visit the best Italian restaurants and the best pizza places in Ottawa.
What are the Most Popular Italian Baked Goods?
Italian bread, pastries, tarts, biscotti…the list goes on. But some of the most popular items you'll find at an Italian bakery include:
Cannoli: A classic Italian pastry consisting of a fried dough shell filled with sweetened ricotta cheese.

Biscotti: Hard twice-baked cookies that are perfect for dipping in coffee or tea.

Sfogliatelle: Also known as "lobster tails", these are flaky pastries filled with sweet ricotta cheese.

Tiramisu: A layered dessert made with coffee-soaked ladyfingers, marsala-

flavoured

mascarpone cream, and cocoa powder.

Panettone

: A type of Italian sweet bread that is traditionally served around Christmas time.

These are just some of the amazing things you can find at an Italian bakery. Now, let's take a look at the best ones in Ottawa!
The Best Italian Bakeries in Ottawa
Now that you know what to expect, here are the best Italian bakeries in Ottawa:
1) Pasticceria Gelateria Italiana Ltd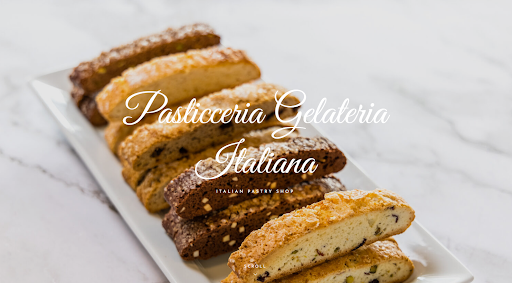 Pasticceria Gelateria Italiana has delighted customers with sweet treats and custom cakes since 1979. From weddings and anniversaries to birthdays, their experienced team creates unique delights for all occasions. Enjoy a variety of beverages, including cappuccino, espresso, wine, and imported beer. Their menu also features a wide selection of tasty sandwiches and salads, tortes, cheesecakes, French pastries, and assorted truffles.
"A proper Italian dessert shop with coffees, pastries, cakes, gelato, and drinks, as well as some lunch fare. Clearly popular with locals and the euro set. A good patio though indoor seating was limited. They served me a macchiato to-go the right way, in a kiddie cup!"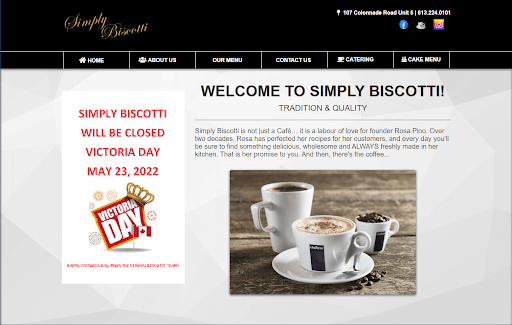 Simply Biscotti, founded by Rosa Pino, offers delicious treats crafted over two decades. From cakes to Lavazza coffee, it's a satisfying stop. Their freshly brewed espresso and cappuccino deliver unforgettable flavours. The menu includes traditional favourites like biscotti, tiramisu, and various cakes, along with pastries like pies, lobster claws, spanakopita, and quiche. When craving something sweet or savoury, Simply Biscotti won't disappoint!
"I chose the raspberry rose cake from the menu online, ordered by email, and received confirmation very quickly. It was ready at my requested time. The cake was beyond my expectations! Moist cake and the raspberry buttercream was so fresh. We also took home some biscotti and it was lovely. I can't wait to go back!"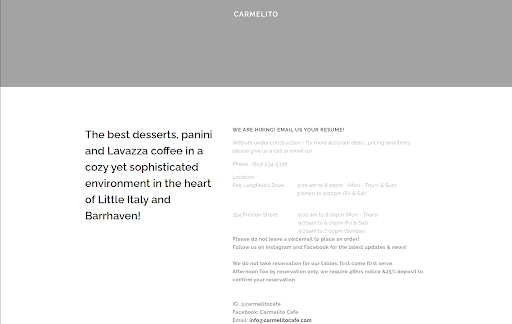 Carmelito Cafe in Little Italy is a delightful spot for satisfying your sweet tooth. Indulge in cream-filled lobster tails and tempting biscotti. They also offer a variety of savoury food and drinks. Whether you need a quick snack or a leisurely meal, this cafe caters to all tastes. Enjoy a cozy and sophisticated atmosphere for some well-deserved relaxation and me-time.
"My friend and I go to Carmelito's almost everyday for lunch. Staff is super friendly and the food is amazing. We always look forward to seeing the employees who we can connect with and treat us like friends. We always receive the best quality items and great service. I would recommend visiting and eating here!"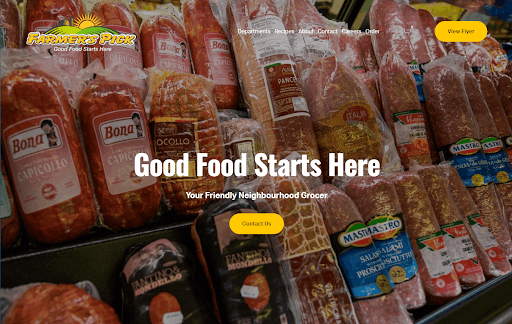 Farmer's Pick prioritizes quality ingredients for their sandwiches, using the finest deli meats, breads, and cheeses. Their Master Butcher, Roger, prepares fresh meat daily, ensuring mouthwatering cuts of beef, chicken, and pork. They also feature an authentic Italian Bakery with a range of simple yet delicious food items. For a budget-friendly meal without compromising on quality, visit Farmer's Pick.
"I live right across the street and they're always having really good deals as well as having products a lot of mainstream grocery stores don't carry in terms of snacks, drinks, and cheese for example. I decided to try a deli sandwich today and the worker made me a custom one because I only wanted spicy salami as the meat, it's definitely worth the price, tasted really good."
FAQs About Italian Bakeries
While not quite Italy, Ottawa has many bakeries that are just as good. These bakeries are serving up authentic, high-quality, and of course delicious baked goods. Bite into perfectly crispy bread or a lovely tart. Whatever you get at these Ottawa Italian bakeries they're sure to be amazing!
So if you're craving some Italian treats, you have to visit the best Italian bakeries in Ottawa!