The best Italian bakeries in Ottawa will transport you to Italy! 
Italian bakeries are unlike anything else. Everyone knows about Italian food, but if you aren't eating Italian baked goods then you're seriously missing out. Ottawa has many great bakeries, but the best are the ones serving up Italian items. With things like Italian bread, pastries, tarts, and biscotti, on the menu, you'll love these bakeries. Don't forget to grab a cup of authentic espresso!
We selected these bakeries based on their team of professional bakers, variety of things on the menu, sweet treats and coffee alike, high-quality ingredients, and customer service. Many of these bakeries also offer custom cakes and other sweets for any occasion, weddings, birthdays, you name it!
If you can't get enough of Italian food, well then you're in luck. Ottawa is home to many amazing Italian eateries like the best Italian restaurants and the best pizza places in Ottawa!
What are the Most Popular Italian Baked Goods?
Italian bread, pastries, tarts, biscotti…the list goes on. But some of the most popular items you'll find at an Italian bakery include:
Cannoli: A classic Italian pastry consisting of a fried dough shell filled with sweetened ricotta cheese.

Biscotti: Hard twice-baked cookies that are perfect for dipping in coffee or tea.

Sfogliatelle: Also known as "lobster tails", these are flaky pastries filled with sweet ricotta cheese.

Tiramisu: A layered dessert made with coffee-soaked ladyfingers, marsala-flavored mascarpone cream, and cocoa powder.

Pannetone: A type of Italian sweet bread that is traditionally served around Christmas time.

These are just some of the amazing things you can find at an Italian bakery. Now, let's take a look at the best ones in Ottawa!
The Best Italian Bakeries in Ottawa
Now that you know what to expect, here are the best Italian bakeries in Ottawa:
1) Pasticceria Gelateria Italiana Ltd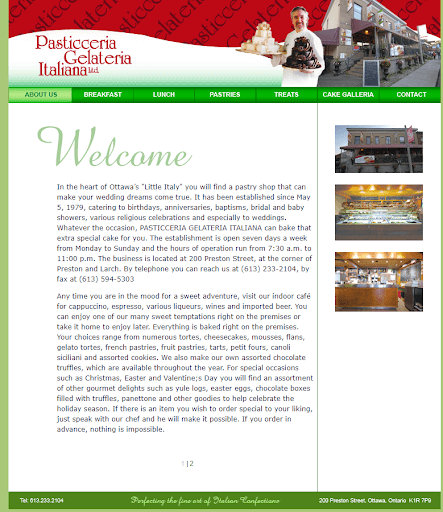 Pasticceria Gelateria Italiana is the perfect place to get that sweet treat you've always dreamed about. They have been around since 1979 and specialize in making all sorts of cakes for any occasion. A professional team with a rich history can make your wedding dreams come true at this cozy little shop. 
Whether it's an anniversary or birthday celebration, they can create something extraordinary. They offer a variety of drinks such as cappuccino and espresso, wine or imported beer if you're looking for something stronger. In addition to sweet treats, they also offer savoury food options like sandwiches and salads.
Here you also can enjoy tortes, cheesecakes, mousses, flans, gelato tortes, french pastries, fruit pastries, tarts, petit fours, as well as their own assorted chocolate truffles. 
With so many delicious options to choose from, Pasticceria Gelateria Italiana is sure to have something to satisfy your every craving.
"A proper Italian dessert shop with coffees, pastries, cakes, gelato, and drinks, as well as some lunch fare. Clearly popular with locals and the euro set. A good patio though indoor seating was limited. They served me a macchiato to-go the right way, in a kiddie cup!"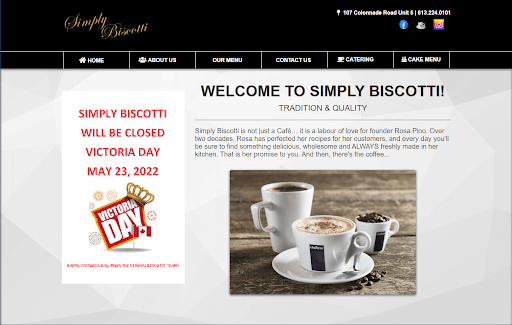 Rosa Pino, the founder of Simply Biscotti, has been making delicious treats for over two decades. Every day, you can find something tasty made in her kitchen. Whether it's a slice of cake or just an espresso drink to satisfy your cravings, Simply Biscotti is sure to have what's best for you.
As for coffee, they serve only Lavazza, and they make sure that your drink is always freshly brewed. Whether it's an espresso shot or cappuccino- you'll taste flavours creating a truly unforgettable experience. 
They have a wide range of sweet treats to satisfy your every need, including some traditional favourites like their biscotti. They also make classic tiramisu and all sorts of cakes. From pies and lobster claws to spanakopita and quiche, they are known for their spectacular pastries as well. 
So next time you're in the mood for something sweet, be sure to check out Simply Biscotti!
"I chose the raspberry rose cake from the menu online, ordered by email, and received confirmation very quickly. It was ready at my requested time. The cake was beyond my expectations! Moist cake and the raspberry buttercream was so fresh. We also took home some biscotti and it was lovely. I can't wait to go back!"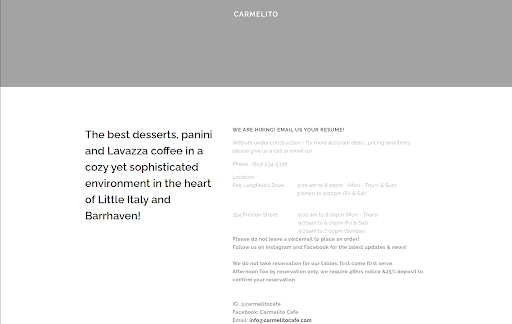 Carmelito Cafe is the perfect place to satisfy your sweet tooth. From their cream-filled lobster tails to their tempting biscotti, everything at this Little Italy cafe smells and tastes delicious. In addition to their sweet treats, Carmelito Cafe also offers a great selection of savoury food and drinks. 
So whether you're looking for a quick snack or a leisurely meal, this cafe has something for everyone. And with its cozy yet sophisticated atmosphere, Carmelito Cafe is the perfect place to relax and enjoy some well-deserved me-time.
"My friend and I go to Carmelito's almost everyday for lunch. Staff is super friendly and the food is amazing. We always look forward to seeing the employees who we can connect with and treat us like friends. We always receive the best quality items and great service. I would recommend visiting and eating here!"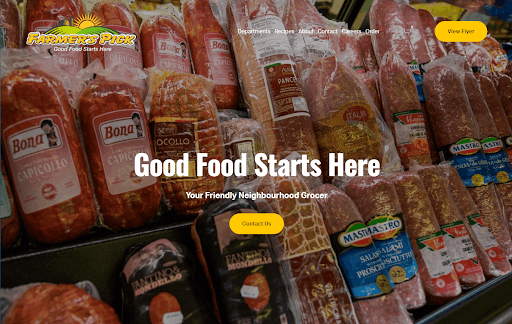 At Farmer's Pick, they understand that the key to serving up the best food is using high-quality ingredients. That's why they only use the finest deli meats, breads, and cheeses in their sandwiches. And all of their meat is prepared fresh daily by their Master Butcher, Roger. 
With years of experience, Roger knows how to create mouth-watering cuts of beef, chicken, and pork that are sure to please any palate. In addition to their delicious sandwiches, Farmer's Pick also offers an authentic Italian Bakery right in the store. From breads and buns to baked goods, their food is simple yet incredibly tasty. 
So next time you're looking for a budget-friendly meal that doesn't sacrifice quality, be sure to stop by Farmer's Pick.
"I live right across the street and they're always having really good deals as well as having products a lot of mainstream grocery stores don't carry in terms of snacks, drinks, and cheese for example. I decided to try a deli sandwich today and the worker made me a custom one because I only wanted spicy salami as the meat, it's definitely worth the price, tasted really good."
FAQs About Italian Bakeries
While not quite Italy, Ottawa has many bakeries that are just as good. These bakeries are serving up authentic, high-quality, and of course delicious baked goods. Bite into perfectly crispy bread or a lovely tart. Whatever you get at these Ottawa Italian bakeries they're sure to be amazing!
So if you're craving some Italian treats, you have to visit the best Italian bakeries in Ottawa!