Whether you're looking for classic French fares like coq au vin or more modern dishes like duck confit and foie gras, Ottawa has no shortage of amazing restaurants that specialize in French cuisine. What's more, these restaurants all have fantastic atmospheres that make them perfect places to relax and unwind. 
Whether you're planning a romantic date night or just want to treat yourself to an evening out, one of these six great French restaurants is sure to please. We chose the best French restaurants in Ottawa based on the quality of their food, their atmosphere, and past experiences from customers. 
From cozy bistros to chic wine bars, there truly is something for everyone in this diverse city! So if you're looking for a delicious French meal in Ottawa, look no further than one of these awesome spots. Bon appétit!
If you're also craving some Italian food while in Ottawa, make sure to check out our list of the best Italian restaurants in the city!
What Are Most Popular French Dishes?
French cuisine is some of the most popular and iconic in the world. If you're new to French food, some of the most popular dishes include classics like coq au vin (chicken in wine), Boeuf Bourguignon (beef stew in red wine), Ratatouille (a vegetable stew), and escargot (snails in garlic butter). 
Cheese is also a huge part of French cuisine, and there are many iconic French cheeses that you may have heard of, such as Brie, Camembert, Roquefort, and Chevre. These cheeses are often used in dishes or served on their own as appetizers. 
A great pairing with French cheese is with wine, as France is also known for producing some of the best wines in the world. If you're looking to try a French wine with your meal, make sure to ask your server for a recommendation!
And of course, when it comes to French food we can't forget about the desserts! Some of the most popular French sweets include crème brûlée, macarons, and éclairs. No matter what you're in the mood for, there's sure to be a French dish that will tantalize your taste buds.
The Best French Restaurants in Ottawa
Now that we've whetted your appetite, let's take a look at some of the best French restaurants in Ottawa!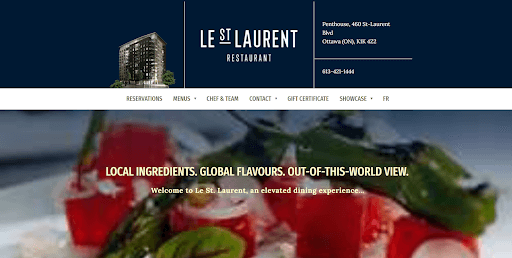 Le St Laurent is a modern French restaurant located in the heart of downtown. It's run by Ryan Edwards, who has been cooking for years and uses his experience to create innovative dishes using locally sourced ingredients like produce or meats from our very own farms! 
The menu changes frequently but you can expect creations such as braised beef short rib with mushrooms served over pureed cauliflower and broccoli vegetables that will make your taste buds happy. You can also try Albacore tuna crudo with warm olives and pistachios which create a complex and delicious taste. 
"Le St. Laurent is east Ottawa's gem. Both their lunch and dinner options are delicious. The chicken sandwich is one of my favourites in town. We ordered a set menu for dinner and everything from appetizer to dessert was amazing - especially the lobster risotto and sticky toffee . I recommend this spot to all my friends and family!"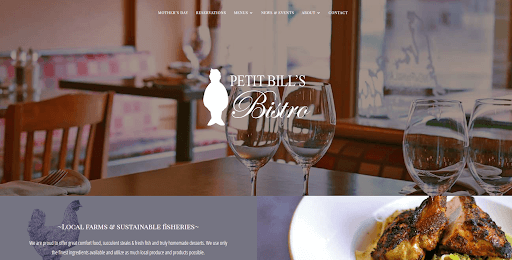 With its extensive menu full of comfort food and delicious entrees, there's something to suit any appetite at this local hotspot. Whether you're in the mood for a juicy steak or some fresh, crisp fish, their kitchen always has the highest quality ingredients at hand, including those sourced locally whenever possible. 
So whether you're stopping by after work with your coworkers or coming in to unwind with friends on the weekend, you can be sure that your meal will be pure satisfaction from start to finish. 
And if you still have room for dessert, the homemade pies and cakes are the perfect way to cap off a great meal. So why wait? Head on down to Petit Bill's Bistro today and treat yourself to some truly amazing cuisine!
"Excellent dining experience. I had the short rib and my Wife had scallops, both were delicious. The cod cake appetizer was tasty as well, perfectly cooked, tender and crisp. Very good wine selection. Service was friendly and attentive. One of our favorites."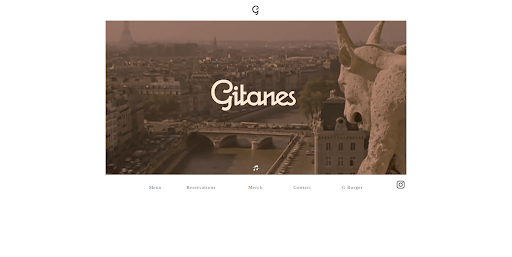 Gitanes French restaurant is the perfect place for a romantic evening. The prices are reasonable and you can enjoy their cuisine with your significant other or friends! The atmosphere inside is amazing too and the staff are attentive and caring. 
Their duck dishes are perfectly cooked and paired well with the red wine. The beef tartare appetizer comes in a flawless slice of brioche, which is especially delicious when dipped into its yummy sauce. 
You can also try oysters —they are really fresh. They truly will bring you into the world of wonderful service and food! 
"Just had a wonderful dinner experience at Gitane's. Everything was delicious - the tuna crudo and chocolate soufflé especially! Service was fantastic. Highly recommend!"
4) Les Moulins La Fayette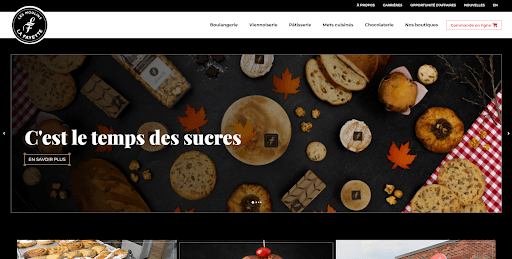 Moulins La Fayette provides a wide range of food options to suit any need. Whether it's for an office party or family reunion, they can help you out! They also provide catering services which means their clients never have to leave their guests hungry.  
They offer options for you and your guests like Sandwiches with cheese and meat, appetizers salad bar with raw vegetables to boot! All this will make it hard not to be satisfied by the end of dinner. They also specialize in savoury pies like shepherds or vegetarians.
"This little bakery has so much going for it. Stopped for hot chocolate and a maple pastry and both were great. However, the desserts they had on display in the cases were even more gorgeous. The place was relatively accessible with decent vegetarian options. The staff were kind and helpful. Definitely recommend a stop."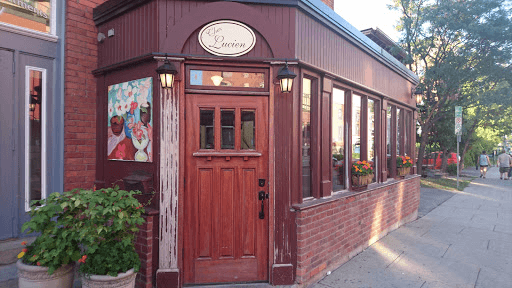 Chez Lucien is a cozy bar bistro on the corner of Byward Market that serves fresh local food and craft beer. It's been gaining popularity for its appetizing dishes such as mussels cooked in cream sauce, shaved brussels sprouts with bacon fat, and other tasty treats! 
The salmon burger is our personal favourite–it's huge and cooked to perfection, and the tofu one is also great for veggie-lovers. With huge portions of salad, fries or other sides such as onion rings–you're set for a great dinner date.
 So if you're looking for a relaxed but still upscale atmosphere to enjoy a meal with friends or a romantic partner, definitely check out Chez Lucien!
"As always, a tasty burger, fries and fresh salad from Chez Lucien. Been getting burgers from Chez for years now and they still don't disappoint. Their daily cheesecake flavours are deeelicious!"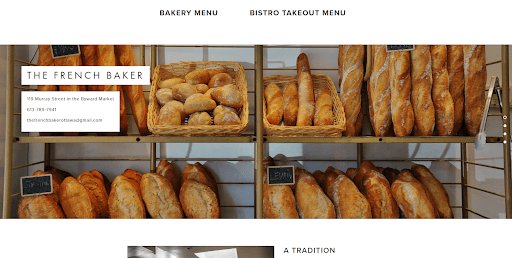 Benny's Bistro is a great place to get a taste of France. The bistro takes pride in its French heritage and serves up delicious food that is good for your health. The commitment to this philosophy is shown by how many natural ingredients they use. 
The mushroom dish and the smoked salmon are both amazing! And the black peppercorn parfait is really soft and rich in flavour. So if you ever get a chance, stop there for some of this delicious food. You won't be disappointed!
"Had a fantastic brunch here. It was so difficult to choose something off the menu because it all seemed so fantastic. The tuna dish was absolutely amazing and I can't wait to go back to try the other dishes. The décor and atmosphere were great as well."
FAQs about French Restaurants
Ottawa has some great French restaurants, and the six that were featured in this article are definitely worth trying. If you're looking for a delicious and authentic French meal, any of these restaurants would be a great choice. So why not give them all a try and find your favourite?