The best flower fields in and around Ottawa are the perfect opportunity to take a break from the city!
For many, living in Ottawa means they're a little disconnected from nature. This summer, why not mix things up? In the city and in nearby areas, there are plenty of wonderful flower fields ready for you to visit!
Take in the lovely subtle scent of the flowers or take a cute picture or two. In these flower fields, you can get lost in the scenery. Here you can have a picnic or enjoy a leisurely stroll.
We selected these Ottawa flower fields based on the number of different flowers they have on display, and the beautiful flower fields you can walk through. Many of these fields have food trucks and small businesses you can buy from so it's definitely something you can make a day out of!
There's so much beautiful nature to discover in and near Ottawa. For more, check out the best sunflower fields and the best farms in and around Ottawa!
When is the Best Time to Visit the Flower Fields?
The best time to visit the flower fields is typically in mid-to-late summer when most of the flowers are in full bloom! However, since different flowers bloom at different times, it's worth checking beforehand which flowers will be in bloom during your planned visit.
Some of the flower fields listed below have specific bloom times (usually posted on their website), while others are more general.
When Visiting the Flower Fields, Keep in Mind:
Wear sunscreen and a hat! The sun can be quite strong when you're surrounded by all that open space.
Don't forget your camera to take some amazing pictures.
If you want to pick your own flowers, make sure to call ahead or check the farm's website to see if that's an option!
Some of the farms listed below have other attractions such as mazes, restaurants, and markets. Be sure to check those out as well!
The Best Flower Fields in and Around Ottawa
Now that you know when to visit and what to keep in mind, here are the best flower fields near Ottawa!
1) Canadian Tulip Festival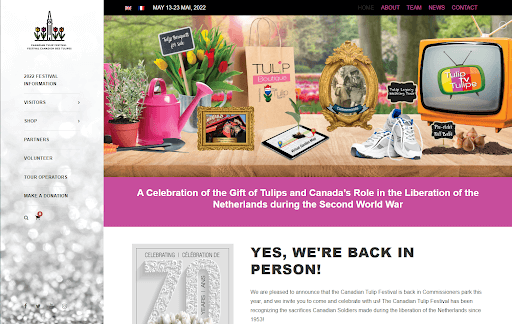 The Canadian Tulip Festival was established to celebrate the historic Royal gift of tulips from Dutch people to Canadians following the Second World War as a symbol of international friendship. 
The festival offers visitors an opportunity for peace and tranquillity in a beautiful setting while enjoying these brilliant flowers that have been so long associated with Canada. In grateful memory of all who sacrificed for our freedom, the festival preserves the memorable role of the Canadian troops in the liberation of the Netherlands and Europe.
It also commemorates the birth of Dutch Princess Margriet in Ottawa during World War II (the only royal personage ever born in Canada). The first Canadian Tulip Festival was held at the suggestion of world-renowned photographer Malak Karsh.
During the festival, the whole park is blossoming with flowers. There are also food stands and an area where you could enjoy a meal while listening to the sound of nature.
"Really enjoyed our visit on May 11. Most tulips have blossomed. Wonderful spot to enjoy the beautiful variety of tulips, as well as the nice history between Canada and Netherlands. Visited during the weekday afternoon, so didn't have traffic nor parking problems. A super enjoyable visit!"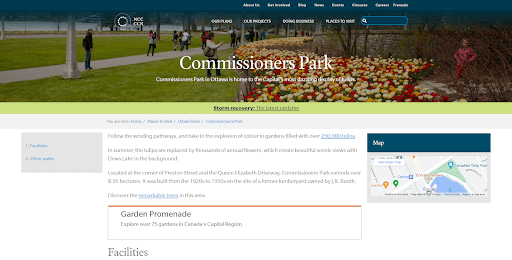 With a colour so rich it's almost musical, take in the explosion of beauty as you walk through gardens filled with over 250 thousand tulips. The beautiful and expansive Commissioners Park was built from the 1920s to 1950s on 8.95 hectares on the site of a former lumberyard owned by J.R. Booth.
Millions of flowers fill the fields every year, creating a magical landscape that is perfect for pictures. In summer, the tulips are replaced by thousands of annual flowers, which create beautiful scenic views with Dows Lake in the background.
Plenty of parking is available across from the Dows Lake Pavilion, at the corner of Preston Street and the Queen Elizabeth Driveway.  There is a beautiful statue called ''The Man With The Two Hats'' you can take some pictures with during your walk. 
You can also buy some tulips to take home with you from one of the many vendors in the area. So come and enjoy the explosion of colour that is sure to delight all your senses!
"Went for the tulip garden displays. Beautiful, even in the rain. Terrific stories of how the tulip festival came to be with story boards of historical events between Canada and the Netherlands. Interesting story board of war brides and how they ended up meeting their spouses. Several food trucks and tulip vendors also in the park."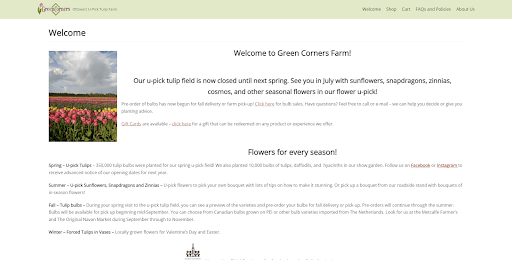 Allan Groen and Manja Bastian like to call themselves ''a boring couple''. After working overseas, they retired to the country and realized they needed to add some excitement back into their lives. 
In the Fall of 2019, they started Green Corners U-pick Tulip Farm on their 13 acres in Ottawa. They are excited to share the beauty of spring tulip blooms with their new community. 
350,000 tulip bulbs were planted in their field this year (Spring – U-pick Tulips).
 They also planted 10,000 bulbs of tulips, daffodils, and hyacinths in their show garden. 
You can pick perfect flowers to make the most beautiful bouquet. They offer Sunflowers, Snapdragons and Zinnias (Summer – U-pick).
During your spring visit to the u-pick tulip field, you can see a preview of upcoming varieties and pre-order bulbs for fall delivery or pickup (preorders will continue through summer). Bulbs are available for pick up beginning mid-September. 
This place is well maintained. It's easy to walk around and enjoy the beauty of nature.
"We went late in the tulip picking season. Still lots of tulips to pick from. Beautiful fields of tulips. Staff all friendly. Only down side but nothing to do with the place was the car park. People weren't parking sensibly so made it tricky to get out as it got busier. Lots of lovely photo opportunities especially for kids."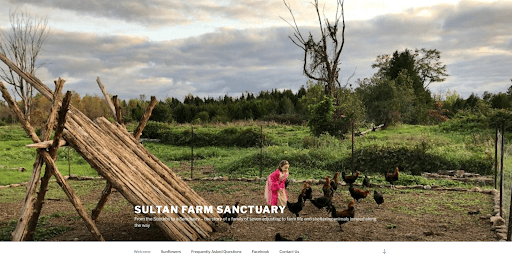 Sultan Farm and Sanctuary is a family of seven running a farm and animal sanctuary. Their goal is to provide a safe space for otherwise unwanted animals. They opened their field of sunflowers to public visits, asking for donations to their animal sanctuary in return. 
In 2019, they planted their very first crops, an 8-acre field of sunflowers. This was a result of all their hard work and love for nature. They bought non-functioning farm equipment which they fixed up so that they could prepare land that was followed for years. 
In 2020 they reached 15 acres of sunflowers. Now, there are even more beautiful views for you to enjoy.  The flowers of this season are sure to be a delight. This year they are likely to start to bloom by August 15th. The season lasts approximately 3-4 weeks in total.
There are no set hours, so you can come whenever you want. The flowers are on the road and the house of the owners is set far back; they won't be inconvenienced by your visit. 
"Had an amazing experience in the farm; to see the fully bloomed sunflowers was a total bliss. Can't thank the family enough who are allowing the visitors to take a stroll in their field at ease with no cost involved. Made a donation as a token of gratitude. Just wanted to thank the family for offering this beautiful experience. It was totally worth it."
5) Central Experimental Farm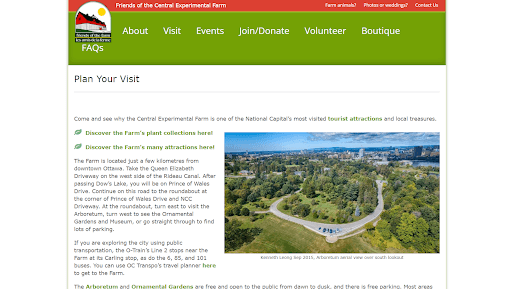 Central Experimental Farm is a place where you can spend the day learning about Canada's agriculture industry. The farm is home to many animals and plants that live in harmony with humans. There are so many things for kids to do at this park – it would be an ideal spot if they were looking forward to exploring nature while being safe from any dangers.
The beautifully manicured fields, barns and gardens of this place are great. You can ride your bike, jog or power walk and never get bored. The beginning of spring is a great time to visit Central Experimental Farm. 
You can enjoy the pink and white flowers that line flower trees, which open up around the end of April or the first week of May. Mid-spring apple blossoms, followed by tulips, chrysanthemums, roses, and more – an amazing place to take some pictures.
There is also a mock small factory and cellars that you can go into to see how food was produced and stored in the past.
"Beautiful working farm & park right in the City of Ottawa.. Wonderful place to walk dogs on leash. Fletcher Wildlife Garden is a gem.. Ideal place to take pictures of all sorts of wildlife, etc...Gorgeous tall abundant trees and spectacular gardens. A must see & do for everyone! Don't miss out!! ❤️"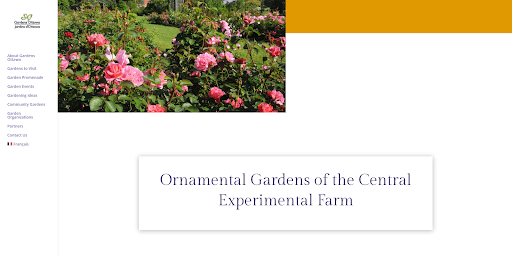 Ornamental Gardens is a great place for relaxing, reflecting and listening to the melodies of birds and bees. It's free and open to the public from dawn to dusk, and there is free parking. Most areas are accessible for people with physical limitations.
The first roses were planted at the Central Experimental Farm soon after it was established in 1886. The first director of the Farm (William Saunders) published a list of "desirable" roses in 1895, after a few years of testing some "majestic and perfectly formed varieties cultivated in modern times".
 In this wonderful garden, you can find climbing roses as well as ground covers and English roses. There are also many ancient varieties that aren't grown very often nowadays. A large number of the Farm's lilacs are in the Ornamental Gardens. 
There are different types of early, mid, late and very late-blooming types, with starting times beginning the second week of May. The Ornamental Gardens also has 12 beds with 350 peonies. Others are located in the Arboretum, the Macoun Garden, the Rock Garden, and the long perennial beds.
"This is my favorite garden. I feel in love for the first time since my first visit and I spend my time during summer reading book or just listening to the music and I bring my lunch with me. Just beautiful, peace and colorful so many flowers."
Ottawa has so many beautiful flower fields, and if you're willing to drive further out, there are even more to discover. Visiting a flower field is an experience unlike anything else. Enjoy the beauty of being surrounded by countless flowers in full bloom!
So if you want to take a break from it all, visit the gorgeous flowers at the best flower fields in Ottawa!