You should never underestimate the importance of knowing how to drive. It's one of those things that we take for granted as adults, but where would we be without it? You never know when you might need a car-and these days it seems like everyone has a vehicle. In this article, we have compiled a list of some of the best driving schools in Ottawa to help you get started on the road.
How Much Do Driving Schools Cost in Ottawa?
In Ottawa, the average hourly rate for a driving school is around $35 -$60 per hour. The cost of a driver's training course can vary from school to school. A driver's training course usually consists of about 30 hours of classroom sessions and 6-12 hours of in-car lessons.
Most schools offer package deals for $300-$600 which include the price of in-class lessons, in-car lessons, course material, and the fee for your driver's test. There are also private lessons which you can request if you feel like the package deal isn't worth your money or if you need more individualized attention.
The Best Driving Schools in Ottawa
Now that we have briefly covered the cost of a driving school in Ottawa, here's our list of the 10 best driving schools.
1) safe2pass driving school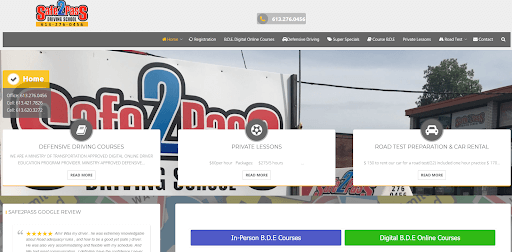 Looking for a driving instructor? Safe2pass is the place to go to! Their instructors will teach you how to be safe while behind the wheel. Their patience and knowledge will really help you to become a confident driver quickly, with easy techniques that will help prevent accidents from happening.
They offer private lessons, defensive driving courses and road test preparation and car rental. With their preparation you will be more than ready to pass the driving test and get your license.
"If you are looking for a driving instructor to practice for your upcoming test, this is the right website for you. I am very happy with safe2pass' services. I had Kaz as my instructor and he was wonderful. He was very patient and taught me safe driving. Thanks to him I passed my G test today on my first try!"
2) Allpros-Drivers-Ed.com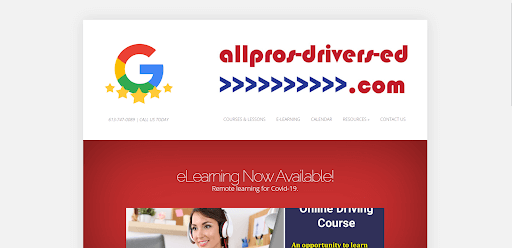 There they are passionate about teaching anyone who wants to drive. Their affordable courses are specifically designed for beginners! They have the best rates and passing percentage in Ottawa.
At Allpros-drivers they offer amazing learning opportunities with an experienced staff at all hours. They also have courses on Automatic or Standard Transmission, not to mention their special lessons for senior citizens.
"I recommend All Pros drivers school to everybody who needs to pass a driving test in Ottawa, for whichever reason. Wether you are an expert driver and need to learn the Ontario rules or you just started driving. They will be able to help you. My instructor was Philip, and I will be forever grateful for his patience and knowledge of the road. I feel more confident while driving, and think often of his safety tips while on the road. Thanks!"
3) Let's Go Driving School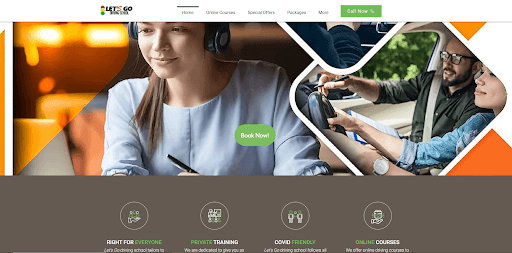 At Let's Go Driving School, they strive to provide the best driving lessons for all students. Their experienced instructors are available around all locations and will help you achieve your performance goals! At well-equipped classrooms with teaching technologies that are up-to-date on latest trends pertaining to car mechanics or fuel efficiency – there really isn't anything this school cannot offer its customers when they need assistance learning how to drive or brush up their pre-existing skills before taking an exam.
With Let's Go, you'll have the knowledge necessary to pass Ontario driving tests and become a reasonable driver.
"I enrolled in the beginners' driver course and had 10 hour in car lessons with Abdul. Abdul is a great instructor. He taught me everything I needed to pass the drive test and how to drive safely on the road. Highly recommend Abdul as an instructor. He communicates well and reassures you when you have doubts."
4) Above the Best Driving School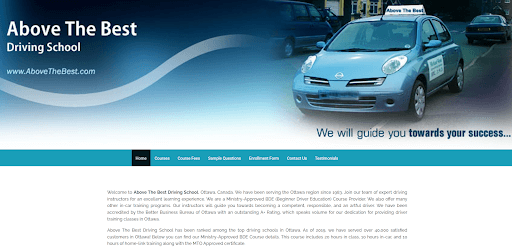 Above The Best Driving School was founded in 1983 and provides students with all types of car-related knowledge from beginner drivers ed to professional automotive training programs like bonding courses or insurance approved by MTO (Ministry Of Transport).
The instructor will guide your journey into becoming an artful driver who can be trusted on any road anywhere because their instructors are properly trained experts committed towards excellence. They offer in-class and in-car training as well as home-link training and provide the certificate at the end of your studies.
+16137896666
1902 Robertson Rd Unit 205, Ottawa, ON K2H 5B8, Canada
abovethebest.com
"I must say my experience was excellent. Muttu was my instructor and with all honesty I can state being under his tutelage benefited me greatly. The professionalism exhibited and the genuine care and sincerity in helping me pass my exam was really appreciated. Having to obtain the G1 and go straight for the full G exam based on my prior out of country driving license was very stressful. In my opinion, you cannot get better service and confidence from anyone else."
5) Driving Instructor Ottawa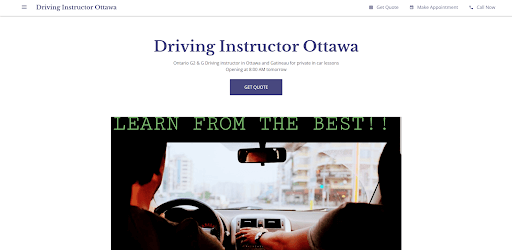 Mo is an experienced instructor who has been certified by the Ministry of Transportation. He offers his services to drivers of all ages, whether they are new immigrants or adults looking for refresher courses in order to get their licenses updated! Mo's car comes equipped with dual brakes and learning rooftop signs which helps him prepare you best possible during your driving lessons.
He knows how to prepare you for the exam, and he'll teach it in a way that is tailored just right. With his patient teaching style you will pass your G2 on the first try!
"Mo is a great instructor. He is very professional, knows his subject, is patient, kind, respectful and reliable. I contacted him at the last minute as I suddenly found a place to do my G-test and he took my concern as his own guiding me and giving me confidence in myself."
6) On Point Driving School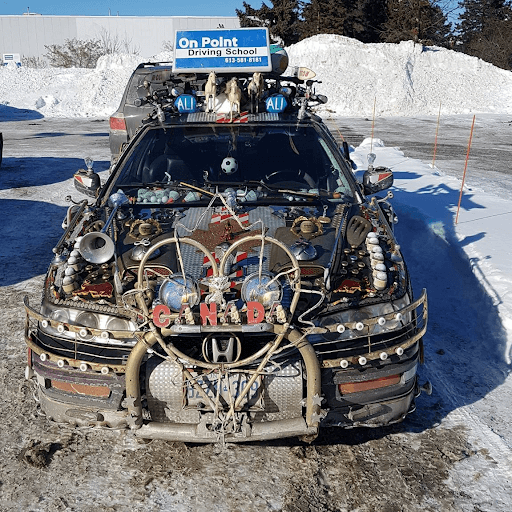 On Point driving school is an excellent place to learn how to drive. Hashim, as your instructor, will go above and beyond for you! He is very patient, knowledgeable, compassionate – he will prepare you for everything on the test which gives you an ability (with his training)to successfully pass in the first attempt only!
During the lessons he will identify habits and mistakes that can impact you directly on your road test so you can pass the test with great confidence.
"The instructor (Hashim) is a very patient and helpful person. He is very knowledgeable and arranges a flexible schedule for the classes. He knows the exact procedures and routes of the driving test. So, after the practice you already know which route you will be taking on your day of the test. With his careful guidance anyone can become an expert driver. I highly recommend this school."
7) KAZ Ottawa Driving Instructor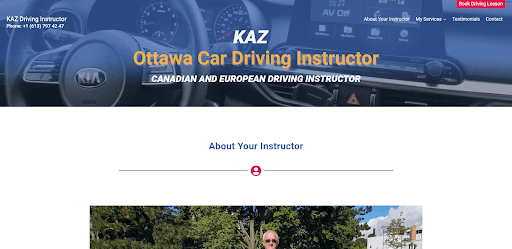 Kaz is one of the most experienced Ottawa driving instructors. With hundreds of students who passed their exam and these numbers growing every day!
He lived in Canada for more than 2 Decades, and is truly an International Teacher – teaching students in English, Polish and Russian. He offers G1 And G2 Road Test Preparation and can schedule the class on any day, even weekends. His car is equipped with a dual braking system and proper driving school insurance as well!
"Kaz is an amazing driving instructor! He really cares about his students learning to be great drivers. I remember when he let me play music on my last lesson as a reward for driving well. We always had fun and I looked forward to my lessons 🙂 Thank you Kaz!"
8) Safe Drive Ontario Driving School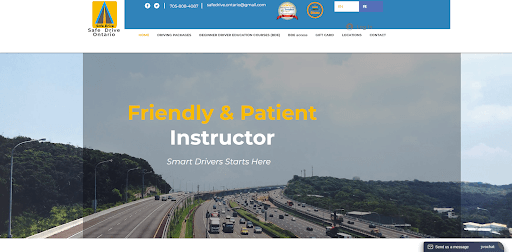 Safe Drive Ontario Driving School is here to help you pass your test and drive safely on the roads. The school offers a range of services for teenage first-time drivers, new adult learners or those who have not driven in years; they can even provide refresher courses if needed!
All students have access to their video classes and video materials so you can recall some tough moments before your test. They also have a special Beginner Driver Education Course (BDE) Course which offers a full course approved by the Ontario Ministry of Transportation. They are not only here to prepare you for your Road Test with the Ministry Of Transportation, they will also prepare you for safe driving.
"The lessons provided were really professional and useful. I passed my full G in the first attempt after a couple of classes, since they teach you everything you need to know to drive safely. The booking and payment were extremely easy. I really recommend this driving school!"
9) Ottawa Safe Drivers Driving School
If you need a professional perpetrator for the G/G2 road test here at Ottawa Safe Drivers Driving School they've got you covered. They offer BDE courses as well as private lessons for your comfort.
Ottawa Safe Drivers provides instructors that are MTO licensed and highly experienced in training beginner teens, adults and seniors and people who came from other countries. They offer pick-up and drop off at your location of choice, so no more waiting around!
"Best driving instructor in Ottawa!! I was so nervous about my first road test, but Mr.Jubouri was patient, kind and resourceful. He really took me step by step on what to expect on my testing day but more importantly how to drive safely and confidently on the road at all times."
10) Roadcraft driving School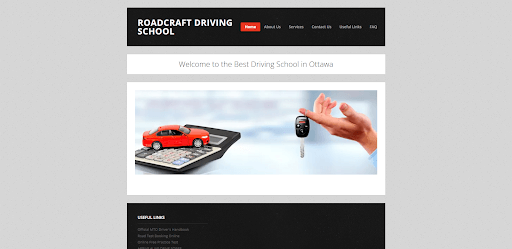 Roadcraft driving school is one of the best driving schools in Ottawa. They have the most experienced driving instructors in Ottawa, both male and female. Besides English, their in-car instructors speak in French, Arabic, Hindi, Urdu, Filipino, Tigrinya, and Bengali.
Besides the MTO certified BDE program, based on student requirements they provide personalized one-on-one driving training to improve students' skills. Whether you are looking for a few tips or someone who will teach basic driving lessons and traffic rules they can definitely help with that!
"Recently completed driving lessons and successfully cleared the G2 test. I would like to thank the instructor for his patient and detailed coaching. The best part of the training was the instructor always pointed out mistakes and very calmly helped to correct them. He was the perfect amount of strict and friendly and is perfect at his job."
FAQs About Driving Schools
Now you know all about Ottawa's best driving schools! If you are interested in taking a course, start comparing prices with the list above. Remember to ask your potential school if they book tests after your in-car training sessions so that you can avoid paying extra.
We hope this article has helped you learn more about what it takes to become a safe and responsible driver. This list should be a great starting point, so good luck!
Driving can be stressful, and a good way to relieve this stress is with yoga. Check out our list of the best yoga studios in Ottawa.