The best farms to visit in and around Ottawa are ready to provide you with a wonderful, novel experience!
Around Ottawa, there are many lovely farms open to the public. At these farms, you can learn a thing or two or just enjoy a laid-back stroll through the land. Whether you're looking to pick some fruits, hang out with some animals, or buy the freshest foods, there's a farm on this list for you!
If you're an animal lover, we're sure you want the absolute best for your pets. Take your furry friend to the best dog daycares and the best veterinary clinics in Ottawa!
What are the Most Popular Farm Activities?
There are countless activities that you can do on a farm, but some are more popular than others. Here are five of the most common activities that people enjoy when they visit a farm:
Petting zoos and animal encounters:  these are great for both kids and adults! You can learn about the animals and even get to feed them.
Picking your own fruits and vegetables: this is a fun activity for the whole family. You can pick as much or as little as you want, and you get to take home fresh produce!
Gardening: many farms have gardens that you can walk through. This is a great way to learn about different plants and flowers.
Biking: some farms have trails that you can explore on your bike. This is a great way to get some exercise while enjoying the outdoors.
Horseback riding: this is a popular activity for both kids and adults. It's a great way to explore the farm and get some exercise.
These are just a few of the many activities that you can do on a farm. There are endless possibilities for fun and learning!
The Best Farms to Visit in and Around Ottawa
Now that you know what activities you can do on a farm, it's time to choose one! Here are our picks for the best farms to visit in and around Ottawa:
1) Canada Agriculture and Food Museum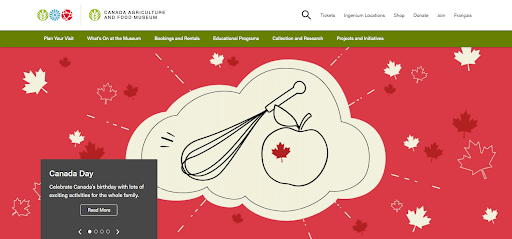 The Agriculture and Food Museum is the only working farm in Ottawa providing unique opportunities for visitors. In this museum, you can explore over 35 unique breeds of farm animals, meeting both past and present Canadian agricultural standards. You can observe how the food you eat daily is produced, from milk to eggs. 
Also, you can experience seasonal events such as Easter on the Farm, the Sheep Shearing Festival, and the Thanksgiving Harvest Weekend. Not to mention, you can also explore the history of Canadian agriculture through different exhibits and interactive displays. 
So if you're ever in Ottawa, be sure to check out the Agriculture and Food Museum!
"Fascinating fun place to bring your kids to. They get to see farm animals and enjoy outdoor at the playground and mini skating ring. Staffs are friendly and helpful. It's clean, spacious, not too crowded and has lots of parking."
"A wonderful museum with cute animals, informative exhibitions and lots of outdoor space to enjoy on a beautiful day. Perfect for families with kids who love animals and have a curiosity of what a real working farm is like."
2) Central Experimental Farm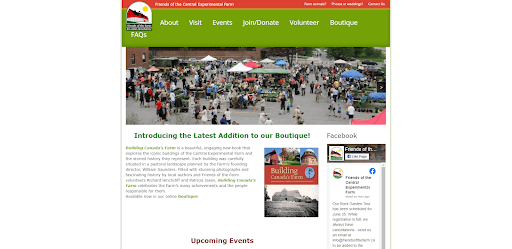 The Central Experimental Farm, more commonly known as the Experimental Farm, is an agricultural facility that functions as a heritage site and tourist destination. The Arboretum and Ornamental Gardens are free to visit and offer stunning views of natural flora. 
The farm is also home to a variety of animals, including cows, pigs, chickens, and sheep. Visitors can tour the farm to learn about its history and see how current farming practices are used to produce food for the local community. 
The Experimental Farm is a unique destination that offers something for everyone. Whether you're interested in learning about agriculture or simply want to enjoy the beauty of nature, a visit to the Farm is sure to leave you with lasting memories.
"Always love coming here, pur latest experience was amazing, very quiet and we got to learn new things about the animals with the employees and saw the cows being milked which was also neat."
"Great green place. Especially in the begining of the spring. Around end of April or first week of May. That time flower trees open with pink and white flowers. Highly recommend that place"
3) Valleyview Little Animal Farm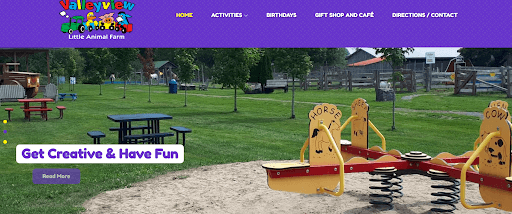 Valleyview is a renowned animal farm that provides an idyllic setting for birthday parties, mini train tours and other celebratory events for young children. The farm is home to a variety of tiny animals that contribute to the wholesome environment.
In addition, Valleyview offers an array of services that are designed to promote creativity and excitement in young children. The birthday party packages include access to the mini train, which allows kids to explore the farm at their own pace.
Additionally, the farm provides an area for creative fun, where kids can explore their imaginations and engage in a variety of activities. Overall, Valleyview is a perfect destination for kids who are looking for an exciting and educational experience.
"Very cute children farm! Family owned farm, lovely staff. Animals are adorable. Playground for kids are great, very spacious and if your child loves vehicles then this is a great space for them! Only criticism is to perhaps have a different pricing for adults and children as it could get pricey for larger families."
"We decided to take my daughter here and we were pleasantly surprised. Although it is not the biggest place it does have heart because they have alot of rescues. Will come back again"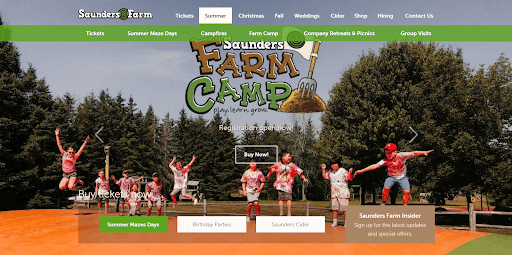 Saunders Farm is a working farm that is not only preserving its impact on the planet for future generations, but is also influencing the society around it. The farm has more than 150,000 trees that have been planted as adventure trails and mazes for visitors to relish.
And besides growing an impressive 25 hectares of various crops, they provide different seasonal attractions for people who wish to visit them from all over the world. You will find attractions such as haunted houses during the Fall and the ability to roam through various green mazes made of huge bushes during spring/summer.
 Saunders Farm provides an experience that is fun for all ages while also working to be eco-friendly and sustainable.
"Great place! Staff was friendly, the kids were overwhelmed with all the fun things to do, and ive heard they are about to install a pizza oven?!?! Don't know why I've never been here before but I'm definitely coming back!"
"This is a very popular place to visit. There is a great deal of things to see and do especially for youngsters. There is a haunted village too. The wagon rides are great and very popular. It's a great enjoyable place to spend a few hours."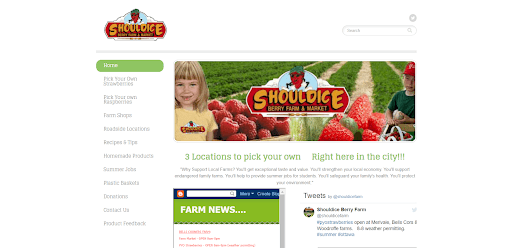 The Shouldice Berry Farm is a premier berry farm that has served its community with exceptional strawberries and raspberries for many years. The farm features fresh berries and all of the recipes and instructions you need to make a delicious berry pie. 
You can buy from them directly at their farm, or visit one of their farm store or roadside locations. The Shouldice Berry Farm is a great place to get fresh berries, and they also have a wide variety of other products, such as jams and jellies, that are perfect for gifts or for your own enjoyment. 
Visit the Shouldice Berry Farm today and enjoy the freshest berries around!
"Amazing experience, huge farm, lots of parking, effortless social distancing. Employees are very helpful and informative, even telling us where to go to find strawberries. For first timers, this was fantastic. Great family outing, highly recommended. Oh, and the strawberries were insanely good!"
Nice place for a quick outing. Only 8$ to fill up a small basket of strawberry (which is actually rather large). It took us 35 minutes to fill it up while chatting. Cheaper than the store and you get to pick the nicest strawberry at a much better taste than the ones from the store. Staff is also very nice."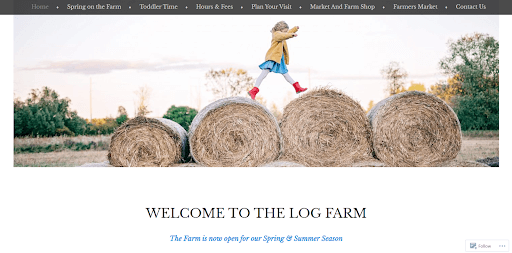 The Log Farm is a one-of-a-kind destination that is perfect for a day trip or even a weekend getaway. Located in Nepean, the farm offers visitors a chance to step back in time and experience what life was like on a local family farm in the 1800s. 
From March to December, the farm is open for business, and there is always something new to see and do. You can wet a hide, feed the farm animals, and even milk a cow. 
The Log Farm is more than just a place to learn about history – it's also a great place to enjoy the outdoors, meet new friends, and taste some delicious food. So whether you're looking for a fun day trip or a weekend getaway, be sure to check out The Log Farm.
"Such a sweet little farm with characteristics. My little one had a great time talking to the goats, feeding the lama and hanging out with the chickens and cows. And chasing around a cat. There is also a play area which my little one especially enjoy after visiting the animals."
"It's a great farm and picnic spot away from cities daily routine. You can take your kids or grandkids to see and feed farm animals like horses, goat, alpaca, sheep, bunnies and many more loving/friendly animals."
In Ottawa, it can be hard to be in tune with nature. That's where these farms around Ottawa come in. Take a break from the city; visit these farms to see, pet, and feed cute animals to stock up on the freshest fruits and vegetables. For fun for the whole family or a relaxing trip in the fresh air, visit any of these farms! 
If you're looking for a wonderful farm in Ottawa or to travel to one nearby, the farms on this list are sure to please!