The best boxing gyms in Ottawa are those that provide the perfect environment to learn the sport and improve your skills. 
Boxing makes for a great workout and way to get in shape. It's also useful if you ever need to defend yourself. The sport promotes general wellness, discipline, and focus. If you're looking to improve and challenge yourself, you should learn how to box!
But finding the right gym can be a hard, long process. That's why we rounded up the best boxing gyms in the city, so you can choose the one that best suits your needs and goals. Whatever your goals are, with the help of Ottawa's best boxing gyms, you can achieve them!
We selected these boxing gyms based on customer reviews, top-notch facilities and equipment, excellent and helpful coaches, and a welcoming atmosphere!
Boxing is just one way to keep healthy and fit. For a good workout, check out the best hot yoga studios in Ottawa and the city's best pilates!
What's the Average Cost of a Boxing Class in Ottawa?
On average, a boxing class in Ottawa will cost you around $25 – $45. However, some gyms may charge more or less depending on the type of class, length of the class, and the number of people in the class.
Most boxing gyms offer memberships that allow you to purchase classes at a discounted rate. A monthly membership at a boxing gym in Ottawa will usually cost around $100 – $200. Some gyms may even charge an initiation fee when you sign up.
Make sure to do your research and find a boxing gym that fits both your budget and your needs.
The Best Boxing Gyms in Ottawa
Now that you know how much a boxing class costs in Ottawa, let's take a look at the four best boxing gyms in the city.
1) Ottawa Fight and Fitness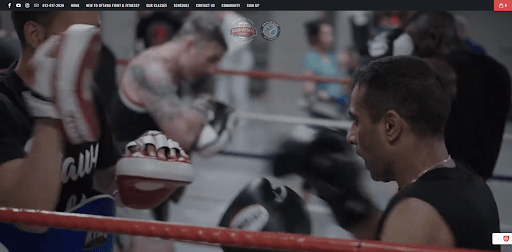 Ottawa's Fight and Fitness gym is committed to developing Championship Mindset and Habits through hard work while having tons of fun. They're more than just a workout, they offer the best of both worlds; you can train with weights or do functional fitness exercises on their mats. 
No matter what your goal is – from losing weight to building muscle mass-they've got something for everyone.
Their 5500 sq/ft facility has everything needed, including 20 Heavy Bags, 4500 Sq/Ft Of matted training area, and Functional Fitness equipment. Members of the gym have access to a wide range of fitness services including Muay Thai, Brazilian Jiu-Jitsu, boxing training programs and more. 
They also offer personal coaching sessions on most days as well as group classes that can fit any scheduling commitment-wise.
The instructors here are all highly skilled yet still able to teach techniques for beginners as well. They make sure you are doing things right when even going through exercises without any supervision so no one gets hurt in class. 
It also encourages you because if someone messes up, then there's nothing wrong with trying again, right?
"I attended their evening Muay Thai fundamentals class this past thursday and it was a great experience. The gym has a beautiful aesthetic, more than enough space, all the equipment needed with high quality, and the vibe of an amazing place to go and train. It's a very clean and positive environment with very welcoming people, from all levels and a great coach. If you're looking for great Muay Thai, there is no other place to come than Ottawa Fight and Fitness."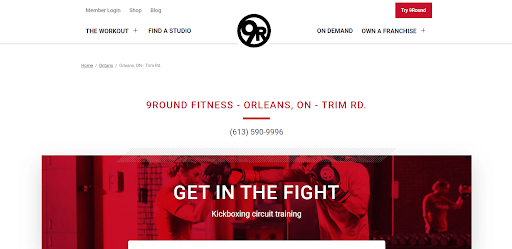 The idea of 9Round was created by Shannon "The Cannon" Hudson, an IKF Light Middleweight Kickboxing World Champion and his wife Heather. The couple had a vision as busy parents running their own karate school – to create a place where people could go without having to plan all day around making classes or spending hours at the gym; where they would get killer workouts while also being able to enjoy themselves.
Hudsons Fitness was founded on the idea that people don't need to spend more time at a gym—they just need some focus and intensity. The company believes no one should be afraid of their personal battles, as it's up to everyone to fight them with resilience.
The 9 Rounds fitness program is incredible. The workouts are fun, and energetic from start to finish – nothing boring about this place at all. Trainers motivate you through each session while providing great recipes after weight loss finishes up.
Learn how to lose weight, get in shape and feel strong with a one-on-one session from their Kickboxing instructors. They'll guide you through the entire workout while setting goals that suit your needs.
"I love everything about 9round! Killer workouts, excellent trainers, awesome atmosphere! I wake up very early every morning excited to go workout. I am very happy to be a 9 rounder! I also love the concept of heart rate training. It keeps me motivated to push hard and I love to get the email summary to see how well I did. I would recommend 9 round to anyone! It is the best!"
3) N1 Thai Boxing Academy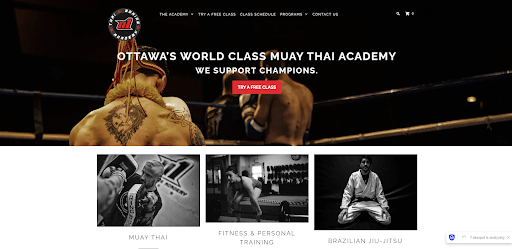 N-1 Thai Boxing Academy is there to provide you with fitness goals. They are committed, disciplined and loyal; they respect their members of the N-1 family by training them in an environment where they can feel comfortable achieving their full potential.
There's no need to be in shape for their training. They will give you the means and skills needed so that any fitness goals can become reality, whether they're long-term or just some temporary relief from stress.
The N-1 Thai Academy has an approximately 70/30 male to female ratio, which means that there are many people from all backgrounds coming together in this program: some with experience while others will be starting off on their journey into martial arts life. 
Membership will provide you with access to a variety of classes, including muay Thai and boxing as well as other options that cater more to your fitness needs. You can choose from different times each week for these types of workouts depending on what fits best into the rest of your schedule.
"Good boxing, instructor, he taught how to slide punches and various combinations using in. He was checking up on me, even though it was my first class. Though I wouldnt recommend starting on the heavy bag, if it's your first time, because your knuckles won't be conditioned as the other people who have been training there longer. Def recommend hitting a partner mitts first."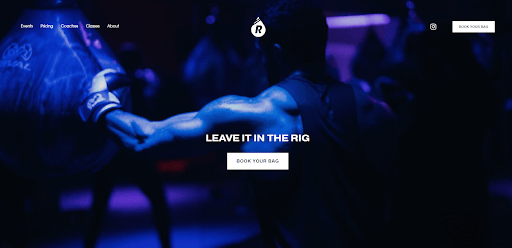 The Rig Boxing gym is a space for those who refuse to give up. Your time is valuable, so from the moment you walk in until you leave, they will make sure that everything is spent wisely and productively on you. 
They provide a respectful environment for everyone to enjoy their workout in peace and they won't stand any form of disrespect toward their members.
They have a variety of classes to choose from. Tune-Up class is a fast-paced, high-intensity workout that will leave you feeling sweaty and strong. Box and Breathe is an exercise routine that gets your heart pumping, followed by 20 minutes of mobility and stretching to finish off with some more peace in mind. 
Combine is a high-intensity workout inspired by the intense trial days of CFL  and NFL. They use circuit-style training with different equipment and stations. There are plenty of photos and tutorials on their website to help you feel at ease for your first visit.
But most importantly, the classes are fun – instructors smart and creative; membership options are abundant with great deals too. As soon as you start your workout together with them, it becomes clear why this place has such strong reviews from past visitors.
"I'm typically nervous trying something new, so the fact that The Rig has lots of photos and tutorials on their website and social media immediately put me at ease for my first visit. The classes are so fun, the instructors are smart and creative, and the membership options are plentiful! Plus it has the small-gym feel in that the instructors learn your name so fast (I love that!). I am thrilled to be a regular member here."
5) Boxing Without Barriers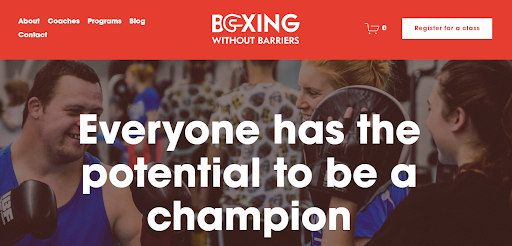 Boxing Without Barriers is a specialized team of coaches who believe that everyone has an inner champion, no matter their ability—which is why they have designed a unique non-contact boxing program specifically for children, youth, adults with physical, cognitive, or developmental disabilities. They teach athletes with a wide range of abilities and design their programs for different people with different needs and goals. Classes run on Sunday mornings, at the Beaver Boxing Club in Little Italy.
Their coaches are trained to work with people possessing a wide range of skill levels. They maintain a maximum ratio of 1 coach for every 5 athletes in all of their classes. They are passionate about teaching boxing and encourage their athletes to have fun while learning it. Their programs are designed to help you reach fitness goals by developing strength as well as build discipline and focus. 
"Great experience for our special needs population thanks to Chantal & all her volunteer helpers!"
There's no doubt how fun and useful boxing is. The first step of your boxing journey is finding a place to train. Ottawa is home to many excellent boxing gyms, open to people of all abilities. So if you're completely new to the sport or a seasoned fighter, these gyms are ready for you
If you're looking for a great place to train and hone your boxing skills, you have to check out the best boxing gyms in Ottawa!