The best upholstery companies in Ottawa will bring your furniture back looking better than ever!
Upholstery is a great alternative to buying new if you have pieces that have sentimental value or that you simply adore. If you have items that aside from a few blemishes, are in perfect condition, there's no need to throw them away. These Ottawa upholstery businesses can work their magic on any furniture you bring to them. You'll get your items back in amazing condition, as good as new, if not better!
We chose these Ottawa upholstery services based on the variety of services they offer, environment-friendly practices, low-cost fees, and the quality of their upholstery work. 
If you're looking for more furniture, then you're in the right city! Visit the best furniture stores and the best vintage furniture stores in Ottawa!
What's the Average Cost of Upholstery Services in Ottawa?
The average cost of upholstery services in Ottawa is $400 – $1200. 
The cost will vary depending on the type of furniture, the fabric, and the amount of work required. 
Some of the most popular types of furniture to be upholstered and their cost are:
 Sofa: $400 – $1200

Loveseat: $350 – $1000

Chair: $250 – $750

Ottoman: $150 – $500

Recliner:  $300 – $850

Keeping in mind that some businesses may also charge by the hour, be sure to ask for a quote before work begins.
Make sure you also ask about any other potential fees, such as pick-up and delivery charges, before you agree to anything.
The Best Upholstery Companies in Ottawa
Now that you know what to expect cost-wise, it's time to choose an upholstery company! To help you make your decision, we've put together a list of the best upholstery companies in Ottawa.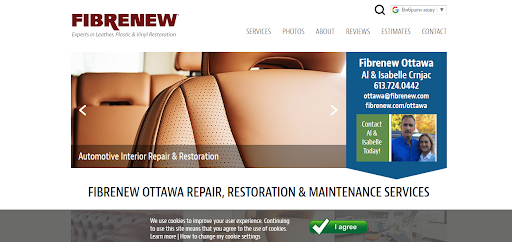 At Fibrenew Ottawa, they understand the importance of preserving their environment. That's why they offer a wide range of restoration services that help their customers save time and money while getting their items back into great looking and working shape again. Their on-site services make it more convenient and faster in getting their items back into good condition. In addition, by helping prevent thousands of damaged items from ending up in landfills each year, you're doing your part to preserve the environment and reduce your carbon footprint. 
Fibrenew specialises in the repair, restoration, and renewal of leather, plastic, vinyl, fabric, and upholstery. They manufacture a highly-specialised proprietary product line and have pioneered the repair techniques and exclusive colour matching technology that they use every day to help their clients. Whether it's damaged leather furniture, car interior components, restaurant or medical vinyl, boat or plane interiors or vinyl siding and plastic window frames, they are here to help!
"My 12 year old sofa was in desperate need of new seat cushions. There is no word to describe how happy I am with the fantastic job Pat did...and wait for it: at an unbeatable price. If you have a project, make sure to call Ottawa Fibre New for an estimate. #highlyrecommended"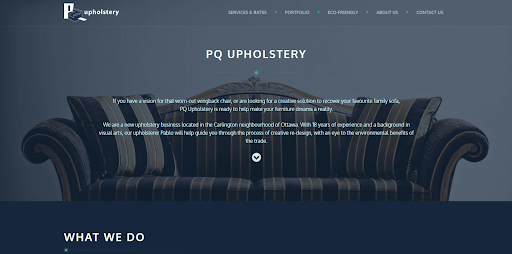 PQ Upholstery is there to help you turn your worn-out furniture into something new and exciting. With a wide range of fabrics, styles and colours available they're confident that there will be one perfect solution for whatever needs replacing.
They are a new upholstery business located in the Carlington neighbourhood of Ottawa. With 18 years of experience and an extensive background in visual arts- they'll help guide you through your creative re-design needs with an eye to the environmental benefits of the trade.
The company specializes in designing high-quality furniture that's both modern but also draws inspiration from traditional techniques. They're experts at redesigning your space without losing its creative flair – all while keeping you on budget.
The company follows an eco-friendly approach. They use non-toxic, water-based adhesives, offer a range of natural fibre options for fabrics and other materials and they're committed to keeping quality furniture pieces out of landfills.
"5 stars!! I brought Pablo 6 mid century modern dining room chairs and he brought them back to life with his beautiful work and craftsmanship. PQ Upholstery came highly recommended from a good friend, and I was completely satisfied with the the outcome and Pablo's focus on customer service. Thanks Pablo! I will be back for my next project."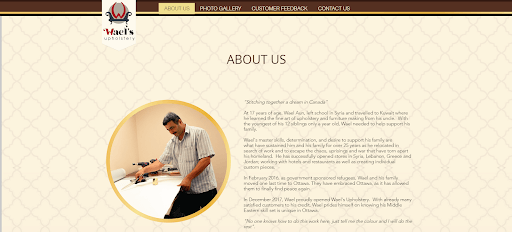 Wael is a man of many talents. Not only is he an excellent furniture restorer, but he is also a skilled entrepreneur. For over 25 years, Wael has worked tirelessly to provide for his family. He has opened stores in Syria, Lebanon, Greece and Jordan, and has also worked with hotels and restaurants. 
His attention to detail and quick turnaround time has made him a highly sought-after professional. And his ability to breathe new life into old furniture is truly miraculous. If you have a piece of furniture that you love but that is in need of some TLC, don't hesitate to call Wael. Your favourite chair will look better than ever before – guaranteed!
"I was very pleased with the work that was done. Wael did a fantastic job making a custom cushion for our mudroom bench. His son even delivered it to me when it was done which we were not expecting. Very nice people. I would use them again in the future and would recommend to anyone looking for quality and good workmanship."
4) Fleshers Upholstery Inc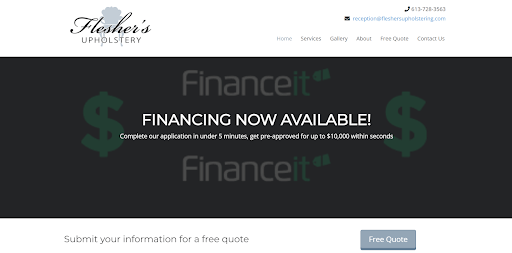 At Flesher's Upholstery, they pride themselves on being able to work with their clients to create beautiful and unique upholstered projects. They understand that everyone has their own individual style, and they are dedicated to helping their customers find the perfect fabric and design to match their vision. 
With more than 90 years of experience, they have the knowledge and expertise to transform any piece of furniture into a work of art. Whether it's a sofa, chair, or ottoman, their team of skilled upholsterers can give new life to any piece of furniture. 
In addition to their exceptional upholstery services, they also offer a mobile service that can come to your home or office to assess, repair, or refurbish your furniture. So if you're looking for a team of professionals who can help you create the perfect space, look no further than Flesher's Upholstery.
"G. Maloney would like to pass along a 'BIG THANKS' to Flesher Upholstery for the great job they did on my leather Stressless Chair. I dealt with the Owner Kenny and from start to finish he provided an excellent level of service in coming to my residence, providing a quote and having the chair picked-up and delivered upon completion. I would highly recommend Ken and his Team for any work as I am completely satisfied with my new chair! Thanks Again Kenny!"
5) Kessels' Upholstering Ltd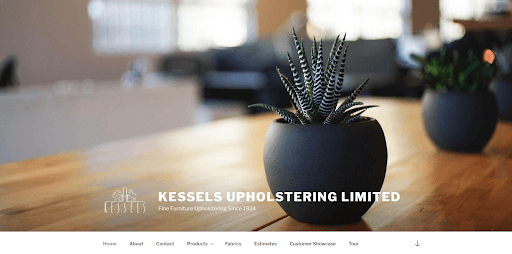 Kessels' Upholstering is one of the premier upholstery firms in Eastern Ontario and Western Quebec. For more than 75 years, they have been producing some of the finest upholstery. Their combination between European craftsmanship and modern techniques allows them to be at the forefront of this timelessly beautiful art form. 
They have 20 000 fabric samples to help make your selection of the appropriate fabric to cover your piece of treasured furniture. former clients include Royalty, Heads of State, CEO's, Premier Theaters, museums, and churches. 
Consequently, their experience speaks for itself. In addition, their use of high-quality materials guarantees that your furniture will last for many years to come. Choose Kessels' Upholstering for all of your upholstery needs!
"We have had multiple pieces re-upholstered at Kessels in the past two years. They did an amazing job helping us find the perfect fabric, and the quality of their workmanship is impressive. I would recommend Kessels, for both quality and customer service."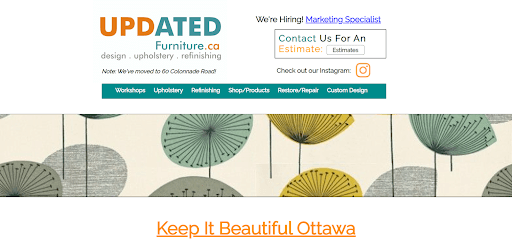 Updated Furniture is a furniture refinishing company that can take your old and worn-out furniture and give it a new lease on life. The process entails stripping away any previous coat of paint or stain before sanding down the surface to bare wood where it's then re-stuck with new colour/ finishes such as lacquer etc. 
The craftsmanship of their team has been honed through years spent working with a lot of clients. Rest assured that if your item needs repair or rehabilitation, it will be done right and look as good as on day one after installation. 
With Updated Furniture, you can redecorate your living room with furniture that is both stylish and comfortable. Pair old-world styles against modern pieces to create an interesting yet functional space for spending time in. 
So don't throw out your old furniture just yet – give Updated Furniture a call and see how they can help you breathe new life into your beloved pieces.
"Up'Dated Upholstery did an amazing job - excellent craftsmanship, customer service and creative ideas! We were about to throw away a 30+ year old sofa, but with their guidance they refinished and completely revitalized it. They helped us think through our fabric choices and design, and then delivered an outstanding product. When there was an issue with the fabric quality, they went above and beyond and I am 150% satisfied. I will be a repeat customer if I ever need upholstery work done again. Five stars."
Some of our furniture can mean so much to use. Maybe it was passed down by a relative or years of memories are attached to it. You don't have to throw your furniture out just because it has a scratch or two. Give them a second life with the help of Ottawa's best upholstery companies!
So if you have some furniture that's in need of some care, take them to the best upholstery companies in Ottawa!