The best bed bug exterminators in Ottawa can get rid of any of your pesty problems!
Bed bugs are a problem that can be difficult to deal with and solve. That's why it's important to find a reliable bed bug exterminator who will help you get rid of these pesky pests for good. We found the best bed bug exterminator businesses in Ottawa so you don't have to. You can rely on these professionals to effectively get rid of these pests and give you peace of mind!
We selected these Ottawa bed bug exterminating companies based on the different services they provide, their team of expert exterminators, their state-of-the-art equipment and pesticides, and the effectiveness of their treatments.
If you need a new mattress because of bed bugs, you can also find some great options from these companies. And if you want to make sure nothing is in your air ducts as well, you can check out our list of the best duct cleaners in Ottawa.
What's the Average Cost of Bed Bug Extermination in Ottawa?
The average cost of bed bug extermination in Ottawa is $200 – $400 per room. However, the exact price will depend on the size of your home and the severity of the infestation.
If you have a small home with a minor infestation, you can expect to pay on the lower end of the price range. If you have a large home with a severe infestation, you can expect to pay on the higher end of the price range.
The first step in getting rid of bed bugs is to call a professional exterminator. They will be able to assess the situation and give you an estimate of the cost of extermination. Once you know the approximate cost, you can decide if you want to proceed with the treatment.
The Best Bed Bug Exterminators in Ottawa
Now that you know the average cost of bed bug extermination in Ottawa, you're probably wondering who you can call to get rid of these pests. Here are the best bed bug exterminators in Ottawa:lation companies in Ottawa!
1) Paramount Pest Control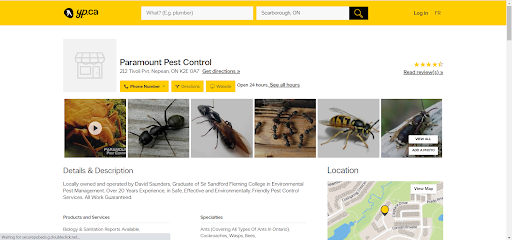 Locally owned and operated, David Saunders' pest control company, Paramount Pest Control, has been offering high-quality, affordable services for years.  They specialize in bug and rodent removal services that ensure a pest-free environment and offer you an outstanding result.
They use the latest equipment with the most environmentally friendly but effective chemicals that will get rid of everything in a span of a short time. They are fully organically based, so you can be assured that your home will be a safe place after the treatment.
If you have issues with critters or bugs invading your home, call David Saunders from Paramount Pest Control for help, as he will be more than glad to assist you!
"PPC is incredibly knowledgeable and offers great customer service! When I thought I had a bed bug problem in my apartment, I reached out to PPC at 2:00am and he promptly responded and relieved my concerns. Very few companies would take the time to provide an in-depth response and invest as much time and dedication into their work. With the help of this company, I was able to get a good night's rest. If I should have another pest management problem in the future, I will definitely turn to this company for their expertise. Thanks again!"
2) Provincial Pest Control Ottawa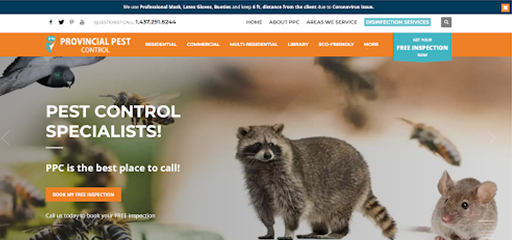 If you're looking for a pest control company that will be able to quickly and effectively eliminate all traces of pests from your home or business, Provincial Pest Control is the obvious choice. 
They have a team of highly trained and experienced technicians who are experts at tracking down and getting rid of all types of pests, no matter how big or small they may be. Plus, they offer a free inspection so that you can see for yourself just how effective their services are. 
And if you're worried about the impact that pest control solutions can have on the environment, you'll be happy to know that Provincial Pest Control only uses eco-friendly solutions that won't do any long-term harm to your home or the surrounding area.
"My whole family had a pretty bad bed bug infestation, so we called Vlad to get a free pest inspection. Turns out the bedbugs were not just in the beds. He gave us a quick rundown of the price which was really good. After the treatment, we haven't seen any other bed bugs."
3) Mr. Pests Control Ottawa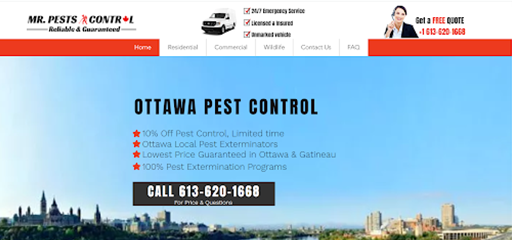 If you're in need of a pest-management service that employs certified and vetted technicians qualified to use the most innovative, environmentally friendly pest-management approaches, look no further than Mr. Pests Control.! 
Based in Ottawa, they are highly qualified to handle bed bugs, wasps, bees, ants, mice, rats, hornets, moths, earwigs, beetles – and any other pests you can think of! They are also highly universal when it comes to pest control and provide free estimates – so you know exactly what you're spending your money on!
"Mr pests provided excellent service. All responses were prompt and professional. He was very friendly, patient, He explained the services he was providing and was very efficient. Also he gave me the best price compared to any other pest control companies in Ottawa area. I will definitely use his service again."
4) Orkin Canada Pest Control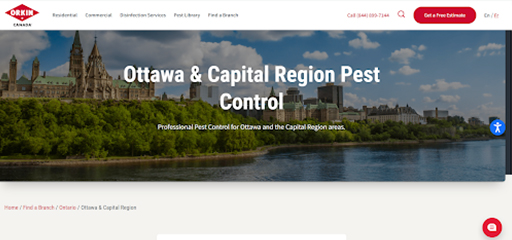 Orkin Canada Pest Control is a pest control service that offers premium options for pest invasions of your home. With more than 65 years of experience in pest control, the company's trained exterminators have the knowledge and experience necessary to rid your home or workplace of pests. 
They cover both residential homes and commercial buildings of any kind. They also provide various disinfection services that give you the cleanest house imaginable! 
In addition to their standard pest control services, they also offer customized plans to target specific pests in your area. Whether you're dealing with ants, roaches, mice, or anything in between, Orkin Canada Pest Control has a plan that will suit your needs. 
And with their money-back satisfaction guarantee, you can be sure that your home will be free of pests in no time.
"Honestly love using Orkin for the crawling insects (spiders, centipedes etc). The office staff is a pleasure to deal with for setting up and scheduling the appointments. Jon Braund was absolutely wonderful. He was very personable and took his time both indoors and outdoors to ensure he sprayed everywhere necessary. He was able to get into my crawl space and spray all over. He went above and beyond. Thanks again to Jon and all the staff at Orkin.'
FAQs About Bed Bug Exterminators
A bed bug infestation doesn't have to be the end of the world. Each of these exterminator companies has years of experience dealing with bed bugs and will do everything they can to get rid of your infestation quickly and affordably. 
So if you're struggling with an ongoing problem with these pests, give any of the best bed bug exterminators in Ottawa a call today!