The best aquarium stores in Ottawa can help you find the perfect fish tank and fish!
Maintaining an aquarium is a wonderful hobby. It's one that can make any home more beautiful, but it's also special taking care of another life. Starting up an aquarium can be tough but with the help of these aquarium stores in Ottawa, you'll be taking care of your new fish in no time!
We selected these Ottawa aquarium stores based on customer reviews, the variety of fish and aquarium accessories they sell, knowledgeable staff, and the different aquarium services they offer. So you can trust these fish tank stores to find fish and a tank that fits you!
Why not catch the fish yourself? Check out the best boat rentals and the best boat dealerships in Ottawa to spend the day fishing!
What's the Average Cost of an Aquarium in Ottawa?
Aquarium prices in Ottawa can range from $50 to over $1,000. The average cost of a small aquarium is about $200. A medium-sized aquarium is about $500. A large aquarium can cost upwards of $1,000.
Some other costs to consider when setting up an aquarium include:
The cost of fish. Some fish are more expensive than others.

The cost of aquarium supplies. This can include things like filters, gravel, and plants.

The cost of electricity to run the aquarium equipment.

The cost of regular maintenance. This can include things like water changes and cleaning the aquarium.

When choosing an aquarium store in Ottawa, it's important to compare prices and services. Some stores offer discounts on fish or supplies. Others may charge more for their services. It's important to find a store that fits your budget and needs.
The Best Aquarium Stores in Ottawa
Now that you know what to look for, let's take a look at some of the best aquarium stores in Ottawa.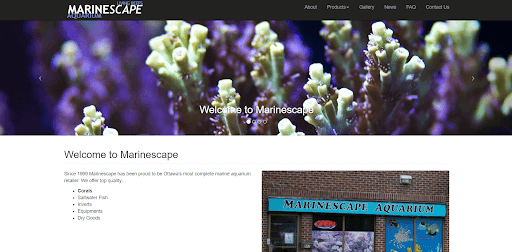 If you're looking for a unique way to liven up your home or office, why not consider an aquarium? Marinescape has been providing high-quality saltwater fish and corals to the Ottawa market since 1999.  Not only are they beautiful to look at, but they can also help to purify the air and reduce stress levels. 
In addition to their wide range of fishes and corals, Marinescape also offers a variety of dried goods which make perfect souvenirs or vanity items. So whether you're a seasoned hobbyist or a first-time buyer, Marinescape has everything you need to create a one-of-a-kind aquarium.
"Service is great! They always answer my questions and guide me through step by step on how to have a successful salt water fish tank. I have never had a problem with their livestock or products. I was recommended and I would recommend Marine Scape to others."
2) Big Al's Aquarium Supercentres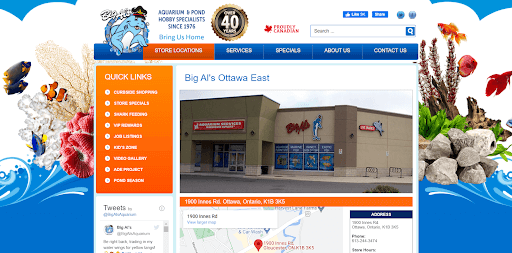 Big Al's Aquarium Superstores is more than just a store–it's an experience. When you walk in, you're greeted by the largest selection of aquariums, furniture, and supplies in the area. But that's just the beginning. As you browse the aisles, you'll be able to admire a wide variety of aquatic fish and live corals.
And if you're feeling brave, you can even participate in shark feedings! It's no wonder Big Al's is a constant tourist attraction all year round. So whether you're a seasoned aquarist or a first-timefish owner, there's something for everyone at Big Al's Aquarium Superstores.
"Best place to go for all fish stuff. They have everything and very knowledgeable staff to help. Great selection of fresh water and salt water fish, plants and everything you need for the tank. They even have stands!"

Need a new fish food that has all the nutrients your little Nemo needs to grow big and strong? Or maybe you're looking for a new water filter because the one you have isn't working as well as it used to. Either way, Pet Circus is the place to go! 
They have a wide variety of products for all kinds of pets, but they especially have a lot of products for fish and other aquatic creatures. They have everything from food to filters to air pumps to pond accessories. And if you can't find what you're looking for, the helpful staff will be more than happy to order it for you. 
So next time your fish is looking a little under the weather or you just need some new supplies, be sure to stop by Pet Circus!
"Bought some beautiful molly fish here to start our aquarium! Staff were super friendly and helpful. Great selection of fish, and super clean, beautiful tanks with really interesting species."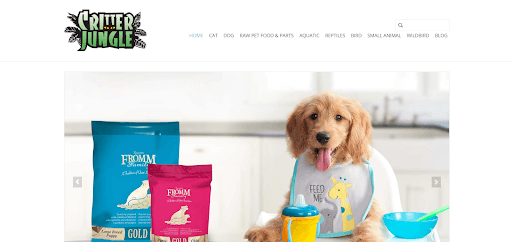 At Critter Jungle, they know that your pets are more than just animals – they're family. That's why they offer a full range of pet food and supplies, from the tiniest of critters to swimming friends. 
Whether you're looking for fish food or aquarium accessories, they'll have everything you need to keep your critters happy and healthy. And because they know that every pet is different, they offer a wide range of products to suit every need. 
So whether you're looking for the perfect food for your fish or the perfect decoration for your aquarium, Critter Jungle has you covered.
"Critter Jungle is a one stop shop for high quality food and other pet products. They have a great aquatic section with very knowledgeable staff and high quality fish. Highly recommended."

PetSmart is the one stop shop when it comes to aquatic needs – They not only offers a wide variety of food for your fish, but they also offer other supplies and equipment. They have something for every type of pet owner, whether you're looking for the basic necessities or more unique items. 
They even offer goldfish for purchase! Their large selection and variety of products makes them one of the best choices when it comes to taking care of your aquatic pets. Plus, their highly-rated goods ensure that you're getting quality products that will last. 
So next time you're looking for anything and everything related to fish, be sure to check out PetSmart.
"Staff was is always super friendly, knowledgeable and helpful. Never have issues finding what we need for Fish, cats, bunny or gecko"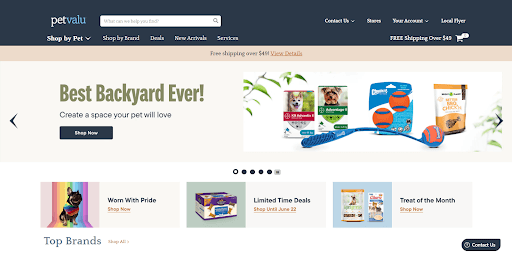 Pet Valu is an incredible pet store where you can discover thousands of products, including a broad choice of solutions or holistic dietary nourishment to support your pet through every stage of life, including original brands developed by their in-house nutritionists. 
The Pet Valu team members are passionate about pets and pet parents and go above and beyond to provide the best possible shopping experience and advice for customers. 
So, whether you're looking for the perfect food for your sea critters or need some expert assistance in choosing the right filters for your aquarium, Pet Valu is the perfect place to start your search.
 Plus, with their convenient online ordering and home delivery service, it has never been easier to keep your fishies happy.
"I bought a nice looking beta fish from there. He was way in the back invisible from view and the nice staff took the time to point him out. A dumbo red/pink beta. The staff are super friendly and always ready to help. I recommend 👍"
FAQs About Aquarium Stores
These Ottawa fish tank stores can help you with everything from buying your first aquarium to adding the 30th fish to your collection. Getting and taking care of a fish is easy with their help. These shops all have staff who are experts in all things fish, so you can trust them to help you with setting up and maintaining your aquarium!
So if you're starting up a fish tank or need some finishing touches, you have to visit the best aquarium stores in Ottawa!