If you're looking for a great place to grab a drink in Ottawa, look no further! Here are the 15 best bars in the city, perfect for any occasion. Whether you're looking for a cozy spot to warm up on a cold night or a lively place to enjoy some eats and drinks with friends, there's something on this list for everyone. So, raise a glass and cheers to Ottawa's best bars!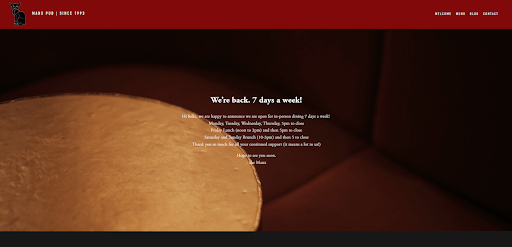 The Manx Pub is one of the best pubs in Ottawa! With friendly staff, great selection of wine and beer, plus their food is amazing with meals at reasonable prices. 
Everyone's all time favorite combo is some Wellington County Ale paired with Lamb curry wrap which is slow-cooked lamb in a curry sauce, succulent roasted mushrooms, and melted cheddar stuffed into a crispy wrap, topped with a dollop of herbed sour cream. Their fries are perfect: thick wedges that are crispy on the outside, and cooked soft on the inside. Overall there you can enjoy amazing food and drinks.
"This is our favorite pub in Ottawa! Great food and beer selection, with amazing veggie options. We usually go for dinner, but had their brunch today (the Soho & Eggs Benedict) which did not disappoint."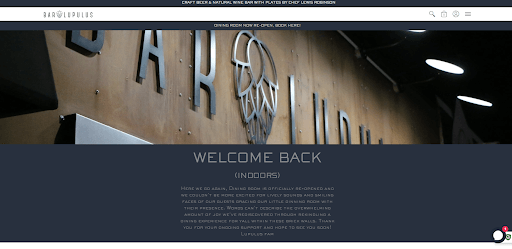 Bar Lupulus is a great restaurant with amazing food and service. The staff are knowledgeable and friendly, while also being highly skilled at what they do which ensures you have an amazing dining experience from start to finish! 
With fresh ingredients they offer different sizes of plates for any group. Some of the most popular dishes include their pork tenderloin, braised pork shoulder, baby red cabbage, roasted cabbage and blackened pear mostarda. The beer list is the best in town—many awesome sours and the cocktails are delicious and creative.
"First time here and I was very impressed by the service, beer selection and menu. Our server took the time to explain each dish. The menu has lots of options (including vegetarian) but it's not overwhelming. The beers are excellent as well. Highly recommended!"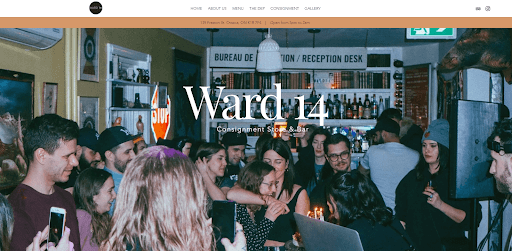 Ward 14 is a hidden cocktail and beer bar in the heart of downtown. They also have a great selection of vintage goods like decor or clothing to bring the atmosphere of the bar to your own house. This is an amazing place for a date night or just to have a drink and take in the quirky decor.
You can try exclusive cocktails like Empress of Elderflower with gin, lemon, cranberry and sparkling water. And if you want something refreshing don't hesitate to get one of their craft beers or coolers.
"Ward14 is definitely THE place to be, any night of the week. It's always been a fan favourite for cocktails, cheap beer and trivia nights. I've been especially impressed with how they've evolved throughout the pandemic. With innovative solutions, such as a take out drink window, a stellar new patio and daily specials, Ward14 continues to be Ottawa's diamond in the ruff. Check them out!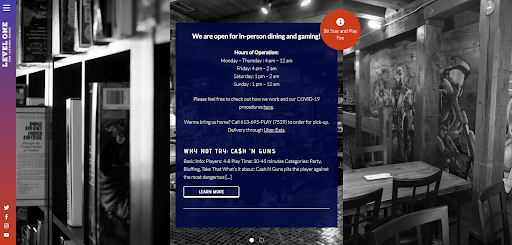 Come to The Level One Game Pub for a great night out with friends and family. They have 1200+ board games, 1000's of video game consoles as well! Plus their craft beers and cocktails will leave you feeling refreshed after playing all day long. 
You can also find a huge selection of food on their menu like Big Mack Nacho with tortilla chips, four cheese blends, ground beef and served with sour cream and pico de gallo. The beers that they offer are all craft and really tasty, like Blueberry Blonde— a perfect combination of blueberry sweetness and ale.
"Great service, lots of food choices, good beer and plenty of games! Went with a group of four and had a lot of fun. We'll definitely be back soon. Great vibes."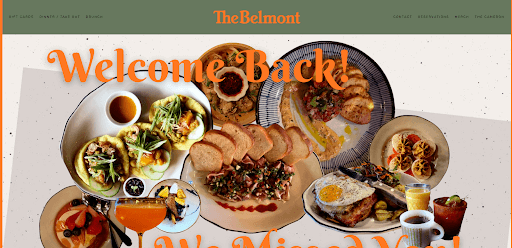 The food at the Belmont is always creative and fresh, with a variety of dishes to suit any appetite. The cocktails also get five stars from the customers! All the staff who work there are friendly and ready to tell you everything you need. 
They serve their famous Trini Doubles with chickpea curry and house made peppa sauce. Add to that one of their seasonal cocktails like La Trou Gros and get a perfect and tasty evening. They also have vegetarian options and can modify dishes for your specific allergies.
"Amazingly great. Went there for a small birthday dinner and was blown away. Chill atmosphere, delicious and creative cocktails. The Trini doubles were great, and it just kept going. The beef bulgogi had home made Kimchi! Highly recommend it!"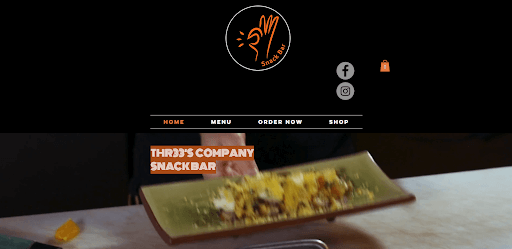 The food at Thr33's Company Snack Bar is a celebration of the pride they share for the awesome city, Ottawa. They use globally inspired concepts and bring it all together with local ingredients to show you how much love there truly can be in this wonderful place called home!
They don't serve large plates of food for masses, rather small and delicious dishes from gnocchi to halloumi to make sure you have a great time with friends while enjoying some drinks! Their cocktails are really creative like Peanut butter Old fashioned or Cold Brew Martini.
"One of my favourite spots in Ottawa year round! Cozy in the colder months and a perfect patio for the warmer ones. Drinks, food and staff are all incredible. Amazing selection of gin and balanced cocktails. The menu has an array of delicious vegetarian options and with new items added frequently, I can't help going back time after time. Could not recommend Thr33's enough!"
7) The Keg Steakhouse + Bar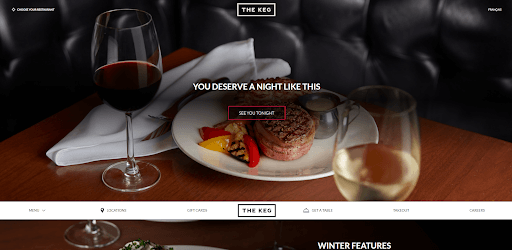 Here at The Keg Steakhouse + Bar they provide excellent customer service and delicious steak. Every dinner is a wonderful experience in this restaurant! You can visit it for any occasion – you will not regret your decision because the staff make every guest feel special.  
This place provides an outstanding dining experience and was way above our expectations. Their prime rib is tender and the sides are always hot and delicious. You can also try their selection of classic cocktails like Old fashioned to pair with meat.
"We had one of the BEST Keg experiences here that we've had in a loooong time. Everything was so good and the portions seemed to be a lot better than we have had in the GTA for the past few years. I highly recommend this location."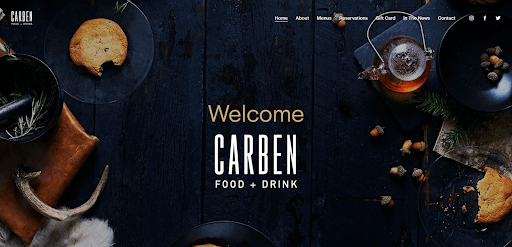 Carben is a family-run restaurant in Ottawa that thrives from the vibrancy and support of its community. The Ngo's, husband/wife team Caroline & Kevin are dedicated to serving great food with excellent service at an affordable price point for all patrons who visit their establishment!
The tasting menu at this restaurant is one of the most delicious foods that you have ever tasted. It includes Duck tartare, Octopus and more amazing options. Not to mention that their cocktails are delicious and well balanced.
"Food and service were both exceptional! Ordered some appetizers to share and our table absolutely loved both the pork belly and potato dishes. As for the entrées, the sablefish and chicken were both cooked to perfection. Will definitely be coming back soon!"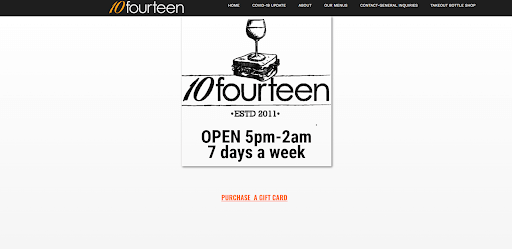 10Fourteen is not just a bar: it's your new watering hole and hangout spot in the city. Opened by two locals who also happen to be best friends, 10 Fourteens strives hard so as always remain open-minded while maintaining an awesome atmosphere that'll keep you coming back again! 
They specialize on expertly crafted cocktails made from only fresh ingredients, pouring pints of carefully selected beer, and sharing with you. Try their Pink Cashmere with gin, hibiscus bitters and prosecco, is refreshing and a good way to start the evening.
"Amazing atmosphere and staff, greeted at entrance and given menus and drinks immediately. Service was fast, efficient and warm. Absolutely loved the chicken nachos, its a MUST try on the menu. Old fashions done right and to perfection. You must try this place!"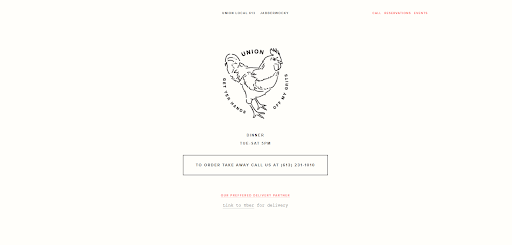 The food and drinks at Union Local 613 is out of this world. Try the smoked duck confit, lamb dish and northern Char- each one was more delicious than the last! The service there couldn't be better.  And for the drinks you can order a Leaves Turn Inside You cocktail with 8 year scotch, Sivo Amaro, cranberry mint shrub and gomme syrup. 
This one and the rest of their cocktails are made with juices, pop syrups and infusions that are made by themselves. And their beer menu options are excellent too!
"Always amazing food and original beer selection with an incredible drinks menu that changes with the seasons. Top notch team, beautiful patio with stunning artworks by some of the best local artists this town has to offer."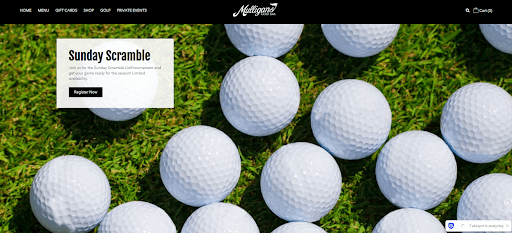 Mulligans is a one stop shop for all your drinking needs. With their handcrafted drinks, innovative menu and state of the art golf suites they have got you covered whether it be socializing or staying in to drink away those hours on the course!
They have lots of citrus, bitter, refreshing, sweet and spicy cocktails like Tigerius Caesar, Negroni, mulligan mule and other classics. They also serve three types of Sangria: red, blueberry lychee and pineapple, mango and ginger.
"Fantastic atmosphere with welcoming staff and owners who are truly great at what they do! The food is outstanding, beer selection has a nice balance of craft and domestic. They are cocktail wizards pouring out some super tasty drinks. Most importantly, the golf is lots of fun and offers some challenging courses to navigate."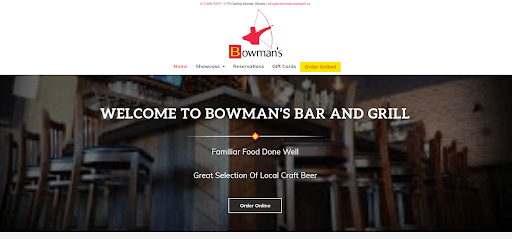 The people behind Bowman's Bar & Grill on Carling Ave are proud to call themselves small business owners. They believe in delicious food and a wide variety of locally produced beer for all patrons, no matter what their preference might be! 
The restaurant has been open since December 2013 so it is hard now to imagine this part-neighbourhood without them. Their variety of beers include the one with fruit taste like cherry or lime. And if you want to try something stronger, order Town and Country.
"I was told this place had excellent food and an incredible variety of beer on tap and I was not disappointed. Don't let the street view pictures or small location fool you, this is a nice, clean, chill place to relax and enjoy amazing food and drinks. I had the pulled pork tacos and they were out of this world. Stop reading and try this place now."
13) The Chateau Lafayette House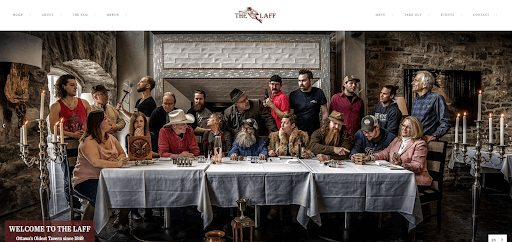 The Chateau Lafayette House in downtown Ottawa is a Canadian dive bar that brews its own beers. The original establishment was built back when Canada had just become an independent nation and has been preserving history ever since!
They also sell a variety of locally brewed beers from the Ottawa area, including a beer specifically made for us called "1849". You can pair amazing drinks with really tasty sweet potato fries, and wings. They also have great music, tv for sports events and special party nights.
"Fun place to go for drinks. They're open late nights every day, which is great for industry people when they get off work. Staff are very friendly and the prices are right. Good place to hangout. Open mike is fun on Tuesdays, gets a good crowd."
14) Elmdale Oyster House & Tavern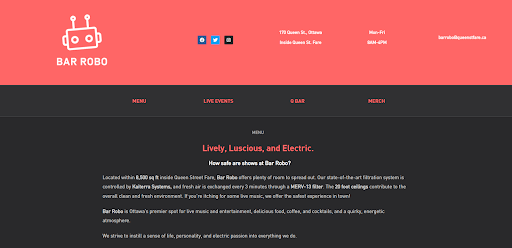 If you are looking for an authentically local experience, Elmdale Oyster House & Tavern is the place. Come here on Saturday afternoon and grab some cold craft beer from their constantly changing selection of taps paired with good tunes to keep your feet tapping! There is a great selection of drinks here with cocktails, cans of craft beer and 2 changing drafts. They have live acts almost nightly that keep everyone satisfied.  
"A cozy place with a very interesting coffee menu (as well as cocktails and a rotating fairly local beer selection). Nice spot that can get full during live music events, but worth it!"
15) Avant-Garde Bar & Gift Shop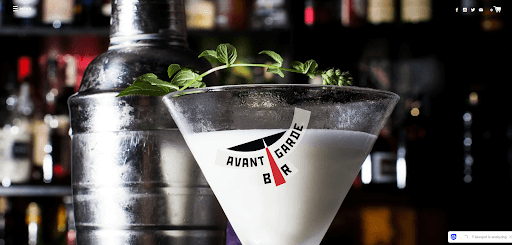 The Avant-Garde Bar's assortment includes traditional spirits from Eastern Europe, accompanied with an equally broad spectrum of Northern American liquors and rich flavourful Italian coffee based drinks. Their snacks are prepared using only the best recipes that have been designed in an elegant style for present day culture!
Their bar selection includes wines, beers, martini, liqueurs and lots of cocktails. Their specials are Red Eyed Hell with pepper vodka and Brizma— based on brandy with soda, lime and lychee liqueur.
"One of my favorite bars in Ottawa and it has a feel like very few have. It feels like you are in Russia and does absinthe in a traditional manner. The owner/bartender is a character and makes the experience feel unique."
Ottawa has a wealth of bars to choose from, and the 15 mentioned above are some of the best. Whether you're looking for a place to have a quiet drink or to party all night, there's something for everyone. So why not check out some of these bars and see for yourself what makes them so special?