The best tree removal companies in Ottawa will make a tree make like a tree and leave!
Sometimes, as good as trees are, they get in the way. Maybe you have plans to create your dream backyard but the tree is in an awkward position or a big tree looks like it's about to fall. Whatever your concerns are, Ottawa's best tree removal companies can help you with any and all your tree problems.
We selected these Ottawa tree removal businesses based on their years of experience in the field, a team of knowledgeable expert staff, and the quality and efficiency of their tree removals. In addition to tree removal, many of these companies also have planting, trimming, and landscaping services.
Just because your tree is gone, doesn't mean you can't take in nature. Visit the best farms and the best sunflower fields in and around Ottawa!
At the best daycares in Ottawa, your children will be in good hands!
What's the Average Cost of Tree Removal in Ottawa?
The average cost of tree removal in Ottawa is about $200 – $1500 for a small to medium-sized tree. The price will increase for larger trees, with some companies charging by the hour. 
Other factors that can affect the cost of tree removal include:
The height of the tree

The width of the tree

The location of the tree 

How difficult it is to remove the tree 

How much debris will need to be removed
Some companies may also charge a fee for stump removal. Be sure to ask about this when getting a quote.
The Best Tree Removal Companies in Ottawa
Now that you know what to expect in terms of cost, let's take a look at the best tree removal companies in Ottawa!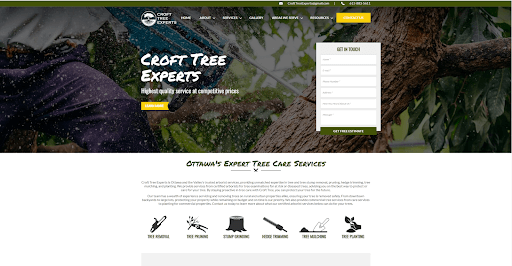 Croft Tree Experts is the trusted Ottawa and Valley arborist services, providing unmatched expertise in tree removal/stump grinding. They offer a wide range of expert advice from certified professionals on how best to take care of your trees.
The team is dedicated to providing you with high-quality tree care in the Ottawa region. With two certified arborists and a forest technician on staff, they are ready for any challenge that may come their way. They have 65 years of combined industry knowledge to offer you comprehensive services for your trees at home or work site needs.
Croft Tree Experts specialize in everything from downtown backyards to large lots, protecting your property while remaining on budget as it is their priority. They also provide commercial tree services from care help to planting for commercial properties.
"Skillful, knowledgeable, approachable. A pleasure to have on my property. Today, the third time I've requested their services, they removed a dying tree from a very tight location with zero damage to surrounding structures and stump left as I wished it; removed a major branch overhanging my fence from another tree and trimmed some lilac bushes. Meticulous clean-up. I can't say enough good things about these professionals. Top notch in every respect."
2) Ottawa Tree Surgeons & Consultants Inc.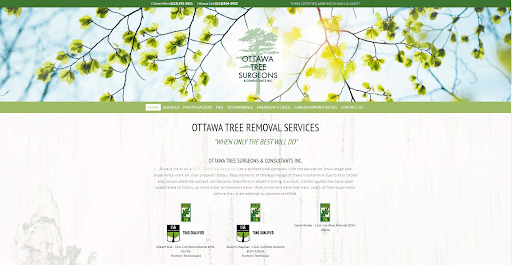 If you have a tree that needs care, you want to make sure it's in good hands. The staff at Ottawa Tree Surgeons & Consultants are a group of highly trained professionals who specialize in tree care. They have gone through extensive education and experience to become certified arborists, which requires them to know about the science behind tree care. 
In addition, Ottawa Tree Surgeons are committed to recycling their excess wood products so they can be turned into chips, logs or particle boards. They also use the leftover materials for fuel in factory buildings. 
So when you need tree care, you can feel good knowing that Ottawa Tree Surgeons are both experts and environmentalists.
"We are very pleased with this company. The price for the tree removal was significantly lower than the other estimates we got. We were booked for just eight days ahead, after we agreed on the price. The crew was very friendly. They came with a cherry picker truck, which made everything very easy, and completed the job in just two hours, without damaging anything around the tree on our lawn. We would recommend this company to anyone who needs tree service."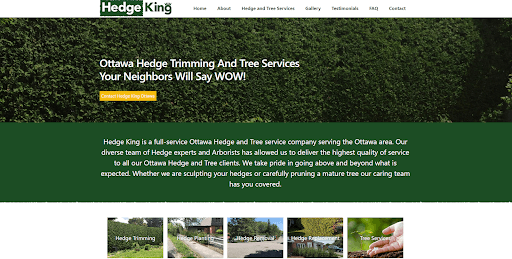 Hedge King is a full-service Ottawa Hedge and Tree company that offers high quality of work to all of their clients. It is owner operated, this means the owner handles marketing, quoting and the most important part, trimming your hedge. They have experts in hedge sculpting, tree pruning & more. 
Whether it be hedges or trees you need help with they will go above what's expected so no matter how big your project may seem -they've got you covered. They use top-grade tools and equipment so they can guarantee an unmatched level of quality each time someone hires them. 
They also believe that cleaning up is one of the most important parts of getting the job done. After an initial cut, they rake all cedar clippings into paper yard bags for disposal – this way there are no sticks or branches left behind for you to deal with. 
So if you're looking for a professional, experienced and knowledgeable team to take care of your next hedge trimming or tree pruning project, look no further than Hedge King!
"We had a number of hedges trimmed and a row of old, overgrown hedges removed and replanted. The crew explained everything they were going to do and went over care instructions. They were really quick and efficient and left the yard clean. We're very happy with the work done as well as the excellent communication and customer service."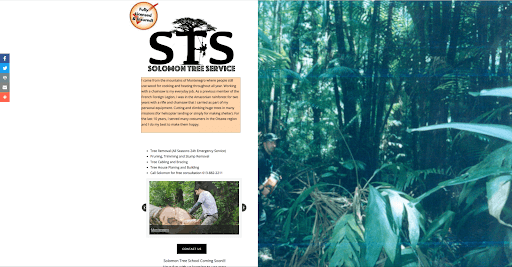 If you ever find yourself in need of tree removal services, it's good to know that the owner of Solomon Tree Service is a man who knows his way around a chainsaw. He hails from a mountainous region of Europe where people still use wood for cooking and heating throughout the year – so you can rest assured that he knows how to handle himself with a chainsaw. 
What's more, he spent two years in the Amazonian rainforest with nothing but a rifle and a chainsaw as his personal equipment. In other words, there's no tree removal task that he hasn't seen before or isn't prepared to tackle. 
For the last 10 years, he's been serving customers in Ottawa and has always strived to leave them satisfied with his work. So whether you need help removing a large tree that's starting to split and poses an imminent danger of falling on your house or you simply want a stump removed (which is also an important task that requires careful preparation), Solomon Tree Service will be there for you.
Website: solomontree.com
Phone: +16138822211
Address: 237 York St, Ottawa, ON K1N 5T9, Canada
"They were quick, efficient and went beyond what we asked of them. It was a pleasure using their services and would highly recommend. Solomon was a great guy to conduct business with, he's honest and worked so quickly and didn't complain when my children wanted to watch all the action. You'd be crazy to go anywhere else!!"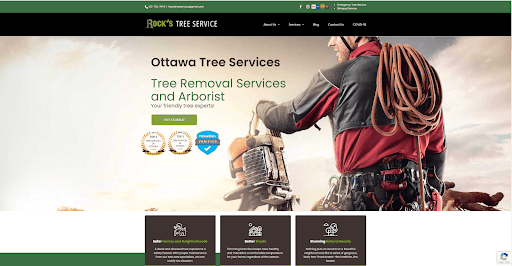 Rock's Tree Service is the perfect company to contact when you need assistance with your landscaping. With over 15 years of experience, they know how to take care of any tree-related issue you may have. From trimming bushes to delivering top-quality tree services, they do it all with passion and dedication. 
They understand how important it is to maintain high standards, which is why they take pride in every job they do. All of their experts are fully licensed and trained, so you can be sure that your safety is always a top priority. 
With years of experience under their belts, they are more than qualified to handle any problem that may arise. Contact Rock's Tree Service today for all your landscaping needs!
"Professional and thorough. Job done right first time and fully cleaned up. I hired them to prune a large maple that had some deadwood. They did the assessment and sent me the quote - they also scheduled me through email (my preference). Lots of payment options. Fair pricing based on other quotes I got. I chose them because of their great reputation and I wanted no troubles - I feel satisfied and would hire them again. They were also very friendly."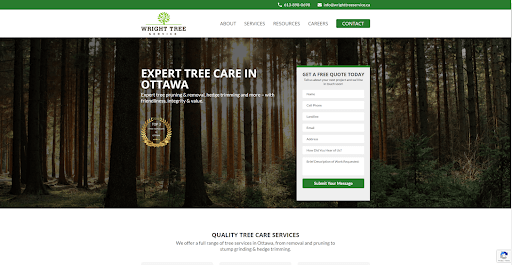 At Wright Tree Service, they are experts in all things trees. As members of the International Society of Arboriculture, they are committed to providing their customers with the best tree services possible. This includes tree removal and felling, tree pruning, storm damage clean-up, stump grinding, and hedge trimming. 
They also offer professional arborist tree assessments for at-risk or diseased trees, as well as advice on how to effectively protect your precious native plant life. With years of experience in the industry, they have the knowledge and expertise to get the job done right. 
So if you're looking for quality tree services in the Ottawa area, be sure to give Wright Tree Service a call.
"This is my 3rd time using Wright's - they are an awesome bunch, helpful, quick turn around, and the quality of work is amazing. You don't even know they were here unless you knew the tree they removed. Thank you again Wright's!"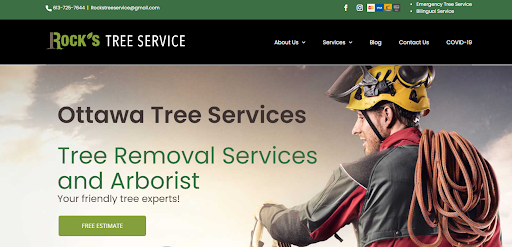 Rock's Tree Service is a locally owned and operated arboricultural company that has been working in Ottawa for over 15 years. They specialise in tree service, including canopy work, pruning, trimming and removal of dead or diseased trees. Their team of experienced professionals understands the importance of maintaining your neighbourhood while also caring for the environment. By providing quality service at an affordable price, they hope to help improve Ottawa neighbourhoods and create lasting memories for their clients.
Each tree is different and will require a different course of action for removal. Prior to lifting the tree climber/cutter into place, the crane operator and tree climber will formulate a strategy for the removal process. They ensure that you are fully aware of the reasons behind their process. Rock's Tree Service will keep you informed of local laws, tree care tips, removal procedures, and possible threats down the line.
Website: rockstreeservice.ca
Phone: +16137257644
Address: 1944 Montclair Ave, Orléans, ON K1W 1H9, Canada
"The guys at Rock's Tree Service are true professionals. Explaining to them what we wanted, they worked quickly to effectively achieve our desired outcome. Their subsequent clean up was thorough and their price was the best of three quotes. Highly recommended."
8) Capital Timber Company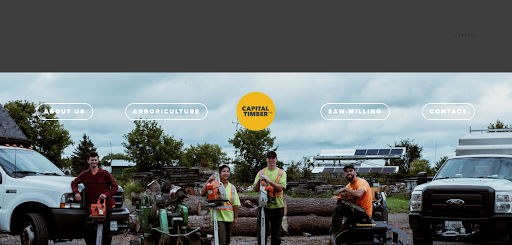 Capital Timber Co. offers a wide range of professional services and competitive rates when it comes to timber and tree care. The company has a strong focus on sustainability and tree preservation, which ensures that all work is done safely and up to current arboriculture standards. In addition, the employees are covered by the Workplace Safety and Insurance Board. This makes Capital Timber Co., an ideal choice for those who want reliable service at sensible prices. 
Tree removals are completed by their team of arborists. For the safety of your property, this is typically done by climbing the tree and installing a controlled rigging system within the canopy. The rigging system is used to dismantle and lower sections of the tree, piece-by-piece. Depending on the requirements of the job the use of a crane or aerial working platform may be required. So if you need to deal with a tree near your home don't hesitate to contact Capital Timber Company. 
"Capital Timber Company did a wonderful job - from first contact to completed job. Very professional and a pleasure to deal with. They did a great job removing some trees on our property that were very close to the house and the garage. Work area was so clean you would never have known they had been there! Would highly recommend their services."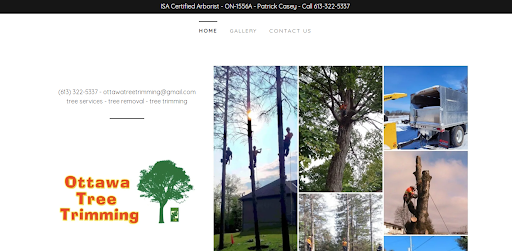 Ottawa Tree Trimming & Tree Removal provides a high-quality tree services experience in Ottawa. The company has more than 30 years of experience, which is combined with education and highly knowledgeable staff. This allows the team to handle any job size or type with ease. In addition, the service providers aim to provide complete satisfaction for their clients – from consultation through completion of the project. 
They are trained, highly skilled arborists and tree climbers who are equipped and committed to providing top quality tree services, dealing with even the most large and difficult trees. They use the most current and up to date methods and techniques, following ISA standards for tree pruning and tree removal, caring for each tree project in its own unique way. By providing top quality care throughout every stage of a tree project, Ottawa Tree Trimming ensures that you receive excellent value for your money. 
"I have had Patrick do work for my mother's property and mine for years, he and his team are prompt, courteous, professional and well versed on all things trees and shrubs, always completing the work to our satisfaction and then some... excellent value, you will never be disappointed."
Cutting down a tree is a tricky and difficult process. But worry not, Ottawa has many great tree removal companies who can do it for you. You can trust these tree removal services to get the job done quickly and successfully!
So if you have a tree that needs to leave, be sure to call the best tree removal companies in Ottawa!