If you're looking for a reliable car window tinting service in Ottawa, look no further! Tinting your windows can help reduce the amount of heat and glare that comes into your car during summer times or when it's raining. It can also help protect your vehicle from thieves who may be trying to see inside. There are a number of different types of window tints available, so if you have any questions about which type is best for your specific needs, don't hesitate to contact one of our local experts at one of the top Ottawa auto glass services! We chose these Ottawa auto glass professionals based on their years of experience, their wide range of window film options (including custom films), and the quality of their workmanship.
We selected these Ottawa auto glass window tinting services based on customer reviews, the different high-quality window films they have, budget-friendly prices, and the quality of their installations.
What is the average cost of window tinting services in Ottawa?
The car tinting price is usually calculated per window. It may range from anywhere between $25 to $150 per window. This pricing depends on the size, type and thickness of your desired tint. In addition, there are additional fees that may apply if you want a specific color or style of matte or glossy finish for your windows.
The Best Window Tinting Services In Ottawa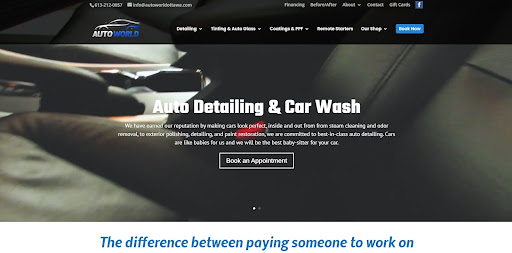 Auto World Ottawa offers a wide range of automobile services and products to suit all your needs. Their high-quality work and attention to detail guarantees that you will receive top-notch service every time you visit their store. 
The company provides a variety of window tinting services for both new and pre-owned vehicles. Their experienced professionals will help you choose the right type of window tint that best suits your needs and vehicle. 
They also offer a range of customization options to make sure your window tints look great from every angle. Whether you want privacy, enhanced styling or all three, they
"Was able to get an appointment very quickly. Appointment was faster than expected. Tint was installed perfectly and looks great on my windows. Price was one of the most competitive in town. Hoping no issues arise as the film sets however the shop guaranteed they would repair any issues or warranty the product if required. Friendly and prompt staff that seem to really know what they're doing and are passionate about their work/ products. Will return for future work to my vehicle. Highly recommend"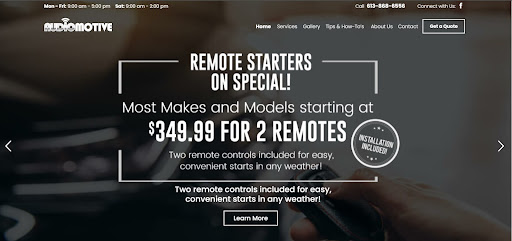 AudioMotive is a top-notch car window tinting dealer in Ottawa. Their window tint films are engineered to enhance your vehicle's appearance, provide the performance you demand, and protect your investment. All their car window tinting films are known for their quality, colour stability, and patented scratch-resistant coatings. 
They're durable and virtually maintenance-free. This makes them ideal for use on cars that spend long periods of time parked outside or in harsh weather conditions, such as snow or rain. 
In addition to providing protection against the elements, window tints can also improve air conditioning efficiency by reducing heat gain inside the cabin during hot summer days. 
So whether you're looking to add some extra security while keeping your car looking great and performing better than ever before, reach out to AudioMotive – Ottawa's trusted car window tinting specialists!
With more than 25 years of combined industry experience, they are proud to offer the best possible customer service available!
"Not everyone can do or have what you're looking for. The best customer service is when they recognize that and are upfront with you. Going the extra mile is when they give you information that can help you find the right person to help. James went that extra mile when I was looking for a remote car starter for my European vehicle. His professionalism means that even if AudioMotive wasn't the right fit for me this time around, I would still gladly recommend them. Thanks again James!"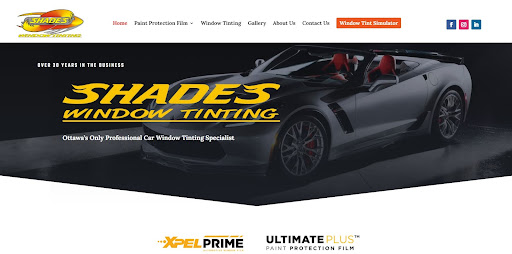 Sandro Savone of Shades Window Tinting is a locally owned and operated business that has been providing exceptional service to the community for over 30 years. The company specializes in window tinting, which can be used to enhance your home's security and privacy. 
Sandro Savone takes pride in his work and ensures that each client receives the highest level of customer service possible. He also pays close attention to detail, ensuring that every project is executed flawlessly. If you're looking for an experienced and qualified provider of window tinting services, look no further than Sandro Savone at Shades Window Tinting!
"Best place for window tint! I have taken my last 4 cars to Shades and it's the only place that'll tint my cars. In fact I just bought 2 more cars that I'll be bringing here. The tint goes right to the edge and looks incredible. Plus, it lasts a long time. I had the tint on one of my cars for 10 years before I sold it and it still looked brand new. Highly Recommended!"
FAQs About Window Tinting
Window tinting is a great way to improve the look of your vehicle and protect yourself from the sun's harmful rays. There are many window tinting companies in Ottawa, so finding the right one can be tricky. Luckily, we've done the research for you and compiled a list of some of the best window tinting services in Ottawa. Whether you're looking for a simple shade or want to go all out with privacy film, these companies will get the job done right.

For more content on automiles, visit the best auto repair shops in Ottawa, the best car detailers in Ottawa, the best used car dealerships in Ottawa.