Ottawa is home to some of the best breweries in Canada, and if you're a beer lover then you need to check them out! From traditional lagers and IPAs to sour beers and barrel-aged stouts, Ottawa's brewers have something for everyone. 
In this article we will introduce you to our six favorite breweries in Ottawa – so put on your drinking gloves and let's get started!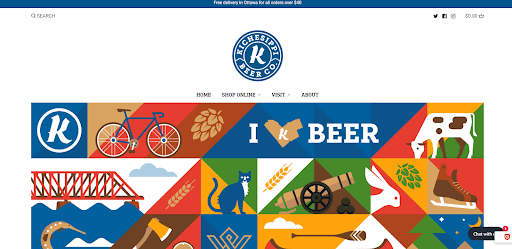 Kichesippi began with a vision to create world-class beer in  2010. The company, which has been family owned and operated since its inception seven years ago, is dedicated not only to the product but also customer service – whether you're enjoying one of their products or interacting with staff members during your visit!
They offer lots of beer options like BC light which is a light-bodied pale lager. Crisp and refreshing, it is an authentic example of North American light lager. And if you want to try something stronger Boom IPA  will provide you with a complex and assertive aroma of pine and citrus. 
They also offer beer tasting with snacks like nachos, fresh pretzel, meatball sandwiches and more. 
"Best brewery in town! Super friendly staff and great selection of beer. The establishment is also great at following Covid-19 guidelines while providing exceptional service! I would highly recommend this place to all my family and friends."
2) Conspiracy Theory Brewing Company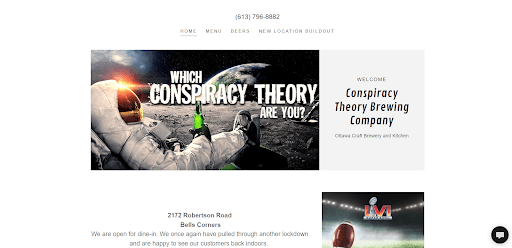 Conspiracy Theory is a small batch brewery located in Bells Corners. Their specialty is to bring you quality single-batch brews that will be sure not only satisfy your taste buds but also make for great conversation!
 As any homebrewer dreams of opening their own place someday—they took the extra step and opened up shop for everyone from newcomers who may never have Craft before or even everyday drinkers looking forward to something refreshing after work. 
They serve lots of different alcohol percentages and IBU types of beers. Area51 is a classic cream ale that is out of this world. 
A refreshing beer for those hot days working on your projects. And if you want something special try Bermuda Triangle in which they hop from 5 different varieties to provide a tropical flavour of Lemon, Lime, Tangerine, Grapefruit and Orange.
"Amazing food and delicious beers on tap. Very spacious inside as the tables were spaced out all very. Knowledgeable and friendly staff made our choices easy. Congratulations to all of you."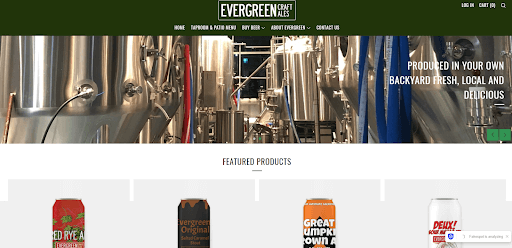 They're all about variety. They endeavour to always have an array of different styles to choose from, typically having 8-12 different beers available at any given time. Their taproom and patio offer beautiful outdoor seating with plenty of space for your guests to enjoy a drink or bite from the menu. 
They use all-natural ingredients to make their beer, no additives or artificial flavours. Water from local sources like you would find in most streams is turnover with malted barley for a tasting sip that will warm your soul on even the coldest day! 
If you want something unique try their Berry Wheat beer with real raspberry puree and a real blackberry puree to make the taste of soft-bodied ale with a light tartness and strong berry aroma!
"Fantastic beer (Clothing of the Gods and Afternoon Delight are definite highlights), great people, and an awesome patio for the warmer months. Do not miss Drez's Tacos if they're available!!"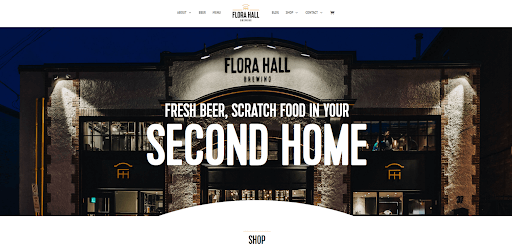 Flora Hall Brewing is a welcoming, delicious gathering place that will delight you with its beautiful beer and food. The service here goes above and beyond to make sure your experience at Flora hall brewing is one of happiness!
They take great pride in the quality of their beer and want you to have an enjoyable time drinking it. Their 18 hectolitre, two-vessel brewhouse includes one bright tank for piloting batches between larger tanks where they can be sampled before being brewed. 
 Their special is a Banana Split Porter brewed with lactose, cacao nibs, vanilla beans, and banana puree.
"A very nice selection of beer with an excellent food menu. Staff are friendly and enthusiastic about the offerings. All contributes to a wonderful atmosphere."
5) Tooth and Nail Brewing Company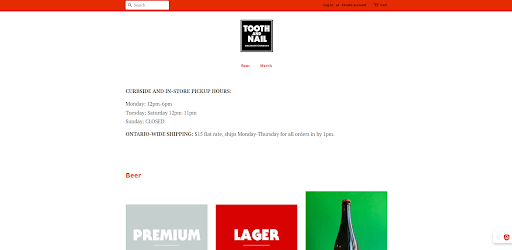 Tooth and Nail is a great place to go for delicious craft beers, tasty snacks with awesome service. You will love sitting outside on their beautiful patio – perfect thing for a really warm day in Ottawa! 
They sell a really special LUPULUS IV Barrel Aged Sour Ale which is composed of several barrel aged lagers and ales and is really fruity. And if you want something refreshing try VIM & VIGOR Pilsner or RABBLE ROUSER India Pale Ale with flavours of peach, mango, and pine. 
You can't go wrong with a VALOR Classic Saison! These dry, spicy and fruity brews are hard to come by.
"Another awesome find in this fun part of Ottawa! Tooth and Nail is a boutique brewery that serves up a great range of beers, tasty snacks in a chilled atmosphere with great service! We enjoyed sitting outside - perfect for warm Ottawa days! Really fantastic experience!"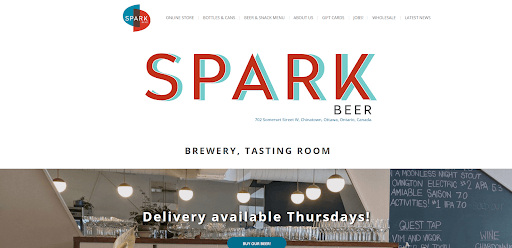 Spark Beer is an Ottawa-based craft beer company that was founded in 2020. The outlook for the business was very promising, and thanks to their amazing community support they are still here and planning on making more great beers with all of you! 
If you love traditional beer Manhire Berliner Weisse Draft is the one for you. Tart and refreshing with notes of sourdough, sunshine and light citrus funk will bring you the classic Europe atmosphere. 
And with beer like Ovington Electric Pale Ale Draft,  you will feel a hazy, hoppy American style Pale Ale featuring Sabro, Simcoe and Azacca hops. Every beer that you try will surely be something new, delicious and amazing.
spark.beer
info@spark.beer
+16136639997
702 Somerset St W, Ottawa, ON K1R 6P6, Canada
"The owners and staff are just the warmest and most welcoming people, the atmosphere is great, and it doesn't hurt that the beer is by a mile the best around! The Manhire Weisse with raspberry syrup is can't-miss!"
Ottawa is home to some amazing breweries, and the list above showcases six of the best. Whether you're a fan of IPAs or stouts, there's sure to be a brewery in Ottawa that will satisfy your taste buds. 
With unique offerings like ciders and sour beers, Ottawa's craft beer scene is thriving more than ever before. So if you're ever in town, be sure to check out one of these fantastic establishments – you won't regret it!