The best seafood restaurants in Ottawa will offer you a wide variety of seafood options to choose from. You'll find everything from lobster and crab to shrimp and scallops on the menu, and each restaurant has its own unique take on these classic dishes.
Here we compiled a list of the best seafood restaurants in Ottawa based on their quality of food, atmosphere and service.
Whether you're looking for a casual meal or a fine dining experience, these seafood restaurants will not disappoint.
If you're looking for something casual you can't go wrong with fish and chips. Check out these restaurants for the best fish and chips in Ottawa.
How Much Does A Seafood Meal Cost in Ottawa?
On average, you can expect to pay anywhere from $22-$65 for your seafood dish, not including drinks and appetizers. An example of a typical seafood meal might include lobster tail with a choice of side (such as salad, potatoes, or vegetables), which can cost anywhere from $50-$65. If you're an appetizer person (which aren't we all?), then add another $9-$18 for some fried shrimp or calamari.
The Best Seafood Restaurants in Ottawa
Now that you know how much to expect to pay for seafood in Ottawa, here are our recommendations for the top 10 best seafood restaurants!
1) Pelican Seafood Market and Grill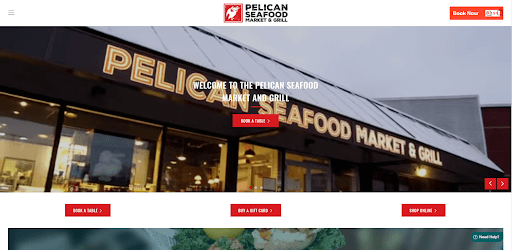 Pelican is a hidden gem in the heart of Ottawa, where fresh fish and excellent fare come together for an experience like no other. The warm atmosphere will keep you coming back time after time while their friendly staff are always there to make sure your visit goes off without any hiccups!
The oysters there are so fresh and tasty. You can also try their lobster bisque soup, which has a nice balance of flavors with just enough to make it interesting. The clam chowder is equally as delicious. The Korean fried shrimps that they serve are large and bursting with flavour. The halibut fish and chips in beer batter is light, crispy and flaky, which would be one of the best you've ever tried.
"Super Clean , very friendly staff ! Big variety on the menu , coconut shrimp are highly highly recommended , Red Thai curry mussels were delicious and the Caesar salad was super fresh. Overall it was a great experience , worth the drive down!"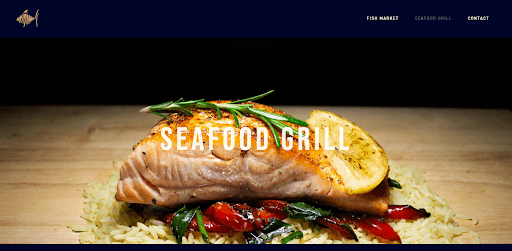 The Seafood Grill has been a family run restaurant for over 20 years. Their menu changes frequently to offer the freshest fish and seafood dishes, whether you're in the mood for something comforting like fish & chips or healthier options such as grilled fresh halibut served with salad!
They are always happy to accommodate any special requests while being flexible enough that they can prepare anything on their fish market!
Paella is a great choice for your dinner. The subtle spice in the rice paired beautifully with some tender chicken and seafood! One must-have dish is definitely appetizer calamari served hot off of boats in oil. The meals there are the perfect size, and you will enjoy every bite.
"I don't remember the last time I had this tasty calamari!! The daily special (grilled fish with shrimp, rice and apple slaw) was to die for!! Even their house lager (Cameron's brewery from Oakville) was a perfect complement. I will certainly be coming back again."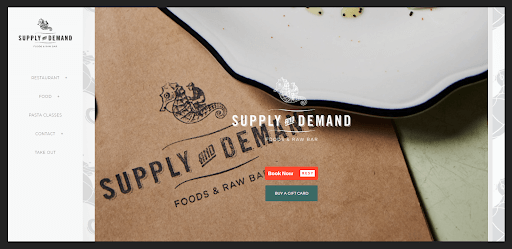 They set out to cook food that they like and enjoy feeding their friends, family members or just about anyone really. They offer a light raw bar menu (that changes often), vegetable focused small plates which can be made from scratch or extruded daily depending on what's available.
The Albacore Tuna Crudo with Lemon, Truffle Oil, Puffed Rice and Cilantro is the must try on their menu. Their home-made pasta with Tuna and Prosciutto Meatballs, Chillies, Mint and Bread Crumb is the perfect combination to give you an amazing taste sensation.
"Amazing restaurant if you're looking for good food in Ottawa. It has an extremely unique menu which is constantly changing even every week! The pastas are all homemade and have an amazing texture. I tried the squid ink pasta which was by far my favourite is was spicy but light which was a great pairing."
4) The Whalesbone Elgin Street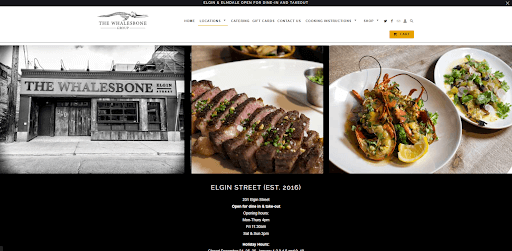 They've outdone themselves with the latest addition to The Whalesbone. An oyster bed that can accommodate more of your favorite mollusks, an even greater selection for wine connoisseurs.
You will always be excited to try something new at this restaurant. The food is delicious and the customers leave feeling satisfied with a full stomach! You will love the clam chowder (a must if you love this soup), wagyu burger, lobster bucatini dish that comes in a tomato sauce made from scratch – it's so rich tasting you'll want more. You can also enjoy their tuna crudo as well alongside some calamari rings.
"Food was great. It was flavorful, fresh and well presented. The baked oysters were so good! Drinks were also super tasty. Service was great, friendly servers and our food came fast. Overall, great dining experience."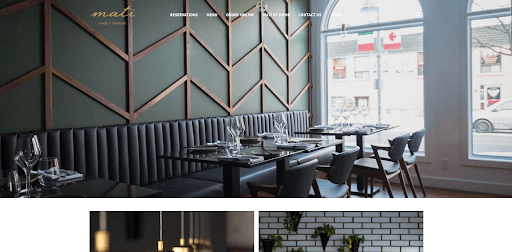 Mati is a restaurant that offers impeccable service and delicious food. They use sustainable seafood to ensure the ocean remains abundant, which we think makes them even more awesome! Not only do each dish come out beautifully presented, but every ingredient is carefully selected just right for this particular moment.
The seafood tower will become your favourite dish containing fresh oysters, fried shrimps as well as grilled lobster. It's a great spot for drinks too! The lobster grilled cheese is also amazing. Their Scallops are really tender and juicy.
"Best seafood I've had outside of Italy. Mind bogglingly, earth shattering deliciousness. The seafood tower and lobster pasta were both to die for. My wife and I had a great time celebrating her birthday. The restaurant even gave us a free cheesecake slice as a gift. Pricey, but absolutely worth it."
6) Rosebowl Steak & Seafood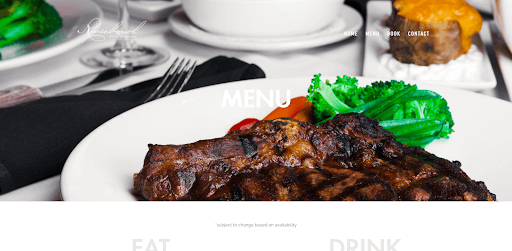 The Rosebowl Steakhouse is the perfect place to relax and enjoy one of signature beverages with your friends. Their wines are an excellent addition, especially when paired up against premium seafood! Whether you want a juicy cut or fresh dinner in front of our state-of-the-art kitchen- they've got you.
They serve Rockfeller oysters (baked) as well as fresh one. Their Seafood tower with a Lobster Tail (hot), scallops & bacon (hot), cocktail shrimps, seared tuna, oysters is an absolute must try. And simmered with leeks, wild garlic, white wine cream sauce, mussels are so flavorful!
"Delicious food. Everything we had was excellent. Would definitely recommend it. Rack of Lamb, Lobster Ravioli, The Rose Bowl Salad and many other items are to die for. Absolutely delicious. Staff are friendly and professional. One of the best restaurants in Ottawa."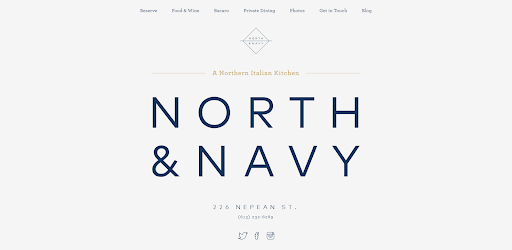 They offer a variety of dishes that are sure to satisfy your taste buds. Their signature Bigoli & Salsa made with local fish, cheese and vegetables in an Italian influenced sauce will be your absolute favorite. Or how about some freshly caught seafood served up today? You can't go wrong when you try anything they've got on the menu.
Olio Pazza Swordfish will be the perfect dinner dish and with their wide selection of wines you will be beyond satisfied. The waitresses will take the time to explain all the menu to you and help make a great choice.
"North and Navy is easily my favourite restaurant in Ottawa. Everything is on point: from decor, to wine and cocktails, to food and service. In my opinion, it is the staff and the food that really sets them apart from other dining experiences. Their servers are knowledgeable, attentive and delightful to chat with. Anything that leaves the kitchen at North and Navy is guaranteed to be made with love and the ingredients shown the utmost respect."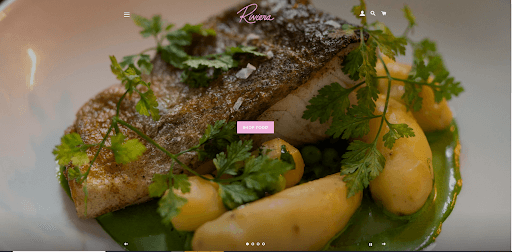 What a wonderful experience! The cocktails and food are amazing, as well their decor is very chic. The lobster spaghetti with burrata cheese has never been more delicious than it is here. You will especially love raw foods like tuna tartar and the scallops chowder. Their special Tuna crudo is incredible—such depths of flavour! The service is excellent and the staff will give you very good suggestions on what to try.
"This place is spendy but worth it. Food was good and our server was very attentive. The atmosphere was nice and the open kitchen is fun to watch."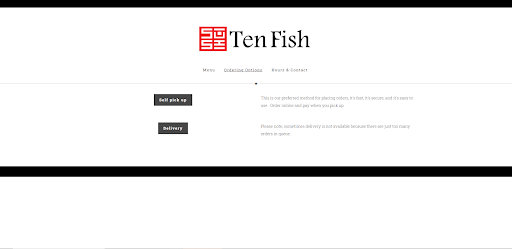 Great sushi! The fish is always fresh and delicious, the menu offers a variety that's not found anywhere else (including different types of rolls) with friendly staff to help you find what suits your taste buds best.
Cooked rolls, vegan rolls, raw rolls as well as spicy ones— they offer it all. Their special Cloud Nine rolls with Salmon, tempura shrimp, avocado, cucumber, tobiko, scallions, spicy sauce and sesame seeds will literally take you to cloud nine!
+16137021777
1149B Bank Street Corner building, 211 Belmont Ave. side, Ottawa, ON K1S 3X4, Canada
tenfish.ca
"Really great rolls. Sashimi was fresh, melt in your mouth. Exceptional service even made items that were not on the menu. Worth the price."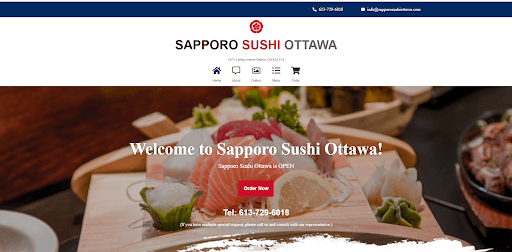 Having started over 25 years ago, their culinary philosophy is simple: to return basics. They use time-honoured ingredients and perfect them with experience. Their sauces are made from scratch using traditional methods. They use only the best fresh fish to create authentic Japanese cuisine.
There are a variety of appetizers, salads, rolls and dinner options on their menu to choose from. You can order the Love Platter which is fresh, delicious and comes with soup, salad and 30 pcs of sushi/sashimi/maki, tempura and your choice of fish katsu or udon.
"Best sushi that I've found in Ottawa so far! The tuna actually tasted right unlike some of the other sushi I have tried in Ottawa. The shrimp tempura was also the best I've ever had. Service was quick and friendly. Will definitely return!"
FAQ About Seafood in Ottawa
That's it for our top 10 list of Ottawa's seafood restaurants. From the finest seafood in Ottawa to casual dining spots serving up delicious seafood dishes. We hope you enjoyed reading this article as much as we liked writing it, and that you'll be able to make use of our list next time you're looking for a place to dine out.
After a delicious seafood meal, why not treat yourself to a relaxing massage? If you're interested, check out our list of the
best massage clinics in Ottawa
.