What's the Average Cost of Air Duct Cleaning in Ottawa?
Homeowners should expect to pay between $200 and $450 for a professional air duct cleaning in Ottawa. 
The cost will depend on the size of your home, the number of vents, and whether you have any special features like a heat exchanger. Some companies may offer discounts if you book multiple services at once.
Keep in mind that you may need to have your air ducts cleaned more often if you have pets, smokers in the house, or someone with allergies.
When choosing an air duct cleaning company, be sure to ask about their guarantee, what type of equipment they use, and whether they are certified by the National Air Duct Cleaners Association (NADCA).
The Best Air Duct Cleaning Companies in Ottawa
Now that you know the importance of clean air ducts and the average cost of air duct cleaning in Ottawa, it's time to find a company you can trust! Here are our top picks for the best air duct cleaning companies in Ottawa.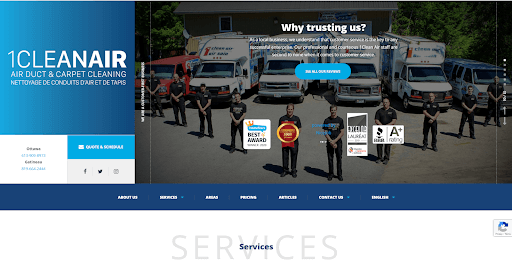 1Clean Air is an air duct cleaning business that helps residential and commercial clients get items cleaned. Their services include air ducts and carpet cleaning, upholstery, dryer vent cleaning, air conditioning unit cleaning, and even a twenty-four-hour emergency water damage restorations warranty. 
1Clean Air uses innovative cleaning equipment with 24-hour availability to cater to every need of their clientele by only providing the highest quality services. Their highly-trained personnel are certified by N.D.C.H.A and have extensive training in various cleaning techniques.
1Clean Air is the leading air duct cleaning business because they have the experience and certification that puts them ahead of the competition while their 24/7 availability gives them an edge over others in the industry who can only offer 9-5 services. 
"We had our HVAC clean for the first time in years. The vent were pretty nasty from having pets and day to day dust and household traffic. Made appointments and arrived within few weeks. The guys were very professional and quoted a good price for a bungalow home. We had an issue after the work was done. They were contacted and 1 Clean Air step up. They solve the issue within the week. Highly recommended!"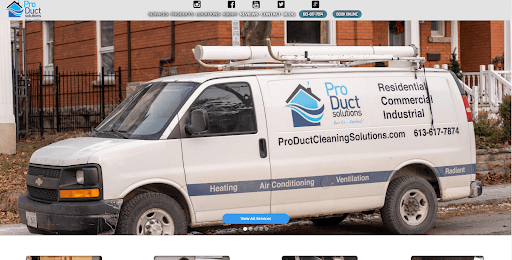 Pro Duct Solutions is an amazing Air duct cleaning company that offers nothing but the very best for its customers! 
As a company with great quality control, they offer a 100% satisfaction guarantee.  They have cleaning packages to suit everybody's needs, from the basic air duct cleaning to a deep clean – which will clean every hole and cranny imaginable!
Aside from that, they also offer home duct and dryer vent cleaning as well as commercial services. Pro Duct Solutions is an all-in-one stop for anyone looking to get their house or establishment cleaned from top to bottom! 
"Very responsive, arrived on time, gave a few advices not directly connected to duct cleaning service. The servicemen are very knowledgeable, thorough and accurate. The pricing is competitive and availability better than in other companies I checked with."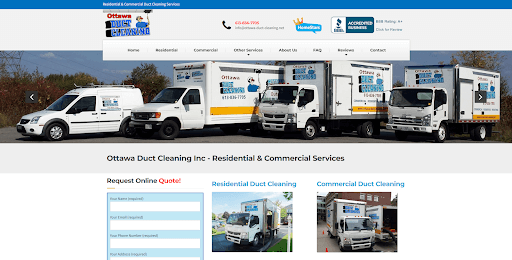 When it comes to duct cleaning, Ottawa Duct Cleaning is a clear choice. With 25 years of experience, they know a thing or two about getting your ducts clean. Not to mention, they're a family-owned and operated business, so you know they'll treat you like one of their own. 
They offer both commercial and residential duct cleaning services in the Ottawa area. And for their residential customers, they offer two different bundles – the basic duct cleaning bundle and the healthy residence bundle. 
The healthy residence bundle is designed to create a healthier living environment for you and your family. So if you're looking for the best in duct cleaning, look no further than Ottawa Duct Cleaning.
"Fantastic experience with Ottawa Duct Cleaning. The service men who came were professional, friendly and helpful. They even helped me move my bunny's cage so he wouldn't be terrified when they were doing their work. Would 100% recommend them."
4) Francis Home Environment Heating and Air Conditioning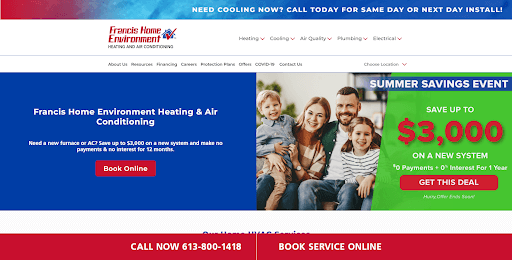 Francis Home Environment Heating and Air Conditioning has over 75 years of experience in air duct cleaning. They offer specialized certified specialists for any service they can provide you. 
Their air-quality services include HVAC maintenance contracts, duct cleaning, dryer vent cleaning, and humidifier services. Francis Home Environment Heating and Air Conditioning is a company you can trust for all your air quality needs. 
So if you're looking for a company to help you improve the air quality in your home or office, Francis Home Environment Heating and Air Conditioning is the obvious choice.
"We were really fortunate to have Nicole and Mathew visit our home and perform a long overdue duct cleaning. Both Nicole and Mathew were professional and kind. If you need a duct cleaning I would feel very comfortable recommending Francis!!"
FAQs About Air Duct Cleaning
In conclusion, Ottawa's top 4 Air Duct Cleaning Companies offer the promise of clean, healthy air for your home. With their expertise, innovative techniques, and years of experience, these companies have earned their reputation as the best in the city. Your home and your health will thank you for it!