What's the Average Cost of Jiu Jitsu Lessons?
The average cost of jiu jitsu classes is $120 per month. However, prices can range from $40 to $200 per month depending on the school, length of the class, and whether you're paying for a drop-in class or a package deal.  
Some other costs to consider are the price of a uniform  (gi), and if you plan on competing, there are also tournament registration fees, which can cost anywhere from $40 to $100.
Some schools offer discounts for multiple family members, military personnel, or seniors. It's always best to check with the school directly to see what discounts are available.
The Best Jiu Jitsu Schools in Ottawa
Now that you know what to expect in terms of cost, let's take a look at the best jiu jitsu schools in Ottawa!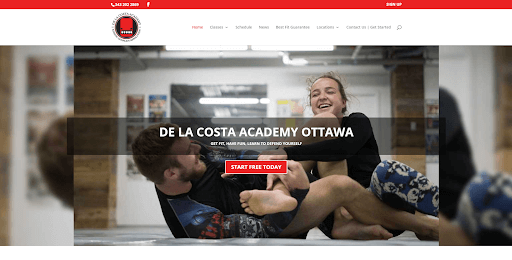 Discover Ottawa's premier Brazilian Jiu-Jitsu academy, De la Costa Academy! From beginners to experienced fighters, they provide Brazilian Jiu-Jitsu and Self Defense training for all levels. 
Led by the passionate head instructor, Joe Neurauter, their school's mission revolves around our students' growth. They focus on boosting self-confidence, self-control, fitness, energy, and goal-setting. Jiu-Jitsu offers an exciting path to fitness and self-defense in a safe, enjoyable setting. 
Their dedicated instructors at De la Costa Academy are committed to your progress. For top-notch Brazilian Jiu-Jitsu instruction in Ottawa, choose De la Costa Academy!
"My experience with Joe and the De La Costa Academy has been really incredible so far. Joe and his team are so welcoming and warm, It feels like family! I highly highly recommend De La Costa Acadamy to anyone looking to study self defense or compete. Joe is a very patience and knowledgeable teacher. The classes are taught with great detail and understanding of BJJ and the atmosphere is really conducive to learning. I've been having such a great time! I only wish I found this gym sooner!"
2) Mixed Martial Arts Fitness Academy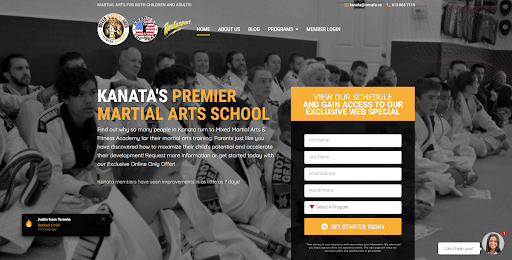 MMAFA is a Jiu-Jitsu school that not only wants to teach self-defence, but to change individuals' lives one step at a time. They are committed to teaching people in a safe, encouraging, and welcoming environment.  Stephane D'Amour(Head Instructor) and Andrew Hart(Program Director) are constantly on the watch to assist in any way and help everyone improve one step at a time. 
They offer several different programs such as preschool martial arts classes, kids martial arts classes, teen martial arts classes, adult muay Thai kickboxing classes, kids Brazilian jiu-jitsu classes, adult Brazilian jiu-jitsu classes, and girls & women's jiu-jitsu classes. 
With their wide variety of offerings, they have something for anyone starting from age 2 all the way to people in their 60s. So if you're ever feeling unsafe, want to get in shape, or just want to try something new, look no further than MMAFA!
"I love it here. Organized curriculum that is accessible on the app - I get to review all the videos from my coach from the convenience of my phone. So many other great things here that are unique - sparring footage recorded, and I get to review it/ask coach questions. Colored belts are always on the mats and couldn't be nicer or more helpful. Thank you!"
3) Team Bushido MMA Fitness Center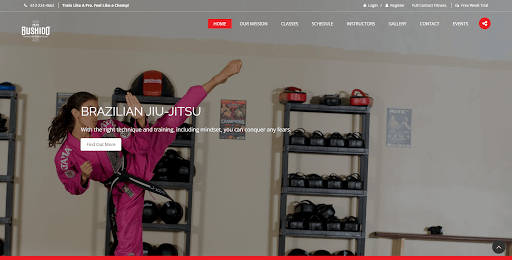 Team Bushido MMA Fitness Center is a martial arts school that offers expert teaching and deep insight regarding Brazilian Jiu-Jitsu and Muay Thai martial arts. The facility has a dedicated group of teachers competent in helping students by providing support through different Japanese techniques and various helpful insights on how to do things better or more efficiently. 
Their services vary from mixed martial arts lessons to Muay Thai lessons with a unique double option for Jiu-Jitsu as there is a Brazilian style, or you can opt for a Junior Samurai Jiu-Jitsu style. 
No matter which style you choose, you're guaranteed to get top-notch instruction from some of the most experienced and knowledgeable instructors in the business. So if you're looking to get fit, learn self-defence, or just have a fun new hobby, be sure to check out Team Bushido MMA Fitness Center.
"This place is a very good place if you want to learn self defense or just want to stay happy and healthy. They keep the location clean and have any fighting equipment needed if one may need to purchase. Although they don't have a fight team they do promote healthy lifestyles. I would highly recommend this to anyone who wants to loose weight, join a friendly environment/community and learn efficient techniques for self defense."
4) Tina Takahashi Martial Arts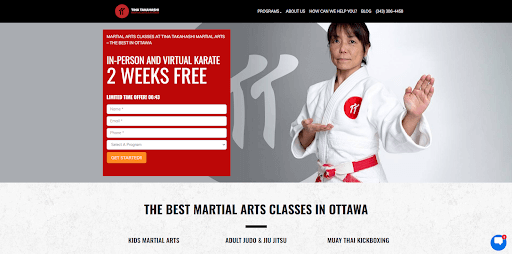 At Tina Takahashi's Martial Arts, they provide a huge space with highly specialized trainers and all the equipment you might want.
Offering services such as preschoolers' karate classes, elementary-aged karate judo classes, family martial arts classes, Muay Thai kickboxing classes, jiu-jitsu classes, combat sambo classes, and even certification, they are an ideal location for students of all ages to experience martial arts training. 
They are more than qualified to help you as we are certified and their owner is a former NATO combat Instructor who opened the school itself! So come on down and see them today to get started on your martial arts journey!
"I have been taking classes here for the past 2 months and I would not exchange these months for a million dollars. The experience, the instructors, the techniques, and the great group of people who are here to practice are all awesome and helpful. Cannot recommend it enough."