The best home inspectors in Ottawa can help you find a dream home in perfect condition!
Before you buy a house, you have to call a home inspector. Home inspectors evaluate the visible and invisible conditions of a house to make sure it's worth investing in. So if you want to buy a new home that's in good condition, and we're sure you do, go to any of the best home inspection companies in Ottawa!
We chose these home inspectors based on customer reviews, fair prices, thorough, easy-to-understand reports, and the professional quality of their home inspections. 
Once you've bought the house, it's time to decorate and maybe do some renovations. Check out our lists of the best vintage furniture stores in Ottawa and the best roofing contractors in the city!
What is the Average Cost of a Home Inspection in Ottawa?
Home inspection companies in Ottawa charge an average of between $450 to $650 for their services. The price can go up or down depending on the size and condition of the house being inspected.
Some other factors that will affect the final cost are the age of the house and if the inspector has to go into the attic or crawl spaces. These places can be difficult to access and time-consuming to inspect, so they will add to the final bill.
To get an accurate quote, you should ask for a written quote from the home inspector before they start the job.
The Best Home Inspectors in Ottawa
Now that you know what goes into the cost of a home inspection, let's take a look at the best home inspectors in Ottawa!
1) Prime Home & Commercial Inspection PHCI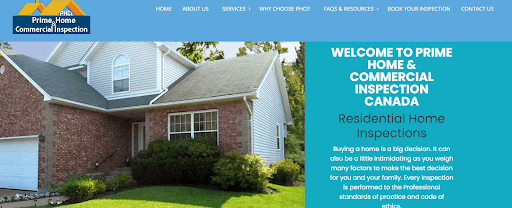 Prime Home & Commercial Inspection is a leader in the Ottawa area, providing quality inspections to both new and older homes. They're committed not just to your safety but also to that of their community – they want you safe inside yours! 
The company is recognized for its attention to detail and quality services. They have Certified Home & Commercial Inspectors and Carson & Dunlop (CIVIL ENGINEER background). They are the most fully insured team in this industry and have up-to-date training and a commitment to safety that will never be compromised, which is why they're always one of the top choices when it comes time for new clients!
Plus their report is used by most home inspectors across North America, so whether you need a commercial or residential job done, this organization will have something that matches your needs perfectly!
" Prime Home & Commercial Inspection did a great job completing a home inspection on a property we were interested in purchasing. The inspector was knowledgeable, very thorough, explained what was encountered as we went along through the inspection process and provided a very detailed report. Thank you for the great service and pleasant experience! "
2) A Buyer's Choice Home Inspections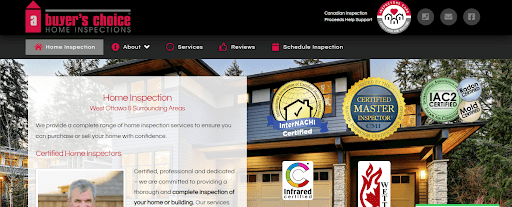 A Buyer's Choice Home Inspections West Ottawa prides themselves on being a company that provides only quality service. Their services include residential home inspections, pre-sale inspected and renovated deficiency inspections as well as inspections of new homes. 
Their reputation for providing thorough, high quality and detailed inspections is second to none. They take pride in informing their clients with unbiased reporting that helps them make informed decisions about their future projects or investments. 
With their expertise in the field, they have earned themselves a prominent reputation as "first-call" inspectors with many top-producing real estate agents. You can rely on their team of experts to provide you with peace of mind knowing that the property is safe before moving in. 
The A Buyer's Choice team is committed to creating a home inspection service that sets them apart from other companies. They focus on building relationships with their customers, providing full transparency for both buyers and sellers alike about the condition of properties in order to protect everyone involved at every step along the way!
" We used Lawrence from the TPSP list and we were sincerely content with the level of work. His report was thorough and he made himself available multiple times afterwards to explain things to us.Even our realtor who frequently works with home inspectors was impressed with the attention to detail. "
3) Avelar Home Inspection Inc.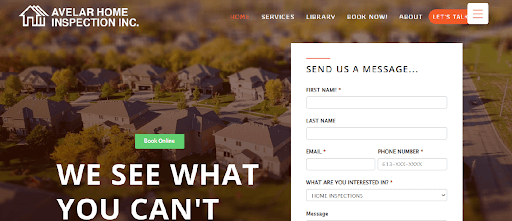 With a dedication to excellence, Avelar Home Inspection Inc. is committed to helping new homeowners understand the condition of their homes while also servicing existing properties with an expert eye for detail that will leave you satisfied every time! 
Whether you are in the market for a new home or looking to sell your existing one, their team is here with helpful insights on how they can help you get maximum value out of every investment. 
From thermal consultations, and pre-purchase home inspections to pre-sale home inspections, home inspections and more – they've got you covered! 
They offer a full digital inspection report that includes an in-depth review of any issues found during their visit, so homeowners can continue confidently making decisions about their future property values.
They'll work with your schedule and provide a full home inspection report within 24 hours of the request so that there are no delays in getting started. They'll also work with you and your real estate agent, tradespeople or any other inspector that is involved in the sale of your home, so if this is something you`ve been looking for – call them today!
" Mike is very Professional and thorough. His inspection reports are very detailed and in-depth. He explains every detail clearly and provides solutions where there are problems. He's very punctual and flexible and I would recommend him to anyone living in the Ottawa region. "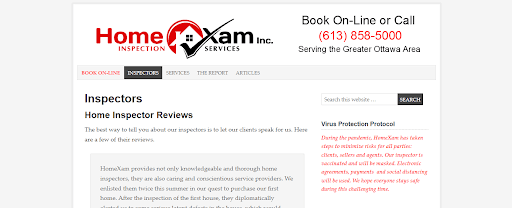 HomeXam's inspection service is a great way to ensure that you're getting your money's worth when buying an expensive home. They offer pre-purchase or buyer's inspection as well as a new home warranty or tarion inspection. With the help of their qualified team, they can identify any issues before they become costly mistakes! 
They're here to help you make sense of it all. They'll answer your questions and provide tips, and explanations as we go so that by the end of this process, everything will be clear in contrast with how things were before! 
HomeXam is the only company in town that focuses on home inspections, so you won't have to worry about being hit with other services while waiting. They will send you a beautiful report with clear photos and thorough descriptions of their findings. Inspectors use infra-red cameras for deeper problem solving if needed! 
They also have knowledgeable and thorough inspectors, who care about their clients' well-being as much or more than the quality of workmanship that goes into each report, so don't hesitate and get in touch with them today!
Website: homexam.ca
Telephone: +16138585000
Address: 5595 Manotick Main St, Manotick, ON K4M 1A6, Canada
" We used Rob for a home inspection on a house we were looking to purchase. He was incredibly thorough and patient, answered questions as we went along and was able to clearly explain what he suggested doing and what could wait. The detailed report I received less than 24 hours later was incredible! Big thumbs up! "
5) A to Z Home Inspections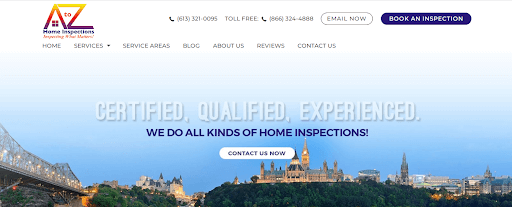 A to Z Home Inspections take their integrity seriously and will not lower the quality of service just because it's cheaper than other companies offer! For 10 years, they have been providing quality home inspections in the Ottawa area. 
They offer buyers & sellers inspections, Tarion warranty inspections, infrared thermal imaging, commercial relocation and WETT inspections and more. They are proud to say that their services have helped thousands of satisfied clients purchase their dream house or condo with confidence! 
Their company is a Certified Master Inspector and they're also graduates from Algonquin College's Ontario Home Inspection Program. Their knowledge and expertise in this field are incredible! 
After a thorough inspection, they send over an incredibly organized report with digital copies of videos and photos that show exactly what you need to know. They walk you through every inch of your property, taking dozens of pictures while explaining to ensure you know what they are looking for or pointing out potential improvements that could be made on the house itself!
" Hendrick provided a detailed knowledgeable report, and provided much appreciated interpretation, differentiating key issues from lessor 'nice to know but not pressing' issues. He was very thorough and provided good insight about what steps might need to be taken regarding some issues with the house I was planning to buy. I recommend highly. "
6) Cardinal & Keys Home Inspections

When you need a reliable home inspector, look no further than Cardinal & Keys Home Inspections. They are dedicated professionals who will give you an honest assessment of the property's condition so that it can be fixed before anything else wrong happens! 
They offer post-purchase inspections, hourly consultations and investigations. They also do drone-aerial imaging inspections to get the most out of their investigation process for you! They offer many services at absolutely no cost to their valued customers including free thermal imaging and reference guides that will help keep your house in tip-top shape.
With their commitment to excellence, they provide customers with high-quality products and services at affordable prices. They are one of the most reliable companies in this industry, always offering exceptional value for money while maintaining professionalism throughout all transactions. 
As an experienced home inspector, their team is dedicated to delivering thorough and objective residential consulting services. They're here for you, whatever your needs are. They'll explain things in an easy-to-understand way and be available as long as it takes until the job's done!
" We recently hired Phil from Cardinal and Keys for our home inspection. He is is very pleasant to work with. His inspection report is very detailed and he provided it in a timely manner.He encourages to ask questions and replies to emails very quick even during the weekends.We are very happy with his assessment and we highly recommend him "
FAQs About Home Inspectors
Hiring a home inspector is a great way to protect yourself from buying a lower-quality property. These professionals take into account over 500 factors into consideration when making their inspections, so you can trust them to give you a rigorous and reliable report afterwards.
After buying a house, you don't want any surprises popping up. If you're in the market for a house and want to know what you're getting in to see any of the best home inspectors in Ottawa!