The best blind stores in Ottawa can help you elevate any room!
Blinds are a simple yet effective way to really tie a room together. Today, blinds come in all kinds of colours, styles, and materials, so you can find the perfect ones. Not only is it a beautiful way to spruce up a room, but blinds can also help regulate the temperature and light in the room and provide some privacy. In Ottawa, there are many excellent stores that can help find the right blinds for your needs and tastes.
We selected the best places to buy blinds based on customer reviews, friendly, expert staff, reasonable prices, and their excellent and wide choices of blinds. Many of these shops offer installation services, making the process that much easier. 
Make the rest of any room as beautiful as your new blinds. Check out our lists of the best rug stores in Ottawa and the best ceramic tile companies!
What's the Average Cost of Blinds?
The average cost of blinds will depend on the style, size, and number of windows you need to cover. Basic blinds can start at around $20 per window but can go up to $500 or more for custom-made or designer options. 
If you're looking for a more affordable option, some stores offer discounts on blinds when you purchase multiple windows worth. Installation fees are usually extra and can range from $50 to $200, depending on how many windows need to be covered and the difficulty of the installation.
It's best to get a few quotes from different stores before making a final decision to ensure you're getting the best deal possible.
The Best Blind Stores in Ottawa
Now that you know a bit more about blinds and what to expect in terms of cost, let's take a look at the best places to buy them in Ottawa!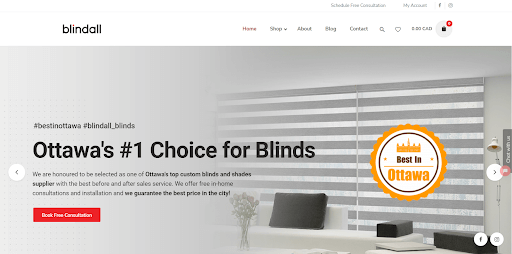 At Blindall, they believe that everyone should have access to beautiful, custom blinds, shades, and shutters – without having to break the bank. That's why they offer factory direct pricing on all of their products. And to make things even easier, they offer free measurements and estimates within the Ottawa-Gatineau Area. 
So whether you're looking for a new set of blinds for your living room or trying to find the perfect shutter for your front door, they can help. And with their huge selection of designs and colours, they're sure you'll find something that you love. 
So what are you waiting for? Come see us today!
"I was referred for Blindall by one of my very close family. I have had an amazing experience and am very happy with the professionalism the team has. The choice of material, suggestion, pricing has been excellent. I ordered blinds for the entire house and goes without saying, Kaan has been amazingly helpful during the selection and Paul and Joe when visited for installing the blinds have been super quick and accurate while installing. The blinds after installation look Excellent!!!"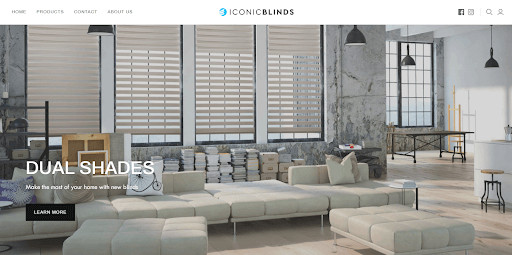 Iconic Blinds is your blinds company that has been serving your local area for many years with exceptional blinds and reliable service. They have become well-known for their services based on customer satisfaction that aims to provide only the best outcome.
They have built over these years a steady and reliable supplier base which provides the store with a large variety of standard and luxurious blinds for all types of customers. And because of this, they have been able to offer not just any blind but the perfect one that suits both your needs and your lifestyle flawlessly. 
So what are you waiting for? Give them a call today and book an appointment! You won't regret it!
"Fantastic and timely service form Iconic Blinds. Received blinds for my whole home and was able to customize alternate styles and colours as needed. Jesse and team are flexible and patient through selection process and deliver a great product for a fair price. Will definitely call them for future window covering needs!"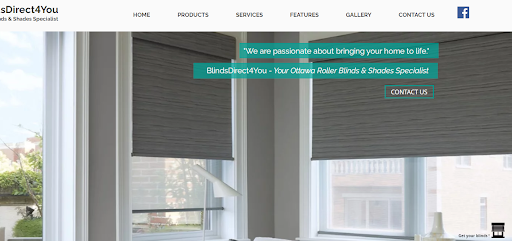 At BlindsDirect4You, they offer high quality custom window coverings at a competitive price. Their blinds are made from the finest materials and are designed to meet your specific needs. They also provide free in-home consultation, which allows them to help you choose the perfect window covering for your home. If you need professional blind installation services, they are always available for you!
When it comes to controlling the amount of light entering a room, BlindsDirect4You has several different fabrics available to choose from. Some of these fabrics are designed specifically for blocking out light, while others provide varying degrees of transparency. Whatever your needs may be, they have a fabric that is sure to meet them and improve the interior look of your home. 
In addition, their blinds can also be customized with blackout curtains in order to create an even more intimate atmosphere. So whether you're looking for privacy or enhancing the interior look of your room, BlindsDirect4You has exactly what you need!
"I would like to thank Dongmei and Robert for the excellent service and products they provided. The quality of the blinds is top-notch and they are very easy to communicate with. On top of that, their price is very reasonable. Highly recommend!"
4) Property MRI, custom blinds and wall panels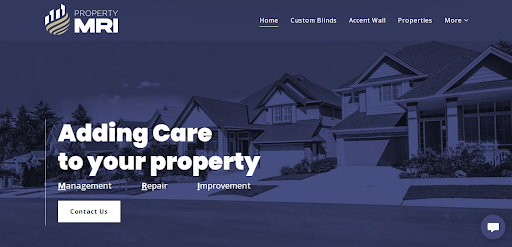 If you're looking to increase the value of your home and make it easier for potential buyers or renters to take a look, making updates can be a great way to do that. Property MRI offers custom blinds and wall panels, which can help customize your home's appearance while adding privacy and protection from sunlight and weather elements. You can always text or call them if you have any questions about updating your property!
Custom blinds are a great way to enhance the look of your home without spending a lot of money. They're also very affordable and easy to install, which means you won't have to spend hours trying to get them installed correctly. Plus, they come in many different styles and colors so you can find one that perfectly matches your décor. Whether you're looking for something simple or ornate, there's sure to be a perfect choice from Property MRI that meets your needs!
"They have a nice selection of blinds. Our home looks beautiful now. Love the great job they did and you will not find better pricing anywhere else. It was very affordable. Would highly recommend them!"
5) Tetra Window Treatments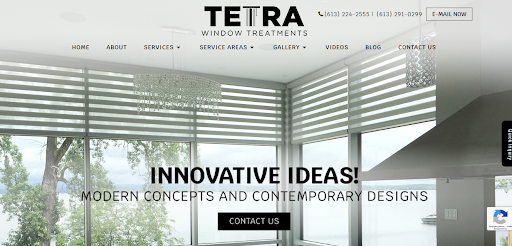 At Tetra Window Treatments, they offer a wide range of custom window treatments including roller shades, horizontal blinds 1" or 2" aluminium or wood, vertical blinds, panel tracks that are perfect for any home. Their experienced staff provides customized counseling and advice, as well as installation services. They focus on individual client satisfaction to ensure that you're satisfied with your purchase from them. 
They provide high-quality window coverings that are perfect for any room in your home. Their products have a variety of materials and colors to choose from, so you can find the right blinds that are suitable for your home. 
They also offer customizations on all their products, which means that you can get exactly what you want without having to compromise on quality or fitment. Plus, their customer service is top notch – they will always be available if there's anything else they can do to help make sure everything goes smoothly during installation. Whether you're looking for traditional or contemporary designs, they have something to suit your needs. So give them a call for any window blind needs you may have! 
"Great customer service from Alex and his team. They were fast and efficient setting up 4 sets of blinds when it came to installing them. The 2 brothers that did the work, were respectful, polite and had a great attitude. Would highly recommend using them."
6) TA Blinds and Interiors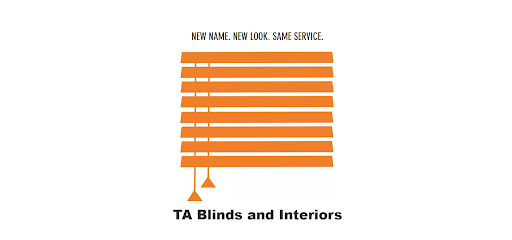 At TA Blinds and Interiors, they understand that your home is your haven. It's a place where you should feel safe, comfortable and luxurious. That's why they offer a wide range of high-end window treatments, to help you achieve the perfect look for your home. 
Their friendly and knowledgeable staff are always on hand to help you find the perfect product for your needs, and their extensive range means that there is something to suit every taste and budget.
 So whether you're looking for blinds, shutters or drapes, TA Blinds and Interiors is the perfect place to find your perfect window treatment. Visit their website today to find out more.
"Over the past year we have used the services of TA Blinds and Interiors and were very pleased from start to finish. Trishna was very friendly, professional and knowledgeable about all products. With a background in interior design, she offered us useful suggestions. Denis, who installed our blinds was also very friendly, and did a great job with the installation. We would definitely recommend this company to anyone looking for window coverings in the Ottawa area."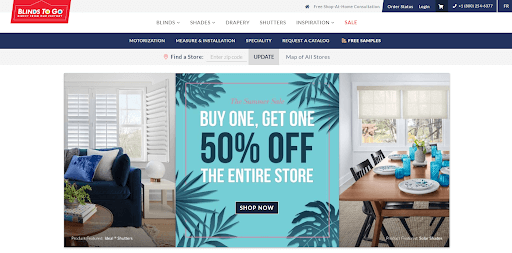 For those in the market for custom window treatments, Blinds to Go is the obvious choice. With a wide variety of options available and highly trained consultants on hand to help make the best selection, they are sure to have exactly what you're looking for. 
And if you can't find it in their store, they will gladly custom order it for you. In addition to their great selection and customer service, their prices are unbeatable. 
So whether you're looking for new blinds, shades, drapes, or shutters, give Blinds to Go a call or visit their showroom – you won't be disappointed!
Website:  blindstogo.com
Phone:  +16132268646
Address:  519 W Hunt Club Rd, Nepean, ON K2G 5W5, Canada
"I could not be happier with my experience with Blinds to Go. The customer service was excellent. Service in store was professional and friendly. The assistant was able to help me estimate my window sizes (since I hadnt thought to measure them!) and booked someone to measure them in my home a few days later. The blinds arrived well within the time frame provided and the installer put them in in under 15 minutes. Very happy with the quality and appearance of the blinds."
These Ottawa blind shops have a huge selection of window coverings, from traditional styles to trendy, modern looks. So you're sure to get the one that suits your home best.  With their professional employees on staff, finding the right blinds for your budget and personal taste will be a breeze!
If you're looking to buy some high-quality blinds in Ottawa, you have to visit the best blinds stores in the city!