The best walk-in clinics in Ottawa will get you back to health in no time!
Feeling less than healthy is the worst, but you don't have to suffer much longer. Walk-in clinics are a great option for people who are feeling under the weather and want to get better soon. In Ottawa, there are many walk-in clinics that can give you the care you need right away. That said, we found the very best in the city because you deserve the best when you're not feeling your best!
We selected these Ottawa walk-in clinics based on patient reviews, availability, the different services they offer, and the quality of care they provide.
For more health services in the city, be sure to check out the best dermatologists and the best physiotherapists in Ottawa!
How Much Does It Cost to Go to a Walk-in Clinic in Ottawa?
If you're a resident of Ontario and covered under OHIP, your visit to the doctor will be free–with a few exceptions. One such exception is if you're prescribed medication. In this case, you'll have to pay for your prescription out of pocket.
However, there are ways to save on medications. If you have a valid Ontario health card, you may be eligible for the Ontario Drug Benefit program, which covers the cost of many prescription medications. 
Alternatively, some pharmacies offer discount programs for people who don't have insurance coverage. So, even if you have to pay for your prescriptions, there are ways to make it more affordable.
The Best Walk-In Clinics in Ottawa
Now that we've gone over the basics, let's get into our list of the best walk-in clinics in Ottawa!
1) Passport Health Carlington Ottawa Travel Clinic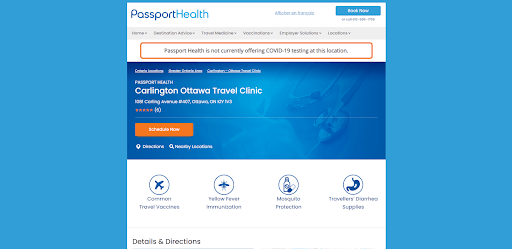 Passport Health is a leading provider of travel medicine and immunization services in North America. With 270+ clinic locations, the company provides clients with what they need when it matters most; its deep vaccine inventory ensures that no patient goes without necessary protection from abroad. 
 In addition to their life-saving work with vaccines, Passport Health also provides a wide range of medical services that can keep you healthy. Some examples include routine immunizations, specialty vaccines like Japanese encephalitis and yellow fever as well as flu shots for those who need it.
They also offer many other types of biometric screenings to ensure your wellbeing in general such as blood pressure checks or cholesterol levels monitoring. No matter where you're going or what you're doing, Passport Health is there to make sure you're as healthy as possible!
"Highly recommend visiting this clinic ahead of any trips abroad. Our nurse was knowledgeable and practical and took the time to review our previous vaccines and make sound recommendations."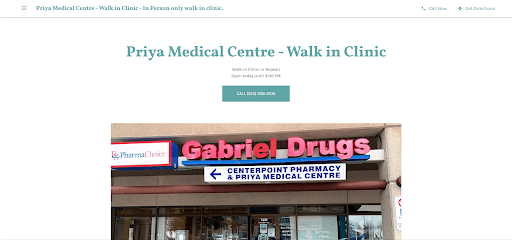 Priya Medical Centre is a one-stop shop for all your non-emergency medical needs. Whether you're needing childhood immunizations, driver's medical testing, or a pap test, Priya Medical Centre is the place for you. They even offer prescriptions refills! 
This Ottawa-based walk-in clinic is one of the best and fastest around, perfect for those who don't have a family doctor. So next time you find yourself in need of some medical attention, be sure to check out Priya Medical Centre.
"This is an amazing walk in clinic. They are very fast and efficient and the doctors are caring and take the time to listen. I really appreciate the great service."
3) Riverside Travel Medicine Clinic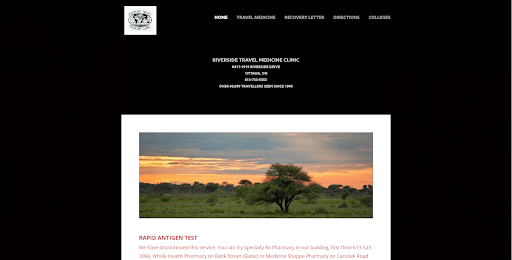 The Riverside Travel Medicine Clinic is a reliable source for all of your travel needs. They are members of the International Society of Travel Medicine and have plenty of experience with Health Canada's expert committee known as CATMAT—which is internationally recognized! 
This clinic is also single-site, meaning that you won't have to go to multiple places to get the care that you need. The staff are so friendly and helpful, and they will make you feel comfortable with all of your questions regarding traveling—even those which might seem silly or stupid. 
So, if you're looking for the best travel clinic in the area, be sure to check out the Riverside Travel Medicine Clinic!
"Went for a consultation for a trip in February. The staff were all so friendly and it was a very welcoming environment. Though I didn't need any vaccinations, the nurse took time to explain all the precautions and preventive measures I should take before and during my trip."
4) Rideau Friel Medical Center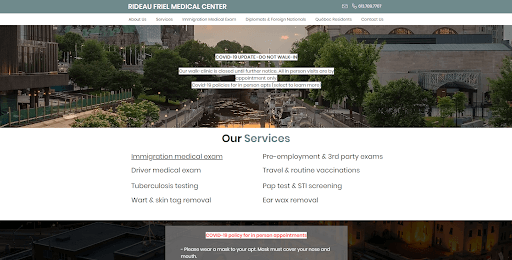 Located in the center of Ottawa, Rideau Friel Medical Center is now under new management and ready to serve you. They are excited about continuing on with their mission: To help patients feel healthy by providing them high-quality care from experienced specialists that have what they need for any type or situation!
They offer services such as Pre-employment & 3rd party exams which include school p-entry forms, visa application medical exam and more. They also provide driver medical exams for drivers seeking a new license or a renewal of their current license. 
And if you are traveling abroad you can come in for a consultation and receive guidance specific to your travel plans including treatment for travelers' diarrhea, protection against insect-borne diseases, and more.
"Dr. Sivanantharajah is excellent. She cares, and really wears her heart on her sleeve. She's very thorough, warm, and has one of the best bedside manners I've ever experienced."
FAQs About Walk-In Clinics
Getting better doesn't have to take forever. Now, there's a third option. Don't wait for your family doctor; skip the emergency room wait, and simply go to a walk-in clinic. So whether you have a bad cough or a fever, you can rely on the best walk-in clinics to take care of you. These Ottawa walk-in clinics are ready to help any patient that walks through their doors feel better quickly!
So if you're feeling unwell, don't hesitate to visit the best walk-in clinics in Ottawa!