The best piano lessons can help you learn and improve your piano playing!
Playing the piano is a great skill that can be acquired at any age. These piano schools will not only teach you how to play but also help you understand music composition and theory. With their help, you can learn to play the instrument at your own pace. Whether you're a seasoned pianist or completely new to the instrument, these Ottawa piano teachers can help you meet your goals.
We chose these piano lessons based on reputation, teaching styles, ability to adapt to different types of learners, and the education and experience of the teachers. 
If you're a lifelong learner, you'll be happy to know that Ottawa is home to many great schools for all kinds of skills. Check out our lists of the best driving schools in Ottawa and the best swimming lessons!
What's the Average Cost of Piano Lessons in Ottawa
On average, private piano lessons can range from $40 to $100 per hour, while group lessons are slightly cheaper and typically cost between $30 and $50 an hour. 
Some factors that affect the cost of piano lessons include the teacher's qualifications, teaching experience, location, and length of the lesson.
In order to find the best deal, it's important to compare prices from different instructors. Another way to save money is to look for discounts or package deals. Many instructors offer special rates for students who sign up for multiple lessons. By doing some research, you can find a great deal on the perfect lesson for your needs.
The Best Piano Lessons in Ottawa
Now that you know what to look for in a piano lesson, and how much they cost, it's time to choose the right one for you! Here are our picks for the best piano lessons in Ottawa.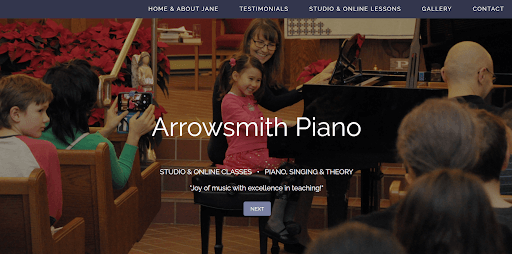 Jane is an artistically-inclined woman who has completed a Bachelor's Degree in Music from Ottawa and Carleton, where she studied with International renowned pianists/professors – Andrew Tunis and Christina Petrowska. 
Jane attained her ARCT (Associateship with the Royal Conservatory of Music) which allows for higher-level performance on piano. Jane has been teaching piano for over 30 years in the Kanata/Ottawa area and is a Registered ORMTA teacher.
 She's also a member of CFMTA, recognized across Canada as an expert on providing musical education to all levels. 
Jane has had yearly Student Award Winners in Ottawa for the last 20 years. Over 90% of her students achieve 80+% in piano exams, and over 99 percent are successful with theory exams as well. 
After such a long time, Jane is still seeing talented musicians coming through her doors every year ready to take on anything that life can throw at them.
"Jane is a warm, compassionate, kind teacher. Her love of music and for her students is evident in the way she teaches. She is super engaging and remains unconditionally positive. Jane's constant support allows her students to grow and flourish. Jane provides wonderful opportunities for students to build confidence through coffee houses and recitals. Allowing young people a chance to be courageous and to perform for others is a gift we all get to enjoy. I feel so lucky we found Jane and look forward to many years of her being in our lives, sharing her expertise and love of music!"
2) Barrhaven Music Academy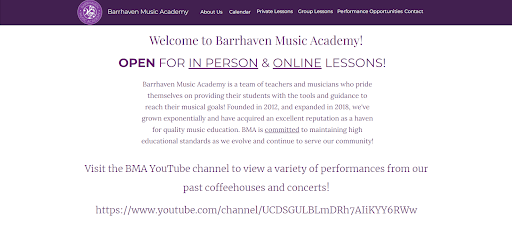 Are you looking for a world-class education that will help take your music learning experience up to another notch? With a team of highly skilled educators and dedicated staff members, Barrhaven Music Academy can provide private lessons in various disciplines such as piano,  violin playing or clarinets. 
BMA policies are designed to be flexible and fair, with required monthly commitment only. Administrators will email you multiple makeup lesson options daily so that when life gets busy or illness strikes they can still serve their students well by offering them a variety of different types of lessons at varying times throughout the week. 
They're organized enough for your needs – just let them know what day works best on which days.
"Nothing but positive things to say about BMA. We've been clients for several years and our daughter has progressed steadily with her piano and singing skills The instructors are friendly but professional. Nadia is very well organized - never any issues with billing or scheduling. AAA+++"
3) Victor Avila Piano Studio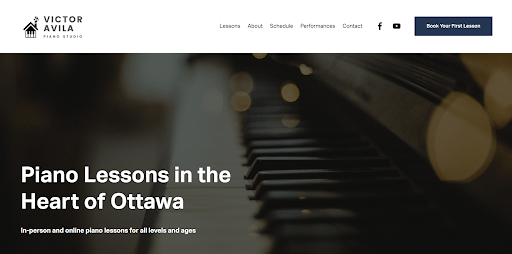 Victor Avila has a wide range of skills and can play anything from Baroque to contemporary music styles, and his talents are only increasing with time. Victor's dedication to the piano is nothing short of remarkable. 
As a pedagogue, Victor has been recognized by the Suzuki Association of America for his dedication to teaching students. He is certified in composition and counterpoint through Ontario's Registered Music Teachers' Association. 
His students have been accepted to top programs, including the Boston Conservatory and excelled in several competitions. Victor has given masterclasses, and presentations at universities and education institutes. He loves to see people playing music. 
Whether they're a beginner or an expert, he wants every individual's experience at his studio to be positive and encouraging so that they all can learn together.
"Victor is an excellent piano teacher. I joined Victor's studio about one year ago. Since that time, I have been taking lessons on a weekly basis and have made a lot of progress. As an adult beginner, I was looking for a teacher who could work with my skill level and would be understanding that I had fairly limited time to dedicate to practicing throughout the week. Victor was amazing at identifying my level and finding interesting and enjoyable pieces. He is very patient and great at communicating theory and technique. He keeps the lessons fun. I would highly recommend Victor to anyone looking for a piano teacher."
4) Dave Milliken Music Lessons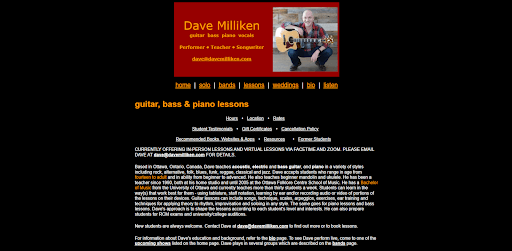 Dave Milliken is a versatile musician who can play both solos and with several different groups. He has played in The Retrogrades, the 80s/90's cover band; Frets on Fire -a Latin acoustic guitar duo. This artist doesn't just sing one style but instead varies it so listeners get their desired mood.
Dave has been a music instructor since 1990 and teaches at both his home studio in Ottawa as well as the Folklore Center School of Music. He offers lessons to students ranging from beginner level up through advanced levels – teaching them how they can learn best based on what works for their individual needs: using tabular notation or staff paper; learning by ear/ recording audio & video from Dave's classes.
 From rockers to alternative folk fans – no matter what style you want to learn or play Dave can help guide your way through it all by using his years of experience teaching people from every walk of life how they too can find happiness on stage.
"Really enjoying my piano lessons with Dave. I'm a beginner adult, and he is very patient and helpful. Appreciate the flexibility to do virtual lessons during the pandemic. For in-person lessons, Dave's music room is comfortable and well-equipped."
Learning to play the piano is an admirable and useful thing to do. Not only do you learn to play the instrument, but it stresses the importance of dedication and working towards a goal. Playing the piano is also great for keeping the brain mentally fit, perfect for older adults.
Wherever you are in your journey, be it a complete newbie or a longtime piano player, these teachers can give you the guidance and teachings you need to improve. With the help of the best piano schools in Ottawa, you'll be a natural at the piano in no time!