The best cryotherapy clinics in Ottawa are here to provide you with the services you need to improve your health and well-being. From pain relief to better circulation
If you're looking for a new way to relax and rejuvenate, you may want to try cryotherapy. Cryotherapy is a therapy that uses extremely cold temperatures to help reduce pain, and inflammation and promote healing. 
Ottawa is home to some of the best cryotherapy clinics in the country, and we chose the top 3 for you! We compiled this list based on customer reviews, services offered and overall experience.
If you're ready to try cryotherapy, check out our list of the best clinics in Ottawa!
For more health-related services in Ottawa, check out our other lists of the best plastic surgery clinics or the best Cool sculpting clinics in the city.
What's the Average Cost of Cryotherapy in Ottawa?
The average cost of cryotherapy in Ottawa is $60 – $100 per session. However, prices may vary depending on the clinic you visit and the length of your session.
Some other factors that may affect the cost of your cryotherapy session include:
The type of cryotherapy you receive (full-body or localized)

The number of sessions you purchase

The length of each session

-any additional services you add on, such as massages or infrared saunas.


Keep in mind that most clinics offer discounts for multiple sessions, so be sure to ask about package deals!
The Best Cryotherapy in Ottawa
Now that you know the average cost of cryotherapy in Ottawa, let's take a look at our list of the top 4 clinics in the city!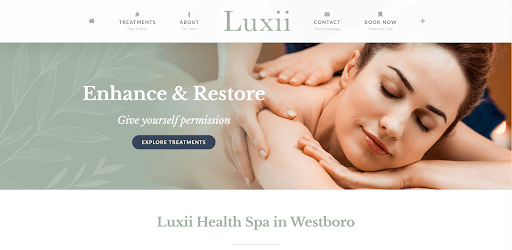 At Luxii Health Spa, you can try the latest cryotherapy treatment to help improve your appearance and overall health. Cryotherapy is a new, revolutionary way to treat the signs of aging and prevent them in the first place. If you're looking for something new to try, this is the perfect place to visit. 
The medical professionals at Luxii are experienced and knowledgeable, and they will make sure you're feeling your best. The facilities are also clean and comfortable, so you can relax and enjoy your experience. If you're looking for some extra stress relief, Luxii is the right place for you. 
Thanks to their innovative treatments and experienced staff, you'll leave feeling incredible. So why wait? Visit Luxii Health Spa today and see for yourself! You won't be disappointed.
"Tried out cryotherapy and compression last weekend for the first time. All in all, a fantastic experience. The receptionist was so friendly, walked me through the whole process and checked in on me during the compression session afterwards. Everything was so clean and pristine! I would highly recommend this spot!"
2) The Ottawa Skin Clinic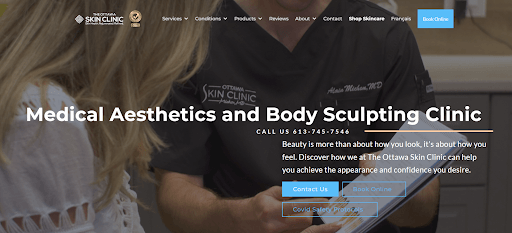 The Ottawa Skin Clinic provides the best care, comfort and safety for all of their patients. They pledge to provide you with exquisite medical aesthetics services tailored just for your needs so that they can deliver an amazing experience at every step in this process. 
The staff is passionate about their work and it's shown in every interaction. They always go above and beyond to make sure their clients feel comfortable, which you'll love because it will make you want to keep coming back for more treatments (and let's face it–you can't really go wrong with some skin care). 
One of the best parts about this clinic is how professional they all act when dealing directly or indirectly with customers. Also, this place is a shining example of what cleanliness should be.
"Where do we even start to describe our incredible experience getting our lip fillers with nurse Sarah?! She is so knowledgeable, honest, kind and let's not forget an artist. She took her time and made us feel so comfortable along the way. She is also one of the most genuine people we have ever met. This experience has made us feel so lucky to have made the right choice in going to her. We can't even describe how much we love the outcome. Nurse Sarah, we will see you again in the near future :)."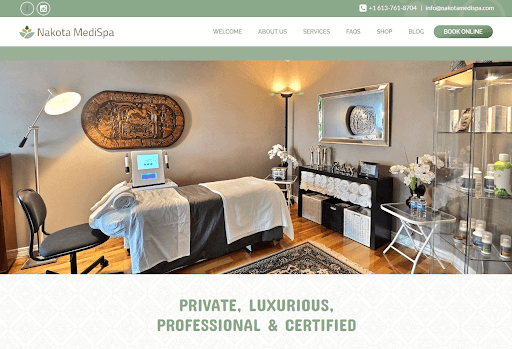 Nakota MediSpa is a home-based spa that provides exceptional results and satisfied clients. As the owner, she has total control of each client's experience which allows her to provide them with personalized treatments for their needs; this may be lost in larger commercial spas where they're more numerous than one on one sessions can take place due to time constraints imposed by business practices rather than personal preference. 
She makes every second count when giving her customers amazing experiences. Oxygeneo and Tripollar technology as well as cryotherapy are quite new in the marketplace, which makes them expensive. But they have priced their services so that everyone can enjoy these treatments without having to spend a fortune. 
If you're looking into getting some professional care done, then definitely consider visiting them; they'll do everything so their services don't leave anything unaddressed.
"I've been going to Nakota Spa for some time now and it has always provided nothing but excellent service and attention. Anu is very knowledgeable and very good at what she does. Every appointment is a relaxing and positive experience. I will most definitely continue going there for my facial needs, services and great products!"
If you're looking for a great cryotherapy experience in Ottawa, these three clinics should be at the top of your list. Each one offers something unique, so it's important to do your research and find the clinic that is right for you. Have you tried cryotherapy? What was your experience like?