The best podiatrists in Ottawa can help you keep your feet healthy!
Foot pains can be awkward and it may seem like there are no solutions in sight. Fortunately, Ottawa is a city with many podiatrists who can help diagnose the problem and find the right treatment for you.  
We selected these podiatrists based on customer reviews, welcoming environments, the effectiveness of care, and these clinics' lineup of expert podiatrists. So you can trust these clinics to provide you with the best care and experience possible! 
Health truly is wealth! In Ottawa, there are many healthcare professionals who can make sure everything is running okay. Check out our lists of the best optometrists in Ottawa and the best dermatologists in the city!
What is the Average Cost to See a Podiatrist in Ottawa?
The average cost of a visit to see a podiatrist in Ottawa is around $85 to $120 per hour. These appointments will cover a diagnosis, treatments, report preparation, and consultations with insurers. 
Some other factors that will affect the cost of your visit include:
The severity of your condition

The experience of the podiatrist 

If you need diagnostic tests

How long is the appointment is

While this may seem like a lot of money, it's important to remember that you're paying for the expertise of a trained medical professional. In addition, the cost of seeing a podiatrist is often covered by insurance. So if you're experiencing foot pain, don't hesitate to schedule an appointment with your nearest podiatrist. Your feet will thank you for it!
The Best Podiatrists in Ottawa
Now that you know a little bit more about podiatrists in Ottawa, it's time to find the perfect one for you! Here are our top picks for the best clinics in the city: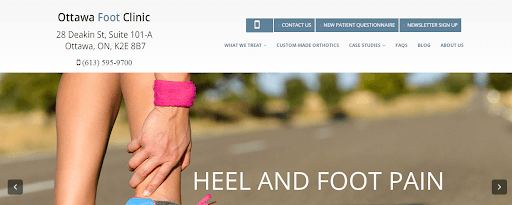 If you're looking for a foot clinic that offers outstanding care and is focused on informed patient's needs, then Ottawa Foot Clinic has got just what your doctor ordered. If you are suffering from sore feet, heel pain, pain at the ball of the foot, or any other kind of feet problems – you'll receive help from them immediately!
Their state-of-the-art facilities combined with comfortable environments will make all those painful moments a thing of a memory as their team takes great pride in delivering top notch service 24/7 at any time or day! 
Ottawa Foot Clinic is proud to offer outstanding patient care that begins with listening and caring. Their specialist doctors have years of experience perfecting their skills, which combine seamlessly for excellent results – giving their clients the confidence they need when it comes time to heal from any foot or ankle problem! 
Everything about your experience at this facility will be top notch from start to finish – it's clear that these people take pride in their workmanship, so why not give them a try?
" Excellent service and very knowledgeable staff. They're treat you with the most advanced and effective techniques and explain all the treatment to you. I went for my persitant plantar fascitfas and they were able to make my pain go away! The staff is friendly, the prices are fair, and your in great hands. I wouldn't recommend anywhere else. This clinc has the experts! "
2) Ottawa Foot Care & Orthotic Centre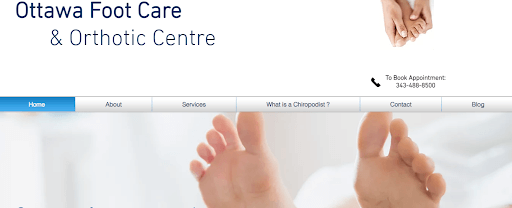 Ottawa Foot Care & Orthotic Centre strives for excellence in the care and treatment of all types of foot problems through state-of-the-art technology with compassion as their top priority! 
Their list of services includes routine nail clipping and callus/corn removal, ingrown toenail removal, diabetic foot care/wound care, plantar warts and foot skin conditions and more. Their foot specialists will make sure to assess and treat not just the symptoms, but also answer any questions you may have about your feet. 
They know how important it is to have a welcoming environment when you're feeling vulnerable and their staff will do everything in their power to make sure your experience with them leaves no room for doubt or confusion. 
They believe it is important to take an active, preventative approach toward foot health. They strive in taking the time necessary with each patient so they can feel comfortable and confident about their condition from day one before any problems arise. 
They are proud to offer the best care for your feet with their licensed Chiropodists who provide services that will help you live a healthier lifestyle, no matter what age or gender you are! 
" Adam is incredibly kind, professional, effective, and knowledgeable. He does a thorough assessment and listens carefully to all you have to say. He makes great recommendations, and talks you through the whole process. You can tell he really knows his stuff and is passionate about his work. Anyone with foot pain should go here! "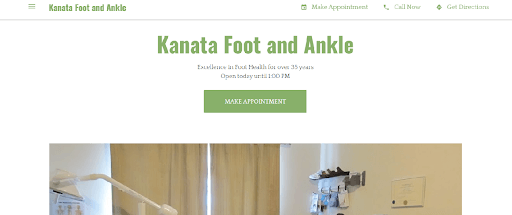 Kanata Foot and Ankle understand that foot health is important to you, which is why they take a thorough medical history of your feet before providing treatments. This ensures their patients get only proven treatment methods from years' worth of experience with the clinic's top-notch staff!
 Howard Levy D.Ch, is a skilled practitioner with decades of experience treating children and adults in multiple settings including past positions at The Ottawa Civic Hospital, Royal Ottawa Hospital Rehabilitation Centre and Toronto General Hospital as a clinical instructor. 
His vast experience in the medical industry allows him to treat problems like corns & callouses, thick or ingrown toenails, plantar warts, bunions & hammer toes, skin infections & wounds of the foot and more. 
Their professionals at this clinic got your feet covered with their full-service office that provides surgical and non-surgical options for children, adults, seniors and athletes. They offer top-performing knee, ankle and foot braces, compression stockings and orthopedic shoes to help you feel your best. 
They also have competitive rates covered by most private insurance plans including Veterans Affairs, Canadian Armed Forces & RCMP as well as providing same day/night appointments for urgent conditions such as infected toenails or acute ankle sprains. 
It's always a relief when you find people as professional and knowledgeable as them whose thoroughness in explaining things makes you feel at ease at all times!
" Dr. Levy is a very patient, kind, helpful, and knowledgeable doctor. He listens intently to what ails you and does not rush you in and out. He really knows his stuff, that's for sure. I would recommend Dr. Levy in a heart beat. "
4) Barrhaven Foot Care & Orthotic Clinic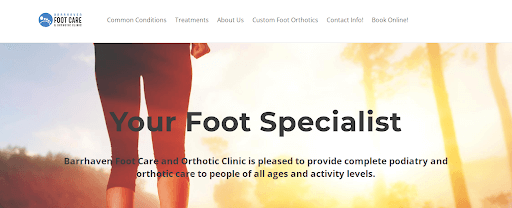 Barrhaven Foot Care is a local, family-run business that strives to provide quality services for all of their customers. Their treatments & services include custom foot orthotics, ingrown toenail surgery, fungal nail laser treatments, shockwave therapy (heel pain/plantar fasciitis), plantar wart treatments (swift treatment), compression socks/stockings and more. 
They offer custom foot orthotic treatments, as well as heel pain relief through the prescription arch, supports or custom insoles! The foot specialists at their orthotic service use the latest technology to cast and manufacture custom footwear for patients with problematic feet. 
The goal of Barrhaven Foot Care is to provide Custom Orthotics that will help you walk, run or dance without feeling the pain in your feet. Their treatment plan includes custom insoles with added support for rigid arch conditions and their specialists are committed to helping patients get their life back! 
Their work is always thorough and they go out of their way to make sure you're comfortable while getting treatment. The office staff are pleasant, professional people that help with your appointment smoothly and always make sure you're taken care of during your visit!
" Been going to Dr Whyte for years and plan to continue! Never had an issue with my orthotics and they are great for realigning my feet. The staff are very pleasant and Natasha always makes sure your appointment and billing goes smoothly.. "
5) Ottawa Foot and Ankle Clinic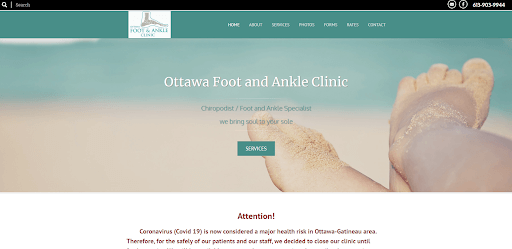 At Ottawa Foot & Ankle Clinic, they offer a comprehensive range of services that focus on your feet. From chiropody to pediatrics, it's all available at this clinic! 
Octavia Hristea is their registered chiropodist who has extensive experience in ingrown toenails and other skin conditions that are difficult for doctors' offices alone. She can also perform Phenolisation procedures to remove warts effectively without side effects or pain using her knowledge of surgery techniques like manipulations and mobilizations. 
Their foot care services include diabetic and arthritic feet; corns, calluses or plantar warts treatment. They also offer ulcer/wound care for those who have open sores on their skin that won't heal with medication alone! 
Finally, they treat fungal/thick nails and skin conditions like psoriasis, eczema and fungus. They always go out of their way to be helpful, kind-hearted individuals that make every visit feel like visiting family! 
They are professional while still being approachable and they make every patient feel like their needs matter most, so don't hesitate and come to visit them today!
" Octavia treats myself and my daughter. She's extremely professional, knowledgeable, and all of her recommendations were accurate and beneficial. She always provides a completely accurate diagnoses and prescribed the right treatments. I can affirm we are in the hands of one of the best professionals in our area.I was very happy to recommend Octavia to our friends and relatives who became her patients!I can't recommend her enough. "
6) Parkdale Foot Care and Orthotics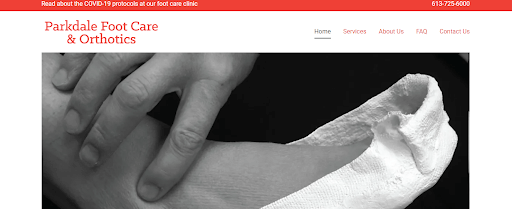 Parkdale Foot Care & Orthotics is committed to providing patients with high-quality foot care and orthotics. They strive for excellence in all that they do, which includes giving each client the best possible experience while offering them an excellent rate of services at affordable prices!
They believe in empowering their patients so they can take control of their health and wellness. Their team of professionals can help with foot care, custom orthoses and foot mobilization therapy.
 At Parkdale Foot Care & Orthotics, they take care of even the smallest members of your family! From infancy to 18 years old; whether it's an examination for diagnosis or treatment and ongoing wellness – you can count on them. 
They strive to provide a warm, welcoming environment for all of their patients so that they can feel comfortable and safe while receiving treatment. They also understand how important your privacy is when visiting one of these facilities – which is why they always make sure no matter what procedure or service is needed there will never be any problem with keeping things confidential!
" Super happy with my consultation and procedure with Dr. Shepherd. I really appreciate when a doctor explains everything in detail so I understand the problem. Also she showed me and the best way for me to do my own toe nail TLC to solve the problem. Thanks so much "
If you have foot pains, you don't need to suffer quietly. These Ottawa podiatrists are top-tier, educated professionals who can care for your foot and lower leg problems. There are many qualified foot doctors in the city, but these are the absolute best.
For any foot-related health concerns, visit any of the best podiatrists in Ottawa and get one step closer to wellness!