The best plastic surgery clinics in Ottawa can help you achieve your dream look!
Modern plastic surgery has many benefits and has never been safer. With plastic surgery, you can improve your self-esteem and increase your satisfaction with a specific body part. Surgeries like rhinoplasty can even help improve your breathing. If you have any specific insecurities or simply want to freshen up your appearance, consider booking an appointment with any of the best Ottawa plastic surgeons. 
However, because plastic surgery can be a risky procedure, you don't want just anyone operating on you. That's why we found the best plastic surgeon in Ottawa. We selected these clinics based on their trustworthy reputations, welcoming offices, variety of procedures offered, and their skilled and experienced plastic surgeons on staff. These Ottawa doctors will strive to give you a perfect face or body!
In Ottawa, there are many amazing professionals who do all kinds of cosmetic procedures. If you want to look your very best, visit the best botox clinics in Ottawa and the best lip fillers in the city!
What's the Average Cost of Plastic Surgery in Ottawa?
The average cost for plastic surgery in Ottawa is around $1500 – $10000+. The cheapest procedure, microdermabrasion, starts at just $1,000. But if you want a more dramatic transformation, be prepared to shell out some serious cash. A facelift, for example, is one of the most expensive plastic surgeries and can cost upwards of $10,000+. 
Some factors that affect the price of plastic surgery are the surgeon's experience, the location of the clinic, the type of anaesthesia used, and the length and difficulty of the procedure.
Here are some popular plastic surgery procedures and their average cost in Ottawa:
Rhinoplasty: $5,000 – $7,000+

Breast augmentation: $6,000 – $8,000+

Liposuction: $3,000 – $5,000+

Tummy tuck: $6,000 – $10,000+

Facelift: $10,000 – $20,000+
The Best Plastic Surgery Clinics in Ottawa
Now that you know the average cost of plastic surgery in Ottawa, start saving up for your dream procedure! And be sure to consult with one of the city's best plastic surgeons before going under the knife.
1) Facial Surgery & Cosmetic Centre of Ottawa Inc.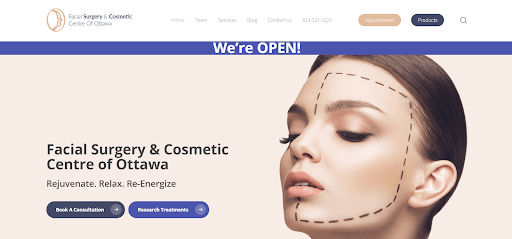 Facial Surgery & Cosmetics Centre offers a relaxing and comfortable place to have surgery. They use only up-to-date surgical equipment with modern techniques that will leave you feeling at ease during your procedure. The staff are professional and kind, making you feel at ease during each visit to their office. 
Dr. Elise Antoniak knows how important it can be when selecting someone who will provide excellent customer service for you; he makes sure everything goes smoothly from check-in through checkout—you'll never be worried about what might happen next. 
Dr. Antoniak has developed a special interest in dermatology and aesthetic medicine through her pursuit of training courses from some of the latest developments within this field. As someone with an approach that capitalizes on individualized care for each client, she'll provide you not only surgery recommendations but also personalized treatment plans tailored just right. 
Her practice currently focuses on injections such as neuromodulators, fillers and microneedling. She also offers a variety of other treatments including chemical peels, laser surgery or PRP therapy for those looking to rejuvenate their skin without any invasive procedures. She has helped countless clients achieve natural results with personalized plans designed just for them.
Canadian Association for Accreditation of Ambulatory Surgical Facility's (CAAFS) rigorous safety standards are held by their staff. You can rest assured knowing they're getting premium service because the team never rests on innovation- always looking towards tomorrow's possibilities.
"The service is unbeatable! Bonnie was so sweet and professional! She always makes me feel so comfortable and informed! She always explains everything to me to make sure that I know how to take care of my skin before and after a facial! She always leaves my skin so glowy and clean! This was my second time going to their clinic and I will definitely be a regular customer!"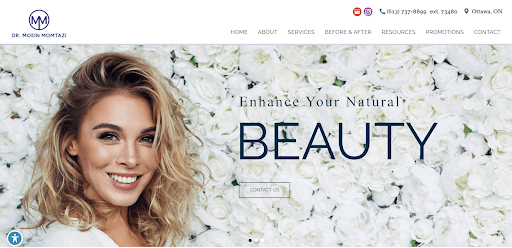 When it comes to plastic surgery, Dr. Momtazi is one of the best in Ottawa. His attention toward his patients and their needs makes him one of a kind surgeon with surgical skills that will leave you satisfied for years after treatment has been completed. 
From the moment you first speak to him, he makes you feel comfortable and confident in his abilities as a surgeon; a positive attitude combined with energy will be an integral part of how he operates throughout the procedure. 
Every day leading up until surgery finalization feels like one less thing to worry about. He's a friendly and dedicated physician who offers complex cancer reconstruction as well as cosmetic surgery. 
His professional team will be there for you from the time of your first visit through everything in between. Their knowledge allows them to answer all questions. Their worker Jessica is a dedicated and hard-working individual who has spent the last 5 years working in healthcare administration. 
She's won many gratitude awards for her commitment to patient care, so it should come as no surprise that she (as well as everyone here)  wants nothing more than to help others get better with Dr. Momtazi.
"I was recommended to Dr. Momtazi last year when I had to have a cancer removed from my face. From my first appointment I found Dr. Momtazi made me feel completely at ease. He was confident and competent and very considerate of the younger doctors who worked with him. He was available in between my appointments for questions to which he provided answers in a way that a non-medical person could understand. I would highly recommend Dr. Momtazi. Thank you Dr. Momtazi and thank you to the other staff at The General Hospital who were also very professional and caring."
3) Ottawa Plastic Surgery: Dr. Howard Silverman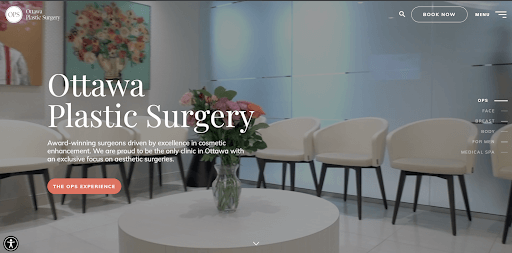 If you're looking for patient-focused care, look no further. The team of Ottawa Plastic Surgery clinic listens and tailors treatments to your individual needs with empathy in every step of the way. You'll receive personalized attention from consultation all the way through postoperative visits as they believe that patients feel understood when they receive quality medical services feeling they are special.
Consultations are spent meeting with one of their surgeons in a comfortable and private office setting, followed by an examination that begins to outline the options you'll have available. 
For breast-related consultations they offer opportunities for pre-visualization through digital simulation techniques such as fitting sessions where they can try different shapes while getting feedback from them about what kind would look good; this helps them make better decisions. 
Drs Silverman or Boyd will go over details as well as risks involved during surgery before demonstrating possible results.
"I recently had surgery with Dr. Silverman, every step of the process was detailed and well explained. All his staff and himself are extremely professional and caring. My results are even better than I had hoped for and I would 100% recommend Dr. Silverman to anyone looking for a breast augmentation!"
4) The Best You Ottawa West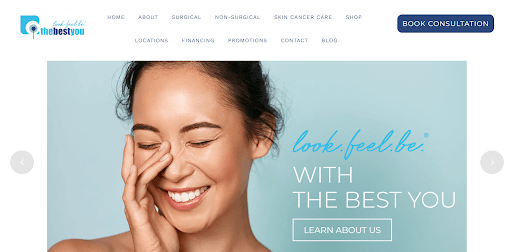 The Best You is a leading medical spa that offers cutting-edge cosmetic surgery and laser treatments for clients looking to achieve their best selves. Whether you seek the removal of unwanted fat, or the disappearance of cellulite with our industry's newest technology; they have a procedure perfect for your needs. 
This is why discerning clients trust them with their care; they know that no matter what treatment or procedure you need to be done- from a simple injection to complex surgery like rhinoplasty (nose job), liposuction etc., it will be performed by experts who are committed not only ́to helping attain your goals but also delivering long-lasting results.
They believe that the most incredible transformations are those which remain gradual, elegant and ever-so-subtle. With all of their treatments and procedures, they focus on delivering an incremental conservative approach to make sure you always look your best.
They're committed as beauty partners for life because nothing can be better than seeing someone grow into their true selves with them by their side every step of the way; it's what makes this industry so exciting – the endless possibilities available when working closely together
"I have been a client for at least 10 years and the staff are very professional and knowledgeable on all the products they offer. The Best You staff become a part of my family. Diana is exceptional and I am always 110% happy with her services. Thanks for the BEST You staff for making my skin look so beautiful and ageless."
5) Dr. Sean Smith Plastic Surgery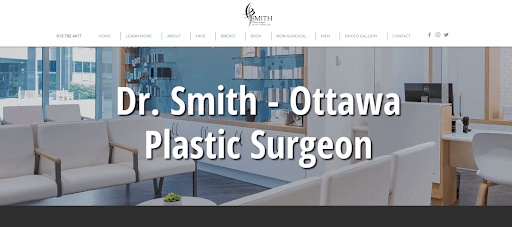 With a commitment to lifelong learning, Dr. Smith is accredited through the Royal College of Physicians and Surgeons' Maintenance-of-Certification Program. This ensures that he keeps up with all advancements in medicine while maintaining his expertise for current patients who want nothing but excellence from their plastic surgeon. 
He will start by listening and discussing your goals. There can never be too much communication when it comes to planning a surgical or non-surgical procedure. He'll perform an examination and provide his suggested plan of care whether or not he operates on any given day – so ask all the questions that come to mind because he knows what he is doing.
Lastly, with his artistic eye and attention to detail he'll perform your procedure – from skin cancer surgery, hand treatments and cranial-facial trauma treatment all the way down to reconstructive procedures for breast augmentation or facelift (among other things). 
Safety is always their priority so you can be confident in Dr. Smith's ability as he provides post-surgical care that will last as long or longer than necessary if needed. 
"Dr. Smith is a highly knowledgeable and compassionate surgeon. I had complete trust in him and his amazing team. From the consultation to post-op, he was kind and supportive and I had outstanding care. I am no longer living in chronic pain and have had excellent results. I could not have asked for a better outcome."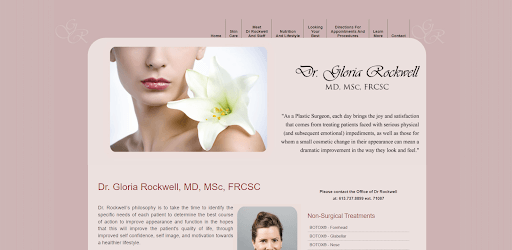 The philosophy of Dr. Rockwell is to take the time and make sure that each patient has their specific needs met. She cares a lot in order for them not only to feel better, but also live life more fully through improved confidence as well as an increased sense of self-worth. 
She believes that every human being deserves love from themselves too. Dr. Rockwell's clinic offers services for patients looking to have cosmetic procedures done on their bodies without any regrets or worries about what they are getting into. 
From the moment you walk in until after your procedure has been completed it feels like someone really does take time out just so that everything goes smoothly from start to finish. It is not always true when going through things such as this type alone but here you will find yourself welcomed by warm smiles coupled with professionalism. 
"Was referred to Dr. Rockwell by my family Dr. regarding damage to my thumb (damaged capsule -torn ligament). She was thorough with her examination and took the time to explain the injury and recommended continuing with splint for a couple month with a follow up to ensure proper healing. Found her to be very personable and would highly recommend her."
FAQs About Plastic Surgery
Plastic surgery is a life-altering change. If you've decided to get plastic surgery done, we can't stress how important it is for you to go to the right doctor.  All of these plastic surgery clinics can help you find the right surgery for your wants and needs. Whether you want to alter the appearance of your nose, stomach, jaw, or maybe all three, these Ottawa plastic surgeons can handle any task.
If you're in Ottawa and you want to undergo plastic surgery, get the best and safest results by booking a consultation with any of the best plastic surgery clinics!