The best optometrists in Ottawa can help you with all your eye-related needs! In many ways, we live our lives through our eyes. Because of our eyes, we can look at vibrant colours ad mentally snapshot beautiful moments. But you can't really do that with blurry vision, now can you? That's why it's important you take care of them and what's better than going to the best Ottawa optometrists!
We chose these optometrists based on customer service, experienced and educated staff, the wide variety of services they offer, and the quality of care. You can trust Ottawa optometrist clinics will help you keep your eyes healthy and find the best solution to blurry vision!
With your newly clear vision, it's important you take the extra steps necessary to keep yourself healthy and beautiful. Check out the best dermatologists and the best cool sculpting clinics in Ottawa!
How Much Does an Eye Exam Cost in Ottawa?
Ottawa, a basic eye exam costs around $100. This cost usually includes a prescription, an eye health check, and pupil dilation. However, if you want a more comprehensive exam which also includes retinal imaging, the cost will be about $150. 
Some other factors that will affect the cost of your eye exam are the type of insurance you have and whether or not you need special testing. If you have vision insurance, your eye exam should be covered. And if you need special tests, such as those for glaucoma or cataracts, the cost will be higher.
Although this may seem like a lot of money, it is important to remember that your eyesight is priceless. Schedule an appointment with your optometrist today and don't forget to use your health insurance!
The Best Optometrists in Ottawa
Now that you know how much an eye exam costs, it's time to find the best optometrist in Ottawa! Here are our top four picks: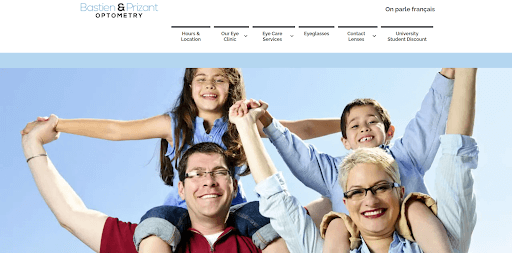 When it comes to optometry, Bastien & Prizant is a name that you can trust. They have been in operation for over 100 years and have built up a well-respected reputation for providing excellent eye care services. Whether you need emergency care, a comprehensive eye exam, or children's eye care, they have a package to suit your needs. 
And if you prefer contact lenses, they offer a booking service where they will find the perfect lenses for you. With such a long history of happy and satisfied customers, you can be confident that you're in good hands with Bastien & Prizant.
"I have had Dr. Prizant as an optometrist for over 15 years now. He's a warm, genuine human being who goes above and beyond to provide the best service possible. The rest of the staff are equally as kind and create an inviting environment for clients. Even though I have moved cities, I continue to have him as my optometrist and I plan on booking my son's first eye exam with him as well."
"I've been a patient of Dr. Prizant for at least 15 years. He is friendly, thorough and professional. He uses the latest technology in his eye exams. The office and support staff are helpful, friendly and knowledgeable. I always get good suggestions when choosing new frames, and my glasses are usually ready within a week."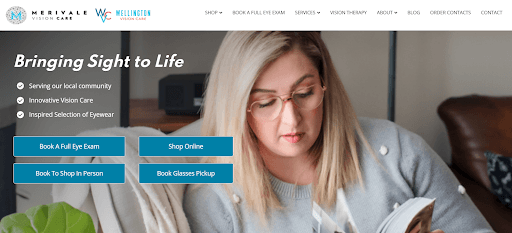 Merivale Vision is more than just your average eye doctor's office. The staff here prides themselves on providing person-friendly service delivery, working closely with customers to identify their individual eye care needs and provide personalized solutions. 
In addition to exam services, customers are also offered therapy treatments to relieve dry eye, treatment of computer screen syndrome, and various other specialized services that you may require if you have special conditions. 
Whether you're in need of a comprehensive eye exam or simply looking for relief from dry eyes, the team at Merivale Vision is here to help. So why wait? Book an appointment today and see the difference that personalized care can make.
"This is my first eye exam in Canada. Dr. Tanya was so kind and knowledgeable, she understood my eye concerns very well and prescribed me the proper medication keeping in mind my medical history. The receptionist lady was so helpful, she explained each process patiently and thoroughly. You are doing a great job. I am thrilled that I found you. Thank you so much."
"The staff at the office is friendly and helpful. Dr. Scott is a pleasant, caring professional who is knowledgeable and efficient. She put me at ease right away and explained everything to me. After the appointment, she even sent me additional information on dry eye care."
3) Eyemaxx Optical Studio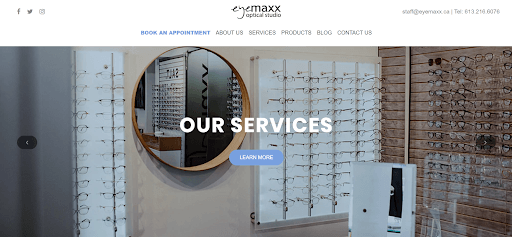 If you're looking for a doctor's office that can help you with your vision and eye issues, look no further than Eyemaxx. They offer a wide variety of services, from eye exams and vision tests to finding the right contact lenses and fitting them. 
And if you just need a new pair of contact lenses, you don't have to book another appointment or go to a different store. Eyemaxx has its own small shop where you can buy lenses, frames, and contact lenses. So why not give them a try? You won't be disappointed.
"I had a wonderful experience at Eyemaxx! From the moment I walked in I felt comfortable and was very well looked after. All the people working there were knowledgeable, helpful, and patient. They really listened to what I was looking for and brought me many frame choices to try. I love my new sunglasses and readers! The eye doctor was professional and provided a thorough examination. I will definitely return to Eyemaxx in the future."
"What a great experience at Eyemaxx! Michelle was diligent, honest, and committed to finding me a new pair of glasses that fit well and checked off all of my boxes. Tasha was amazing and very communicative over email. I'm 1 month in to wearing my new Tom Fords and I'm still in love of them! 🤓"
4) Jennifer Winn, Optometrist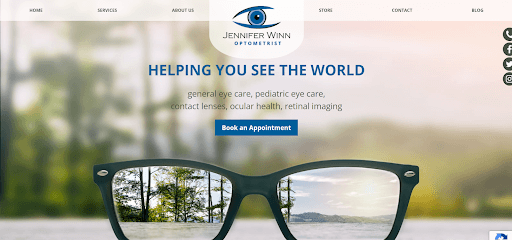 Jennifer Winn's clinic provides professional 1-on-1 eye care solutions. As a one-stop shop, the clinic offers adult and senior eye examinations, pediatric vision exams, contact lens evaluations, specialized testing, and standard eye disorder testing. 
Dr. Jennifer Winn is the owner and operator of the clinic. She has over 15 years of experience in the optometry field. Her passion for helping people see clearly and improving their vision has led her to open her own clinic. 
The clinic offers a variety of services to meet the needs of each individual patient. Whether you need a routine eye examination or you are experiencing symptoms of a specific eye disorder, the team at Jennifer Winn Optometry can provide you with the care you need!
"Dr. Winn was extremely thorough with a personality plus! She did not rush my daughter, Madison, and I threw whatsoever. She was absolutely wonderful with both of us and we are so relieved to have found an awesome eye specialist after being with Dr. Goodwin for 40+ years who is now retired. Thanks Jennifer and staff!"
"Fantastic overall experience. Dr. Winn is super knowledgeable. She takes you through the thorough exam explaining everything along the way. She makes you feel comfortable and safe in these trying times. She is there to provide the eye exam only, with no pressure to buy anything else. I won't go anywhere else in the future."
Your eyes are one of your most important organs. After all, they're the reason you can see! If you have blurry vision and need to update your prescription, these Ottawa optometrists have the education and equipment to do just that. After your eye exam, they can help you find the perfect glasses or contacts for you. 
These optometrists strive to deliver the best possible care. If you're looking for professionals who can meet all of your eye-care needs, book an appointment with any of the best optometrists in Ottawa!