There's no question that shopping for holiday dresses can be a daunting task! Not only do you have to choose the perfect dress, but you also need to find something that will fit your body type and style. That's why we decided to put together this list of the best places in Ottawa to shop for holiday dresses. Whether you want something fancy or simple, these stores have everything you need! We selected these stores based on their excellent customer service, stylish inventory, and competitive prices. So whether you're looking for a traditional gown or an unique party dress, make sure to check out one of these shops before making your purchase!
What should I wear on holiday?
A maxi dress is perfect for those evening outings; a gauzy skirt would be ideal if you're looking for something more formal; while a flowy piece of clothing like fabric blowing in the wind can easily become your go-to outfit or going out to eat at night.
Best places to shop for holiday dresses in Ottawa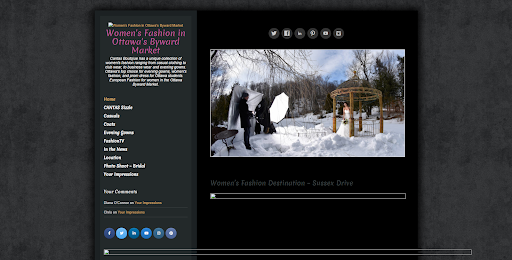 Cantas Boutique offers a unique collection of women's fashion ranging from casual clothing to club wear, and everything in between. They offer evening gowns for those important events, that you won't want any other than the best designer labels.  
They also have a huge selection of prom dresses for students. CANTAS was established in 2007 and located on the fashionable Bank Street. Owner Semiha Cantas imports seasonal collections from Europe where she enjoys an active role as a fashion photographer and stylist collaborating with designers who share her high standards of quality-at affordable prices!
"I have never felt more special and beautiful than in this store. The women knew my size just by looking at me and they made immediate suggestions, all of which matched me and my style and made me feel like royalty. Thank you so much Cantas!! So pleased to be wearing your dress for prom!!"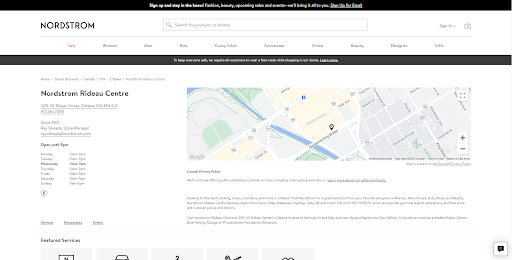 The store can become your favorite spot to get beautiful official gowns and fun dresses for any occasion. The service is very attentive wherever your needs are, and they will be happy to advise you with the best option. 
This is one of the best department stores in Ottawa and they carry the selection of famous brands like Givenchy or Fendi and many more.
"One of my favourite stores inside Rideau. Always so clean with the only reliable washroom around! The employees there have been nothing but sweet and professional with me whenever I've bought something."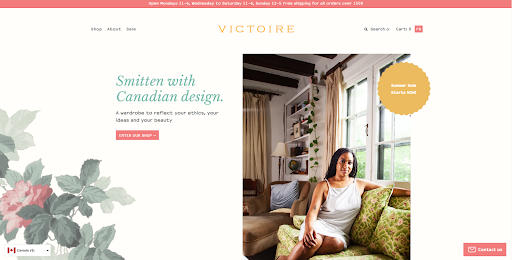 Victoire is a boutique for curated Canadian fashion design that has been leading the way in representing independent and emerging designers since 2006. They are committed to showcasing sustainable business practices, which makes them one of Canada's most innovative companies today!
The store is a one-stop shop for all your fashion needs. It has an incredible selection of festive clothes and accessories to suit any occasion, be it holiday dress or business casual event uniquely tailored clothing that will make you look fabulous!
victoireboutique.com
notrevictoire@gmail.com
+16134210089
1282 Wellington St. W Unit B, Ottawa, ON K1Y 3A7, Canada
"Just bought a lovely dress that is great for all seasons! Excited to wear it and will definitely come back to shop in the future. Plus, it's nice to support Canada-made designers and brands. Win-win!"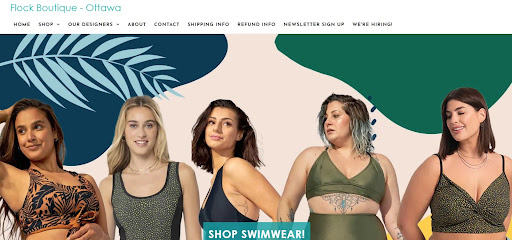 Flock Boutique is a boutique full of great fashion finds. They have picnic-approved dresses, bold skirts and adorable housewares as well as flattering tops and all manner of jewelry for you! They believe in ethical production and sustainable fashion, which is why they carry the work of over 150 independent Canadian designers and makers.  
They are committed to supporting entrepreneurs who create one-of-a-kind pieces using natural materials like wool or silk instead of manmade fabrics; it's important for us that each product has its own unique story behind how they were made. 
"great selection of clothes, especially dresses. a lot of jewelry as well. a small area focused on gifts and children's things. screen printed shirts, even underwear and cufflinks. the only negative is that it's a bit too rich for me to buy a dress here usually, while I really wish I could buy half the shop!"
If you're looking for the perfect holiday dress in Ottawa, you'll be spoiled for choice. From local boutiques, vintage clothing stores to department stores, there's something for everyone. So whether you're attending a party or hitting the beach with your friends, be sure to check out our list of the best places to shop for holiday dresses in Ottawa – you might just find your new favourite outfit! 
Planning ahead your upcoming holiday? Check out our list of best beauty salons and facials in Ottawa to get your ready from head to toe.
Make sure to check out our list of things to do on weekends in Ottawa too!