Planning a wedding can be quite the daunting task. From picking the date to finding the right venue, there's a lot that goes into making your big day perfect! One of the most important decisions you will make is what dress to wear.
If you're looking for inspiration, or just need some help narrowing down your options, we've got you covered! In this article we have compiled a list of 10 of the best wedding dresses in Ottawa. 
Whether you are looking for something traditional or want to try something more daring, these gowns are sure to amaze and impress all who see them!
1) Revelle Bridal Boutique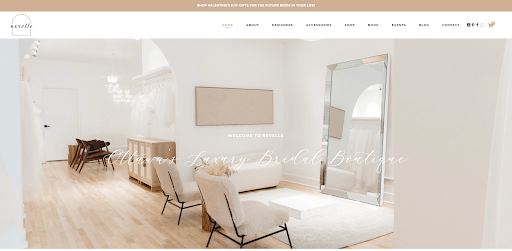 At their boutique in the heart of Ottawa, they are able to offer an incredible personalized bridal experience without any stress that often accompanies wedding dress shopping. Located on a trendy street full of upscale boutiques and lovely cafes, you will feel like royalty as soon as you walk through our door!
The newly opened Westboro branch is not only beautiful but also provides all women who visit it with what they deserve: luxury treatment from start until end. 
After carefully reviewing a designer's attention to style and quality, they've acquired an exceptionally curated collection of Wedding Gowns, Bridal Accessories, Wedding Jewellery and more. 
"Walking into Revelle Bridal was like walking into a dream land. While my Truvelle Annie gown was the first wedding dress I ever tried on, the ladies at Revelle helped me as I tried countless dresses to ensure I'd found "the one" and even worked directly with me to customize the bodice for a unique look with the designer. I also rented "The Mrs" jacket which was the perfect addition on our fall wedding day."
2) Kimberley Wilson Bridal & Fashion Outlet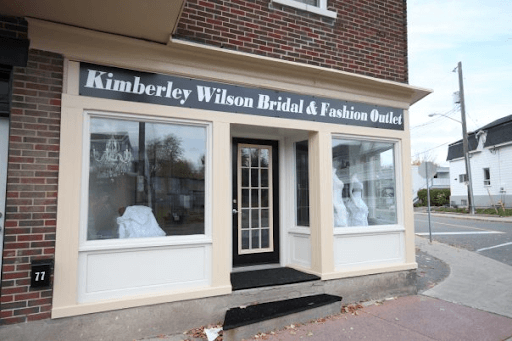 Kimberley Wilson Bridal & Fashion Outlet is the place to go for finding your dream wedding dress! With an amazing selection of styles and prices that are worth dancing all night long, you're sure to find what you're looking for. 
Plus, their team of experts will help you find the perfect occasion-appropriate style that fits like a glove – without going over budget! All of their dresses are priced at $999 or less so you can stay within your budget.
 They have everything from more simple and modern gowns to sparkling princess dresses – there's something for everyone here. The staff are polite, helpful and kind which makes trying on dresses feel intimate and special in itself.
"My experience with Kimberley was outstanding. The shop makes it so you are the only bride in at the time. Very personal & leaves you feeling very special and well taken care of! For a smaller shop, she has an amazing selection of gowns. Would 10/10 recommend to a friend!"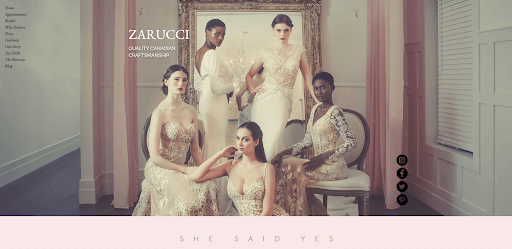 Zarucci is well known for their timeless pieces that highlight a woman's figure. The fabrics used in these designs are luxurious and dramatic without being too revealing or heavy duty looking at first glance which makes them perfect amongst other brides-to-be on your list!
A unique mix of lustrous fabrics combined with exquisite embroidery creates an artful design while machine busy lace adds just enough romance to make each gown something you'll treasure forever. 
"I got my dream wedding dress from here! I love it so much. Nora went above and beyond to design a stunning dress based on the criteria I had in mind. She also had a beautiful selection ready on hand that I fell in love with. She's very patient, kind and will go out of her way to make sure you love your dress. Highly recommended."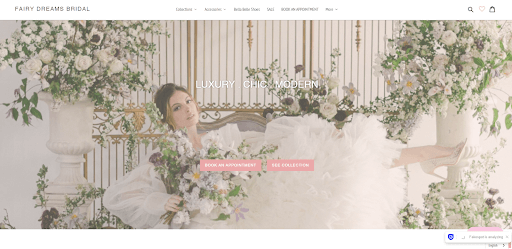 At Fairly Dreams Bridal, you'll have your own private appointment with a personal stylist. This means that there's no need to worry about what other people might think when it comes time to try something new – you can relax and take your time trying on gowns until you find the perfect one. 
Their gowns range in price from $2,500 to $13,000 and include luxury designer dresses from Vera Wang or Milla Nova. You can find minimalist and simple pieces as well as artsy and unique ones at this store, so there really is something for everyone!
"My experience at Fairy Dreams Bridal was everything I imagined and more. Vania is extremely sweet and helpful. The dress selection is truly beautiful and the place itself feels like an actual fairy boutique. I would recommend it to anyone who is looking for their wedding dress."
5) With Love Bridal Boutique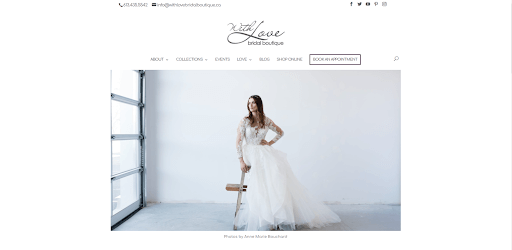 You'll find it easy to fall in love with your dream dress at their boutique. Every detail of the bridal experience is handled with love, from entering through beautifully decorated doors and meeting a personal consultant who will help you discover which designer wedding gown was made just for YOU! 
With collections from Pronovias, Maggie Sottero, Mikaella, Stella York, and Essense of Australia, your selection is only limited by your vision. The staff will organize and will have several dresses for you ready, based off of your preferred styles, details, and fabrics. They will be very mindful and respectful of your budget as well, and provide you with tons of options.
"Beautiful boutique with many amazing brands. Found my dream dress within one hour. Liz was the best at helping me as she was great with listening to my preferences and helped me see how I can alter the dress to my personal liking. Thank you so much for the experience! I will recommend all my bride friends to come here!"
6) Poshfair Bridal Boutique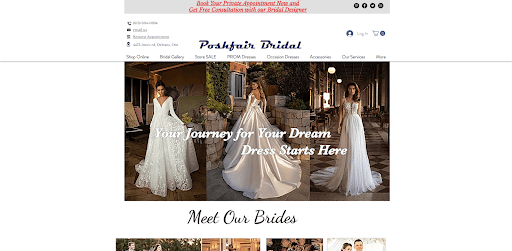 If you're looking for a one-of-the kind experience when it comes to buying your wedding dress, Poshfair Bridal is where all of our customers say they'll be going. Whether traditional or luxury styles are desired for any venue – from minimalist gowns with train length tables up through sparkly ball gowns — they've got what every bride needs!
Their bridal dresses are hand-made from the highest quality fabrics and laces by European manufacturers and they offer the best price-value selection for any budget. Their designers can also create a custom wedding dress just for you!
"I have to say to all brides ... i recommend this bridal shop. The owner Mila is extremely patient and listens to all my small details, not to mention she designs wedding dresses! Anyone who is looking for a wedding dress won't be disappointed, she has lots of different options to choose from with excellent service. I couldn't be happier."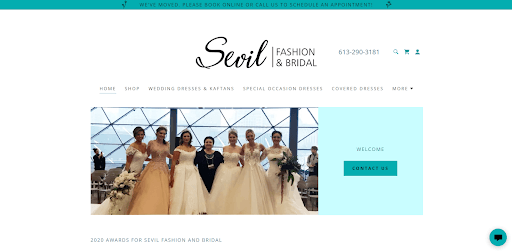 The team at Sevil Fashions is committed to making your wedding dress shopping experience an exciting and enjoyable one. They will work with you closely, providing personalized styling advice as well as services such as custom designs for special occasions or alterations that are necessary because of those specific needs found in most weddings. 
From classical wedding gowns to colorful turkish kaftans— in this store you can find anything. Their dresses have different levels of coverage, so you will be able to choose something that matches your beliefs or religion. 
"Sevil is an expert seamstress and designer. She completely transformed my dress by making sleeves, a covered back and front and the right size. She added beautiful lace detailing, rhinestones, flower appliques and diamond buttons. She made my dress stunning and I felt like a princess. Thank you Sevil!!!"
8) Renewed With Love Bridal Outlet
Renewed With Love Bridal Outlet is the place to go if you're looking for a dream dress! They offer designer gowns in different styles, from simple and detailed to all-lace princess gowns. In addition, they have a special couture section with even more beautiful dresses. 
They've carefully designed this new space to create a warm and relaxing atmosphere for our brides. The concept of a bridal outlet was created specifically to offer brides an inspiring and magical shopping experience regardless of budget or timeline. 
Their one-on-one appointments provide that intimate shopping experience with your own personal Bridal Stylist who can guide you through their curated selection of gorgeous gowns.
Best of all, All of their gowns are new and never worn or altered – they're store samples or designer overstock. This means that you can be sure that you're buying yourself a quality dress at up to 70% off!
"I had such an amazing experience choosing my gown with Emma, she made the entire process smooth, easy, and most importantly, fun! Customer service was 10/10. They have a large variety of dresses to choose from, all at great prices. I highly recommend you visit if you're in the market for a wedding dress or accessories for your special day. Thanks Emma!"
9) La Maison Bridal Boutique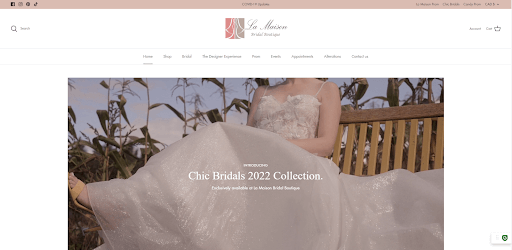 At La Maison Bridal Boutique you will be able to find wedding gowns that are sourced from local Canadian designers as well as international brand leaders. Their consultants will help you choose your personal style based on your unique personality and your vision of a dream gown. 
Their collection features romantic, bohemian, modern as well as minimal styles, not to mention the special luxury collection. They have different dresses in any price range, so you don't have to give up on your dream of looking beautiful.
"Amazing experience. The staff was helpful and had good insight; they listened to what my vision was and gave good advice while respecting my budget. I thoroughly enjoyed myself, as my bridesmaids and would highly recommend this boutique to other brides to be. The boutique carries a wide variety of styles at different prices, even for those on a budget."
10) Martino's Bridal Alterations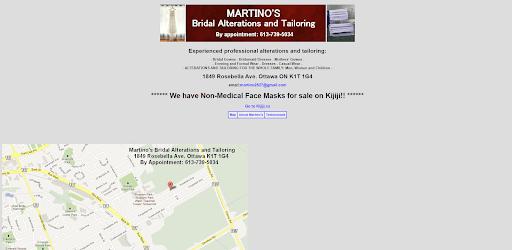 For nearly twenty years, Teresa Martino Zappia has been in the bridal business as owner and manager of Martino's Fashion and Bridal. During those years, she catered to different brides and their wedding parties within Ottawa, providing on-site professional alterations on the attire she offered for sale. 
An experienced seamstress, she now operates her new business – Martino's Bridal Alterations and Tailoring – at her home. 
All fittings and alterations are professionally done with a focus on making every gown, dress (or any other garment) fit perfectly. If you need custom sewing, alterations or tailoring for yourself – man or woman child – then this is the place to go!
" Theresa is a master of her craft. She did an amazing job altering my wedding dress, paying great attention to every detail. I felt beautiful and confident on my big day, knowing and feeling that my dress was fit to perfection."
FAQs about Wedding Dresses
There is no shortage of wedding dress shops in Ottawa, but not all of them offer high-quality dresses that will make you look and feel like a princess on your big day. The 10 best wedding dresses in Ottawa come from reputable stores with experienced staff who can help you find the perfect gown for your special occasion. 
Whether you're looking for something traditional or want to try something more daring, there's sure to be a dress at one of these stores that will suit your needs. So don't wait – start shopping today!