The best locksmiths in Ottawa can help you in a pinch!
Whether you're in an emergency situation or need to have your locks changed, it's always nice to have a locksmith's number, but why not have the very best? In Milton, there are plenty of amazing locksmiths who can help you with all your lock-related needs. You want someone who can reliably and efficiently fix your locks. So whenever and whatever you throw at these pros, they can handle it with ease.
We selected these Ottawa locksmiths based on customer reviews, how quickly they show up and how quickly they finish a job, the variety of services they provide, and the quality of their locksmithing services. When you call these locksmiths in Ottawa you can rest easy knowing you'll be back inside soon!
For more home services, check out the best tree removal companies and the best HVAC companies in Ottawa!
What's the Average Cost of a Locksmith in Ottawa?
The average cost of a locksmith in Ottawa is $50-$60. And if you call them during after-hours, you can expect to pay a higher rate. But if it's an emergency, they may charge by the job instead of by the hour.
Some other factors that affect the cost of a locksmith in Ottawa are the type of service you need, the time it will take to complete the job, and if they need to come out to your location. For example, changing all the locks on your home will be more expensive than just getting a key made.
Here are some sample prices for common locksmith services in Ottawa:
Key duplication: $5-$35

Rekeying a lock: $40-$100

Installing a new lock: $50-$250

Changing a safe combination: $150-$300

Opening a locked car door: $75-$200

Make sure to ask the locksmith about their prices before they start the job so there are no surprises. And always get a few different quotes to compare prices before hiring a locksmith in Ottawa.
The Best Locksmiths in Ottawa
If you need a locksmith in Ottawa, be sure to call one of these top-rated professionals!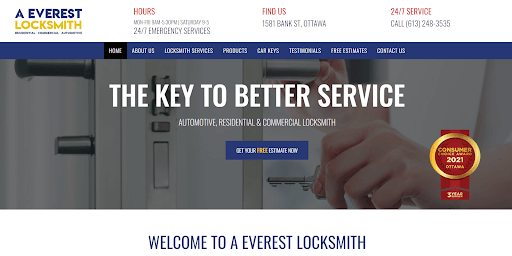 When it comes to locksmiths, there is no one better in Ottawa than the Everest Locksmith Company. This family-owned business has been providing top-notch locksmithing services to residents and businesses in Ottawa for more than two decades. 
Their highly skilled technicians are committed not only to delivering first-class service but also to offering quality products at affordable prices with quick turnaround times. So whether you need a new lock for your home or office, or you've lost your car keys, the Everest Locksmith Company is here to help. 
With their wide variety of products and services, they are sure to have what you need to get back up on your feet quickly. So don't hesitate to give them a call the next time you need a locksmith in Ottawa.
"We were looking for a locksmith to repair a non-functional lock on our patio door. Ziad came within a day and wonderfully repaired the lock quickly. He also noticed our front door needed repairs and was able to repair it quickly and efficiently! Will definitely use them again!"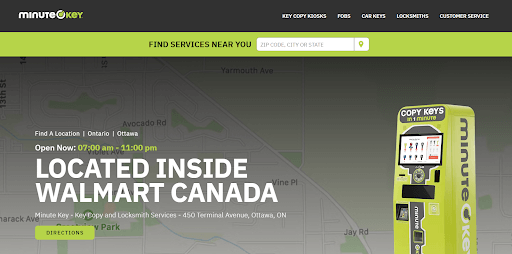 If you're ever in need of a locksmith in Ottawa, be sure to head to Minute Key at 450 Terminal Avenue. They offer a variety of service options to suit all your needs, including key duplication and on-site key creation by their trusted locksmiths. 
They also provide 24/7 emergency response, so you'll never have to worry about being locked out again! Plus, their RFID key duplication service is fast and accurate, so you can get back into your apartment, gym, or office in no time. 
So next time you're in need of a locksmith, remember Minute Key!
Website: minutekey.com
Email:+18005397571
Address:  450 Terminal Ave, Ottawa, ON K1G 0Z3, Canada
"Great experience, the simplest way to cut a key I've ever tried! Specially at a lockdown time, it was a amazing option, very easy to follow the instructions, and the key worked perfectly."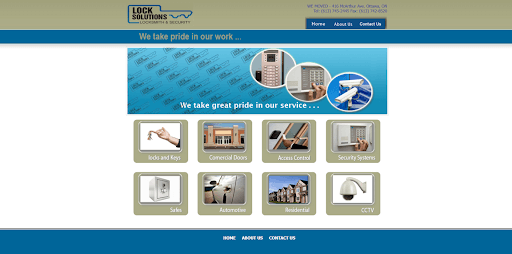 Lock Solutions Locksmith Services is a professional, friendly, and fast-expanding company that provides quality locksmith services to you. Their employees take pride in their work, which has been accomplished through years of experience in the locksmith industry. 
In addition, they offer 24-hour emergency service so you can get the help you need when you need it. They can copy your key within minutes or make sure your lock works perfectly. And they guarantee the accuracy of their services. 
So if you're in need of a locksmith, don't hesitate to give them a call. They'll be there to help you out – no matter what time it is.
"Great experience, the simplest way to cut a key I've ever tried! Specially at a lockdown time, it was a amazing option, very easy to follow the instructions, and the key worked perfectly."
4) Rapid Locksmith Ottawa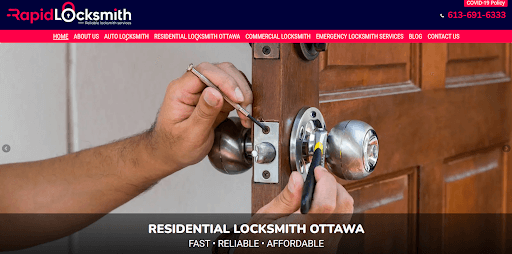 When it comes to your home or business, you can never be too safe. That's why Rapid Locksmith is committed to providing their customers with the most reliable and fast emergency locksmith services. They know that peace of mind is priceless, and they want their customers to live worry-free lives knowing their assets are well protected. 
If you're ever in need of commercial, residential or automotive locksmith services, you can be sure that Rapid Locksmith will get the job done quickly and efficiently. Their mobile technicians are trained and ready to provide fast relief, and their prices are very reasonable. 
So don't wait until it's too late—make sure Rapid Locksmith is your go-to locksmith service!
"Very reliable and professional. No run around, showed up as scheduled and completed the job in a very timely manner. He programmed two fobs for me in less than 30minutes. 100% recommended."
5) Speedy Locksmith Ottawa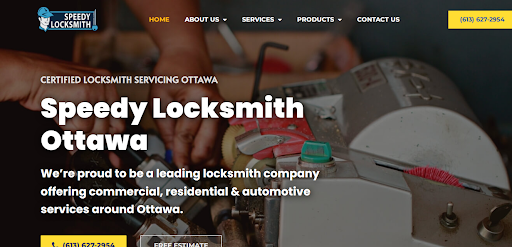 Speedy Locksmith Ottawa is a trusted and efficient locksmith service in Ottawa, Ontario. They offer residential, commercial, auto and emergency locksmith services to clients throughout the beautiful city of Ottawa. Their team of experienced professionals is dedicated to providing you with the best possible service at a fair price. Whether you need help unlocking your door or fixing a broken lock, they are here to help! 
They can also deal with electronic locks, keyless door locks and high security residential locks. They have a wide variety of products at their disposal, so they can install any type of lock that your business or home needs. Whether it's for security purposes or just an aesthetic enhancement, they have the perfect solution for you. Simply call them for all your needs and they will be happy to take care of everything – from start to finish.
"Absolutely thrilled with the service from Speedy Locksmith. My wife lost the only set of her Mazda keys on a Tuesday, tried calling every dealership in Ottawa to get another set to no avail. Speedy locksmith was able to get me a new set and program the key by Thursday afternoon. Super professional, friendly and kept me updated every step of the way."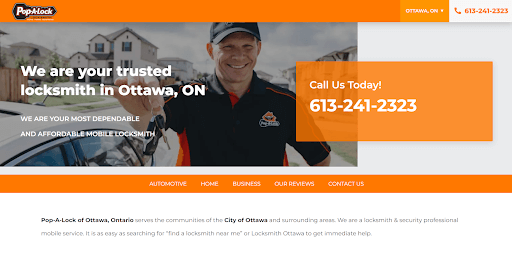 Pop a Lock is a great option for anyone looking for a reliable and affordable locksmith. Their technicians are highly trained and experienced in a wide range of services, from transponder key programming to master key system installation. They also offer a wide range of lock repair services. So whatever your needs, Pop a Lock can help. Call them today for a free consultation.
"The price was very affordable compared to competitors. The service was great and instantaneous. We got our car key replacement right away. Definitely would recommend it to others."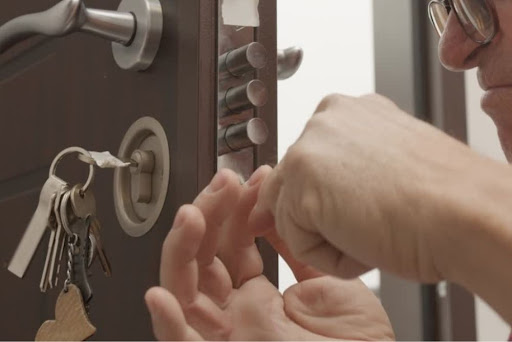 Carlingwood Locksmith Services' team of expert locksmiths are always on call to provide you with the highest quality locksmith services in the area. Whether you've lost your car key or you're locked out of your office, theyll be there to help. 
And because they understand that budget constraints are always a concern, they'll make sure to fix the problem quickly and efficiently without breaking the bank. So when you're in need of a locksmith, don't hesitate to give them a call. 
They'll be there to help you out – no matter what the issue may be.
"I asked the locksmith company to install a keyless entry system for our building. I wanted the additional security for our tenants, and they appreciated the gesture. The locksmith took care of things quickly and had all the keycards ready in no time. The service didn't cost much, but the results were way better than expected."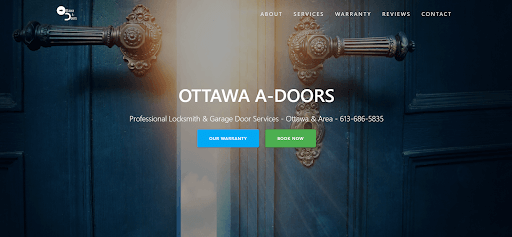 If you're looking for a reliable locksmith in Ottawa, look no further than A-Doors. This family-run business has been serving the community since 2000, so you can rest assured they know what they're doing. 
They offer a wide range of services, from changing locks to installing high-security commercial locks, and they're committed to providing top-quality work with fast turnarounds. Plus, their 24-hour automotive service means you're never stranded if you lock your keys in the car.
 So whether you need a quick fix or a long-term solution, A-Doors is the locksmith you can trust.
"Amazing company! The freezing cold locked out yesterday, he quickly got myself and my daughter in the house , made recommendations, explained everything to me, i'll definitely be calling ottawa a door again when needed . Great company!!!! Thanks for the help."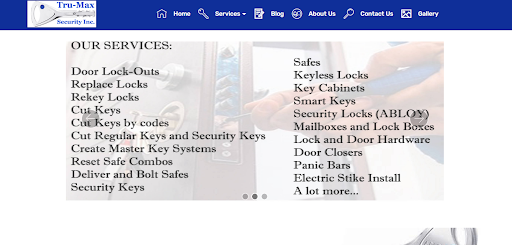 Tru-Max Security Inc. is a reliable and trusted locksmith service that provides services in the Ottawa area. The company has been providing quality security solutions to businesses and homes for over 40 years, thanks to its experienced team of technicians. Whether you need help with lockouts or repairs, their experts are here to assist you swiftly and efficiently. 
They can fix nearly all lock problems for locks, doors, safes, and vaults as well as design and maintain master key systems, and provide high security Abloy products. They also offer mobile locksmith services so that they can provide their superior service directly to your door – no matter where you are in the city! Additionally, Tru-Max Security Inc.'s commitment to customer satisfaction means that they offer a wide range of insurance coverage options as well as top notch Bonding & Insurance ratings. Contact them today for all your security needs!
"Ken was very responsive, delivered fast service and went out of his way to special order some keys that had to come directly from the supplier. When I need locksmith work done again, he'll be my first call."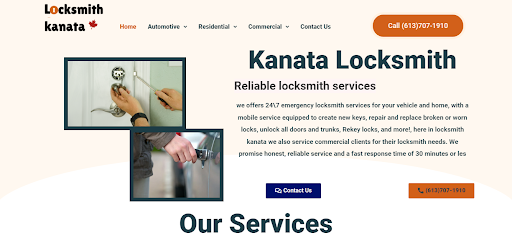 Kanata Locksmith is a professional locksmith service that provides reliable locksmith services for your vehicle and home. The company offers a mobile service that specializes in creating new keys, repairing and replacing broken or worn locks, unlocking all doors and trunks, rekeying locks, and more! In addition to providing residential lock services, the team also serves commercial clients with their needs. 
They also offer emergency 24/7 services so you can trust them in any situation. They also cut and program a new key for the majority of cars and trucks on the road today. They are equipped to handle any lock, key or security problem that you may encounter at your business – whether it's a small retail store or the largest data center in town.  You can trust Kanata Locksmith to deliver honest and reliable service at a fast response time.
"They did a fantastic job cutting two new keys for me. Very friendly staff & cheaper than what I thought I would be paying. 10/10 would recommend."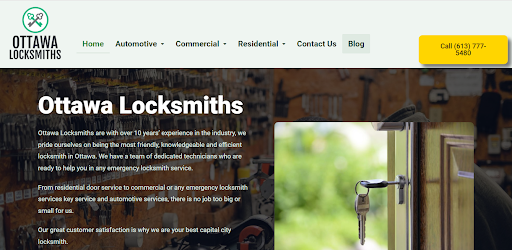 Ottawa Locksmiths is a locksmith service provider that has over 10 years of experience in the industry. They pride themselves on being the most friendly, knowledgeable and efficient locksmiths in Ottawa. Their team of dedicated technicians is ready to help you with any emergency locksmith service – from residential door services to commercial or automotive services. There is no job too big or small for them! 
Locksmiths Ottawa is a 24/7 emergency locksmith service that provides replacement and repair services for doors, locks, and keys. These services are backed by a team of professional technicians capable of resolving any problem at hand. They also provide locksmith services including the installation of all new types of home locks. So if you need reliable, affordable and professional lock-smithing assistance, please don't hesitate to contact them!
"Danny came an hour after I called him and exactly when he said he would! He was professional and kind. He did the job quickly. Danny is my go-to locksmith and I will definitely recommend him to friends! Best emergency locksmith in ottawa."
In times of trouble, a locksmith can be a total saviour! These Ottawa locksmiths are reliable professionals who can help you in a pinch. So if you're locked out, you understandably want to get back in as soon as possible. With the help of any of these locksmiths in Ottawa, you'll be back home before you know it!
So if you ever need any lock help, don't hesitate to call the best locksmiths in Ottawa!