The best personal tax accountants in Ottawa will save you the trouble of doing your taxes!
It's tax season in Ottawa! Most of us absolutely dread whipping out the calculator and trying to figure out what we owe. This year, skip the madness and let any of Ottawa's best personal tax accountants take care of your taxes. These Ottawa personal tax accountants keep up to date with the constantly changing tax codes so you don't have to. They'll ensure you submit an accurate report so you don't have to.
We chose these personal tax accountants based on their years of practice, qualifications, budget-friendly fees, clear communication, quick service, and their satisfied previous clients. You can trust these to do a proper job filing your taxes and who knows, maybe get you a great tax refund!
Keeping your finances in check can be pretty tough. Luckily, you don't have to. You can trust 
the best financial planners and the best mortgage brokers in Ottawa to make sure your money is managed well.
What's the Average Cost of Hiring a Personal Tax Accountant in Ottawa?
Most accountants charge by the hour, with rates ranging from $60 to $350 per return. 
Some of the factors that will affect your final cost include: 
 The size and complexity of your return 

 If you own a business or rental property 

If you have investments or capital gains 

If you need help with tax planning or advice 

For a simple return with no complications, you can expect to pay around $200. For a more complex return, the price can go up to $700 or more.
The earlier you get in touch with an accountant, the lower the fee will be. So if you're looking for peace of mind during tax season, it's worth considering hiring a professional.
The Best Personal Tax Accountants in Ottawa
Now that you know what to expect in terms of cost, let's take a look at the best personal tax accountants in Ottawa.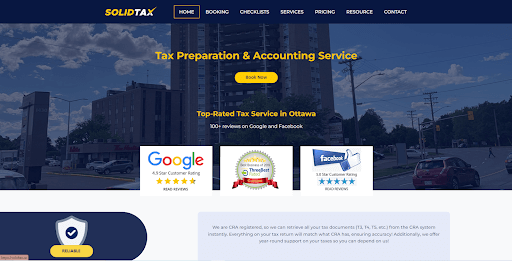 Solid Tax Inc. is a tax preparation business established in 2011 by Jack Liu. They work to empower Canadians with more control over their financial futures by providing a superior tax service. They focus on individual, small, and start-up businesses.
Canada's tax codes can be a lot to take in. That is why they simplify them into an easy-to-understand language so you don't feel confused by the complex system of taxes. Solid Tax Inc. does not try to add but instead reduce unnecessary things. They keep communication short and straight to the point.
They are top-tier accountants with years of experience. They can have your taxes done in 15 minutes and even get you multiple returns for the same year completed within a few days.
The company is CRA registered, so they can retrieve all your tax documents from the CRA system instantly. 
Solid Tax can deliver quality returns without breaking through those budget challenges. Their basic tax package starts as low as $40 dollars.
"Solid tax is simply the best tax service in town! They helped us sort through a huge backlog of many years of missed tax filings and other tax issues in a matter of days! I love that they keep their clients on file, making annual tax filings super easy without us having to supply all the information year after year. Price is super reasonable too! Highly recommend!"
2) Paterson & Company Chartered Accountants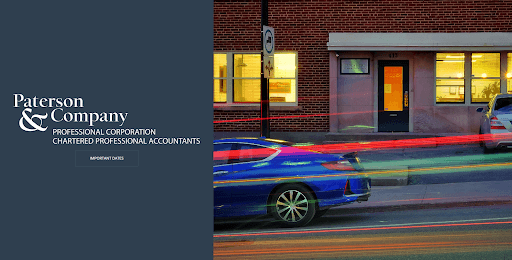 Paterson & Company offers a full range of legal services to meet the needs and requirements of any business or personal matter. They have an extensive network of lawyers, insurance experts, bankers and investment advisors. 
Don Paterson has an impressive resume. He's been in public practice for over 30 years and he founded the accounting firm that bears his name, Paterson & Company in 2002. Also, Don has served on the Board of Directors for the Ottawa Senators NHL hockey club.
The team is happy to leverage their network to your benefit and provide access to vetted professionals to ensure all your needs are taken care of. Paterson & Company can help with the preparation and filing of final tax returns for deceased individuals. 
They work with you and your lawyer to make sure the tax returns are accurate, complete and filed on time. Peterson and Company also have a wealth of experience working inside companies that consult, write software, sell products, and service equipment. 
"Sarwar has been my accountant for a few years now and his level of professionalism is bar none. He provides expert service and advice and I trust him and the firm entirely with my personal taxes. He always makes sure I am claiming everything possible to get the maximum in my returns. I highly recommend him."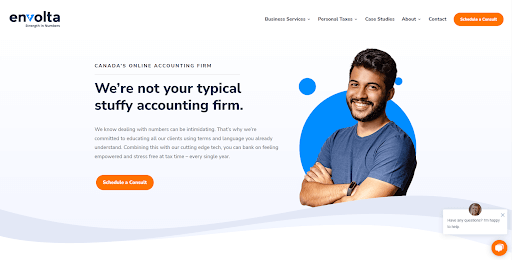 Envolta accounting firm has the fastest growing reputation in Ontario. They are committed to superior customer service and achieving long-term cohesive relationships with each client they work for, which is one of many reasons why this company ranks high among other top firms across Canada.
Automating your bookkeeping process with them means higher returns and fewer surprises. Let their team of accountants manage statements so you can focus on the things that matter to you.
The potential of your business is unlimited with Envolta's accounting services. They provide affordable, quality financial statements that align perfectly to help you reach those goals faster than ever before.
You have instant and secure access to your data no matter where you are. Your files are stored safely in the cloud so that they can be accessed remotely 24/7 from anywhere. Whether it's helping secure a successful retirement or generating more income in the business world, let them take care of it.
"I was referred to Nancy Picco by my colleagues. I'm very impressed with her efficiency and professional work. I've summitted my support documents last Thursday. She finished it in less than 3 days. I have never saw that anywhere else before. When I see all the positive reviews about her, no wonder all of my colleagues are with her. Highly recommending her."
4) Barrhaven Accounting & Tax Professional Corporation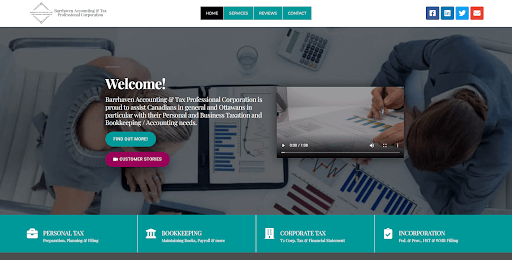 Barrhaven Accounting & Tax Professional Corporation is an accounting firm that offers reliable and confidential services to individuals and corporate clients for tax preparation, bookkeeping and filing. 
Hilal Ahmed, the director of the company, has more than 25 years of accounting, finance and taxation experience in banking, the treasury back office, information tech, logistics and defence and Security industries. 
Their personal tax expertise mainly covers employees, commission agents, brokers, self-employed, home-based businesses, day care service providers, rental income property owners, and more. 
They can prepare your Canadian tax return whether you are living in Canada or abroad. Their objective is to minimize your tax liabilities legally and to help you receive all the tax refunds and credits to which you are entitled to. 
They pride themselves on providing quality professional services with integrity and personalized attention. Contact them today for a free consultation!
"Hilal has been wonderful to work with. He is incredibly professional and prompt. He has answered all of my questions and helped me navigate some tricky small business and real estate tax issues the last several years. I can't thank him enough for the great service!"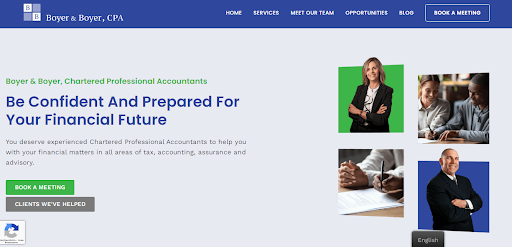 When you have an audit, tax, or some other financial concern looming over you, it can be hard to think of anything else. You end up losing sleep, stressing over matters that you shouldn't have to handle on your own. Let Boyer & Boyer CPA take that weight off your shoulders and put time back into your calendar. Their team of experts is dedicated to providing the best possible representation for their clients during these difficult times. 
They will work diligently to resolve any issue as quickly and efficiently as possible while ensuring accuracy and compliance with all relevant regulations. Boyer & Boyer offers tax planning services that can help you maximize your tax savings. By creating a plan tailored to your individual needs, they can help you file each filing in the future more advantageously for yourself or your business. Contact them today to learn more about their services and how they could benefit you!
"Recently my taxes were completed by Boyer & Boyer, CPA. I couldn't have been happier. The service was prompt and efficient. Almost all of the communication was electronic, via e-mail. I was kept up-to-date on progress, my questions were answered very clearly, and any instructions were easy to understand."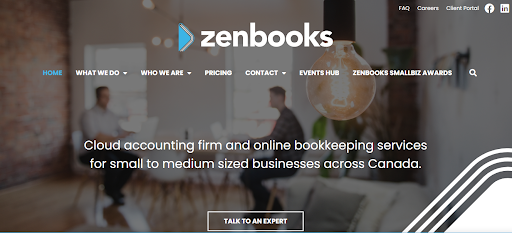 Zenbooks is an online accountancy firm that operates from a remote location since 2015. All of the firm's employees are able to work remotely, which allows for quick and convenient communication with clients. In addition, video conferencing allows for impactful interaction between staff and clients. By working from a remote location, Zenbooks ensures that it can provide superior service at an affordable price.
Zenbooks is a leading provider of personal tax accountants. Their team of experts can provide you with the support and guidance needed to stay on top of your taxes, ensuring that all expenses are properly accounted for. In addition, they offer a variety of services designed to help you manage your finances more effectively. Whether you need help preparing your own return or simply want access to their expert advice anytime, they are here to help. Contact them today for more information about Zenbooks' personalized taxation services!
"Zenbooks is the best accounting firm I've ever worked with. I reached out to them with an urgent accounting matter and within 48 hours they solved the problem. They are an innovative and dynamic team who use a number of different technologies and software to deliver financial solutions. I recommend them without hesitation."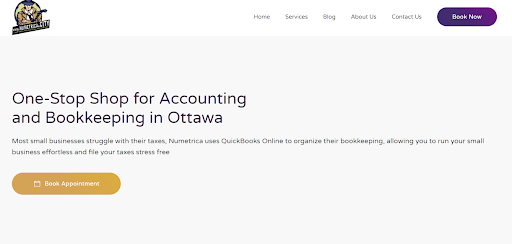 Numetricacity is a certified tax accountants firm that offers premier income tax preparation services to clients across Canada and the United States. Their Certified Professional Accountants (CPA) offer superior income tax and audit support with their extensive knowledge of the Canada Revenue Agency Income Tax Laws and Regulations. With their help, you can rest assured knowing that your taxes are in good hands!
Not only do their tax filing experts offer Canadian tax services such as: audit support, personal financial planning and support in claiming tax breaks, they also offer guidance and advice only experienced CPA can provide. Maximize your income tax return and minimize any potential amounts owing, navigate the process with ease with fast, efficient and affordable income tax return services and financial planning. Saving you time, money and stress.
"Moe has been my accountant for 15 years now and has looked after both business and personal tax needs. I never hesitate to recommend his services (and team he now leads) to friends and family. He has saved us time and again. Thanks for the many great years of service!"
8) Kowalski CPA Professional Corporation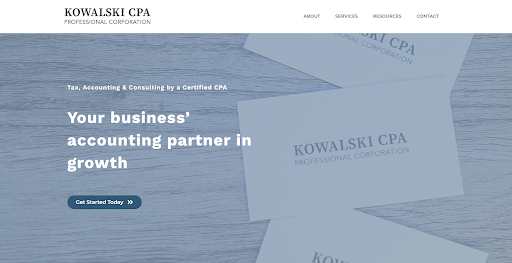 Kowalski CPA Professional Corporation is a full-service accounting firm that has been providing services to individuals, businesses and estates since 2017. Their approach has always been to provide an easy and pain-free way for clients to handle their reporting and taxes, as well as provide meaningful input into their business. They offer a wide range of services including bookkeeping, tax preparation and consulting. 
In addition, they have years of experience in the industry which allows them to give their clients the best possible advice on how they can improve their financial situation. They provide a full range of services around your business, including T2 Corporate Tax Returns, preparation of T4s and T5s for payments from the corporation, HST returns and more. Whether you're looking for help with your personal finances or need assistance with your business affairs, contact Kowalski CPA Professional Corporation today!
"I have been dealing with Mark for about two years now. I highly recommend him as he is very pleasant to work with. He took the time to explain why certain decisions were the best decision to make."
FAQs About Personal Tax Accountants
Stressing over your taxes is a thing of the past! With the help of these Ottawa personal tax accountants, you can forget about filing your taxes and let them do the heavy lifting. After all, they're experts in the field. Let them do the hard work while you enjoy your potential rebates and returns!
This tax season, save yourself the stress and hire the best personal tax accountants in Ottawa!