The best dog walking services in Ottawa are pawfect!
Our dogs are our best friends, a member of the family even. Dogs make for amazing companions, but dogs need and love going for walks. Maybe more than you can fit into your schedule. If you're too busy or tired to walk your dog, call a dog walker. But you want to leave your dog with someone who's trustworthy and reliable, so hire one of the best dog walkers in Ottawa!
We selected these dog walkers in Ottawa based on the services they offer, price, trustworthiness, experience, and their dog-friendly routes. So your dog will definitely love going on walks with these pros!
Ottawa is the perfect city to raise a dog. We want the best for our furry friends, so make sure you take them to the best dog trainers in Ottawa and the best dog daycares in the city!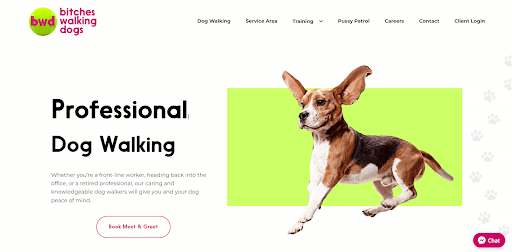 Bitches Walking Dogs is the perfect solution for when you can't be there for your furry friend. They provide professional and reliable dog walking services so you can rest easy knowing your pup is in good hands. 
They offer walks for all types of dogs, regardless of age or size, as well as dog training services for puppies, and dogs and even tips for individuals on how to deal with their canine friends. 
They seek to create a relaxing environment with a professional attitude and a friendly atmosphere that will ensure you can safely entrust them with your best friend! 
You can even find reliable cat care as they offer to visit your kitty a couple of times a day with a note and photo of your cat safe and sound.  So why wait? Contact Bitches Walking Dogs today!
"So grateful for BWD! I connected with them soon after adopting my dog a few years ago. They are beyond professional and reliable and have always taken such good care of my dog. She isn't the easiest, but they have always been so understanding and supportive. Walks are easy to book through the app, and I love the pictures and map once the walk is over! Thank you so much!"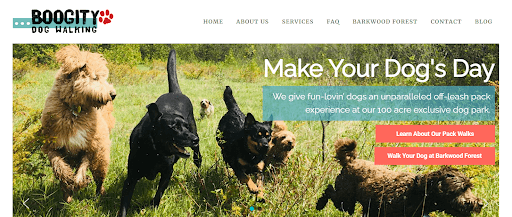 At Boogity Dog Walking, they know that your Dog is more than just a pet – they're a member of the family. That's why they offer a wide range of services to help you care for your furry friend. 
From dog walking and training to basic medical care and dog psychology, they have the experience and expertise to meet all of your needs. And because they believe that every dog deserves the chance to socialize and exercise, they offer a unique off-lead pack walking philosophy. 
With this service, your dog will enjoy a supervised walk with other dogs, getting the exercise and socialization they need to thrive. 
"My gsd has been with Boogity for over 2 years and everyone there has been so loving and brilliant with him. My dog LOVES Lisa and their walks. They are always great with schedule changes if last minute things come up, and keeping me updated with how Eugene is doing. Always treating him like he's one of their own! They make sure he behaves, socializes well, and has tons of fun. I can't recommend these amazing dog walkers and just genuinely caring people enough!"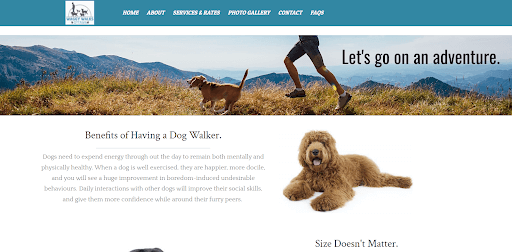 At Waggy Walks, they are committed to providing the best possible care for your furry friend. Their team of experienced dog handlers are certified in pet first aid, and their trainers never stop learning, constantly examining new methods of handling through training and workshops. 
They offer a variety of services to suit your needs, from pack adventures with multiple dogs to private sessions with fewer dogs. Whether you're looking for a fun outing for your pooch or some basic obedience training, they have you covered. 
Contact them today to schedule a consultation. They can't wait to meet you and your furry friend!
"Waggy walks have been absolutely amazing with my dog 'Auston'. Always reliable, walkers give me constant updates. Truly worth every penny if you are looking for some peace of mind that your dog will be treated like royalty when you are out of the house! Will continue to use this service & suggest to anyone! Simply above & beyond normal customer service standards!!!"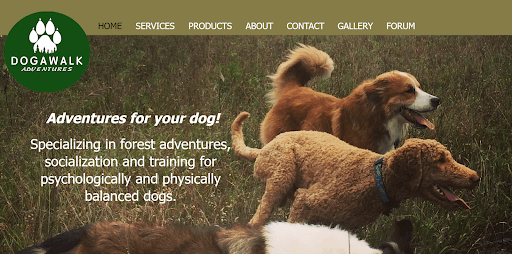 If you're looking for an extraordinary dog walking experience, look no further than Dogawalk Adventures. This company offers a one-of-a-kind service that caters to your canine friend's specific needs. Their innovative approach to dog walking is based on years of research and experience, and they are able to personalize training programs to fit each individual dog. 
As a result, your furry friend will not only get the exercise they need but will also develop mentally and emotionally. In addition, Dogawalk Adventures offers boarding services for your convenience, so you can rest assured that your pet is in good hands. 
Whether you're looking for a unique walking experience for your dog or need boarding services for a short trip, Dogawalk Adventures is the perfect solution.
"Will is an excellent dog trainer. Our puppy has made noticeable progress after just 6 weeks. Will is engaging; he knows exactly how to communicate concepts, that enabled us to continue the progress on our own. He tailored the classes to our needs and pace, so that we could get the very best out of our puppy. We just loved coming to class every week. We've had a wonderful experience with Dogawalk Adventures!"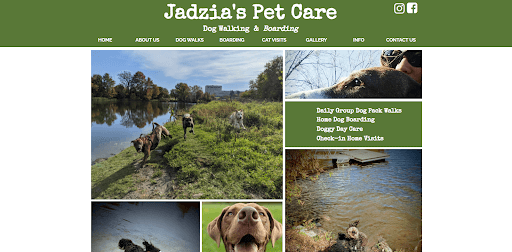 Jadzia's pet walking is a service that provides dogs with scheduled walks. They offer an array of services like dedicated home boarding, doggy daycare, and the pick-up and drop-off of dogs. Though their rates vary depending on the dog's age, they accept larger breeds of dogs, so don't worry about the size of your dog. 
A single walk will typically cost you around $26, and if you want to book the whole month, it will cost you about $500. Jadzia's pet walking is a great way to make sure your dog gets the exercise they need, and their experienced team can even help with potty training. 
So if you're looking for a top-notch dog walking service, be sure to check out Jadzia's pet walking.
"Couldn't say enough good things about Jadzia. She has been taking Oli out for several months and has not missed a day, and Oli always comes back tired and content. She recently started working with our pup, and despite him being a handful, has worked miracles with his behaviour. I have already recommended her to several friends"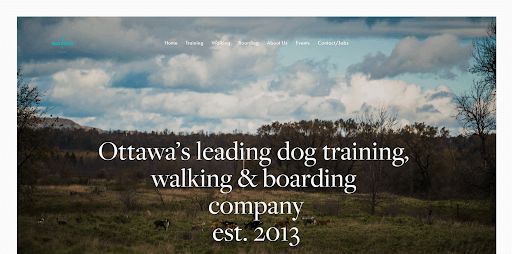 Walking With Me is an established dog training, walking, and boarding service that provides high-quality, professional service for you and your dog! They offer boarding and group lessons, private lessons, in-home board (non-kennel surroundings) services, and more. And if you require it, they offer numerous dog training programs to improve the overall behaviour of your animal companion.
When booking services with them, you can be assured your dog will have a great time as they have a private fenced dog park (46 acres) for a group of off-leash adventures. So not only will your pet get the professional care and attention they need while you're away, but they'll also get to play and explore in a fun and safe environment. 
Contact Walking With Me today to book their services!
"We do both pack walks and did the 6 session private training package for our Goldendoodle Puppy. Best dog we've ever had. We started early and it paid off immensely. We get compliments on her behaviour almost daily and she is still just 7 months old! We continue to work and train even though our sessions are over - they taught us so well. It was work - both for myself as a person who grew up with dogs thinking I knew a lot and for my partner who has never had a pup. I learned sososo much and I tell everyone about our methods (positive reinforcement). Thank you WWMO :)"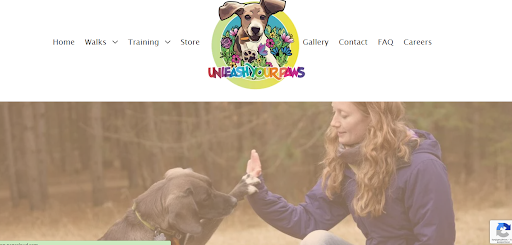 Unleash Your Paws is owned and operated by Meagan Potter. Meagan has always been an animal lover and outdoor enthusiast.  When it comes to being outside all day, in all types of weather, playing with dogs she is natural. Meagan is certified in pet first aid, and carries an animal specific first aid kit in the car at all times.
Meagan believes that training is based on love and trust, and considers her dog walking crew to be family. 
Her family works on mutual respect, love and trust, which they find through education, motivations, and teamwork. You can choose private walks if you need to work on your dog's recall, you want to give your dog extra training time, or if your dog does not get along well with other dogs. Or sign your pet for a group walk, Unleash Your Paws will come to your house, pick up your pooch, then drive to an off-leash dog park.
"We have been clients of Unleash your Paws and it has been one of the best decisions we made as fur parents. We have a social and active Rhodesian ridgeback who has matured since he started pack walks as a puppy, and is now a well behaved young adult. We worked closely with Meagan who knew what we wanted to work on with Shumba and reinforced that training as well as gave us feedback. We have made sure to recommend Unleash your Paws at every chance we can."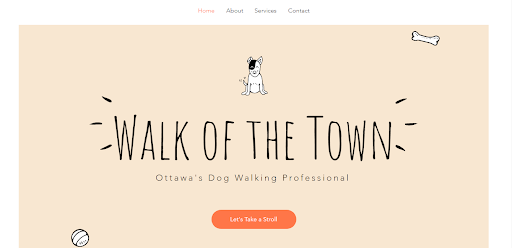 Caroline's professional journey began at Sheridan College where she studied Animal Care and Behaviour. After completing the program, she worked as a veterinary clinic intern and as a dog walker part-time. As a result of her love for dog walking, she decided to start Walk of the Town in 2017. Through this business, she is able to provide quality care for dogs while giving them enjoyable experiences that make their day special. 
You can choose between group and private walking services. Groups are small, 2-4 dogs at once. Your dog will often walk with the same pack and will come to know his friends and private walks are designed for each dog's specific situation. Each service is designed specifically to meet each client's individual needs and preferences; this makes every visit unique and memorable!
"Caroline was Charlie's dog walker for years and was amazing! I am very very picky with who takes care of my dog, who feeds him, who walks him, who watches him. Caroline has been my go to girl for all the above! So amazing with him, so patient and so loving. She also was extremely reliable, easy to communicate with and was always willing to work with mine - and Charlie's - schedule."
FAQs About Dog Walking Services
You want the best for your dog, so why not call one of Ottawa's best dog walkers? These dog walking services make sure their walks are fun and engaging enough to keep your dog happy! Their other customers all have nothing but great things to say, so book a walk with them immediately!
So if you're looking for someone reliable to walk your dog, calling the best dog walking services in Ottawa is a no-brainer!