Training your dog can sometimes feel like a full-time job. You know your pup can be well-behaved but getting to that point can seem like an uphill battle. However, training your dog is more than just obedience. It's about deepening your relationship and building trust!
Dog trainers across the city are here to help you and your furbaby get to where you need to be. To help you out, our team has curated a list of the 10 best Dog Training Companies in Ottawa!
How Much Does Dog Training In Ottawa Cost?
There are many different variables when it comes to dog training, such as group training versus private training. For single group classes, you can expect to pay anywhere from $80-$200 per class. However, some trainers offer packages where they include multiple different classes throughout a period of time. These courses can range from $200-$700, depending on the course length and what your pup specifically needs.
The Best Dog Trainers in Ottawa
Now that you know how much you can expect to spend on dog training, it's time to choose the perfect trainer.
Kevin has always felt a strong connection with animals and he believes that they were born to be our partners on this planet. He will love being able to give your dog some much-needed space by helping him learn new tricks like rolling over (or whichever behaviour suits their personality best).
Kevin is a patient, knowledgeable and dedicated trainer. He takes the time to understand each puppy's personality before getting started. That's why they can learn from an early age not just what commands work best but why those actions are important in order for your dog to have the relationship with you that lasts throughout its life!
Phone: +16134220703
Address:  465 Melbourne Ave, Ottawa, ON K2A 1W4, Canada 
Website: lookmomnoleash.com
"Kevin was just awesome! He taught us how to properly handle our pup when we take her out for walks. Our pup now is a pleasure to walk with. Thanks Kevin!!"
2) Hound Help Dog Training Ottawa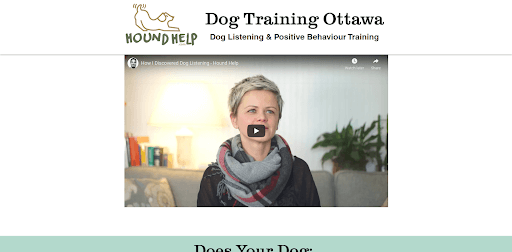 If you need help with your dog, don't look ANY further. Justyna is it! She is the reason her clients are able to keep patience and faith during many difficulties with their puppys. If your dog is suffering from anxiety she can help you with house/crate training, leash walking.
Her guidance is extremely intelligent, knowledgeable, and there are no questions that she doesn't have the answer to. It's so apparent how much she cares about the dog's and her clients' success – she will coach you just as much as you will coach your dog. Her instruction is very personalized and thorough.
"We were extremely happy with our training and the results. We recommend Hound Help for anyone who needs a hand with their pup. Personalized, caring approach that works. Thank you !"
3) Sunny Dog Training Ottawa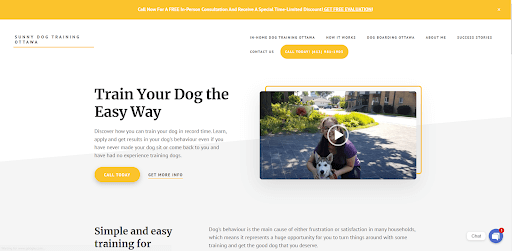 Stop your dog's bad behaviours and get the attention they deserve with a consultation from their xpert trainers. They'll help you to improve their companionship, avoid common mistakes that most people make when trying to discipline or train their pup—you will be so happy!
They have different programs like puppy training, "come when called" program and private training as well. They also offer board & train programs— your dog will live with them while achieving a high level of obedience success.
"Highly recommend this training program! My dog Gizmo was very skittish and aggressive with other dogs, almost uncontrollably! Now she and I can enjoy our walks together knowing that other dogs aren't a problem!"
4) Best Friends Dog Training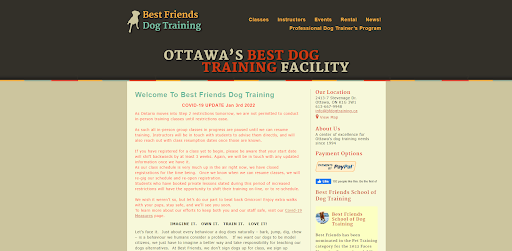 Do you want a dog that gets compliments from everyone else at the park and is always one of the most talked about dogs? If so, then come learn with them! In their courses on how to be an expert owner in all things related to dogs.
They will teach your furry friend tricks for entertaining himself and even give tips on what kind of toy might suit them best depending upon their personality traits (no more bored barking!).
They offer classes in obedience, scent, agility and behavioral instruction. They use positive, motivational, reward-based techniques for training and will work with owners to get results.
Phone: +16136679948
Address: 2413 Stevenage Dr, Ottawa, ON K1G 3W1, Canada
Website: bfdogtraining.ca
"Completed the beginner obedience class and loved it. It really helped with training my puppy. I learned a lot and was able to take what I learned and practice at home frequently. The staff is friendly and knowledgeable. I highly recommend checking it out if you have a puppy!"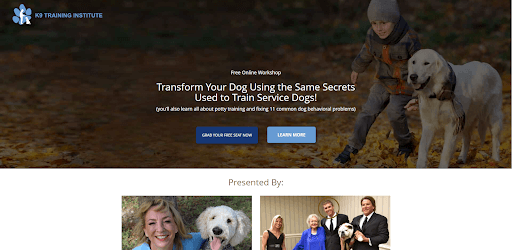 Their dog trainers are highly qualified and professional. They continue their education so they always know the best ways to help your pup gain amazing results, no matter what you need! They can customize programs for every family since they focus on teaching clients how to be confident leaders in charge of their dogs' lives.
Whether it is fearful/stubborn behavior issues that need work or just basic training tips like toilet training – let them take care of all those problems. They also offer "Pre-puppy house consultation" visits, where they come to your house for an hour visit to assess and review all things that can be a potential hazard in the house and yard.
Phone: +16137974454
Address: 904 Winnington Ave, Ottawa, ON K2B 5C7, Canada
Website: awesomek9.com
"My dog has greatly improved his leash walking skills; with Nancy's guidance I have learned some valuable techniques and am able to be more relaxed. Nancy is calm, knowledgeable and professional —the dog loved being with her, as did I. Looking forward to the pack walks!"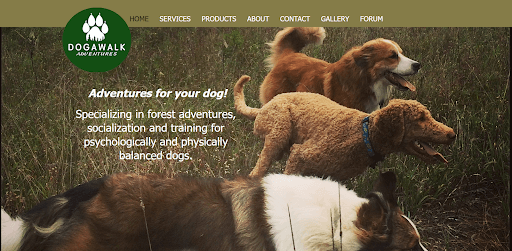 Dogawalk is committed to the physical, mental and spiritual well-being of your companions.Training their minds as they go on walks or train sessions with other dogs in activities such as agility can lead them into a deeper connection than ever before!
They offer Puppy classes and Obedience in group and private sessions at our training studio. Their training will give your dog respect and understanding for you and also establish boundaries with people and other dogs.
You and your dog can attend Private Behavioural Therapy Training which can help with Separation Anxiety, Biting, Impulse control, Jumping/Lunging, Food Stealing etc.
Phone:+16137937347
Address: 106 Constance Creek Dr, Dunrobin, ON
Website: dogawalk.com
"I brought my 3 month old Siberian Husky here today, for puppy training. The trainer, Will, was extremely knowledgeable; he taught us many skills that we would have not known without him. Without a doubt, I can say that I was incredibly pleased with the experience."
7) Calm & Collected Canine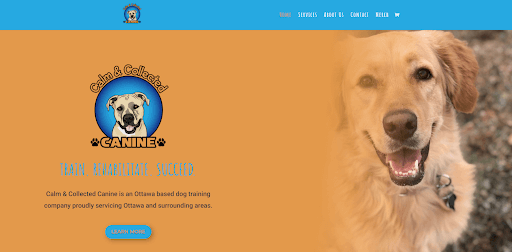 At Calm & Collected Canine, they offer a variety of services to suit your needs. Whether you're looking for private at-home lessons or want to take advantage of their affordable train and walk program with dog boarding available too! They've got something perfect whether it's just the two dogs in training together on their first adventure out in public!
They take a relationship-based approach to training and cater each program specifically for the individual dog in order to make sure that they are receiving personalized attention. They focus on building trust, which leads into other important skills like problem solving as well!
"I had the pleasure of having two of my dogs trained with Calm & Collected Canine. It is honestly worth the price. She loves all dogs equally and helps with behavior based issues. I had a great experience with her and have many friends who have had the same experience. I highly recommend her!"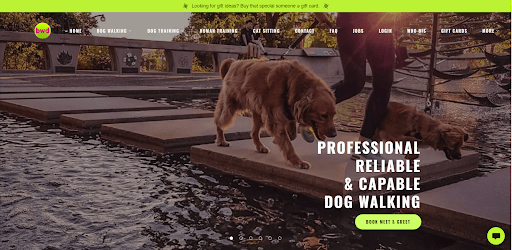 BWD is an amazing service. The onboarding experience with their trainers is so easy and fun – from the very beginning. It's not just dog walking, it's also learning how to better work with our dog and training for the humans!
You can have virtual meetings also to discuss behavior issues and training for your pup. They will give you some fantastic tools to help with our anxious dog and it will quickly make a difference — up to three weeks! You will also be able to see an improvement in your dog behavior at the park and at home.
"No joke, my dog literally runs to the door whenever he knows it's time to meet our BWD walker! He loves it! The app is super easy to use, they are always on time, and we've had a very positive experience thus far with them."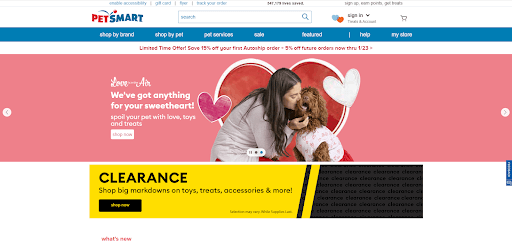 It's time to get your dog the training they need. PetSmart has Dog Training classes for everything from basic cues and commands, all the way up through advanced manners!
It can be hard making sure that our furry friends know exactly what we want them to do when it comes down to meeting certain standards of behavior – but with these courses available at an affordable price point you will be able to find a mutual understanding.
You can attend Beginner class to learn foundational skills and address problem behaviours for a well-mannered family member.
Phone: +16137415233
Address: 1750 Innes Rd, Ottawa, ON K1B 3K5, Canada
Website: petsmart.ca
"Clean, welcoming and excellent service and a most enjoyable experience for both dog and owner. Highly recommended."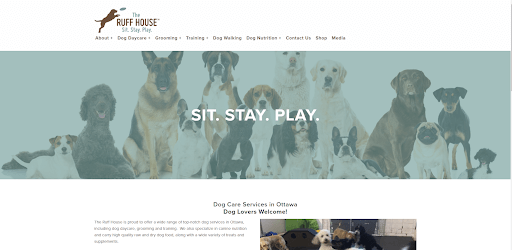 The Ruff House is a premier dog facility. They provide top of the line services including daycare, grooming and training to keep your pup looking their best! Their team also specializes in canine nutrition so you can feel confident about what they're eating too – just ask them for more information if needed.
Having a well-trained dog is very important for both your pup's safety and peace of mind. Classes will be held on a regular basis, depending on demand and registration. All group classes will be held evenings or weekends.
Phone: +16132607833 
Address: 800 Industrial Ave Unit 16, Ottawa, ON K1G 4B8,  Canada      
Website: ruff-house.ca
"Fantastic online and in-person training courses! Great focus on positive reinforcement, with knowledgeable instructors. Would highly recommend for behaviour corrections or new puppies!"
11) Black Dog K9 Performance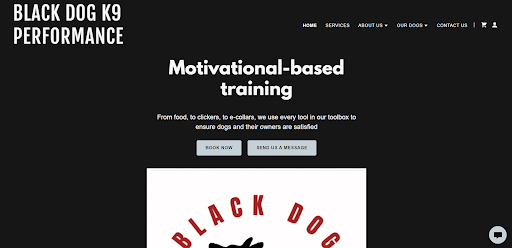 Black Dog K9 Performance offers a variety of services to help dog owners establish clear and consistent communication with their pets. With 1-on-1 consultation, private lessons, and personalized daycare, they provide the individualized attention that each dog needs to thrive. 
They also offer board and train programs for those who want to immerse their dogs in the training process. And with ongoing education, they are always learning new methods to help better understand the relationship between dogs and their owners. 
As a result, they are able to offer a comprehensive approach to dog training that is both effective and compassionate.
"I would 100% recommend Black Dog to anyone who has a reactive or just plain unruly dog. Our boy Howl has always been sweet but he hasn't always been gentle or obedient. Blair worked with us personally at our home on car reactivity, remaining neutral on walks, heeling, doorbell/knocking reactivity, recall, and more. "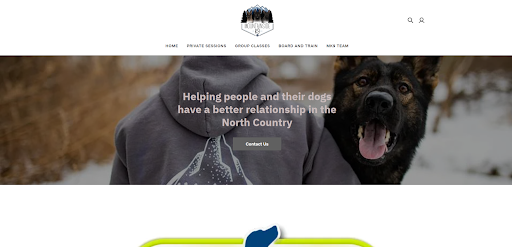 Michaela started Mountainside K9 in 2016 after obtaining her degree in Veterinary Technology from Medaille College and completing her Dog Training Certification from Penn Foster. With years of experience and education under her belt, Michaela is more than qualified to help you and your furry friend achieve success. 
Not to mention, she's participated in an abundance of seminars and workshops over the years – so you know she's stayin' sharp.
At Mountainside K9, they offer a wide variety of group classes taught by Michaela herself to help you and your dog succeed in a group environment. If private sessions and group classes are unachievable due to schedule or if you would like someone else to get your dog off to the right start, the Board and Train option may be right for you! 
"Michaela has been so responsive, patient, helpful and kind. I can't wait to see the finished results with my dog, our first meeting went extremely well. Her facility is impressive and she is so understanding and helpful. I feel so reassured leaving my pooch, I know he's in great, qualified hands. I will update when his training is over. Thank you so much for all your help!"
13) Pet Intel. & Emotional Well-Being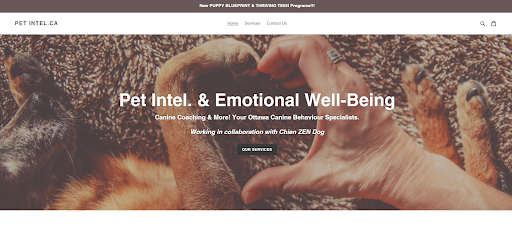 At Pet Intel., their professional team of dedicated canine behaviour coaches believes in helping you become experts of your own dogs. They offer a variety of services designed to provide you with individual advice and support as they strengthen their bond and understanding of your animal. 
Their philosophy and methodology is based on scientific principles and a true belief in and respect for animal emotion. Their coaches can liaison with your other pet-care professionals (veterinarian, trainer, dog walker etc.) or personal care professionals (for Canine Assisted Therapy & Service Dog Training) to help ensure the best possible outcome for your canine goals. 
Whether you're looking to improve your dog's behaviour, obedience or socialization skills, or simply want to deepen the connection you share, they're here to help!
"Jessica looks at everything around the dog as a whole, and provides practical and realistic advice and coaching so that we have better communications with our pup. She came over to see the situation first hand and to do an assessment. She promotes positive reinforcement. Her level of care of animals and her knowledge on behavior come through immediately and we are very happy with the service she has provided so far. Her advice is working and we are so grateful."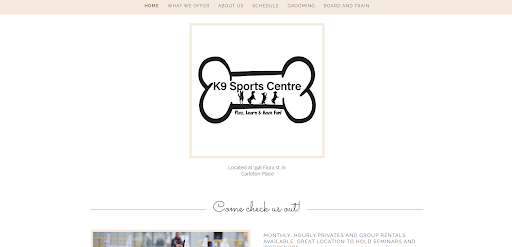 The K9 Sports Centre is dedicated to providing quality training for both you and your dog. They offer a variety of classes, including obedience, agility, and rally obedience. In obedience class, you and your dog will learn the basic commands such as sit, stay, down, off, and recall (come). 
They also help you with loose leash walking. Puppies and young dogs will be introduced to new surfaces, they will also be socialized in a safe environment. 
Agility classes are offered at the beginner levels through to starters. Rally Obedience can be described as obedience exercises performed in a sequence format. Rally is a terrific sport to build a working relationship between you and your dog. 
The K9 Sports Centre is the perfect place to train your furry friend. Visit their website today to learn more about their services.
Phone: +1613-580-6744
Address: 396 Flora St, Carleton Place, ON K7C 3M9
Website: k9sportscentre.ca
"I signed my 3 German Shepherds up for various courses at this facility and we are all having the best time!! Nice, new, big, bright and clean with friendly and fun trainers! We have done various group classes in the past and this place is by far my favourite! Can't wait to see how my pups and I progress over time "
15) Swell Hound Dog Training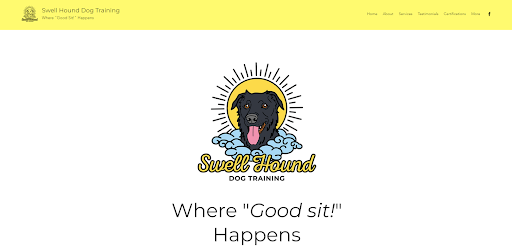 At Swell Hound Dog Training, they are focused on not only training your dog, but teaching their people how to effectively communicate with them. They believe that this is best done without using fear, submission or intimidation. 
Lynzey, the owner of Swell Hound Dog Training, is a certified Positive Reinforcement trainer and Fear Free trainer. She is also a member of the Canadian Association of Professional Dog Trainers (CAPDT). This means that she is continuously researching and staying up-to-date with the latest science behind dog training and behaviour. 
This allows her to offer the most effective and humane training possible. Contact them today to see how we can help you and your dog!
"We were able to ask for help with specific situations and Lynzey would suggest alternative strategies if something didn't work for us. Her explanation of dog behaviours helped us adjust the way respond to our dog. "
"We were able to ask for help with specific situations and Lynzey would suggest alternative strategies if something didn't work for us. Her explanation of dog behaviors helped us adjust the way respond to our dog."
16) The Ontario Dog Trainer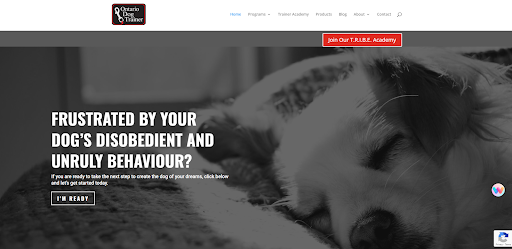 At Ontario Dog Trainer, they understand that even the best dogs can sometimes behave in ways that their owners don't appreciate. However, they believe that there's no such thing as a bad dog, only a confused dog. With the right training, any dog can learn to be a well-behaved companion. 
Whether you're dealing with a new puppy or an adult dog, their experienced trainers can help you to overcome any behavioural issues. Using a patience and consistency-based approach, they will teach you and your dog the skills necessary for a lifetime of companionship. 
So if you're looking for help in training your furry friend, Ontario Dog Trainer is the perfect place to start.
"Keen is brilliant! She always thinks outside the box to things I've never even considered when tackling an issue with a dog. Because of her my husky mix who loooves to wonder can now do off leash walks no problem. I'm very impressed!"
Taking care of a dog is not always easy, even the best-behaved pups sometimes have issues that need to be addressed. Luckily, the 10 Best Dog Training Companies in Ottawa are here to help you and your furry friend! If you're in need of training or just want to strengthen your bond, look no further than this list!