The best catering companies in Ottawa can make your next event a success!
Catering your next event is a surefire way to make sure your guests enjoy themselves. Whether you have a birthday party or a corporate meeting, food is key to making any occasion go well. 
While food is one of the most important parts of any party or gathering, preparing and cooking the food is a whole other obstacle. That's why you can leave the food prep to the best catering companies in Ottawa!
We selected these Ottawa catering companies based on customer reviews, organizational skills, the different events they can accommodate, and the excellent food they prepare. These catering services go above and beyond. Many of these businesses will curate their menus for you and customize everything for your preferences.
Planning a party doesn't have to be hard. For more party services, check out the best party rental services or host your next party at the best bowling alleys in Ottawa!
What's the Average Cost of Catering in Ottawa?
The average cost of catering in Ottawa is $16.50 per person. However, this price can differ depending on the type of event, the menu, and the number of people being served. For example, a corporate lunch will be priced differently than a wedding dinner. 
When you're budgeting for catering, be sure to ask the caterer about any delivery, set-up, or clean-up fees that might apply. Also, inquire about any discounts that could lower the cost per person.
The Best Catering Companies in Ottawa
Now that you know what to expect in terms of cost, let's get into the best catering companies in Ottawa!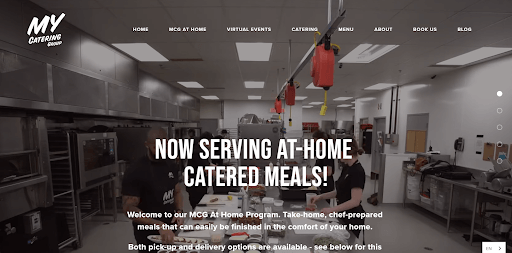 My Catering Group has been providing masterfully prepared meals to those in need since 2012, with exceptional event management for any occasion you may face! My Catering Group was founded by Head Chef, Derick Cotnam is a chef with over 15 years of experience who wanted to bring his expertise and passion back to Ottawa.
At My Catering Group, they specialize in creating mouth-watering dishes that will tantalize your taste buds. Their catering menu includes lamb sausage in puff pastry, wild mushroom bruschetta, summer berry salad, seared chicken breast supreme and more. They also offer delicious desserts such as coffee cheesecake or citrus panna cotta. 
They operate multiple vehicles, including a mobile kitchen to take your needs anywhere! They offer a diverse range of services including wedding ceremonies and receptions as well as private or corporate events, so whether you're looking for something simple or intricate – they will be able to satisfy all of your needs! 
" We loved working with the My Catering Team on our event at the Canadian War Museum in spring 2022. Melissa and her team were very organized and thorough. They put together a high-end menu for our Gala on short notice, and easily accommodated special requests. It was great service and a wonderful evening thanks to excellent catering! "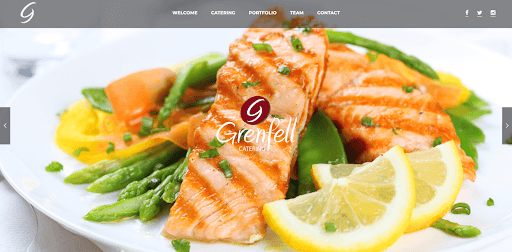 When you're looking for a company that can handle all aspects of your event, look no further than Grenfell Catering. The team at this unique full-service catering and production company specializes in custom creations just like yours!
Their menu includes an array of delicious dishes that will satisfy both meat-eaters and vegetarians alike. 
Some of their signature dishes include roasted root vegetable salad with parmesan cheese & balsamic, Asian noodle salad with cashews, caramelized salmon fillets with tomato maple & herbs and meat or vegetarian lasagnas – the list goes on and on! 
They provide the food and beverage needs for any occasion, from small gatherings to extravagant galas – you can count on them no matter what your vision is! They believe that a great sense of style and attention to detail are essential for any successful event. 
From weddings and special events all the way down through corporate catering or home entertaining – they'll provide a dining experience that will be second-to-none! 
With their creative flair in gourmet cuisine and attention to detail – not only does everything come together beautifully on plates but also visually with style often seen only at high-end restaurants.
" Highly recommend Grenfell Catering! We pre-ordered their Party/Tea Crust less Sandwiches for our "Merry Mingle" and they were a huge hit at our event! We have also ordered items off their lunch menu, which the food was amazing, and Christine & Mark are truly gifted chefs, and their attention to detail is 5 star rated! Very professional, yet down to earth and easy to work with. Thank you! Thank you! "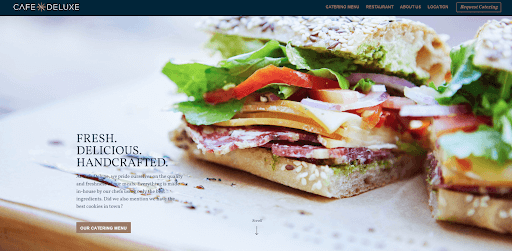 Cafe Deluxe is a local catering and restaurant service that has been serving the Ottawa community for over 20 years. From humble beginnings as a homegrown restaurant in the heart of the city, their exceptional service and attention to detail has allowed them to steadily grow to become one of Ottawa's largest and most recognized catering companies. 
Over the years, they have developed an extensive menu that features unique international dishes. These include lasagna, Moroccan chicken tagine, enchiladas, caesar salad, premium sandwiches & wraps and more. 
They also make their signature cookies that are always fresh and delicious. They bake their cookies daily with the owner's tried and true recipes. Make sure to add a few of these gems to your order for an extra special treat!
 Not only do they taste amazing, but they'll also be a hit at any party or event! 
Cafe Deluxe offers delicious meals that fit not only your vision, but also your budget, so whether you're looking for a corporate function, upscale event, or family gathering, they have everything you need to satisfy your cravings!
" One of the best place around this part of downtown to get a quick bite to eat. Daily menus with multiple choices. Soups, paninis, salads, and hot meal options. The place is very clean and very well ran. Everything I've tasted was good to great. The food is fresh and the put the effort to make it look good and taste good. If you like cookies, they have an excellent selection. And this is a very affordable place. "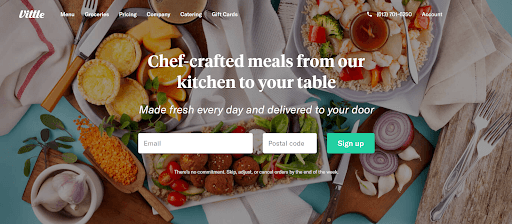 Vittle is a one-stop shop for all your catering needs. From intimate dinner parties and backyard barbecues to weddings, corporate events or anything in between. Their team will work with you to create the perfect menu. 
Their chefs can create a custom menu for any occasion – large or small. You can enjoy lemon herb chicken, citrus poached halibut, beet and goat cheese, rosemary & garlic sirloin roast and more. They offer a variety of options so that they can accommodate any preference or taste, and their experienced chefs are happy to make sure it's great. 
Their buffet-style platters and personalized portions will keep your team happy in the office or on-the go! They don't believe in sacrificing quality for convenience. That's why they work with local businesses when available, by sourcing fresh ingredients – from responsible suppliers and farmers who take no shortcuts.
They go above and beyond to make sure their customers are happy and you can tell that they really care about the customer experience, which is why people trust them with catering their events and why you should too!
" Amazing customer service. Vittle made sure my food was delivered on time, and if anything came up they would communicate it with me. The food was excellent, always offering a wide variety of healthy meals that will keep you guessing! "
5) All Seasons Indian Catering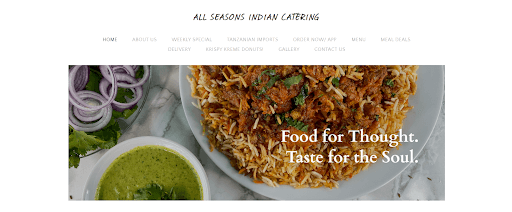 All Seasons Indian Catering is a small store-front accommodated to take-out and catering of East-African – Indian Cuisine. From starters such as samosas, tandoori chicken, naan breads, biryanis and curries to main courses such as curry fish, masala chicken or vindaloo; there's something for everyone at this restaurant!
Their family comes from Tanzania, which means that most of their food is on the African side. They also have some dishes made with authentic spices like those found in Africa or India – you definitely won't be disappointed no matter what part of their menu interests you most! 
The vast majority of their dishes contain no gluten or dairy, so you can eat it with confidence! All of their nut-free items are prepared and packaged in a registered Casselman kitchen, to avoid any contamination on the premises. 
Their food tastes great and they're very willing to customize your order if you need it tailored specifically to your needs, so don't hesitate and give them a try today!
" The most lovely and delicious experience! Ordered catering for 10 and every. single. dish was exquisite and the portions were so plentiful! The folks here were so helpful with my order and made great recommendations. Communication and delivery was beyond my expectations. Very well organized, packaged and labelled (really accommodated my gluten allergy). I would give 6 stars if I could. "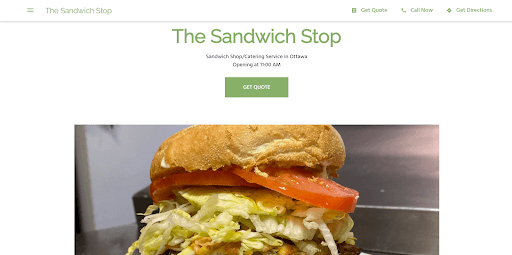 There is no better sandwich counter in Ottawa than the Sandwich Stop. Without a doubt, it's one of their signature dishes that will make you want to get up and go order some more! From fresh ingredients to great service, there is no better place than here! 
The two owners of this business are constantly working side by side, day in and out to make sure they can provide Ottawa with some of the best sandwiches. The owners are such kind people who will go out of their way to make sure your experience with them has been nothing short than perfect!
The Sandwich Stop offers a variety of delicious sandwiches, including their famous Buffalo Chicken Sandwich and Beef Brisket Sandwich. In addition, they also offer smoked meat sandwiches and more.Their giant sizes will feed even those who are die-hard sandwich lovers and they come in all different flavours! 
They do catering too, so if you need to bring some food for an event or just want something small they will be more than happy to provide it!
Every order is quick, accurate, and delivered with great customer service – they're not just about the best prices but also providing excellent products that will make any event perfect for everyone who attends it!
Website: sandwichstop.ca
Telephone: +16136806844
Address: 2285 St. Laurent Blvd Building C #10, Ottawa, ON K1G 4Z6, Canada
" This place is amazing! Their sandwiches are massive and a really good value for your money. I've tried several different kinds and loved them all. The staff are always incredibly friendly and you can't leave there without a smile on your face. We often do group orders for my clinic and our order is always quick and accurate. Keep up the good work! "
7) The Flavoureux - Gourmet Catering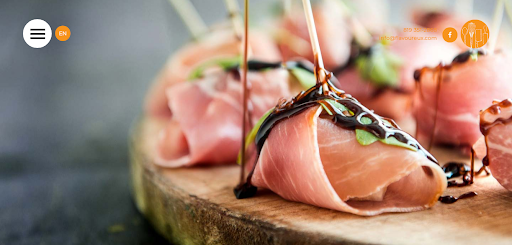 Les Flavoureux – Gourmet Traiteur offers a unique catering service that is based on French traditions and modern culinary techniques. Their artisan cuisine is inspired by French traditions and features a variety of flavorful dishes that will both impress your guests and please your palate. In addition, their team of experts can help you choose the perfect menu for your event, whether it's an intimate gathering or a large-scale celebration. 
You can order morning buffet and coffee breaks with freshly baked croissants and banana bread. Their Corporate Lunch Boxes include salads, sandwiches and fruits. And if you are planning a big dinner their cold and hot buffets are perfect. With different meals from the more traditional offerings like Vietnamese pork stir fry or Autumn ratatouille, they pay special attention to deliver them hot and arrange an elegant display. They guarantee that no matter what you're looking for in terms of foodie hospitality, Les Flavoureux – Gourmet Traiteur has got you covered!
"We were fortunate enough to have Raphael and his team cater our wedding this past Labour Day weekend. From the beginning, Raphael was communicative, professional, and person-centered; making many changes and updates to suit our ever changing preferences. Our guests had nothing but praise for the food and the services provided the day of. Absolutely amazing. We would highly recommend Les Flavoureux to anyone looking for delicious food and great service."
FAQs About Catering Companies
The catering companies in Milton are the very best! With their help, your guests for whatever event you host, are sure to have a good time. These Milton catering companies will serve you and your guests delicious foods perfect for any occasion!
Make sure your next event goes off without a hitch. You have to call the best catering companies in Ottawa!