Discover Ottawa's premier dog daycares for a happy and healthy pup! From exercise to socialization, these daycares offer it all. We've compiled a list of the best ones based on location, price, and amenities. Whether you seek full-service care or budget options, there's a daycare here that's perfect for your furry friend. 
And to make sure that your furry friend always gets top-notch care, don't forget to explore the best dog walking services, the best dog trainers and the best vet clinics in Ottawa!
How Much Does It Cost To Take Your Dog To Daycare?
Are you wondering about the cost of enrolling your furry friend in doggy daycare? The price can vary depending on a few factors. Read on to get an idea of what you might expect when budgeting for your pup's daycare needs.
Here are some rough estimates based on the services provided by dog daycare facilities:
Basic Daycare:

This usually includes supervised playtime and socialization. Prices can range from $15 to $30 per day.

Full-Service Daycare:

In addition to playtime, these facilities might offer training sessions, grooming, and specialized activities. Prices might range from $25 to $45 per day.

Luxury Daycare:

These facilities often provide premium amenities like

spa treatments

, upscale

play areas

, and one-on-one attention. Prices can range from $35 to $50 or more per day.

Package Deals:

Many daycares offer discounted rates if you book multiple days or a weekly package. These can bring the cost down to around $20 – $40 per day, depending on the services included.

Half-Day Rates:

Some daycares offer half-day options for pet parents who only need care for part of the day. Prices might range from $10 to $20.
Remember, these estimates can vary widely based on location, the daycare's reputation, and the level of services offered. It's recommended to reach out to specific daycare providers in your area to get accurate pricing information based on your dog's needs.
The Best Dog Daycares In Ottawa
Now, let's unleash the most outstanding dog daycares in the city! Here's our lineup of Ottawa's top 10 doggie daycares:
1) Dog Dayz Dog Care & Training Inc

At Dog Dayz, they're dedicated to meeting all your furry companion's needs under one roof. From daycare that fosters socialization to training that cultivates good behavior, and grooming that pampers, they're your one-stop destination.
Their experienced and compassionate staff is not only professionally trained but also deeply passionate about dogs. They've designed their facilities with safety and enjoyment in mind, featuring special rubber floors for stability, secure play areas, and engaging activities that keep tails wagging.
Join the Dog Dayz family and let your four-legged friend experience a world of tail-wagging fun and care!
"Best daycare for pups! Bailey has been going there since she was a puppy. We've tried other daycares but Bailey didn't love them the way she loves it at Dog Dayz. The staff is amazing, they truly love dogs, and the daily pics are the best thing ever!"
2) Mutts n Pups Doggy Daycare & Spaw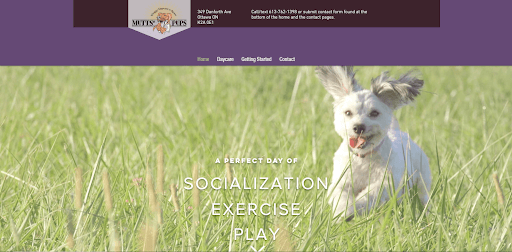 Mutts N Pups is the perfect place for your dog to go on their day off! The facility provides an open concept, with plenty of room and amenities. They will give special attention and care for dogs and especially for younger pups and older dogs.
At this daycare your pet can play structures that promote physical exercise, mental stimulation and social interaction and also a central AC system for those hot summer days to keep your pooch cool and comfortable.
Each dog gets a separate lunch area and comfy bed for nap time. All dogs must have current vaccines, including Rabies, DHPP and Bordetella within the last 6 months. The main concern for vaccination at a daycare is mostly for the safety and security of all dogs. All dogs must be flea & tick free.
"Can't say enough great things about this place. Super easy to use portal, clean facilities, friendly staff. My pup always leaves here with a smile on her face. The owners and staff are great and even spend a few minutes with you when you pick your pup up to tell you about his/her day. You can really see the love and passion with their work and how it reflects on your dog."
3) Furry Friends Spa and Daycare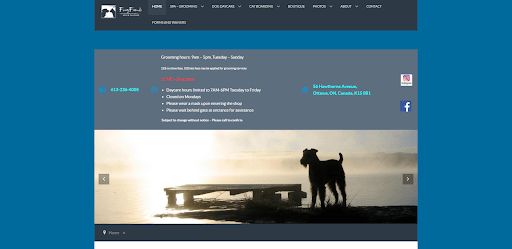 Furry Friends Spa And Daycare is a really great way for your dog to be happy by eliminating boredom and providing a positive outlet for excess energy. The dogs are separated into different playgrounds depending on their age and activity level so you should have no worries about your older friend who can't keep up with the puppies energy.
The outdoor area is fully fenced (6 ft height), has dig-proof underground fencing, and is only accessible from inside the main building. You also can get your dog groomed during daycare which saves lots of time.
"I am so glad I found Furry Friends! My one year old pup loves going to daycare. They are reliable and the prices are amazing compared to other daycares we've tried. I feel confident dropped her off while I work for the day."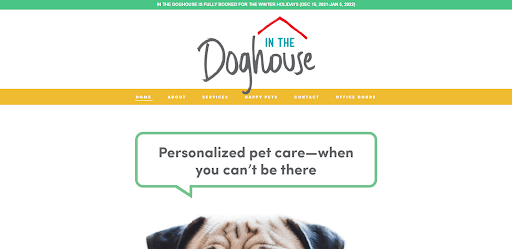 The team at In The Doghouse is here to take care of your furry friends! We understand that they aren't just pets, but members of the family. Their professional services include house sitting or boarding, pet visits when needed, walks every day if it suits their schedule.
They also can sit with your dog when you're on vacation or just having a weekend off. The staff is always absolutely exceptional and gentle with your pets. These girls are really passionate about what they do.
"Regina and Kathryn often looked after our dog Maki and cat Jet when we would leave the city. They were always caring and responsive.When we left on an extended vacation overseas Kathryn provided updated photos and videos every few days of her attending to the pets. This made us feel very comfortable while we were worlds apart from our pets. I would highly recommend In The Doghouse to anyone looking for pet sitting services."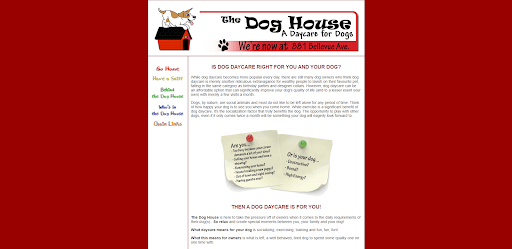 The Dog House is here to take the pressure off of owners when it comes to their dog's daily requirements. At this daycare your pup is socializing, exercising and training in an all-breed boarding environment with plenty more fun!
You can trust The Dog House in providing a safe and secure environment for your furry friend. With multiple fences, leashed walks of the back yard are fully fenced from top to bottom – there is no escape! All beds have comfy pillows that make your dog feel at home. They can also enjoy endless water bowls as well as toys inside or out; it's all up to how much energy each individual pup has!
"I have a large, strong chocolate Labrador, who has some separation issues. She loved the dog house and I recommend it to anyone with a loved one. Lots of love and care and experience!! An amazing experience!!"
6) Wizard of Paws Pet Care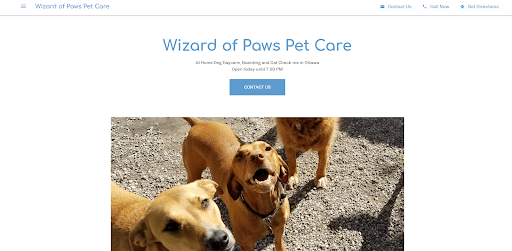 At Wizard of Paws they will be treating your precious dogs like their own, in a cozy home environment. With an outdoor play area that is fully fenced and contains space for tug of war games! Insured and certified pet first-aid providers are ready to handle any emergency situation with love at its core.
The owner Nicole is really kind and understanding. She is absolutely best at taking care of the dogs, making them comfortable and relaxed. The space of the daycare has a big indoor and outdoor area with all the toys and other essentials for happy doggies.
"We love Wizard of Paws! Nicole is wonderful and absolutely amazing! Our puppy loves going to daycare, he comes home happy and tired every time. We are so grateful for Nicole and the way she goes above and beyond for all the doggies in her care. We especially love the photo updates, you can really tell the dogs are having the best time!"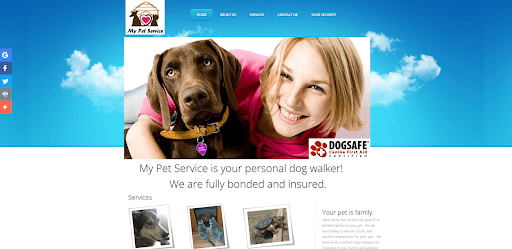 My Pet Service is a full-care dog walking and cat sitting service. They started with one simple goal in mind – to have an option for you where your pets could be cared for just as much, if not more so than yourself! Their team ensures their health & safety while giving them the exercise they need on all client's behalf which ultimately leads us towards creating lifelong companions.
They will help with your dog with his training and socializing as well as making sure that your pet's crate is clean. During dog sitting the staff will feed your dog according to the schedule and walk him so he would not be sitting home alone.
"Sara is amazing. I've used kennels in the past and my dog would be so stressed and upset when I picked him up and he wouldn't have eaten much at all. This time my dog was happy and happy to be with Sara. She took him for long walks and reinforced training . I can definitely say that the next holiday we take we will be calling to book with her again. Thank you for taking care of our furry family member."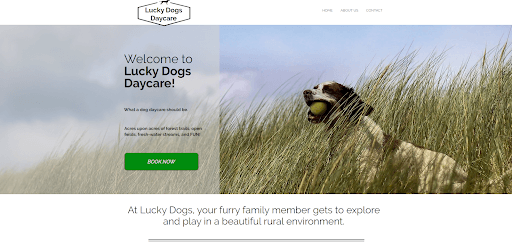 Luckily Dogs Daycare is a unique place dedicated to your furry friend's well being. They have 3-acre fenced in area and 100 acres of wide-open land, your dog is sure to be busy discovering new things around every corner! They also have fresh-water streams that dog's absolutely love.
They are taking only a small group of dogs daily so your pet can play and socialize with a close circle of friends instead of a large group. At this daycare they also go out for 2-3 long walks every day no matter what the weather is outside: rain, snow or sunshine.
"I love bringing my dog here! Acres and acres of trails for the dogs to run on many walks a day. The dog cottage where they rest is five stars. Air conditioned in the summer and heated in the winter. Super cozy. The dogs come home tired and happy!"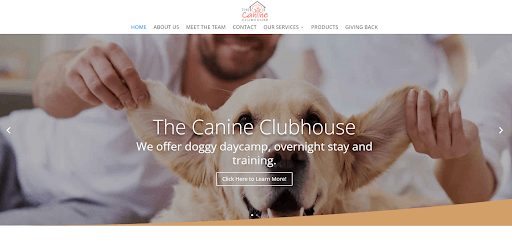 Working long hours or just want your dog to get some extra exercise during the day without coming home with bad habits? You've come to the right spot! As a group of trained professionals, they focus on providing an experience like no other – in their structured day camp you'll have 3 walks per day (or more!), one hour rest period between play sessions and plenty else going around.
Your pup will enjoy enriching activities such as doing tricks for treats; learning basic manners including respect towards fellow dogs/people bonds etc. This type of activity is great for dogs with separation anxiety and not really confident ones because they can socialize and reduce boredom.
"We started sending our dog Blue here about a month ago. This place is amazing, they care about your pups and what's best for them. They give the best recommendations based on their needs. Blue is a happy, very energetic dog, who sometimes doesn't know when to take breaks (other dogs make her very very happy). Within a month we've seen amazing improvement thanks to Caroline and all the attention she has put into Blue and her quiet time.If you are looking to send your pup somewhere where they can have fun, but also have the best care this is the place."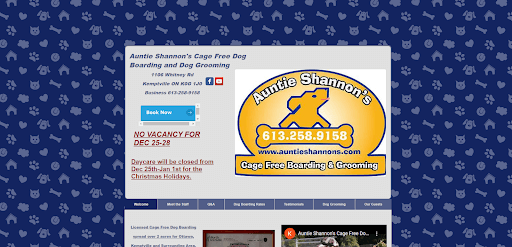 Auntie Shannon's is a family-owned boarding and daycare facility in Kemptville, Ontario. Their large 20 acre property has been divided into two zones: one includes two outside shelters where your dog can play or go if it rains; there's also plenty of space under their many trees so they have shade whenever needed.
While your dog will be staying at Auntie Shannon's they can enjoy some quality time and new friends additions. They provide comfortable beds for all guests so that no matter what size or shape your pup is there's always an option to sleep in! Alongside their stay the dogs also get the chance of learning patience, respectfulness towards humans while improving communication skills through socializing interactions within the group settings.
"The absolute best in cage free doggy daycare and boarding! Auntie Shannon genuinely loves animals! Big dogs and small dogs are welcome. There is a huge fenced in yard with plenty of toys and obstacles to play with along with running, sniffing and digging holes with doggy friends. In my opinion Auntie Shannon's is great value and from my experience all dogs love it! When I mention Auntie Shannon's name, my dog (lab) bolts to the door and grabs her leash. When she returns home she is exhausted and sleeps for two days."
Armed with our list of top Ottawa-area doggie daycares, it's time to match your furry friend with the perfect fit. Arrange a visit, allowing your dog to meet staff and romp in the play area before making a decision. 
Alternatively, introduce him during quieter times for a more relaxed first experience. Remember, every facility has its own rules and hours, so choose one that aligns best with your pup's preferences and needs!