At the best roller skating rinks in Ottawa, you'll be racing through laps!
There's nothing like the thrill of being on skates! Roller rinks offer up so much fun. Learn how to skate, improve your skills, or have fun with friends on wheels!
In Ottawa, there are many skating rinks where you can skate to your heart's content. We found the very best rinks in the city, so all you need to worry about is not falling.
We selected these roller skating spots based on the actual rinks themselves, skates and equipment they have for sale and rent, friendly staff, and the many other amenities they have on location. Many of these rinks have classes and recreational teams. So newbies and seasoned skaters alike have something to look forward to!
There's nothing quite like being on wheels! For more daring fun, check out the best skateboard shops and the best bicycle repair shops in Ottawa!
What's the Average Cost of Roller Skating in Ottawa?
The average cost of roller skating in Ottawa is about $10 per person. However if you're new to roller skating, you may want to consider taking some lessons beforehand. Most lessons cost about $15 per hour. 
Some other costs to keep in mind are the cost of renting skates (if you don't have your own) and safety gear. You can usually rent skates for about $5, and safety gear like pads and helmets for an additional $5. 
Best of all, some of the places mentioned on this list are even free to enter! So if you're looking to save some money, don't worry, there are still plenty of great options for you.
The Best Places to Roller Skate in Ottawa
When it comes to roller skating rinks in Ottawa, there are a few different types. There's quad roller skating, roller derby, trail skating, and park skating. 
Here we will be going over each type and give our recommendations for the best ones for each type.
Quad roller skating is a type of recreational skating that is done on quad skates, which are skates with four wheels. Quad skating is a great way to get exercise and have fun at the same time. Quad skating is typically ideal for those who want to skate for fun and exercise, as they are easy to use and provide a great workout.
The best quad roller skating rink in Ottawa is the Ottawa Quad Rollerskating Club.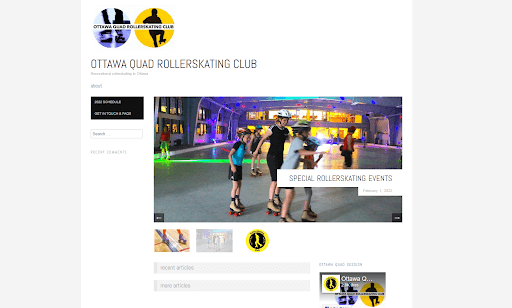 The Ottawa Quad Rollerskating Club is dedicated to making the sport of recreational roller skating accessible for people in the city not depending on what season it may be. No matter your age, style or level – even if you're just getting started with roller skating and want some tips from those more experienced – they've got something for everyone.
If you want to simply smile and roll, then join their Ottawa Quad Sessions. Whether you're looking to socialize or just want an evening out with friends, their roller skating sessions are the perfect destination that leaves your heart full & gives muscles a good workout while having a great time.
They meet year-round on Friday nights (mostly) for two hours of skating at varying locations. 
Maybe you want to party on wheels? Throughout the year, they throw special themed sessions and roller parties. They also organize skating events with a variety of partners such as the City of Ottawa.
"First time out this evening and we were impressed! April snow fall on golf night turned in to a great golf round, indoors, with impressive technology. We had a 15 minute orientation to begin with, then our instructor stuck around to help us with some more tips - very helpful. The personnel were very attentive - moderately busy. We really appreciated the technology and detailed feedback. Will return."
Roller derby is a contact sport played by two teams of five skaters on a track. It is a fast-paced and aggressive sport and is very popular among women. For those looking for a more competitive roller skating experience, Ottawa has many different roller derby leagues.
The best roller derby league in Ottawa is the Ottawa Roller Derby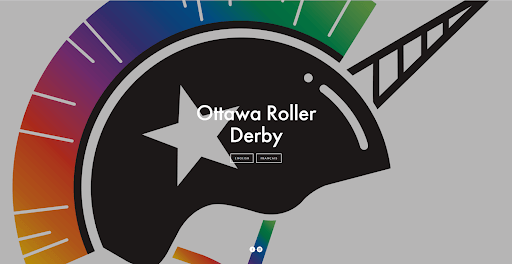 Offering skating lessons for beginners to advanced skaters, Ottawa Roller Derby turns "fresh meat" into seasoned flat track warriors. Their recreational home team program provides members with fun and fitness while also fostering camaraderie in the process.
To ensure that all members can enjoy ORD's derby opportunities, the league offers three different levels of skill testing. They make an effort to accommodate people with varying abilities by providing more progressive challenges at each stage.
Crash Course 101 is designed to teach newcomers the basics of roller derby. Once skaters graduate from their seven-week course, they can become dues-paying members at Level 1. Then members move on to Level 2. They are eligible, pending coach approval, to participate in low-contact scrimmages. At Level 3 you learn how to safely give and receive full-body hits and have an opportunity to participate in both low- and full-contact bouts.
They have an environment where personal bests are encouraged, sportsmanship valued over winning at all costs; members feel like family with their supportive and welcoming community.
"Lots of parking, practice balls in good condition, very friendly staff!"
If you like exploring the great outdoors, then trail skating is for you. Trail skating is a type of roller skating that is done on unpaved surfaces, such as dirt trails or gravel roads. Trail skating is a great way to explore the outdoors and get some exercise at the same time.
One thing to keep in mind when trail skating is that you need to be aware of your surroundings and skate cautiously. This is because there may be obstacles on the trail, such as rocks or roots, that could trip you up.
The best place to go trail skating in Ottawa is The Rideau Canal.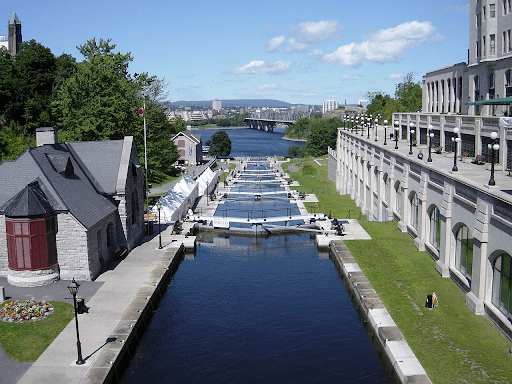 The Rideau Canal is a system of canals and lakes that stretches for 202 kilometers (126 miles) from Kingston, Ontario to Ottawa. The canal is used for recreation, transportation and tourism. In the winter, the canal freezes over and becomes the world's largest skating rink.
When trail skating on The Rideau Canal, you can skate for kilometers (miles) at a time and take in the scenery. The canal is surrounded by parks, trees and historic buildings. There are also many places along the canal where you can stop to rest or get something to eat.
"Rideau canal is one of ottawas gems. Whether in the summer or winter, you always have something to do in the water - skating, kayaking you name it. They have a brilliant portage system in the summer to bring your kayaks. In the winter, the skating rink is beautiful and well maintained with several locations to tie your skates, leave your boots, get hot chocolates and beaver tails on the way and enjoy the scenic views of Ottawa. An absolute must go!"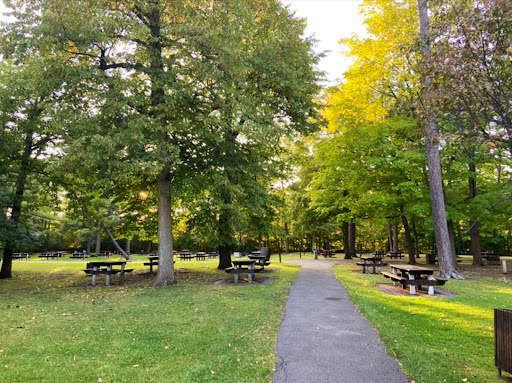 Vincent Massey Park is an urban park along the Rideau River in the Confederation Heights neighbourhood of Ottawa accessible via Heron Road. It is extensively used in the summer for family and group picnics.
The park has wooded walking paths, rolling meadows, scenic vistas, and open grassy areas which makes it an ideal place for trail skating. When skating in the park, be sure to stay on the designated trails and watch out for pedestrians.
The park is also home to a variety of wildlife, so you might see some furry or feathered friends during your visit! Whether you're looking to picnic, skate, dog walk, or just enjoy nature, Vincent Massey Park is the perfect spot.
Heron Rd, Ottawa, ON K1V 2E4
"Such a great place for family picnic in the heart of city. Great place for walking and biking. I've seen a lot of people celebrating their birthdays there… There are plenty of benches to sit on and a lot of fire places for barbecue! Only few minutes walking distance away from Hogs back falls and park!"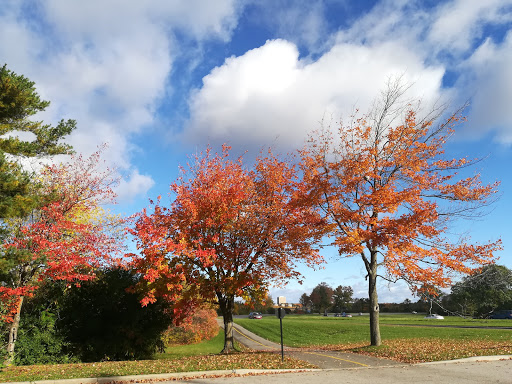 There's just something about the stretch of trail between Westboro beach and Britannia beach on the Ottawa river that makes it a great spot for rollerblading. Maybe it's the great river views or the fact that you can stop at Britannia's cafe for a refreshing drink.
Whatever the reason, you can always enjoy gliding along this scenic route. The best time to go is early in the morning before the crowds arrive. That way, you can really take in all the beauty of the area without having to worry about dodging people left and right.
So if you're ever in Ottawa and looking for a great place to go rollerblading and enjoy nature, be sure to check out this trail. You won't be disappointed!
745 Sir John A. Macdonald Parkway, Ottawa, ON K2B 5L7
"Outstanding views and a really nice and clean beach. We got there after a really nice walk around the neighborhood. It was really nice to end up at that great place. Also it was something really nice to see people from a association taking care of the place, giving advice to visitors and making the place even better. Really nice place"
If you're looking for a place to perform tricks or practice your skating, then park skating is for you. Park skating is a type of roller skating that is done in skate parks. Skate parks are designed for skaters to practice their tricks and stunts.
This is typically for more advanced skaters who already know how to skate and want to perfect their skating skills. Park skating can be dangerous if you don't know what you're doing, so it's important to be careful and skate at your own level.
The best skate park in Ottawa is The Yard, 265 City Centre Ave which is an indoor skate park.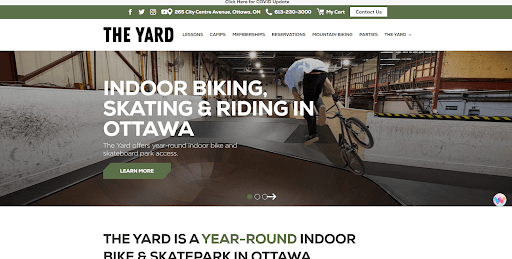 The Yard is Ottawa's premier indoor skatepark. They have a wide variety of obstacles and features that are perfect for skaters of all levels. From beginners to pros, The Yard has something for everyone.
Although this park is mainly for skateboarders and BMXers, roller skaters are also welcome. This is a great place to come and learn new tricks or practice the ones you already know. Best of all, you'll be able to skate all year round, no matter what the weather is like outside.
"Great park for all skill levels. Every section is bike/skate/scooter and roller blade friendly. The staff are super helpful and the general vibe is very relaxed. Definitely recommend it!"
FAQs About Roller Skating
Experience the excitement of being on skates. Whether you've never skated before, are a pro, or simply want to have a fun time, roller rinks are a great hang for everyone!
Well, what are you waiting for? The best roller skating rinks in Ottawa are waiting for you to race around! 
Whether you want to take the time to relax and catch up on much-needed rest, or spend time outdoors enjoying the nature, Ottawa is a city that has a lot to offer on the weekends. Check out our list of fun things to do on the weekend to find the ones that interest you the most!