When it comes to choosing the perfect kitchen countertops, you have a lot of options. There are laminate countertops, granitecountertops, quartz countertops and so on. Which one should you choose? That's a question that can be difficult to answer because each type of top has its own benefits and drawbacks. Some people prefer matte finishes while others like glass-like ones. Then there are those who want counters with low or no glare and finally those who just want something that looks good in their kitchen! To make things even more complicated, different types of cabinets will affect how well your chosen countertop works with them (if at all). That's why we decided to compile this list of the best Ottawa kitchencountertop companies based on customer reviews, ratings/reviews from various online review sites as well as personal experience using them!
The rest of your kitchen and the basement deserve to look just as good as the countertops. Check out our lists of the best kitchen cabinet stores in Ottawa and the best basement renovation companies in the city!
What is the longest lasting countertop?
Quartz is a durable countertop material that is made of crushed quartz stone mixed with polymers and resin. This artificially engineered surface resembles natural stone, making it an ideal choice for any kitchen or bathroom. In addition to its durability, quartz also has a high resistance to stains and odors, which makes it perfect for use in areas where cleanliness is important. Furthermore, this countertop material can be easily cleaned using conventional cleaning methods; so you won't have to worry about maintenance issues either.
The 6 Best Kitchen Countertops in Ottawa
1) Ottawa Granite Pro Inc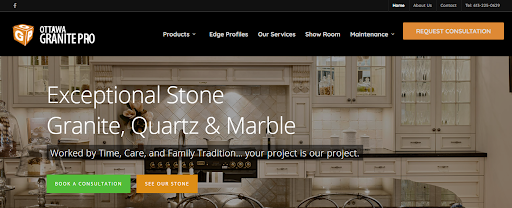 Ottawa Granite Pro is an Ottawa-based company that offers high-quality granite, marble and quartz for kitchen countertops as well as bathroom vanities. Combining the latest in technology with rare craftsmanship, they create exceptional results and delight customers time after time! They are one of the leading companies that specialize in finishing projects with granite. They have worked for years, building a strong reputation as an expert who can top off any custom home or cabinet-making needs you may have! Ottawa Granite Pro is dedicated to the granite industry with an extensive inventory, reliable project delivery and customer assistance. They take pride in offering exceptional service that will meet all your needs for any type or size countertop! Their customers are always happy with the quality of their products and services. This is because they go above and beyond to ensure that every client has their desired outcome, no matter how challenging or unusual it may seem at first glance for them. They also offer free quotes by fax, e-mail or in-person based on a sketch you bring them when it's time for your project!
" Ottawa Granite Pro Inc. was recommended to us by our Cabinet Makers... we were welcomed into the warehouse to see in person all options available and made our selection... when it came to installation, we were pleasantly surprised that it took place almost 10 days earlier than originally planned. You will not be disappointed! Nick was our main contact, he was very pleasant and professional. LOOKS GREAT!! "
2) Planet Granite & Quartz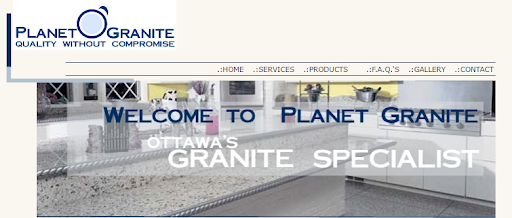 Planet Granite & Quartz is committed to providing customers with the best experience possible. They want you not only to be satisfied but thrilled about your purchase! They work directly with granite quarries and importers from South America and Europe so that they can bring your luxury project a piece of truly unique rock – just for you! To ensure that their clients are always happy with their choice of granite countertops for kitchen or bathroom cabinets alike – they offer an extensive selection in multiple colours/shapes. They'll show you samples of their work to get an idea of what your countertop might look like. Bring any drawings or sketches that have detailed measurements so they can give an estimate and go over all the details about it! Their technical advice is also available at your request. Simply reach out to their team and they will be more than happy to provide you with any technical details on how best to utilize the product or service that's right for you!
" I've been a customer of Planet Granite for years. It's very hard these days to find a business that's as honest, delivers a great product and is competitively priced as Planet Granite. The owner and her team are absolutely amazing to deal with. On my last project, I was very tight on time and although I went to planet granite last minute, they accommodated me and delivered my quartz counter way before schedule. Thank you! "
3) TGi Quartz And Granite

TGi Quartz and Granite is a family-owned company that specializes in custom fabrication for kitchen countertops, vanity tops and bath surrounds. They also do other projects using granite marble stone slabs. They are committed to providing their customers with the highest quality of stone slabs. They have an extensive inventory from all over, including Brazil, India, Spain and Italy! They love what they do and it shows. Their goal is for you to be 100% satisfied with the end result, which means taking the time carefully plan out every detail so that your home looks its absolute finest! TGi Quartz and Granite are a team of dedicated professionals who value creativity, innovation and quality. They strive for the best results in everything they do by providing their clients with innovative products that exceed their expectations both functionally as well as aesthetically!
" Exceptional service! From the moment We walked in until installation, the service we received from TGI was amazing. Jennifer was knowledgeable about all the products offered and could almost read my mind when I explained what I was looking for! Would definitely recommend this business to anyone and everyone looking for countertops for their home renovation. "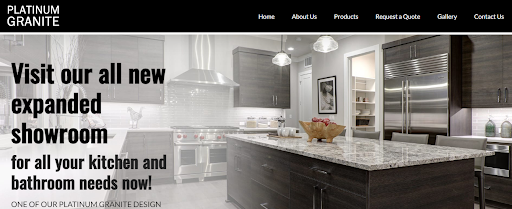 Platinum Granite is among the most trusted companies in Ottawa that you can trust to provide you with durable and beautiful stone surfaces that will last for years! They carry Canadian-made quartz and marble, as well as branded granite or onyx for those looking specifically to install their countertop selection with them! In addition, they provide stone surface fabrication services including installation–all at competitive rates that you won't find anywhere else. When it comes to timeliness, there is no project too small for them. Platinum Granite is proud to provide only the best services and products, so you can rest assured that your expectations will be met. Their experienced team uses tried-and-tested methods in order for them to deliver an excellent outcome on every project they take on! They have built their business on the idea of being client-oriented. That's why they never forget a customer's need, and they take pride in following every specification to your specifications so you can be sure that nothing is left out!
" I would Recommend 100% without a doubt I've been dealing with platinum for over 20 Houses and they came and did my mother's place as well. Their customer service is impeccable their installers are really good. Always had a good experience with Moe, Carol and the installers. If you're looking for a place to get quartz it's definitely the place. Thanks Again to Moe and his team! "

Granstone is proud to be one of Ottawa's leading renovation and stone countertop fabrication companies. They specialize in custom renovations, from kitchens or bathrooms to basements! Their store offers the finest luxury products with an expert touch. They are constantly acquiring new items for their inventory so be sure to check back often!
Granstone is committed to providing complete customer service throughout your renovation project. They are unique in that they also have a countertop fabrication and installation team, so you can be confident in the quality of their workmanship from start to finish! They are committed to working with you during your entire renovation process so that we can make sure everything is done the way it should be. Granstone's employees are passionate about their work. They take pride in the fact that each project is given just as much care and attention to detail, regardless of the size or type of project they work for. Your renovation project will be handled by a team that is experienced in all aspects of home improvement. Whether you need help with design or installation, they have the skills to get your vision up and running quickly!
"Granstone replaced the countertops and backsplash in our kitchen with quartz. There were some tricky spots that required extra care with measuring and cutting, but they are pros and we are extremely happy with the results. Definitely recommended."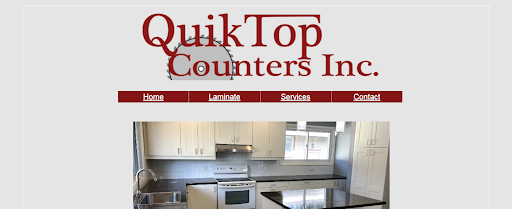 QuikTop Counters has proudly served the Ottawa area for 18 years. They are here to help you with all of your home improvement needs, big or small! Clients are invited to take a look at their wide selection of countertops which are available in an array of different styles and colours for all the latest trends. QuikTop Counters offers an extensive range of services that are tailored to meet your needs for any countertop in the kitchen or bathroom, including measuring and cutting. It's their unwavering commitment to the consumer that sets them apart from all other companies in this industry. They'll go above and beyond your expectations because they know you deserve nothing less than perfect! They're not satisfied until you are. They take pride in their custom-made counters that fit your needs perfectly and ensure a positive customer experience for you!
" The service at Quiktop was top notch. Orion was a professional, throughout. Both Corey and Andre did an A-1 job in both measuring and installing our countertop. They too were courteous and professional. I would highly recommend this business. "
FAQs About Kitchen Countertops
In Ottawa, there are many places to buy stunning kitchen countertops. You deserve to have the kitchen of your dreams. With their huge assortment of gorgeous countertops, these kitchen countertop companies can help make it a reality. 
If you're looking to replace your kitchen countertops with something of a higher quality and more beautiful, check out one of the best kitchen countertops in Ottawa!