Ottawa is a city with many drivers, and as such it has a number of excellent auto repair shops. Whether you're looking for a shop that can help you with regular maintenance or more complicated repairs, we've got you covered.
In this article, we have compiled a list of the 20 best auto repair shops in Ottawa. We've done our research to make sure that these are all reputable businesses that will provide you with quality service at an affordable price. 
So whether your car needs new brakes or an engine overhaul, be sure to check out one of these top-rated auto repair shops in Ottawa!
1) NAPA AUTOPRO - The Car-O-Practor Ltd.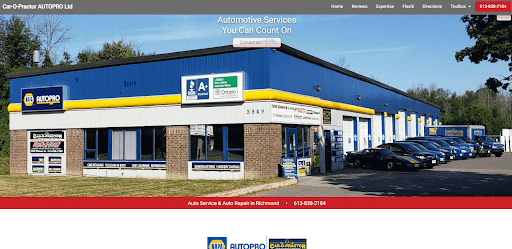 The Car-O-Practor is your one stop automotive repair facility, where all of their customers' servicing needs are dealt with in a professional and timely manner. They strive for excellence providing you with one of the best quality parts for your vehicle available!
The Car-O-Practor is equipped and ready to handle just about any of your automotive needs, from Mechanical to Collision to Automotive Restoration, their courteous staff and fully certified technicians that are here to serve you better.
"I have received excellent service at good prices at every visit so far. The staff is professional and provides you with a " report card " for your vehicle. Everything is explained clearly and there are no surprises. I will definitely continue to patronize this local business."
2) SMRO Auto Repair And Service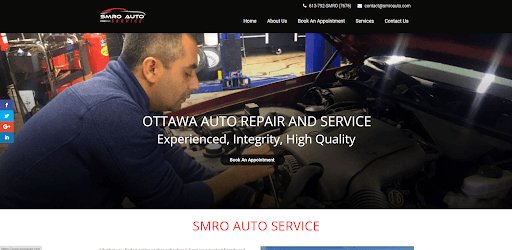 The people at SMRO Auto Repair And Service are friendly and professional. They will give you a clear diagnosis of what needs to be done sooner rather than later, but also allow for things that don't need immediate attention so your car can still run smoothly while waiting on repairs from other places!
They are one of the most trusted one stop and full service auto repair shops in Ottawa. From oil changes, brakes, suspension, custom exhaust systems, air condition, engine and transmission replacement, differentials to electrical they are committed to providing you a wide range of reliable and affordable services.
"Whenever there is an automobile problem, there is Robin, the guy who never disappoints you. Extremely professional, knowledgeable, reliable and trustworthy and willing to offer his help in short notice. For me, he is the best of the best in the town and is highly recommended. Thank you Robin & SMRO team for your excellent service over the years."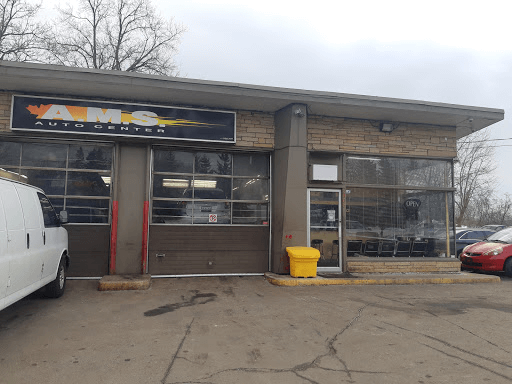 AMS Auto Centre provides top notch service with fair pricing and excellent customer care. They always make sure you know what they're doing, which makes them an all around great team!
You can take your car there for a general check up before a long trip or for some emergency issues which will be fixed right away by their professionals. They specialize in any type and brand of car and will give you good advice and fix what only needs to be fixed.
"I got a safety inspection from AMS and they were great! Very fair pricing, friendly staff, worked really hard to get me a used part which saved me a LOT of money, took the time to explain everything to me and give me all my options. Would recommend this shop to anyone!"
4) Savasta Automotive Repair Inc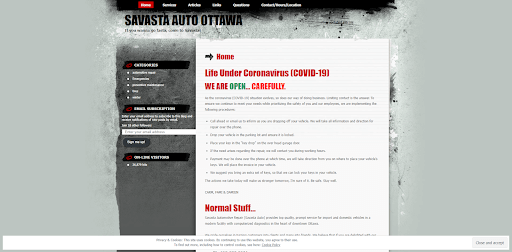 Whether you need routine maintenance or an auto repair, Savasta Automotive Repair is your go-to place. They provide excellent service for all makes and models of vehicles with computerized diagnostics in the heartland Ottawa!
The staff at this shop really knows how to take care of their customers' needs.  With services tailored specifically toward each individual's specifications, there isn't anything these guys can't do—from oil changes to  exhaust system repair. 
"Fast, friendly, and open to questions. I had a great experience here. I'm new to the Ottawa area and came here to get my out-of-province car safetied. They got the car in and out within 4 hours, and that's with finding the tires I needed in that time. I was worried about finding a mechanic in a new city - I'll definitely be coming back for any future business."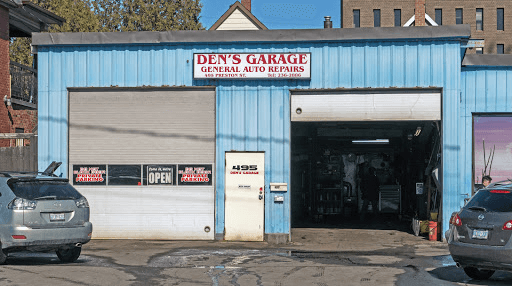 Den's Garage is the go-to auto shop for most makes and models in Little Italy. They do general repairs on your car, so you can drive away happy with a little help from them! Their prices are simply the best for the amazing work that they offer. 
They are a small family business that since 1997 has made all types of automotive maintenance work like new installation of the new muffler or engine checkups to keep their customers' cars running smoothly. 
They are the most friendly and honest people and will patiently explain to you your car issues and what needs to be done. 
"Den's Garage was incredibly kind and reasonable to me. As tacky as it sounds I have a 100% satisfaction guarantee here. Whether it's a wheel bearing on my rusty car being fixed or a seized brake caliper, they are going to fix it properly and quickly. Thank you Den's for being so awesome!"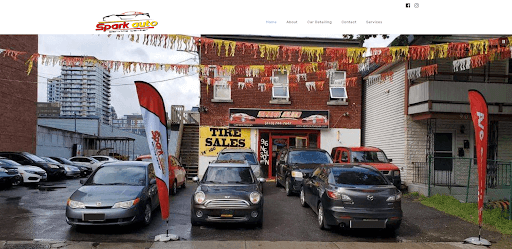 Spark Auto is a family-owned and operated company that has been serving its customers since 1993. SparkAuto aims to take things up several notches by focusing on innovation while maintaining their commitment for quality workmanship with an emphasis on customer service excellence!
From air conditioning repairs or transmission services; they have you covered with our state-of its art facilities staffed by experts ready at any time when needed. If you have any emergency troubles with your engine, brakes or tires, don't hesitate to contact them. 
"Took my vehicle here for a few repairs and safety. Oby did a great job and actually brought me to the back to show me issues with my vehicle. He worked hard trying to find me good prices for what parts I needed! Will continue to come here for my auto needs."
7) Roy Rump & Sons Tire & Auto Centre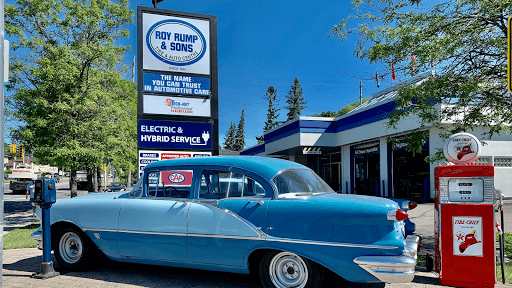 You can always count on them to take care of all your automotive needs. They offer diagnostic, maintenance and repair for domestic cars as well as imports or hybrids! Have an electric vehicle? No problem – their technicians are trained in servicing those too. 
The team here is always prompt, professional and friendly. They take photos of various items they check while working on your vehicle and give you that as a professional report so you non-mechanic can understand.
"I was very satisfied with the service. It was my first time using this garage and I'll definitely return. Everything was completed quickly, I received a thorough report and was informed of emerging issues that may need attending to in the future."
8)Sammy's Auto Repair Center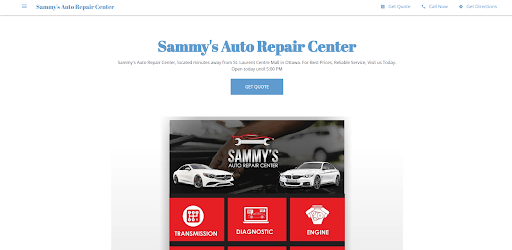 Sammy's Auto Repair is the place to go if you're tired of overcharging and honesty in Ottawa. They have mechanics that can work on anything from cars, trucks or motorcycles!
Their services include Engine & Transmission Repair/Replace, Oil Changes, Sway Bar Links, Ac/Heat Fix and many others. Their staff are extremely professional, knowledgeable and reliable and are willing to help in a short notice. 
"I came across sammys looking for a new mechanic and am very satisfied with the services I've received. I dealt with Amir. He is very friendly, knowledgeable and honest. After I went to Sammys to get my bearings done at a reasonable price I went back to get my tires switched. I am happy and will continue to go to sammys!"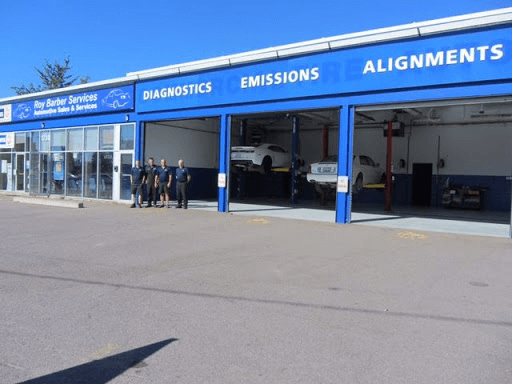 Roy Barber Services is a very accommodating and honest auto repair facility. They do a complete vehicle inspection, which includes  brakes diagnostic, oil change, wheels repair and more. They have been in business for more than 50 years and are you sure one of the best. 
The staff are really friendly — they will explain all the issues with your car for you and let you take time on making decisions without any pressure from their side. You can also hire them for a pre-inspection if you want to purchase a used car so you'll know the real deal about it if you don't trust the seller. 
+16137301720
1720 Bank St, Ottawa, ON K1V 7Y6, Canada
"Very kind and hardworking place. The team there has got us out of countless issues. They're very punctual with appointments and have been very helpful explaining the results of inspections so that we actually understand what the issues were and what options we can take to fix them."
10) Abboudi's Auto Repairs & Sales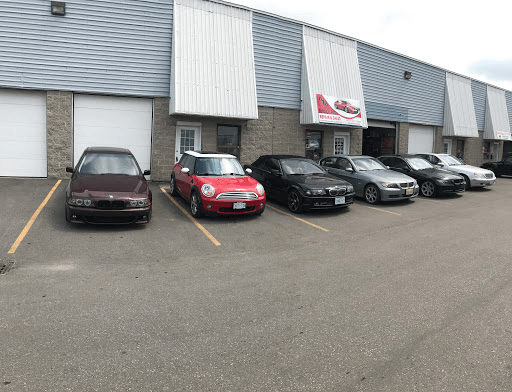 Abboudi's Auto Repairs & Sales offer high quality automotive service, repairs and used car sales in Ottawa. Their family owned business has been providing personalized customer care since 2005. They provide high quality service and repair on all vehicles makes and models with specialized training and skill set for BMW.
If you are looking for a way to unleash the power of your engine, then look no further than their team. They have all sorts or high-quality parts that will allow it to reach new heights and maximize its potential with ECU upgrades as well forced induction options available too! 
+16132477800
2350 Stevenage Dr, Ottawa, ON K1G 3W3, Canada
"Best, most honest and reliable mechanic in town. I've been going here for 15 years and wouldn't even think about going anywhere else. Great service for a great price."
11) Booth St Auto Service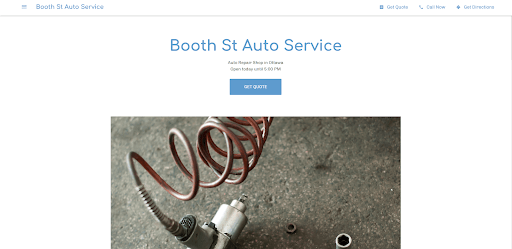 You can always count on Booth Street Auto Service to provide you with honest customer service and great prices! With more than 20 years of experience, this locally owned business has been around long enough that they're able to offer their clients unique care.
 Whether it's an oil change or new muffler for your vehicle; there isn't another place like them anywhere else in town – guaranteed!
Their employees are honest, reliable, competent and professional. If you're having an emergency with your car they are happy to help you even on weekends to ensure your safety.
+16132334767
297 Booth St, Ottawa, ON K1R 7J8, Canada
"Really great service. The mechanics do fantastic work and they are really honest and good at explaining what they need to do to your car. Just updating this review to say that I had another great experience, honest and not overcharging for some routine fixes (bearing, belt)."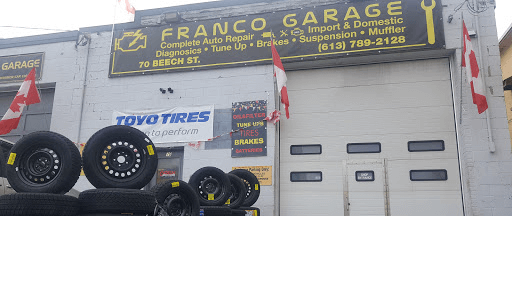 Franco Garage's crew are a rare gem in the auto repair field. They provide efficient, sensible service with honest prices that won't break your budget! The only surprises are the ones you brought from home and they will be able to fix it in no time. 
They provide their services for all dives of cars no matter if it's a van or electric car. Their general maintenance services are really quick procedures that will help you save tons of money on the emergency services in the future.
+16137892128
70 Beech St, Ottawa, ON K1S 3J6, Canada
"Great spot. Good prices, honest, great people. They always manage to squeeze me in. They even helped me out on Christmas Eve last year when my car broke down. Will be returning here for sure!"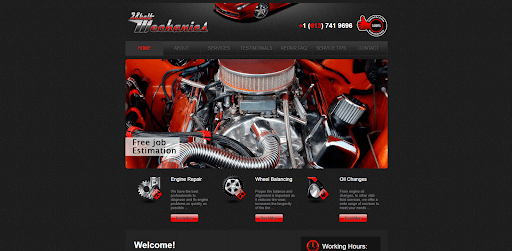 They care about the safety and well-being of our customers. With a team of professional mechanics, they are committed to provide quality automotive repairs for all makes and models in Ottawa at competitive prices. 
Their unmatched customer service will leave you feeling 100% confident when driving away from them!
They offer system repairs, electrical diagnosis, helping with engine troubles and brakes. Also if you have a broken air conditioning or cooling system they will be able to fix it. And if you need a safety certificate they are here for you too!
"The best mechanic in Ottawa. Honest, reliable, and friendly service every time. Salem and his team are extremely knowledgeable and dependable. We have been happy customers for over six years."
14) Bourk's Complete Car Care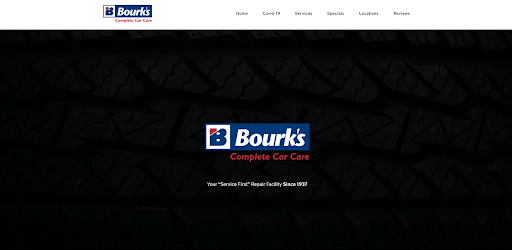 They take pride in their preventative maintenance because they know that small problems can lead down the road to bigger ones. This is what sets them apart from other mechanics, and ensures you have confidence on your way ahead! 
They offer a complete line of automotive services performed by fully-trained professionals who will get things done right for any type or make vehicle. Their services include: Complete Automotive Repair Services, Rust Proofing Services and Oil Changes.
"I always go here for my car care where oil change, tire change and basically anything to do with my car and I would 100% recommend this garage to anyone they are extremely professional and effective!"
15) C&C Transmissions and Auto Repair Mechanics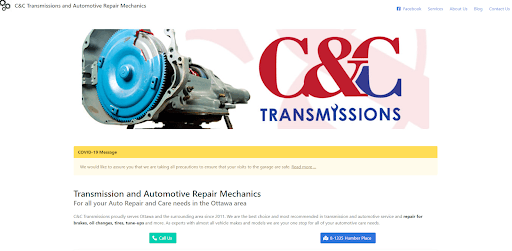 C&C Transmissions is here to provide you with all your automotive care needs. With over 40 years of experience, we are the best choice for brakes and oil changes as well!
They are committed to providing quality parts, expert workmanship; they stand behind their promise of delivering top-quality service every time! 
They can fix or change Transmission and Clutch, Tires/Rims, Brakes, Oil Change, Engine, Exhaust, Suspension, Steering, Electrical and Batteries, Heating and  Cooling,  Air Conditioning.  They also offer safety checks, tune-ups and general maintenance services. 
"These guys are brilliant! I've been coming here a few times and every time it's phenomenal service and they do a great job! Highly recommend coming here the next time you need some help with your vehicle."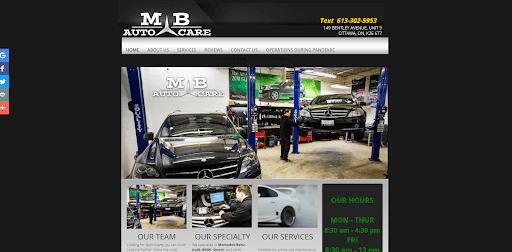 At MB AutoCare whether you're a first-time customer or one of their long term fans, they want to make your auto maintenance experience as easy and enjoyable as possible. They know that cars can be very costly investments so it is important for them not only to provide quality service but also at an affordable price with excellent value!
They service and repair all well known models of cars but specialize in Mercedes-Benz, Audi, BMW, Smart  and other imports. They also service North American and Japanese vehicles.
Whether if you need a scheduled maintenance, troubleshooting and fault diagnosis, tire mounting and balancing, major or minor repairs, they have you covered.
"This is the place to go if you have a Mercedes or other high end car. They have all the equipment and diagnostic tools that the dealer has. Marc is extremely knowledgeable but more importantly- honest. He knows the most efficient solution to any problem and is easy to deal with. Very personable and professional service. Highly recommend this place!"
17) Dirienzo & Saikaley Automotive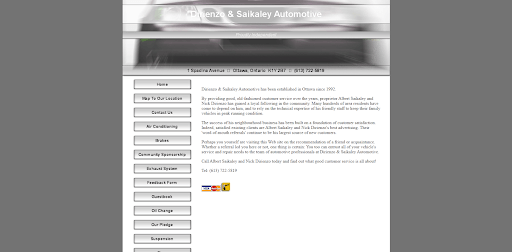 To the customer in need, there is no better place than Dirienzo & Saikaley Automotive. Since 1992 this garage has been providing good old fashioned customer service to hundreds of area residents. They have come to depend on them for their technical expertise and friendly staff when it comes down to car maintenance or repairs at peak running condition!
From oil change to the new exhaust system installation they can do it all. The technicians at Dirienzo & Saikaley Automotive are very polite and professional, they also take the time to let you see what was replaced on your unit so that you can make an informed decision about whether or not it's worth getting another one.
"I bought my car to fix last Friday and I am very satisfied with the service. I'm now worry free and drive happily. I'm no longer afraid to drive long distances and the best part is.. the noise is gone. No more clunk! Also, I am so glad that they told me about the oil change. I strongly recommend this place. Nick and Albert, you guys are the best."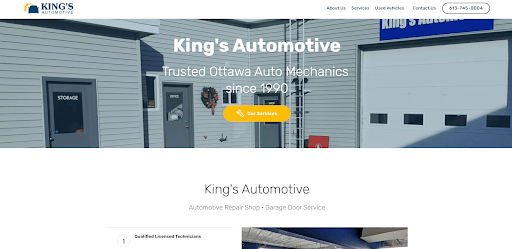 The service at King's Automotive is always great. They can quickly take care of your car with a very professional mechanic who will make sure not to let you down! 
The shop also does inspections on all makes/models. Their services also include alignment, air conditioning repair, restoration, DOT inspections and basically anything needed for your vehicle to be on the road again.
"This is a great garage with very knowledgeable staff. I highly recommend King's Auto for work on any import. I have VW and Acura vehicles that are only serviced here."
19) Simplicity Car Care Ottawa Central - Milano Collision Centre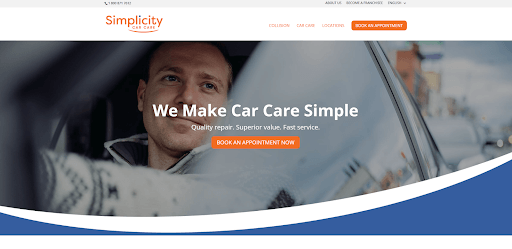 Simplicity Car Care offers a simple way to get your car looking and feeling like new. They've got all the services you need, without any of the hassle – they even offer same day service! Their value-sized packages make it easy on both budget and time. 
Stop in at night or during weekend hours for high quality workmanship from qualified professionals who are there waiting. If you need engine repair or door restoration they will provide you honest and reliable service.
"I cannot recommend this place enough! I received great service from Eduardo, who managed to get my car done on time despite being understaffed. I always received prompt responses to my emails and questions. I had a large rusted scrape and a dented door, and now I can't even remember what side the scrape was on because the repair was done so seamlessly."
20) Dave Rennie's Autocare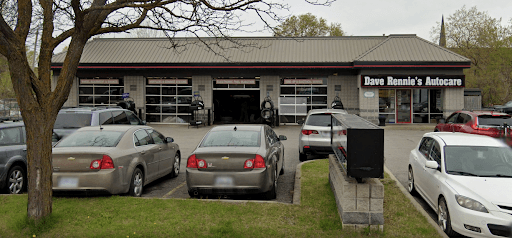 They care about the safety and well-being of our customers. With a team of professional mechanics, they are committed to provide quality automotive repairs for all makes and models in Ottawa at competitive prices. 
Their unmatched customer service will leave you feeling 100% confident when driving away from them!
They offer system repairs, electrical diagnosis, helping with engine troubles and brakes. Also if you have a broken air conditioning or cooling system they will be able to fix it. And if you need a safety certificate they are here for you too!
+16137280214
801 Richmond Rd, Ottawa, ON K2A 0G7, Canada
"The service at Dave Rennie's Autocare is unmatched! Dave is knowledgeable, considerate, and above all sincere. He clearly explains your options in a no-pressure environment and has always been more than accommodating to us. He and his team will make you feel welcome!"
FAQs about Auto Repair Shops
The 20 best auto repair shops in Ottawa are a diverse bunch, offering a wide range of services to meet the needs of every driver. Whether you're looking for a shop that can handle major repairs or just need an oil change, there's sure to be one on this list that will fit your needs. 
With experienced mechanics and high-quality parts, these shops provide top-notch service at an affordable price. So next time your car starts acting up, be sure to check out one of these reputable establishments – they'll get you back on the road in no time!