The best skateboard shops in Ottawa are heaven for all skate fanatics!
Skateboarding is a great hobby to pick up if you want to learn some impressive tricks or join a cool community, but before you skate, you need a skateboard!
If you've never skated before, don't worry, the staff at these Ottawa skate shops can help you find the perfect board for you and answer all your questions. Or if you're an experienced skater, whose board has taken a lot of damage, with the help of these skateboard stores, you'll be back on your board in no time!
We chose these Ottawa skate shops based on their helpful and expert staff and their huge inventories that include everything from skateboards and skateboard parts, and skateboard clothes and accessories. Whatever you need, these skate stores are more than happy to help.
If you're a skater, you know you need to wear the right kind of shoes. Pick up a pair of skate shoes at one of the best shoe stores in Ottawa! 
And if you're also interested in rollerskating, check out our list of the best places to roller skate in Ottawa.
How to Choose the Right Skateboard for You?
When you're looking for a new skateboard, it's important to find one that is the right size, shape, and weight for you. 
If you're a beginner, it's recommended that you get a wider and shorter board. This will make it easier for you to balance and stay on your board. You might also want to consider getting a softer board, which is easier to maneuver.
As you become more experienced, you can start trying out different sizes and shapes of boards. You might want to go for a smaller board if you want to do tricks or a longer board if you want to go faster.
There are also different materials that skateboards can be made out of. The most common material is wood, but you can also find boards made out of plastic, metal, and even carbon fiber.
The staff at these skate shops can help you figure out what kind of board is right for you based on your level of experience and what kind of skating you want to do.
The Best Skateboard Shops in Ottawa
Now that you know what to look for in a skateboard, it's time to find the perfect one for you! Here are the best skateboard shops in Ottawa.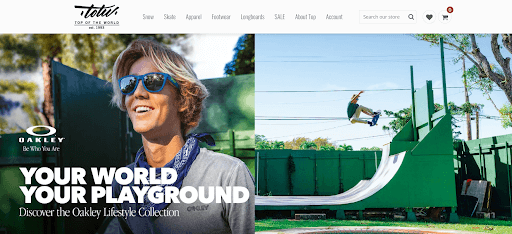 Top of the World is the perfect place to find everything you need for your next skateboarding or snowboarding adventure. They carry all the top brands, including Element, Dusters, and Globe, and their knowledgeable staff is always happy to help you find the perfect gear for your needs.
 In addition to selling equipment, they also offer group classes and private lessons, making them the perfect one-stop shop for all your skating and snowboarding needs. And with their convenient location in Ottawa's Byward Market, they are always just a quick walk or ride away. 
So whether you're a seasoned veteran or a first-time rider, make sure to stop by Top of the World next time you're looking for all the best in skate and ski gear.
"I first started going to Top when I was 13 years old and I always loved how they never treated me like a kid. It was the first place I bought a legit snowboard setup from as well as countless pairs of shoes. I'm 31 now and just picked up a new snowboard setup and I appreciate they didn't treat me like an old man. New location is great, new generation of staff but just as knowledgable and fun to talk with as they always have been. Top is a staple of Ottawa, and if you skate or snowboard you have to check it out."
"I just bought a helmet for my wife online and the experience from TOTW was amazing. Their prices are very reasonable and I received my order in less than 2 days. Even though I don't live in the Ottawa area TOTW made shopping with them online just as accessible as if I went by in person."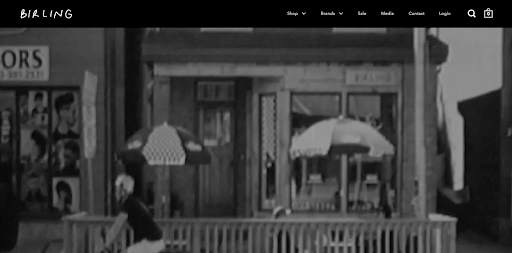 Birling Skateboard is a Canadian skate shop in downtown Ottawa. They provide customers with a carefully curated selection of import and domestic skateboards, shoes, clothes, and accessories all year round. Because of all of their imports, you can expect a large inventory with constant unique items on the list. 
They will always have something fresh or new that will stun anyone who looks at it. Plus, their central location means that they're right in the middle of all the action so you can just drop by whenever you want to check out their latest offerings. 
Whether you're a seasoned skater or just getting started, Birling Skateboard is definitely the place to go for all your skating needs.
"Birling is honestly not only my favourite skateboard shop I've ever been in, it's also my favourite shop in Ottawa. Hard stop.
I came into the shop before work one day, after not owning a skateboard for 13 years. They were incredibly helpful, and worked through every different type of bird, trucks, and wheels with me, to make sure I got a good fit. They didn't try to up sell me or anything - just focused on what I need."
"I love this shop and the guys who run it. The staff are always super helpful, friendly and most importantly, kind to my kiddo. They also have an amazing backyard venue for events - which I've had great experience using. The best skate shop in Ottawa. ♥️♥️♥️"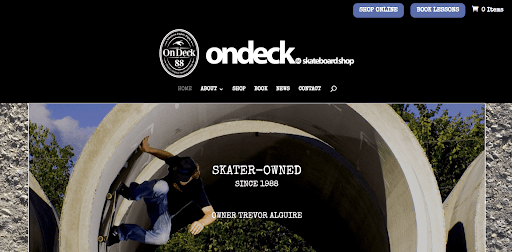 On Deck is one of the many classic skateboard stores located across Canada. They offer a variety of skateboarding attire and skateboards, making them the perfect place to shop for anyone passionate about skating. In addition to their great selection, On Deck also offers skate camp membership and classes for those who want to learn how to skateboard. 
And if you're looking for a place to skate, they have a huge indoor ramp that you can use for a small fee. So whether you're a beginner or a pro, On Deck is the perfect place to satisfy all your skateboarding needs.
"Trevor is a cool dude. He's very experienced, has a lot of positive vibe and was straight with the products he sells. Bought a killer kicks and I'm really happy with them. Would shop again and I highly recommend it to anyone."
"This is a fantastic place for grabbing your skateboarding gear or learning some new skills.. they don't only sell great stuff but also offer Lessons and have a decent indoor "skate park" .. I don't know much about skateboarding but I do know these guys are top notch when it comes to customers and customer service.. they also seem to really know how to treat kids and seem really good at teaching and very patient.. the staff is great here.. support your local shop.. this is my new go to for comfy skate shoes.. they also have great prices and a good selection.."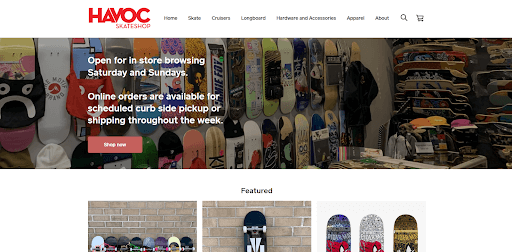 Havoc Skateshop is a unique store dedicated to skateboarding and longboarding. With a focus on the core skateboard and longboard brands, the company is dedicated to supporting skateboarding and longboarding scenes and striving to exceed the expectations of its customers. 
The store offers many unique brands and non-brand skateboards/longboards, as well as various unique accessories and even apparel items. You can either shop with them through their main store or online, as they offer a functional and easy-to-use website for anyone who wishes to view them and their inventory. 
Whether you are a beginner or an experienced rider, Havoc Skateshop is the perfect place for all your skateboarding needs.
"Hands-down best skate shop in the city. Unpretentious, fair and not over inflated prices like ALL the other shops.. great skate conversations, and super interesting story about how Havoc came to be. Don't be shy to ask when you go and grab an in-house made deck."
"I brought my old board in and the guy took a look at it and said it was pretty much fine. He wasn't trying to sell me anything I didn't need. He was nice and knew what he was talking about. I also bought a pair of shoes. If you want some name brand shoes for about $50 then you might be able to find something. They just have limited sizes. It's a small store but the service and knowledge was great so I would definitely recommend checking it out."
In Ottawa, there are many top-tier skateboard shops. These stores can help you buy your first skateboard or replacement parts for seasoned skaters. Ottawa is a great city for skating, with its many indoor and outdoor skateparks, but you want to take on the city with a cool and durable board. These skate shops can help you with just that.
If you're looking for a great skate shop that can help you with all your skateboard needs, you have to visit the best skateboard stores in Ottawa!