The best immigration lawyers in Ottawa will get you to Canada in no time!
Canada, especially Ottawa, is one of the most diverse places in the world. It's a city that's more than ready to welcome newcomers!
But moving to a new country is no easy feat. There's adapting to the people and culture, maybe learning the language, navigating the street. One of the earliest and toughest parts is trekking through the legal and paperwork needed to immigrate. But don't worry, this is where Ottawa's best immigration lawyers can step in and help!
We selected these Ottawa immigration law firms and lawyers based on client reviews, their years of experience, the personalized legal aid they provide, the different areas of immigration they practice, and their many successful cases.
For more legal help, visit the best personal injury lawyers and the best family lawyers in Ottawa!
What's the Average Cost of an Immigration Attorney?
The cost of an immigration attorney can vary depending on the services you require. For example, if you need help with your application for permanent residency, you can expect to pay a higher fee than if you just need help with a visa issue. That said, most immigration attorneys will charge between $200 and $300 per hour for their services.
Some of the factors that can affect the cost of an immigration attorney include:
The complexity of your case

The country you are immigrating from

How many people are in your family

Your income and assets

Whether you need help with the entire process or just one part of it – It's important to remember that hiring an immigration attorney is an investment. You are hiring someone to help you with a very important life decision, and their expertise can save you a lot of time, money, and stress.
The Best Immigration Lawyers in Ottawa
Now that you know the average cost of an immigration attorney, let's take a look at some of the best in Ottawa.
1) Capelle Kane Immigration Lawyers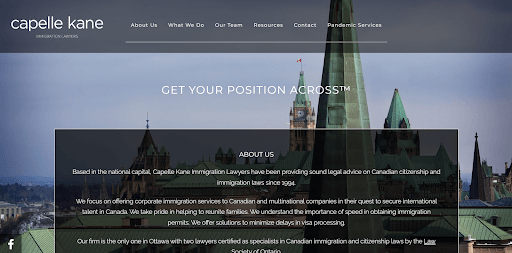 The team at Capelle Kane Immigration Lawyers has been providing sound legal advice and Canadian citizenship guidance since 1994. They are Canada's hometown immigration service, helping reunite families with their loved ones through their corporate talent program services that focus on speedier processing times for visas. 
The team creates personalized immigration plans for every client, tailored to their immediate and long-term goals. They are accessible, responsive and dedicated to helping you get your position. 
They take the time necessary for each client so that they feel like their requirements were understood properly. There is a team of dedicated lawyers who specialize in providing accurate and up-to-date advice on all things related to Canadian visas, refugee status investigations or naturalization proceedings – so you can rest easy knowing your case is well handled by professionals with experience dealing exclusively within these areas.
"Our experience with Betsy Kane of Capelle Kane Immigration Lawyers was excellent. Betsy's experience, thorough knowledge and calm counsel ensured a very smooth and methodical process in our application for Permanent Residency for my wife. We were included in all steps required to ensure the successful application of the PR. We were particularly impressed with Betsy's counsel and follow up on ensuring all formalities, including the ever changing forms, were executed accurately and expeditiously. Once the application was submitted, Betsy kept us informed of the process and was available for any and all of our questions and queries. We would highly recommend Betsy Kane and her firm for anybody looking for immigration actions. Many thanks to her."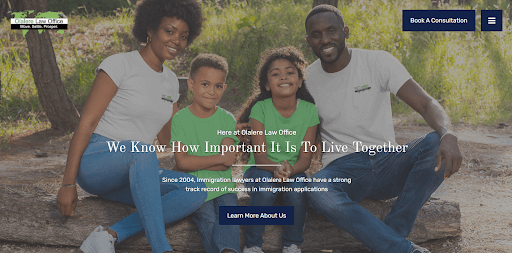 Olalere Law Office is dedicated to helping clients and their families realize their dreams of migrating or remaining in Canada. Taiwo Olalere is a highly experienced immigration lawyer. 
He graduated from Carleton University and the University Of Windsor Law School. After being licensed as a lawyer (2004), he devoted the most time to cases dealing exclusively with Canadian immigration. 
He has helped countless number of people to obtain their Canadian permanent residence, study and work visas. In addition, he resolved a number of complex cases involving immigration by alternative dispute resolution or through court proceedings against the government on behalf of his client's favour. 
They've got the know-how when it comes to dealing with any type of inadmissibility issue that you can experience. They handle all aspects of sponsorship, including the application process. 
They will be able to get you a positive decision on your appeal and keep your status. They are very respectful, cooperative people.
"My experience with Olalere Law Office was amazing and the best decision I made. I had been provided with a lot of guidance and assurance where I felt confident going into this appeal. Thanks to them I was able to get a positive decision on my Permanent Residence appeal and able to keep my status! Very respectful and very cooperative. I would recommend their office to anyone having issues with immigration and I myself would seek their guidance again if I ever need it!"
3) Rezaur Rahman Law Office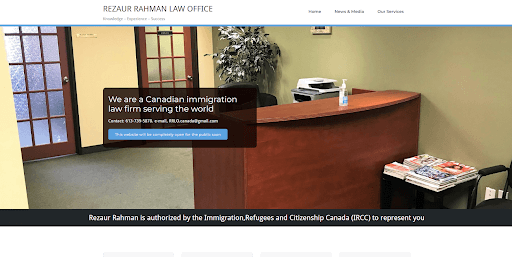 Mr. Rahman is a respected lawyer who has dedicated his life to helping others and fighting for justice, no matter the cost. He's always ready with kind words of encouragement when you need them most. He works very hard to meet the needs of those who are seeking his assistance- he has gone way beyond what most would do for their clients.
You'll never get false hope. He explains every possible way that might solve your problem, but it is up to you whether or not you try them out. He offers emotional support before, during, and after- he will work with you every step in order to strengthen your points so there is nothing left questions about what happens. 
If you need to deal with visas, green cards, adjustment of status, political asylum, and other important immigration and naturalization issues- Rezaur Rahman Law Office might become the solution.
"I had a pleasure working with Rezaur on my wife's sponsorship application. Everything was done in a timely manner with a high professionalism. If you are looking for a great law firm, I highly recommend Rezaur Rahman Law office."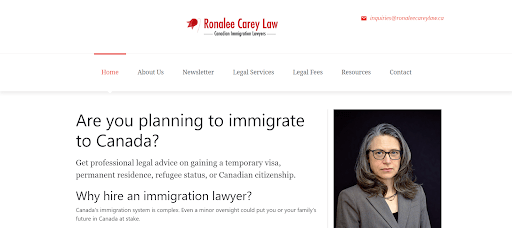 Ronalee Carey Law is a group of dedicated immigration lawyers with decades-worth experience helping people immigrate to Canada. Their professional team can provide assistance in settling anywhere across the country, including in major cities such as Toronto and Vancouver where they offer services that will meet your every need. 
Canada is a country of immense opportunity. However, it also has an immigration system that can be tough to navigate without professional help from someone who knows the ins-and-outs.
Their services cover everything from family sponsorship applications to claims for refugee protection. They stay up-to-date on the latest developments in immigration law by attending government-run workshops and legal conferences regularly. 
That's why they can help ensure a smooth process for all their clients who wish to enter Canada. The lawyers at Ronalee Carey Law will help you protect your privacy and act according to the utmost standard of competence and professional ethics.
"Our experience with Mrs. Ronalee Carey was exceptional. We first attended a workshop and decided to get more advice with Ronalee to help us with our immigration. Always eager to help and very quick in responding to emails, I would definitely recommend Ronalee Carey to represent anyone having issues in dealing with Canadian Immigration. She is one of the top attorneys we have had and would not hesitate to go back to her in the future. Thank you for everything."
5) Taub Julie Immigration Lawyer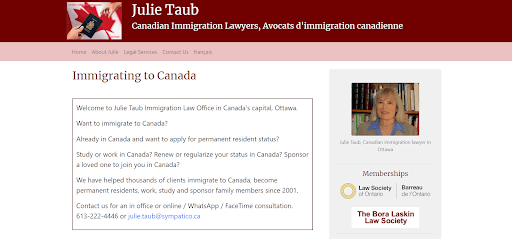 Julie Taub is one of the most experienced lawyers in Ottawa when it comes to immigration and temporary resident visas. She brings a wealth of experience to her work, having spent 20 years practicing law and serving on the Immigration & Refugee Board of Canada. J
ulie Taub Immigration Law Office provides a wide range of services to all areas related to immigration across Canada. They have been providing professional expertise since 2001 in English, French and Hungarian for clients from around the world who are looking into coming or living here. 
From your first call, you'll be able to tell how professional and kind they are towards you during your case. They go over every detail of what would happen next step by step- so even if something unexpected comes up you'll be ready. 
In fact, everyone here is so professional yet friendly that you feel comfortable right away–and they give their clients time enough for any questions while working hard behind closed doors too.
"My wife looked up Immigration Lawyers online and called Julie based on the positive google reviews. From the first call she was impressed with the clear communication and Julie was very kind as well. She did her consultation with Bhramba Kullur and was again impressed with the service she received. He went over everything with her in great detail not rushing. And the best part was that he was readily available for follow up phone consultations as well. We would highly recommend this office for all your immigration needs!"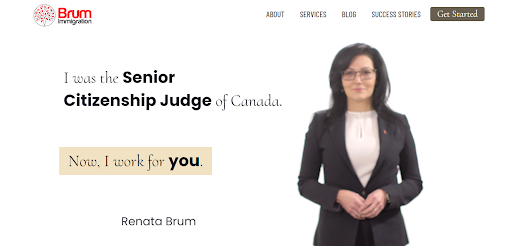 In her time as a judge, Renata Brum was reminded daily of the impersonal and indifferent ways that large government bureaucracy can neglect the people it is designed to serve. There were quotas for her to meet with clients quickly so they would not have long delays in getting their cases resolved; but instead, making decisions based on best interests rather than pressure or quota orientation has been one way Brum Immigration does things differently from other law firms out there. 
She has a goal to always maintain an open, direct relationship with her clients. This is why Renata Brum limits the number of cases that can be handled at one time and works closely on each individual case until it's resolved satisfactorily for both of you. Renata can help you with Express Entry, Work and Study permits, Special and Unusual Hardship, and more. Her knowledge in this field combined with her kind heart make her a one-of-a-kind person who will always have your back no matter what happens.
"I am so grateful for your support, passion, help, dedication, and professionalism. It's not my first time dealing and asking for legal services here in Canada, but Brum Immigration is truly the best I've ever worked with. Renata and Brum Immigration teamwork are kind and professional people. Thank you so much! I can't tell you how much I appreciate the fantastic legal work you did on my behalf."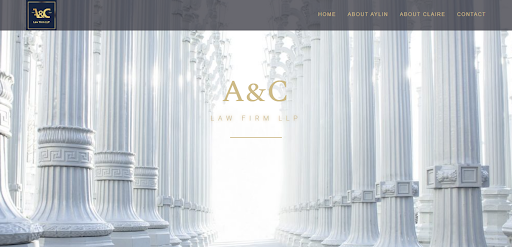 A & C Law Firm LLP is a law firm that takes pride in providing top-quality immigration service. The firm's team of dedicated professionals are committed to meeting the needs of their clients, no matter how complex or difficult the case may be. 
The firm offers a variety of immigration services, including consultations, advice and representation in applications for citizenship, permanent residence or work visas. In addition, the company can provide assistance with obtaining documentation required by Immigration Services Canada, such as passports and certificates of identity/immigration documents. If you are looking for professional help with your immigration applications or need guidance on any aspect of Canadian immigration law related questions, contact A & C Law Firm LLP today.
"If I could give 6 stars I would. For those who are seeking excellent service this is your place where I would say you will never ever be turned down. I am sure you will win and you will be extremely impressed. From my experience with her , Lowery Aylin Berberian is very professional and kind. I would highly recommend A & C Law Firm to handle your case."
FAQs About Immigration Lawyers
With the help of the best of Ottawa's immigration lawyers, you'll be moving in before you know it. Immigrating to Canada is a notoriously long and difficult ordeal. With the help of these immigration lawyers, the process will be much easier for you now and maybe even a little faster!
So if you're looking to move to Canada permanently, hire the best immigration lawyers in Ottawa!