When it comes to finding the right employment and labor lawyers in Ottawa, you can't go wrong with any of our picks! Each of these attorneys has years of experience helping people navigate the legal system when it comes to their workplace rights. They will work diligently on your behalf to get you the best possible outcome from your case, whether that means negotiating a settlement or securing an award for damages. 
A good employment and labor lawyer in Ottawa can help you understand the law pertaining to your situation, provide expert advice on how best to handle the situation, and potentially get back into your old job or achieve compensation for damages incurred. 
We chose these top-rated Ottawa employment attorneys based on their years of experience handling various types of cases, their reputation for providing quality service at affordable rates, and the fact that they specialize in Employment Law specifically – so there is no doubt that they will be able to assist you with whatever issue arises!
For getting assistance with some financial matters, you can contact the best personal tax accountants, the best fee only financial planners, the best financial advisors, or the best credit unions in Ottawa.
What is the average cost of an employment and labor lawyer in Ottawa, Ontario?
The cost of hiring an employment and labor lawyer in Ottawa, Ontario can vary widely, as fees may be based on the complexity of your case, the experience and reputation of the attorney, and the amount of time that is needed to resolve your issue. Employment and labor lawyers typically charge an hourly rate, which can range from $100 to $500 or more per hour, depending on the attorney's level of experience and the specifics of your case. Some employment and labor lawyers may also charge a flat fee for their services.
The best Employment and Labor Lawyers in Ottawa
1) Samfiru Tumarkin LLP Ottawa Employment Lawyers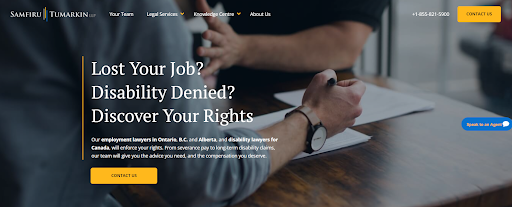 If you are experiencing a workplace issue related to termination of employment, compensation, severance pay, disability, harassment, discrimination or contracts or resignations and would like legal assistance, be sure to reach out to Samfiru Tumarkin LLP Ottawa Employment Lawyers! 
Their team can help you determine the best course of action for your situation by conducting an investigation into the matter and providing expert advice on all relevant laws and regulations. They will also provide support throughout the whole process so that you feel confident in navigating through this difficult time alone.
Besides, their lawyers also provide proactive advice and expert advocacy to help employers and their  organizations address and resolve labor and employee relations matters, as well as legal disputes, in a timely and cost-effective manner. 
All the lawyers at the firm will work hard to ensure that you have the best possible chance of success when pursuing your legal rights. They know how important it is to get involved early in order to maximize your chances of success down the road!
" Ottawa Granite Pro Inc. was recommended to us by our Cabinet Makers... we were welcomed into the warehouse to see in person all options available and made our selection... when it came to installation, we were pleasantly surprised that it took place almost 10 days earlier than originally planned. You will not be disappointed! Nick was our main contact, he was very pleasant and professional. LOOKS GREAT!! "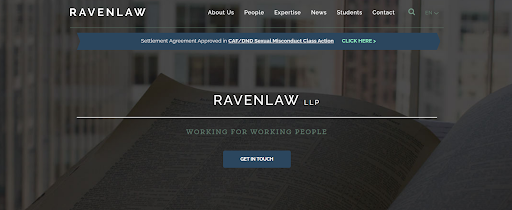 RavenLaw LLP is a law firm that specializes specifically in labor and employment law. They offer efficient and clear advice to their clients as well as excellent representation. 
Plus, they are committed to advancing the rights of working people and progressive legal causes. This includes focusing on union-side labor law, employee-side employment law, long-term disability benefits, human rights protection, and whistleblower protections. Their experience coupled with their specialization makes them an ideal choice for those who need expert guidance when dealing with these complex issues.
" I've been a customer of Planet Granite for years. It's very hard these days to find a business that's as honest, delivers a great product and is competitively priced as Planet Granite. The owner and her team are absolutely amazing to deal with. On my last project, I was very tight on time and although I went to planet granite last minute, they accommodated me and delivered my quartz counter way before schedule. Thank you! "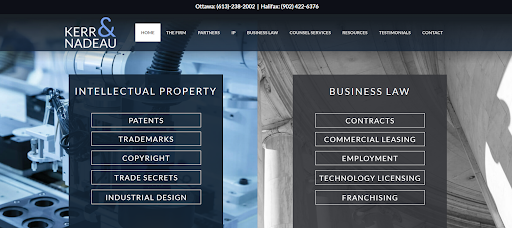 Robaire Nadeau at Kerr & Nadeau has years of experience representing both employers and employees on employment-related matters. As Robaire represents both sides in these contentious disputes, he enjoys a strategic advantage over lawyers who represent only "management-side" or "employee-side" litigants. He can provide you with guidance and support that will help reduce your risks while protecting your rights, ensuring you achieve the most favorable outcome possible.
Robaire and his team also specialize in helping business owners execute their plans and protect their legal rights. The lawyers at Kerr & Nadeau understand the importance of risk management, which is why they have adopted a model where they are constantly in touch with their clients. This ensures that each client receives superior service and the most up-to-date information available on legal issues specific to his or her situation!
" Exceptional service! From the moment We walked in until installation, the service we received from TGI was amazing. Jennifer was knowledgeable about all the products offered and could almost read my mind when I explained what I was looking for! Would definitely recommend this business to anyone and everyone looking for countertops for their home renovation. "
Employment and labor laws are designed to protect workers from discrimination, harassment, and other unfair treatment by their employers. If you believe your employer has violated your rights, it's important to consult with an experienced employment lawyer who can help you understand your options and take action to protect your interests. The list above provides insight into some of the best employment lawyers in Ottawa – choose wisely when selecting someone to represent you!
If you're running your own business or setting up one, be sure to check out our lists of the best small business accountants.
If you are impacted by workplace injury, our list of the best personal injury lawyers in Ottawa will provide you some insight on hiring a lawyer to protect your rights.