The best eyeglasses stores in Ottawa can find you the perfect pair of glasses for you!
Today, there are so many styles of frames to choose from. So if you want a classic pair of boxy glasses or a flamboyant style, these stores can help you pick out the right frames for your face and personal taste. In Ottawa, there are several eyeglasses stores 
We chose these stores based on customer reviews, customer service, fair prices, and their huge selection of eyeglasses!
Before buying new glasses, make sure your prescription is up to date; visit the best optometrists in Ottawa! And why not get a brand new pair of shoes to match your new glasses? Check out our list of the best shoe stores in Ottawa.
What's the Average Cost of Eyeglasses in Ottawa?
On average, you can find a decent pair of glasses for as little as $240, but it's not unusual for the final price to exceed $1,000. The lenses are the most expensive part of the glasses, with premium eyeglass lenses alone costing as much as $700 to $1,000. 
The frames are the next most expensive part of the glasses, with simple metal alloy frames running as low as $8. The type of frame you choose will also affect the price of your glasses. For example, plastic frames are usually less expensive than metal frames. If you're looking for the best value for your money, you'll want to choose a frame that is both durable and stylish. 
With so many options available, you're sure to find a pair of prescription glasses that fits both your needs and your budget.
The Best Eyeglasses Stores in Ottawa
Now that you know the average cost of glasses in Ottawa, you may be wondering where to buy them. There are a number of great eyeglasses stores in the city, so you're sure to find one that meets your needs.
1) Eyemaxx Optical Studio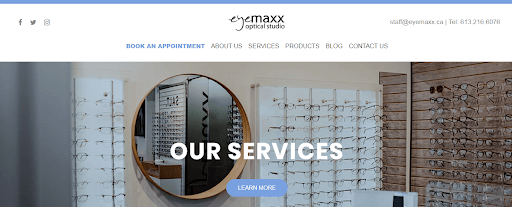 Eyemaxx Optical Studio offers a wide range of frames and sunglasses to suit your taste, budget or lifestyle needs. 
They want to help you find the perfect pair of glasses for your unique vision needs. That's why they'll take into account what style suits best with how well it complements all aspects from face composition and individual taste in fashion, as they are here dedicated solely to offering nothing but top-notch service! 
They handpick every single frame that comes into the doors of your desired location so they can guarantee each one will be authentic in its beauty while being on-trend with current trends. 
They can also help you get the perfect prescription lenses for those old, scratchy ones. They have access to some of the best lenses in their industry, so you can find a comfortable vision with high-quality glasses. 
They are committed to providing you with the best service possible. Their opticians have over 70 years' worth of expertise, and they'll make sure that your Eyemaxx eyewear is perfect for any occasion – from a business meeting all the way up to an important social event! 
" As someone who has been wearing glasses for over 20 years, Eyemaxx is the best experience I've had in a glasses store. From the exam to the shopping experience, Eyemaxx makes you feel comfortable and helps you choose the right frames and contacts for your style and prescription. Great experience. "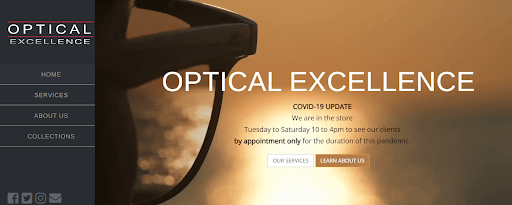 Optical Excellence believes in giving their customers the best service possible. If you're looking for stylish frames that won't break the bank, Optical Excellence is your one-stop-shop. They offer an elegant selection of designer eyewear with prices so reasonable they'll make any budget-conscious shopper happy! 
Whether you're looking for a new pair of glasses or just have to fix that pesky scratch on your current frames, their friendly staff will help make it happen. With top-of-the-line equipment in lenses, craftsmen here at Optical Excellence they can get any job done quickly! 
They have custom-fit contact lenses that are perfect for your eyes. They also create bifocals, progressives and stylish glasses to help you see better than ever before! 
Whether you're a loyal customer or a new client, they are here to serve your shopping needs. With an excellent selection of fashionable frames and outstanding service that will have customers coming back for more – there's no reason not to give them a try, so don't hesitate!
" Great customer service! My fairly new glasses had broke and I could not get in contact with the company I had recently purchased them from. He offered me new frames for a very low price and shaped my old lenses into the new frame. Will be going back in the future! "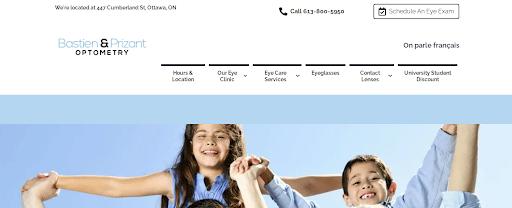 Bastien & Prizant are here to help you find the perfect frame for your unique vision needs. They'll walk through all of these different lenses so that when it comes time, they can give accurate information on what will work best for you! 
From the moment you walk in, their staff will work with your facial structure and eye colour to find frames that make a perfect match. So why settle for anything less than the perfect frame? 
Come to their showroom for the latest European and American designer eyewear collections in a variety of styles, colours, and materials including titanium, stainless steel and plastic. And for all new clients and all their current patients from the Sandy Hill area, Lower Town or Golden Triangle – they are more than welcome to visit them with their existing prescription – no appointment necessary! 
" I've been a patient of Dr. Prizant for at least 15 years. He is friendly, thorough and professional. He uses the latest technology in his eye exams. The office and support staff are helpful, friendly and knowledgeable. I always get good suggestions when choosing new frames, and my glasses are usually ready within a week. "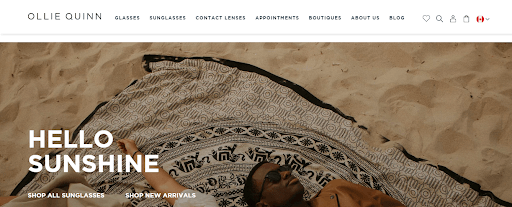 At Ollie Quinn, they do the work for you. No matter what your needs are – from glasses to contact lenses and everything in between – their friendly staff will make sure that they're met with excellence every time. 
They're committed to providing you with eyeglasses that not only look great but are durable and long-lasting. That's why they work hard on designing their frames from quality materials like high-quality acetate, and stainless steel so they'll last just as long in your face every day! 
They design their products around you so that every product is tailored to your needs. They also listen carefully and take notes on what customers say about their positive or negative interactions with them in order for future purchases. 
The customer experience at their store is second to none. They have friendly and relaxed staff who are always more than able to help you with your needs, even if they are not straightforward!
" I have been wearing glasses for most of my life and this is the BEST ever experience I have had glasses shopping! My sister and I not only loved meeting Ciara, but we had a great time trying on lenses with the expert help of Ciara's keen eye! Ciara made our experience SO SUCCESSFUL and fun, she really knows what she's doing with years of experience knowing what looks best -- I would recommend Ollie Quinn ANY DAY! "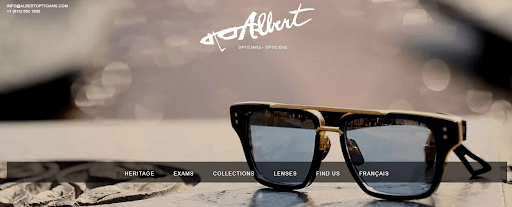 The first thing you should know about Albert Opticians is that they offer a full range of luxury eyewear, from designer frames to custom-made prescriptions. Their knowledgeable staff can help find the perfect pair for your face and lifestyle at prices Canadians love! 
Conveniently located near you, their team of Optometrists and Opticians have combined forces to offer outstanding service. They are proud to offer the largest selection of handmade glasses in Ontario, as well as leading prescription lens technologies. 
Their opticians have decades' worth of experience with individualized frame fittings and trend consulting for all your needs. Albert Opticians also offers more than just top-tier eye exams. They have a vast inventory of eyewear, so you can find what's right for your face and budget! 
The dispensary's selection of frames is curated to bring out the best in each design. The collections they represent are selected for their unique aesthetic appeal, handcrafted quality and exclusivity. 
The team at Albert Opticians really is the best in their industry. They are responsive, courteous and professional with you as their client and will definitely not disappoint you, so don't hesitate and give them a try today!
" My son is a student in Ottawa. I don't live close to him. He broke his frames and called me. This business worked quickly and with kindness to help us. I'm so grateful - within one week he had new glasses, that look great, with a happy mom who lives far away, and they gave us a great deal. I'm so glad that I contacted Albert Opticians. "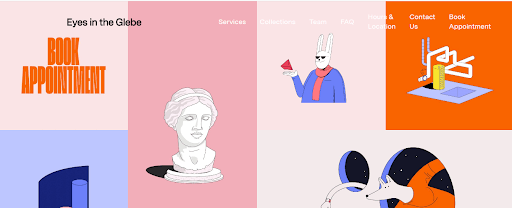 Eyes in the Glebe has an extensive collection of frames and lenses to help you find your perfect pair. They also have a wide range of prescription options, as well as contact solutions for those who need them! 
They offer an excellent selection, great customer service and reasonable prices that can't be beaten! With a focus on independent and handmade eyewear, they believe in crafting something with the quality that will last. 
Their business is built upon sustainable practices as well so you can wear your favourite frame for years without worrying about its durability or longevity! 
They believe that one of the best investments you can make is in your eyes. That's why their team will work closely with each customer to find out their needs and preferences so they offer a range tailored especially for them.
They also offer an appointment-only approach because it ensures everyone gets the time they need for the perfect pair of glasses which would be good not only for now but also into perpetuity!
Website: eitg.ca
Telephone: +16136992376
Address: 831 Bank St, Ottawa, ON K1S 3V9, Canada
" I checked a lot of reviews before selecting Eyes In The Glebe for my new glasses as there were so many happy customers with both the selection and service. I concur completely and couldn't be happier with my frames, lenses and great fit. All those who I dealt with were exceptionally pleasant, helpful, and patient. I couldn't be happier with my glasses and thank them all for making it all such a wonderful experience. "
Glasses are not only a practical item for seeing, but they're also a great way to express yourself. With the help of the staff at these Ottawa glasses stores, you can find frames in any colour, style, and size, whatever you like! Reinvent yourself with your brand-new glasses!
If you're in Ottawa looking to pick up a pair of snazzy frames, you have to visit the best eyeglasses stores in the city!