As we all know, car washes are absolutely necessary to keep your vehicle in good shape. But how do you find a quality soap or shampoo and sealant? And if you're looking for the best Ottawa car wash, where should you go? Well, look no further! We've compiled a list of ten of the very best Ottawa car washes that will help you maintain your vehicle's shine.
How Much Does it Cost to Get a Professional Car Wash in Ottawa?
The cost of a professional car wash in Ottawa can vary, depending on the level of service you require. The most basic wash might only cost around $20, while a more comprehensive and luxurious treatment could set you back as much as $150.
Here are some factors that can affect the cost of your car wash:
Convenience – Do you need to go in when it's convenient for you, or do you need a mobile service?
Location – Is there a car wash close to you, or do you have to travel?
Level of Service – What kind of wash do you want? Basic, deluxe, or extreme?
Type of Vehicle – How dirty is your car?
By working out what you need, plus checking rates and level of service, you should be able to find a car wash that fits your budget.
The Best Car Washes in Ottawa
Now that you know how to go about getting the best car wash in Ottawa, there's something still missing – which car washes you should actually choose! Here are ten of the most highly recommended car washes in Ottawa: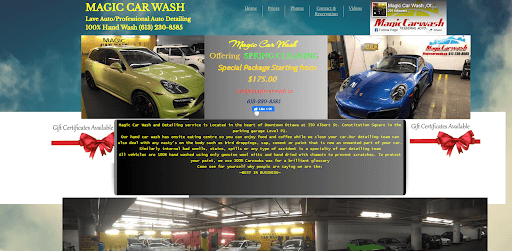 Magic Car Wash is the only place you should go to get your car detailed! They have onsite eating facilities so that customers can enjoy coffee and food while they wait. All of the vehicles are fully cleaned by professional detailers using just wool mittens which protect against scratches during the cleaning process, chamois pads or microfibre cloths with soap sudsing each time- ensuring perfect results every single visit.
Their team also specializes in removing any nasty surprises inside a vehicle such as bird droppings, sap stains etc. To protect your paint, they use 100% Carnauba wax for an amazing glossary!
Email: info@magiccarwash.ca
Telephone: +16132308585
Address: 350 Albert St, Ottawa, ON K1R 1A4, Canada
"I called Magic Car Wash in a panic at 7am this morning because I had an unfortunate encounter with a skunk last night, so I was looking to have my car cleaned inside and out. They took my vehicle first thing this morning and he was finished earlier than originally stated! My car looked brand new when I arrived. He did an amazing job inside and out, and the odor is gone! I am so impressed with the job, and he was wonderful to deal with. Very kind, professional and knowledgeable."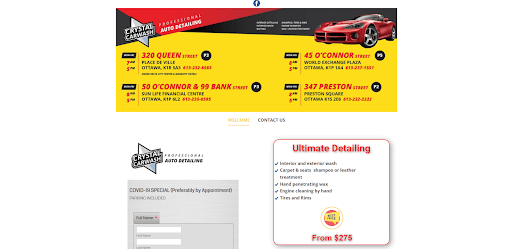 At Crystal Car Wash they've got you covered. With a team dedicated to ultimate detail, they'll make sure your car is detailed down to tips! They are not just about interior and exterior wash – take it one step further with an engine cleanse by hand or tire/rim care service that will have them shiny as new again.
Their best service includes eliminating stains and grime with the most effective carpet shampoo, special leather treatment with leather conditioner or cream to moisturize the material so that it doesn't dry out and crack. They also offer the best car protecting wax so your car can stay clean longer.
Telephone: +16132328585
Address: 320 Queen St, Ottawa, ON K1A 1H5, Canada
"Professional, courteous, and attentive to detail with good value especially if you're visiting or working at the premises anyway. Prices are competitive. Highly recommend and will be coming back."
3) CR Auto Spa Professional Mobile Car Detailing in Ottawa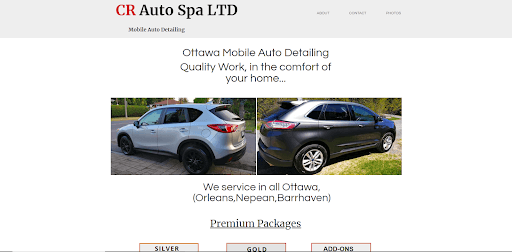 For those who have too much to do, they're here for you! Let them take care of your car while you spend time with family. Their mobile service will be right next door when it matters most! They work with only professional quality cleaners so your cars will always look their best (and smell great too)!
They do an amazing job cleaning windows, dashboard, full exterior and interior of your car and add special fabric protection to make sure that your seats will smell nice and stay clean longer. They can also remove unwanted bugs if you have a problem with that.
"I badly needed the interior of my car cleaned. The driver's side carpet was salt stained and coffee had split in the cup holders. Carlos came to my house, was very professional and did a marvelous job of getting the salt stains out. The carpet looks brand new! I got the leather package for the leather seats and they now look new and it smells new too. I'll definitely use his service again and would recommend him to my friends. Thanks Carlos!"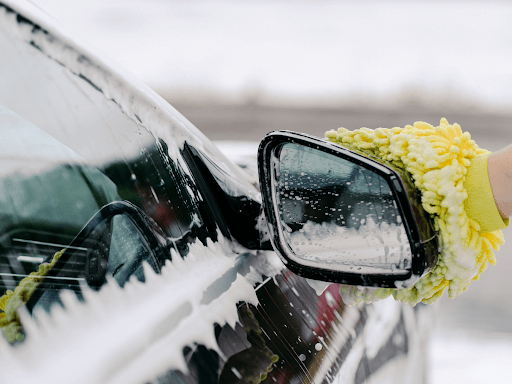 They're a locally owned and operated full car wash located conveniently in the heart of downtown Ottawa. They are next to City Hall, so you'll be able to leave with your vehicle looking as good or better than new! Park it while they take care of everything else for ya – including removing those pesky bugs from every nook-and-corners using an advanced chemical solution that won't harm anything else.
They also can remove minor scratches and bring back the original shiny color of your car and take care of your pet's hair that can be all over the vehicle. They do cleaning of air vents which is really important for your health especially when you can have severe allergies.
Email: info@countrycarcare.com
Telephone: +16132237275
Address: underground parking, 110 Laurier Ave W p2 level, Ottawa, ON K1P 1J1, Canada
"Hands down the best car cleaning company in the city!! I purchased this used car from the dealer and I'm stunned, not only are you getting your car cleaned but they go above and beyond. I'm pregnant and they made my car BRAND NEW! Quality over quantity you get what you pay for! And Ali was kind enough to clean my baby car seat!! Highly recommended!"
5) Specialized Auto Image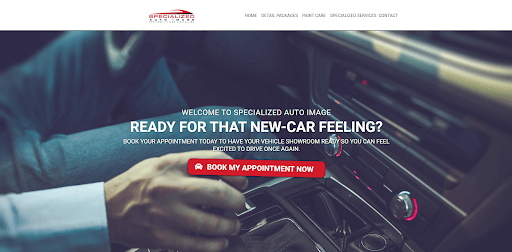 If you're in the Ottawa area, and need to restore your vehicle's appearance for that showroom-quality look once again – they can help! With window film services as well as PPF & vinyl installation (among other things), there is no longer any reason not to go ahead with a transformation today; because nothing beats a new car feeling without having sacrificed style or protection from scratches.
They offer not only full exterior and interior wash, but also paint decontamination which is the process that will remove dirt/tar build up, iron contaminants that are caused by brakes and other fall out from your paintwork.
"As a senior with a physical disability it's difficult to keep my vehicle in tip top shape, so I had my SUV auto-detailed by this company. The vehicle came back looking more than new condition. This is the second time I use this firm, my previous auto detailing helped me sell my 14 year old car. I have been to many detailing shops in the past but this one is the best. Keep up the great service."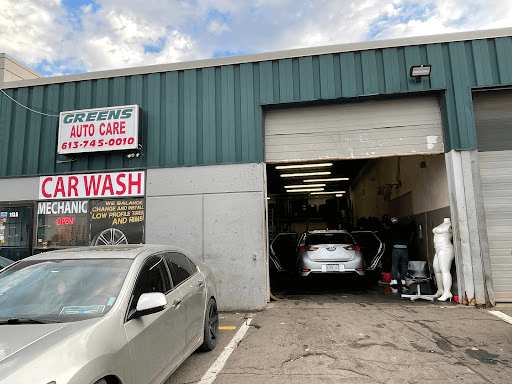 Greenshland Car Was is here for you when you need a trustworthy car wash that won't break the bank. They will make your car cleaner than it never was before. The staff are very professional, courteous and attentive.
They offer hand car wash and vacuum including exterior and interior wipe down. Also they will get your windows and doors jams cleaned starting at only 25$. They have a "Do It Yourself" menu too, so you can take care of your car yourself.
Telephone: +16137450010
Address: 2535 Blackwell St, Ottawa, ON K1B 4E4, Canada
"Really nice guys! Surprised that a garage does a car wash but it does! Good service esp as the other one in the area couldn't fit me in as they were closing. Inside and out for $60 but needs to be cash and exact money."
7) Fari Professional Detailing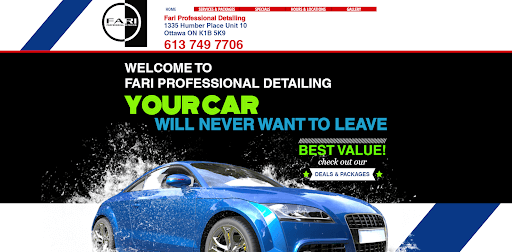 Patrick Farray has over 24 years experience cleaning automobiles. So now as FARI Professional Detailing, people can come get high quality detailing done without any franchises or corporate pressures getting between them & giving that customer satisfaction level everyone deserves from an auto detail job well done.
Specialized in paint cleaning and conditioning or restoration they will make sure that they will protect and maintain a car's original pain. And after the snowy winter they will clean all tar or salt leftovers that can damage the exterior of your car.
Telephone: +16137497706
Address: 1335 Humber Pl, Ottawa, ON K1B 5K9, Canada
"I had Pat do the undercoating and cleaning the paint, and it absolutely shines like I've never seen it before. He takes pride in his work and it definitely shows. I highly recommend."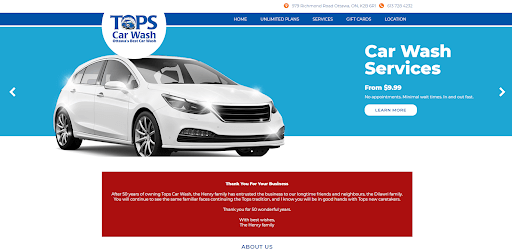 Tops Car Wash is a state-of-the art, modern automated full service car wash that has more than 50 years of experience. They use automatic vehicle washing technology to clean and dry your cars quickly without sacrificing quality! Their process will leave you always shiney clean every time with no spots or stains on display for everyone else around to see.
They have Unlimited Wash Club so you can as often as you'd like with one low monthly fee and bypass the lineup with your complimentary FastPass.
Telephone: +16137284232
Address: 979 Richmond Rd, Ottawa, ON K2B 6R1, Canada
"Wow! Great experience! Brought my car here for a full interior cleaning the other day. And it was a mess! Aside from the accumulated dirt and salt from winter, the glove compartment was filled with leaves and there were dried flowers crushed into the floor in the back from a moving 'mishap'... anyways, these guys nailed it! It sparkled when I got it back. The staff were also super helpful."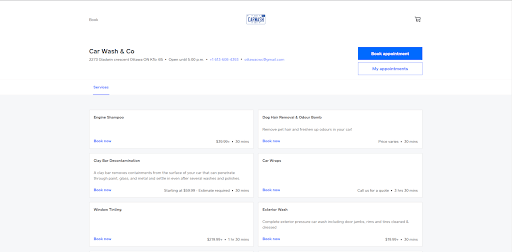 The CarWash & Co is a place that uses modern technologies to get your car cleaned. With Clay Bar Decontamination they will remove contaminants from the surface of your car that can penetrate through paint, glass, and metal and settle in even after several washes and polishes. They also offer a convenient shuttle service to all of their customers located within 15 kilometers.
Their special waxing technique will help protect your car's paint against harsh winter driving conditions which Canada is known for! Also with the pet hair removing option they are a great spot for dog owners.
Telephone: +16136084393
Address: 2273 Gladwin Crescent, Ottawa, ON K1B 4L5, Canada
"After they finished, I can honestly say my car looked even better than it did 3 years ago when I got it from the dealership. Absolutely immaculate work. Everyone was really friendly and professional. They made sure to inspect the car before and after. Were very prompt and I absolutely would recommend them to anyone."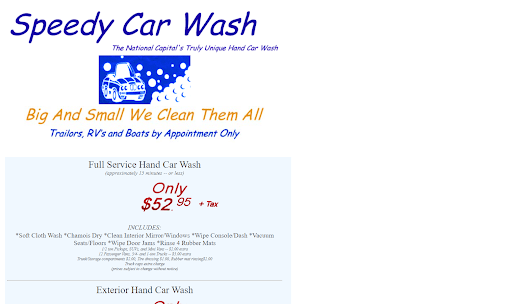 If you are in need of a quick car wash service look no further then a Speedy Car Wash! They are offering a Full Service Hand Car Wash in only 15 minutes which will include soft cloth wash, chamois dry, cleaning of interior mirror and windows, wiping console and dash, vacuuming seats and floors and rinsing 4 rubber mats.
They also can clean your trailer, RV or even boat if you will make an appointment with them. Detailing, shampooing, waxing and polishing , gift certificates are also available.
Telephone: +16137492929
Address: 1795 Bantree St, Ottawa, ON K1B 4L6, Canada
"I've gone there every year for years, and have never been disappointed. Hard working, professional, friendly people who will make your car look like new. The wax is ridiculously shiny, it looks so good. Just got my car back and couldn't be happier!"
That's it for our guide to the ten best car washes in Ottawa! Remember, a professional car wash will make a huge difference to your vehicle's appearance and health, so do your research and choose carefully. Then you can enjoy that fresh-off-the-lot shine every time.