Tattoos are becoming increasingly popular, but sometimes people change their minds about what they want on their skin. If you're looking to get your tattoos removed, Ottawa has a number of excellent tattoo removal clinics that can help you achieve the perfect results.
In this article, we will share with you our top six picks for the best tattoo removal clinics in Ottawa. All of these clinics offer state-of-the-art technology and experienced professionals who will help make your experience as comfortable and stress-free as possible. 
So if you're considering getting a tattoo removed, be sure to check out one of these amazing clinics!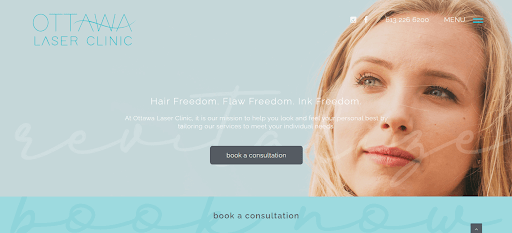 The Ottawa Laser Clinic is the trusted destination for safe, private and efficient service by certified esthetics professionals who care deeply about their work. They offer laser tattoo removal treatments as well as skin revitalization procedures to make you look your best!
They are using the new PicoSure's cutting edge technology that is able to hit the tattoo with pressure so great that it shatters into tiny dust-like particles. The small size of these ink smears makes them more readily absorbed by our bodies, meaning better clearance for your skin and fewer treatments overall!
"I have had nothing but a wonderful experience at this clinic. The laser treatments are so effective I immediately saw dramatic results after the first session. Alison is completely professional and personable. She really takes the time to make you feel as comfortable as possible during the laser treatments. Would recommend it to anyone looking. You will not regret it!"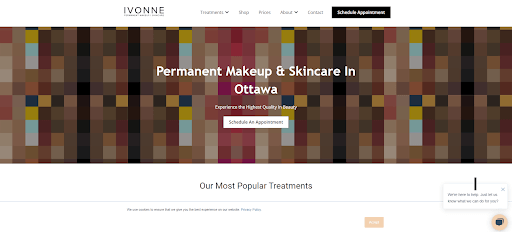 IVONNE is a professional permanent makeup service that offers the highest quality services to those in need. As an authorized provider, you can be confident knowing they will receive top-notch skincare treatment from experienced professionals with deep knowledge on how best maintain their skin health while also providing excellent customer service!
They also specialize in tattoo removal on your whole body, especially your face skin. They know that this is one of the most important areas for you, so they provide really attentive to detail treatment.
"Amazing and lovely staff. Ivonne is so professional, she is the best in town , very calm,clean and so friendly."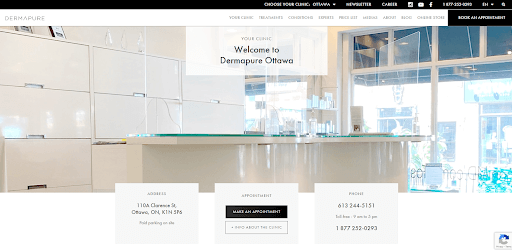 Dermapure offers a range of non-surgical treatments that aim to improve your skin health and beauty. They combine cutting edge technology, topical creams/serums with nutricosmetics for prevention or correction against signs of aging or any skin condition that might be in the way of your beauty. 
Dermapure's QX Max laser that they use is a powerful tool for removing all tattoo colors, including those that are considered permanent. 
These treatments aim to split apart the pigment of your skin without damaging it or leaving behind any scarring; they allow you peace of mind when getting rid of medically-elected ink removed from various parts on your body.
dermapure.com
+16132445151
110A Clarence St., Ottawa, ON K1N 5P6, Canada
"I had the best experience with Dr. Tosoni! She is so genuinely kind and really takes the time to listen to you and does not rush you. I am so pleased with the results from my treatment. She is one of a kind and I cannot recommend her clinic enough! 5 stars!!"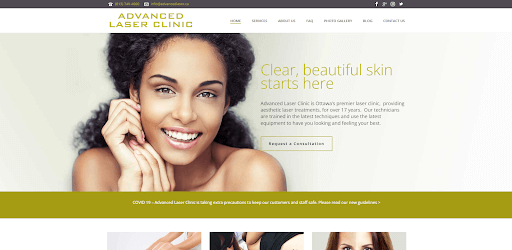 Advanced Laser Clinic is one of the most established and trusted laser clinics in Ottawa. For over 17 years, they've provided their clients with aesthetic treatments that can make a huge difference to your appearance! Their technicians are trained using cutting-edge techniques so you always look good. 
They are the only clinic in Ottawa that uses PicoWay, which is a laser capable of targeting specific colours with rapidly repeated bursts. Each burst allow for targeting treatment and minimal discomfort during procedures due to its ink-receiving capabilities
"Absolutely amazing experience. I am currently in the process of getting 3 small tattoos removed and the results are insane !!! I travel two hours for these Apts and the same laser is in my City however the results were not the same here. Definitely worth the drive and so excited for these tattoos to be gone for good!"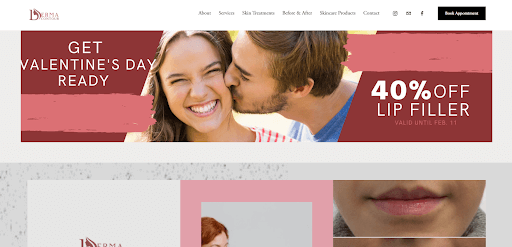 Derma Contour Ottawa make your life easier, especially when you have unwanted tattoos! Their team includes a medical director who has been in the field since 1996 and is fully trained. All skin types are welcome here at their clinic. 
They use the Opus Plasma system, a revolutionary new way to resurface your skin. Featuring proprietary high radiofrequency technology and fractional treatments that corrects just what laser can't – without downtime or risk!
 Your tattoo will be gone in a few appointments and your skin will remain healthy and bright.
"Derma contour is just the best place to be for skin related issues.... My visit to the clinic for tattoo removal got great results after my first session. Thank you so much to the specialist and her team."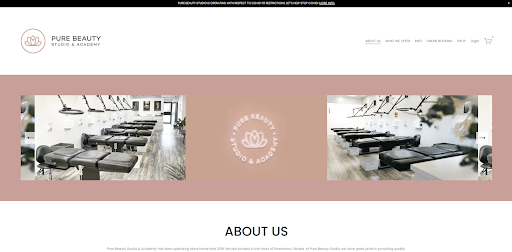 Pure Beauty Studio is a modern and state-of the art beauty studio, located in downtown Ottawa. They pride themselves on providing quality service to everyone who comes through their doors with an emphasis being placed on how you feel inside as well outside!
They offer laser tattoo removal using the most up-to-date technology that is safe for your skin and will break only ink. You can also try their glycolic tattoo removal which is chemical peel and acid injections in the tattoo to fade it's colours and leaving your skin looking like new.
"Had a great first experience with this studio! Staff was professional and friendly from booking to completion. The space was comfortable, hygienic, and COVID procedures were adhered to."
FAQs about Tattoo Removal
There are many factors to consider when choosing a tattoo removal service. One of the most important is experience – you want to go with a company that has a lot of knowledge and skill in this area. 
You should also look for a clinic that uses the latest technology and offers competitive prices. The six clinics listed above meet all of these criteria, so they would be great options for anyone looking for laser tattoo removal in Ottawa.