Ottawa is a beautiful city with plenty to offer its residents and visitors alike. While it's nice to live in a permanent home, sometimes there are just too many things happening in the city that you want or need to be close to. This is where short term rentals come in!
Short term rentals can provide you with all of the benefits of living in Ottawa while giving you the flexibility to move around as needed.
In this article, we will introduce you to six of our favorite short-term rental properties available right now in Ottawa. From downtown apartments complete with amenities,to luxurious houses situated on the riverfront – we have something for everyone!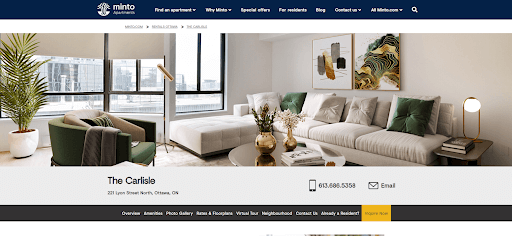 Minto Apartments has everything you need to make your life more comfortable. They offer fully-managed rental apartments and shorter term furnished suites in key Canadian cities for almost every stage of life, so whether it's just starting out or looking towards the future with children— they've got something perfect!
Their suites are substantial, and they paid attention to the details you'll appreciate. You can live in one of their fully-furnished with open-concept kitchen and floor-to-ceiling windows, smoke-free buildings, not to mention that they are pet friendly too and have Wi-Fi.
2) The Business Inn & Suites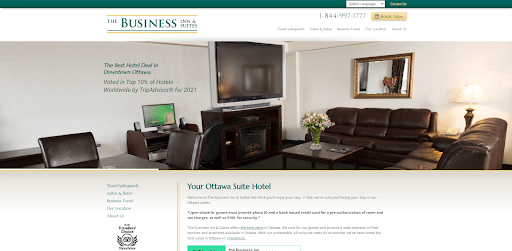 The Business Inn & Suites offers guests access to a wide selection of suits and free services that can be found in Ottawa. Their unbeatable rates make them the best value for your dollar spent on TripAdvisor!
Their suites are fully furnished with comfortable couches, computers with printers, and large flat screen televisions. Every suite has a fully equipped kitchen with a place setting for four, including everything you need to prepare a home-cooked meal.
"What a great gem! Really wished we had discovered this hotel years earlier. When you have kids in sports, having a kitchenette is a life saver. You can provide great snacks and meals that work with their schedules. The room had a printer so schedules could be provided. Love this place. I would suggest it for your next trip."
3) Fairfield Inn & Suites by Marriott Ottawa Airport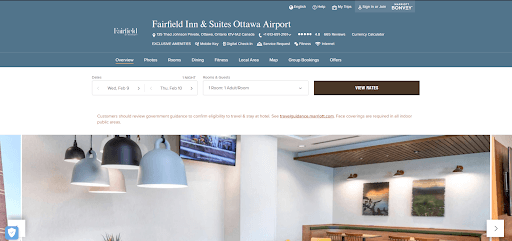 The Fairfield Inn & Suites Ottawa Airport is a great place to stay when you are visiting the nation's capital. They're minutes away from downtown and close enough for those all important airport shuttles. Their  hotel offers spacious rooms with free Wi-Fi that will make any work day run more smoothly. 
The fitness centre provides plenty of opportunities not only to keep fit during travel time due its 24 hour availability. They are always ready to welcome you to their thoughtfully furnished guest rooms and suites with plenty of room to work and relax.
marriott.com
+16136912161
135 Thad Johnson Private, Ottawa, ON K1V 1A2, Canada
"Large, clean rooms with friendly staff and good amenities. Breakfast was what I looked forward to each morning. Lots of variety and fresh/freshly cooked items to choose from. All the guests followed covid guidelines and we felt very safe staying here too. Location is somewhat far from downtown Ottawa but given the value, I wouldn't hesitate to stay here again next time I'm in Ottawa"
4) Residence Inn by Marriott Ottawa Airport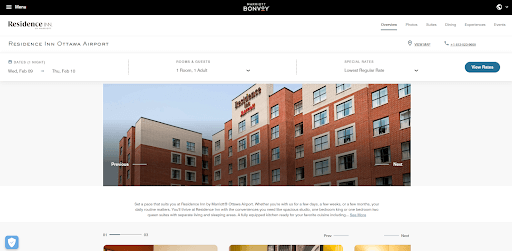 If you're looking for a place to stay for a few days, weeks, or a few months while visiting the nation's capital, look no further than Residence Inn by Marriott. No matter how long your visit is going to be, they have what it takes so that every day feels like home away from square one!
You'll never have to worry about cooking again with their fully equipped kitchen that includes everything you need for your favorite recipes. With grocery delivery service, they make sure there's always something in the fridge and on hand! They also offer parking as well as a fitness center.
"This was a hidden gem for us. We choose to stay based on price and location and will return again. The rooms are large, comfortable, and the bed was perfect. The kitchen was ready for use and the swivel TV made viewing easy from the living area or the bed. Very clean rooms, elevator and lobby. I will be sharing this location and experience with everyone!"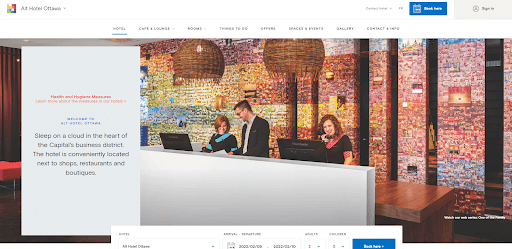 The Alt Hotel Ottawa is a great place for both business travellers and leisure visitors. It's located in the heart of downtown, next to shops, restaurants, boutiques- so you'll never have to walk far if you want something!
A stay at Alt Hotel Ottawa always comes with little extras like flexible checkout time, free Wi-Fi, 24-hour gym, Nespresso coffee machine and more. 
They are also pet friendly so you can enjoy your stay with your furry best friend. They offer one or two bed rooms fully furnished and perfectly cleaned ready for you.
"Wow, amazing room, clean and tastefully decorated. White towels and white sheets, glass shower! Just perfect for our stay. Awesome friendly staff in all departments. Breakfast bar was great! Coffee was great! Even the parking across the street is sure handy. Overall our stay was wonderful. We will stay again in the future."
6) Premiere Suites Ottawa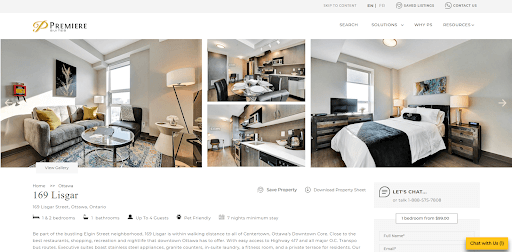 With the help of Premiere Suites, you can experience living like Royalty.  They offer fully furnished executive suites that come complete with two bedrooms and one bathroom.
You'll never want to leave these luxurious accommodations again once they're fitted out for all kinds of hotel amenities such as cable television or coffee machine in-room access.  You'll be able to enjoy your temporary home with the peace of mind that it has been professionally cleaned and disinfected by their staff before you move in.
All short-term furnished apartments come equipped not only with clean linens on beds, but also fresh towels for use throughout each trip; biweekly housekeeping ensures everything stays looking perfect even when no one is around!
"Caring service and premium standard accommodations at better than expected prices. If you need an extended stay in Ottawa I would highly recommend."
FAQs about Short Term Rentals
When looking for a short term rental in Ottawa, there are many things to consider. The list above highlights six of the best options available, so you can be sure that you're making the most informed decision possible. 
Whether you're looking for a furnished apartment or an entire house, these rentals have something to offer everyone. So if you're planning on spending some time in Ottawa, be sure to check out one of these amazing properties!