The best stone veneer suppliers will help you make your home as beautiful as it can be! Ston veneer is a gorgeous and cost-effective way to freshen up your home. As opposed to natural stone, stone veneer is much cheaper and most people can't tell the difference.
We chose these suppliers based on affordability, excellent customer service, and their wide variety of stone veneer options. Whatever colour, size, or finish you want these suppliers have got you covered!
With your beautiful stone veneer sidings, we're sure you want the rest of your home to be just as beautiful. Check out the best roofing contractors and the best ceramic tile companies in Ottawa!
What's the Average Cost of Stone Veneers in Ottawa?
On average, you can expect to pay between $5 and $8 per square foot. This means that a small home or surface could cost as little as $500, while a large project could easily exceed $10,000. Of course, the final cost will also depend on the complexity of the installation and any additional features you may want to add. 
Some other factors that can affect the cost of stone veneer installation are the type of stone you choose, the size and thickness of the stones, and whether you need to have any custom work done.
You can also save a significant amount of money by doing the installation yourself, but we recommend leaving this job to the professionals unless you have experience with masonry work.
The Best Stone Veneer Suppliers in Ottawa
Now that you know a little more about stone veneer, we're sure you're ready to start shopping for the perfect supplier! To help you get started, here are our picks for the best stone veneer suppliers in Ottawa.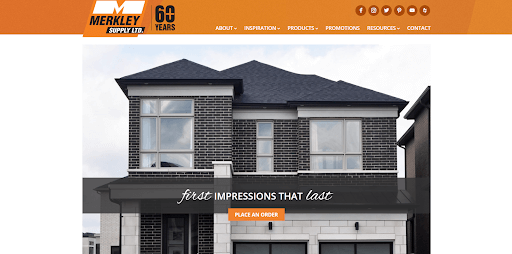 Merkley Supply has been a mainstay in the Ottawa-Carleton area for more than 60 years. They offer an extensive selection of stone, brick, gardening products, and other specialty building materials. What's more, their team is equipped with comprehensive masonry knowledge. 
With their vast experience and impressive product offerings, it's no wonder that they're used by 80 percent of all residential, commercial, industrial, and institutional projects in the Ottawa area. 
So whether you're designing, building, or renovating a house—or simply need some stone veneers—you can always depend on Merkley Supply. 
"Our business KeyStone Ceramics has worked together for more than 20 years with Merkely Supply. The stone selection is outstanding and the professionalism and kindess of all of the staff is worth the visit as they are more than willing to help."
"I went to Merkley's for help after we encountered some issues with a concrete project (we made the mistake of relying on a big box store). The staff at Merkley's were AMAZING. Polite, knowledgeable and friendly! They went above and beyond to make sure we had the right products and knew how to apply them. I will definitely be going back in the future!"
2) Ottawa Brick And Stone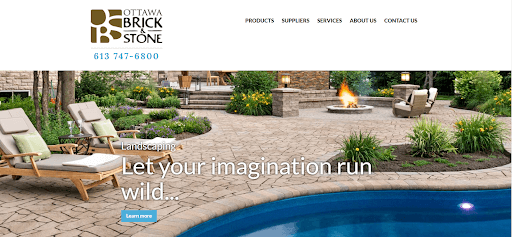 At Ottawa Brick & Stones, they sell more than just stone veneer. They have a wide variety of materials available, ranging from interior framing materials to landscaping products and mason-based siding. Thanks to their high purchase volume and relationships with suppliers, they can offer customers very competitive prices. 
Also, their large outdoor showroom features a selection of brick, flagstone, stone, blocks, pavers, retaining wall kits, stone veneers, and many other mason-based items. So if you're in the market for any type of brick or stone product, be sure to check out Ottawa Brick & Stones. You won't be disappointed.
"Had a large backyard job to do and was extremely impressed with the service as well as pricing. Andrew was thorough and was able to answer all of my questions and made sure to follow up with me re: my job to make sure all was going well. Top notch. Will be heading back in to see them next year when we do our front of house landscaping. I highly recommend them."
"Got phone quotes and Ottawa Brick and Stone answered all my questions and were the most helpful helping me calculate how much material I would need to build a retaining wall! I brought back leftover material and got a credit back and a yard employee helped unload the bricks from my vehicle. Super service! Best price and very satisfied."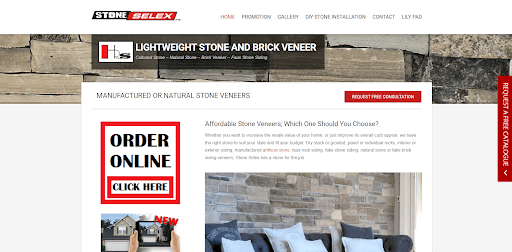 With over 25 years in the business, Stone Selex is a trusted name in the world of manufactured stone siding and artificial brick veneer products. Their extensive range of products, in a variety of colours and styles, is sure to have something to suit your needs and budget. 
From simple decorative items to masonry equipment and stone veneer panels, their team of experts will help you find the perfect solution for your project. And whether you are looking for a premium product or a more cost-effective option, Stone Selex is your one-stop-shop for all your stone veneer needs. 
So why not give them a call today and see what they can do for you?
"We recently purchased some stone for our fireplace wall from Stone Selex - we had a wonderful experience from the staff members especially from Krish who got our stone delivered in time. They also have a good selection of stones to choose from."
"Finally finished a feature wall in my home that I kept putting off. I used a Stone Selex stone veneer and it was exactly what my wife and I imagined. The service was outstanding and the product was top notch. Thank you again for your help and guidance through the entire process."
4) Integrity Masonry Inc.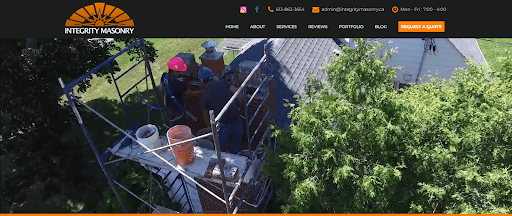 At Integrity Masonry Inc, they understand that your home is an expression of who you are. That's why they offer top-quality bricklaying and stone masonry services, so you can create the home of your dreams. 
Whether you're looking for a new fireplace or want to restore your historical stone home, their team of experts will work with you to create a beautiful space that reflects your unique style. And because they know that trust is essential in any relationship, they aspire to strengthen their client's trust and confidence by providing high-quality service, value, and workmanship. 
So if you're looking for a masonry company you can trust, look no further than Integrity Masonry Inc.
"Integrity Masonry did an excellent job installing our limestone fireplace. Tessa was so professional and easy to communicate with for the quote and the installation. Her and Conner did a beautiful job installing it and left our site spotless. I would highly recommend them."
"Amazing work done by the team at Integrity! They repaired the foundation this fall to our 120 year old home, in preparation for a porch rebuild. They were very friendly and clearly very skilled, and the final product is beautiful and fantastic quality. Their prices were great, and the final bill was exactly as quoted. Would absoutely recommend!!"
Stone veneer is a low-cost, beautiful material perfect for updating your house. Stone veneer comes in all shapes, sizes, colours, and finishes, so you can make your dream home a reality. It also makes for a great investment as it improves the value of your property.
These Ottawa businesses have excellent staff and unparalleled customer service. If you're looking in Ottawa and you're looking for a stone veneer supplier, you can't go wrong with any of these businesses!