The best RV dealers in Ottawa will help you find your dream RV!
Buying an RV is buying a chance to go anywhere you want, whenever you want. It's freedom. The RV life is great for people who want to want to break free from their routine. Ottawa is an amazing city, but completely different when explored in an RV.
RVs open up so many opportunities and potential fun, but first, you need an RV. These Ottawa RV dealers can find you the perfect vehicle for your next adventure!
We selected these RV dealerships based on customer reviews, their huge selection of RVs, and the lineup of expert staff who can help you find the right RV.
There are other ways to get around the city. If you're exploring your options, be sure to check out the best boat dealers and the best used car dealerships in Ottawa!
What's the Average Cost of an RV in Ottawa?
If you're in the market for a new RV, you might be wondering how much you can expect to pay. RVs generally range in price from $10,000 to $300,000, although some models can cost even more. 
The specific price of an RV depends on factors such as brand, size, features, and style. For example, a small pop-up camper might cost as little as $10,000, while a luxurious Class A motorhome could easily exceed $200,000. 
Some other costs to consider when budgeting for your RV include insurance, registration, and maintenance. These costs will vary depending on the type of RV you purchase. For example, a travel trailer will be less expensive to insure than a Class A motorhome.
When budgeting for your new RV, be sure to factor in these additional costs so you can get an accurate estimate of what you'll need to spend.
The Best RV Dealers in Ottawa
Now that you know what to look for in an RV dealer and what to expect in terms of cost, it's time to start shopping for your perfect RV. Here are our picks for the best RV dealers in Ottawa.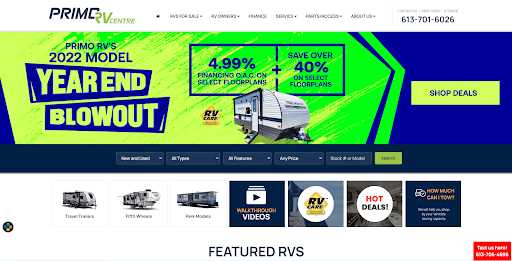 If you're in the market for a new RV, there's no better place to start your search than Primo RV Centre. Located in the nation's capital, they've been a local favourite for more than two decades. 
They offer an extensive inventory and friendly service team who are committed towards quality fixtures for all types of RVs. Whether you're looking for a new adventure or just need some time away, they can help. 
They provide hassle-free shopping through their combination of world-class RVs. From Mini Trailers to Super Ultralite Trailers or Fifth (5th) Wheels, they have all makes and models. 
So whether you're a first-time buyer or a seasoned adventurer, Primo RV Centre is the perfect place to find your next home on wheels.
"We bought a new trailer from Primo last fall. Michel was incredibly helpful, took his time to answer our questions and never made us feel pressured into buying anything. Our trailer was ready in the spring as promised, the Service Department did an amazing job with cleaning, inspection and taking a great deal of time to go over every detail with us."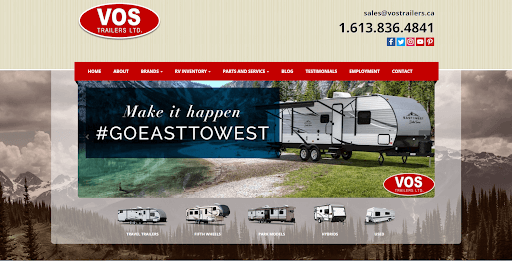 VOS Trailers has been in the business of helping customers find their dream RVs for many years. They have a wide range of models in stock, from small campers to large luxury RVs, so there is something to suit every need and budget. 
Their knowledgeable staff are on hand to offer advice and help customers find the perfect RV for their next vacation, and there is no pressure to buy. Their prices are highly competitive, and they offer a price match guarantee so that customers can be sure they are getting the best deal possible.
They also offer a wide range of services, including RV storage, so that customers can have peace of mind knowing that their investment is in good hands.Whether you are a first-time RV buyer or a seasoned veteran, VOS Trailers is the perfect place to find your dream RV. Come and visit us today!
"Awesome family owned business! Staff is very patient. This was my first experience with them, and won't be the last. Service team went out of their way to help us on very short notice. They have experienced staff and they have great knowledge of trailers."
Open Roads is the place to go if you're in the market for a luxurious RV. Their special fifth-wheel hitch makes it easy to connect right up to your truck, giving you extra interior space and making it easy to drive-especially when reaching your destination! 
If you're looking for an RV with all of your favourite amenities (and maybe a few extra ones too!), check their outstanding new inventory. They've got everything from simple campers to luxurious fifth wheels. 
So whether you're a first-time RV buyer or a seasoned pro, Open Roads has what you're looking for. So come on down and see us today!
"Open Roads RV paves the way for us to buy our first camper! The staff are awesome. It's very easy to talk to them and very helpful in our needs! I enjoyed touring all their units and finally found what we need..I recommend this store to all my friends who likes to have a camper of their own.."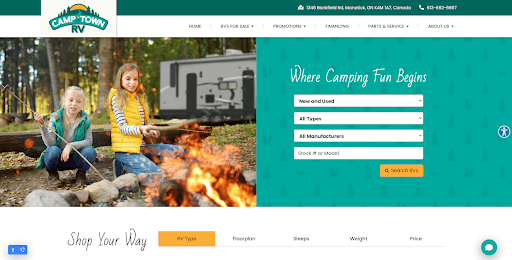 Camping is one of the best ways to get outdoors and enjoy nature, but it can be tough to find the right RV. That's why Camp Town is the perfect place to shop for a new or used RV. They have a huge selection of RVs to choose from, so you're sure to find one that's perfect for your needs.
They also have a great team of experts who can help you with everything from choosing the right RV to servicing it. So if you're looking for an easy, stress-free way to buy an RV, camp town is the place for you.
"Excellent customer service from the sales staff to the finance manager to the general manager. Easy to deal with and very attentive and helpful without sales pressure. I would buy here again and recommend Camp Town Rv to others."
Ottawa is a great city to rediscover through RV windows. Trek through the many camps, marshes, and conservation areas in the region. Finding the right RV can be pretty tough, but these Ottawa RV dealerships know everything there is to know about RVs.
If you're in the market for an RV, you have to visit the best RV dealers in Ottawa!